1. Product:
TC Sounds LMS-4000
2. Specs:
Specifications
</B>
• 3" diameter aluminum wire linear voice coil using LMS Technology (Pat. Pend.)
• Quadruple stacked 3/4" tall, 7.5" wide ferrite magnets
• 300oz motor structure
• xmax of 30mm (one way completely linear Bl )
• Single (10"/8.5") poly-cotton spider with intergraded woven leads (15/12,10)
• Extra clearance under the suspension for dynamic high excursions
• Detachable cast aluminum basket with high gloss power coating
• Single 3Ω aluminum voice coil with four layers
• 800 watts sustained (2500 dynamic)
• High quality thermal flexible epoxies to ensure longevity
• Rigid lightweight brushed aluminum cone
• Vented flared pole piece
• 3" Long copper shorting ring for low inductance
• Rubber half roll surround allows for linear travel
• Dressed in a rubber magnet boot and gasket
• Hand built in our San Diego, CA factory
Qts0.414Qes0.435Qms8.85Fs17.8HzRes2.77ΩLs1.05mHLp3 .56mHRp2.39ΩDia202mmVas80lmms171gcms461um/Nbl11.1T*mSpl81.1dB
:
3. Description/Condition:
Mint. bought off of SPY not to long ago. was going to try to find a brother to use in HT, but none were to be found. so, this one is for sale.
since i love you guys SO much, i'm giving CACO members first dibs.
4. Price:
$300 plus shipping.
you can get an idea of what shipping is. this sub boxed up will weigh 40~45lbs, and be coming from 47404
5. Pictures:
no cone shot's ATM, will be up tonight sometime. Pic's with it's big brother.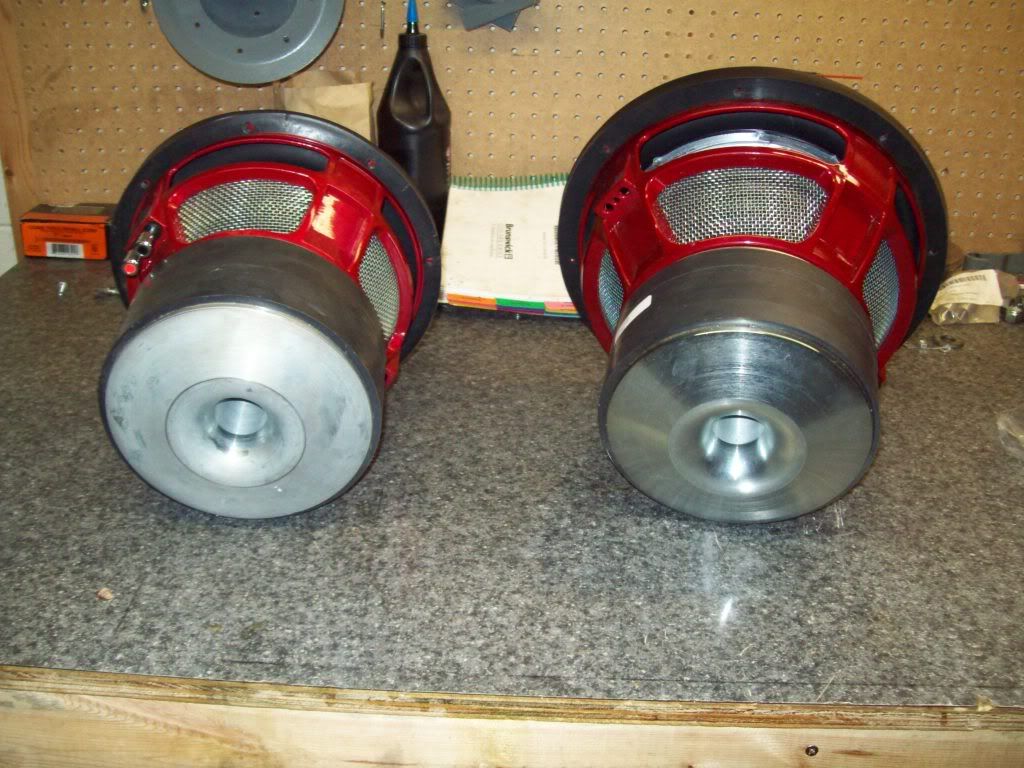 ** DO NOT DELETE ANYTHING BELOW THIS LINE OR THREAD WILL BE DELETED **
-----------------------------------------------
This message is automatically inserted in all classified threads.
Please be advised, all buyers and sellers should satisfy themselves that the other party is genuine by providing the following via PM to each other after negotiations are complete and prior to dispatching goods and making payment:
1) Telephone number. Call the number back at a unspecified time and make sure that it is the person's correct phone number.
2) Name and address including postal code
3) Valid e-mail address. Send an e-mail requesting a response to information about the deal being made.
DO NOT proceed with a deal until you are completely satisfied with all details being correct. It's in your best interest to check out these details yourself.
If transaction was completed on CACO, please use iTrader to record feedback.
Potential buyers/seller should check iTrader feedback also before continuing transaction.