Once the air con pump was removed Sonnie then got an alternator of the same size as the 210a and offered it up into the newly created crevice and found that there was plenty of room under there and that fitting an alternator wouldn't require any additional work removing any obstructing engine parts. This was a great relief as it could have been much BIGGER job, but it appears these engines are ideal for dual alts.
Then we waited till 11am for the fabricator to come round and discuss the best way to make the bracket. Conan, the fabricator, turned up and had a look along with Sonnie.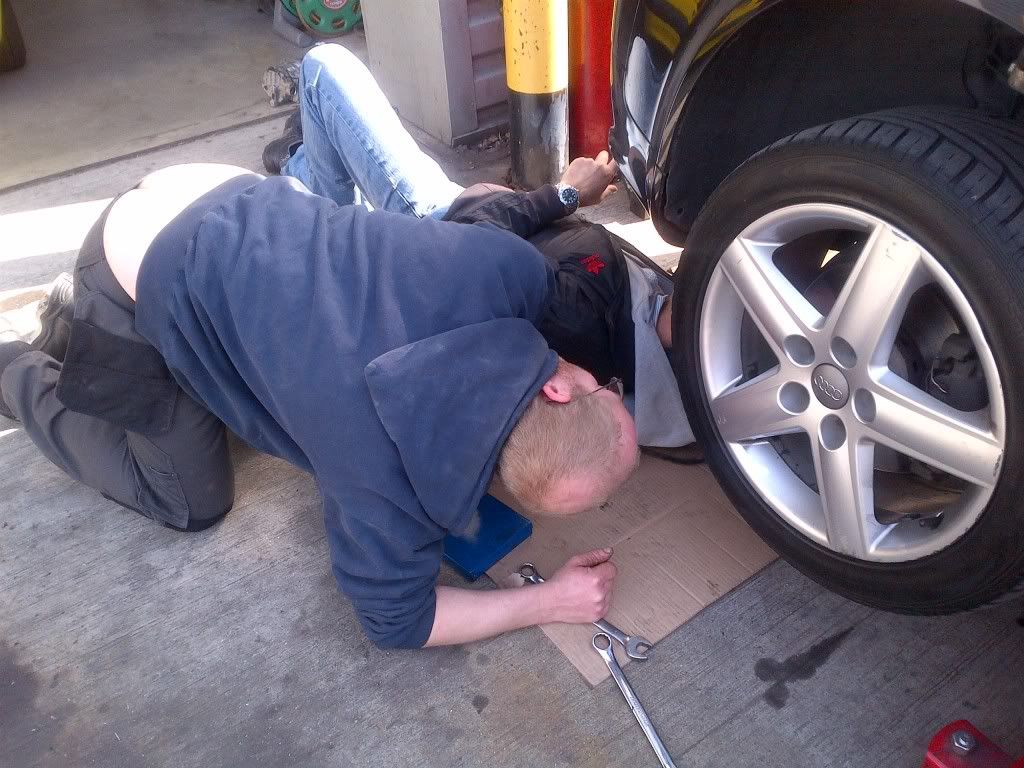 (just to note, this is the only picture I got of Sonnie on the day, even then his face is hidden behind my front wheel lol)
The plan was to make the first bracket for the front mounts, get that fitted and adjusted accordingly then make up a L bracket for the rear mounts. As the front mounts would be taking most of the stress and weight the bracket would need to be made of 10mm high grade steel. Whilst Conan went back to make the first bracket up we decided it was time to grab some breakfast from the cafe down the road. By the time we returned the bracket had been made and was being fitted and fine tuned.
Giving birth to 210a of greatness.
Once the front bracket was sorted Conan cracked on and got the second one made up. Again it needed fine tuning but within about 20 minutes the alternator was securely fitted and pretty much bang on in line with all the other pulleys.
Down blouse and up skirt shots.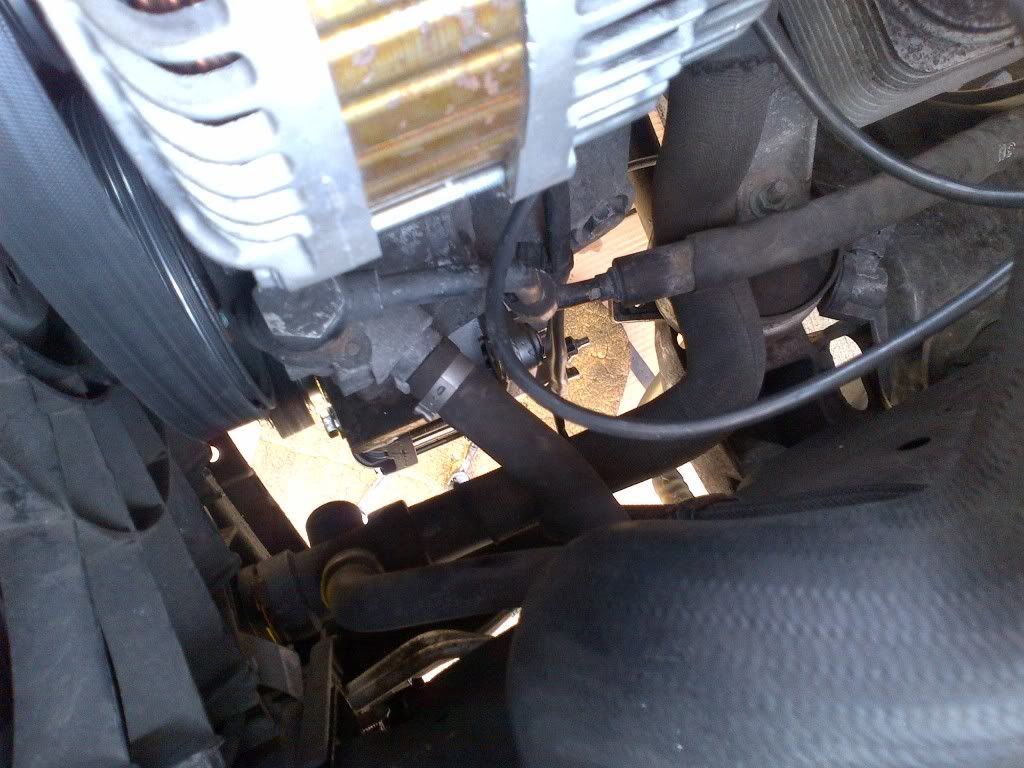 Obviously a new shorter belt was needed to be fitted. Grove stock a load of belts, I think they'd managed to get a xx55mm belt on but it was a bit too tight and they didn't have any longer sizes in stock. Within about half an hour a motorbike turned up with 3 more belts, hoorah! A correct size belt was found and fitted.
It was all up and running perfectly. The alternator hadn't be wired up yet, I wasn't able to source any wiring in time - I did contact bassboy on the day, as it would have been a simple job of just collecting the wiring from him, whilst he had some wiring for what ever reason he was unable to supply me with any at that moment in time, admittedly this was a shame. However my main priority was getting the alternator physically mounted and fitted, if there are any niggles further down the line then that's something I'll deal with. So far though I've done a few thousand miles since having the second alt fitted and I haven't experience any issues or difficulties with the actual belt, but that could change once I apply a load on the alts.
The alternator will be wired up once my installer gets his hands on it.
By about 5:00pm we were back on our way.
An hour or two later we were back on the magical M1, around junction 11 we started to notice some smoke...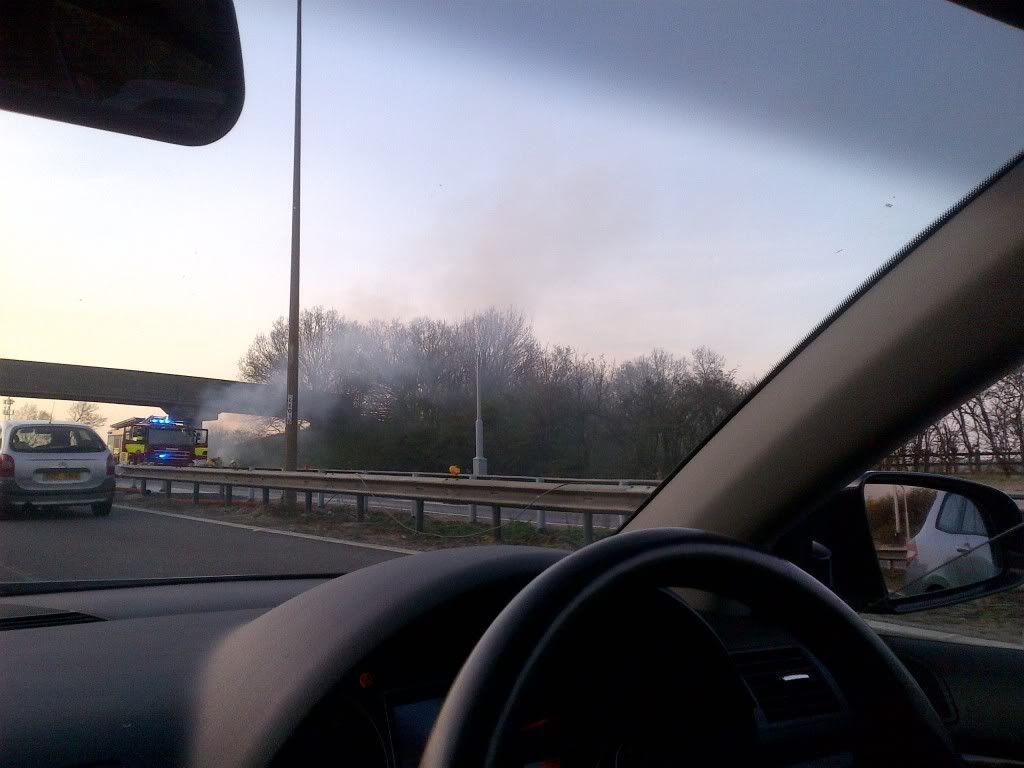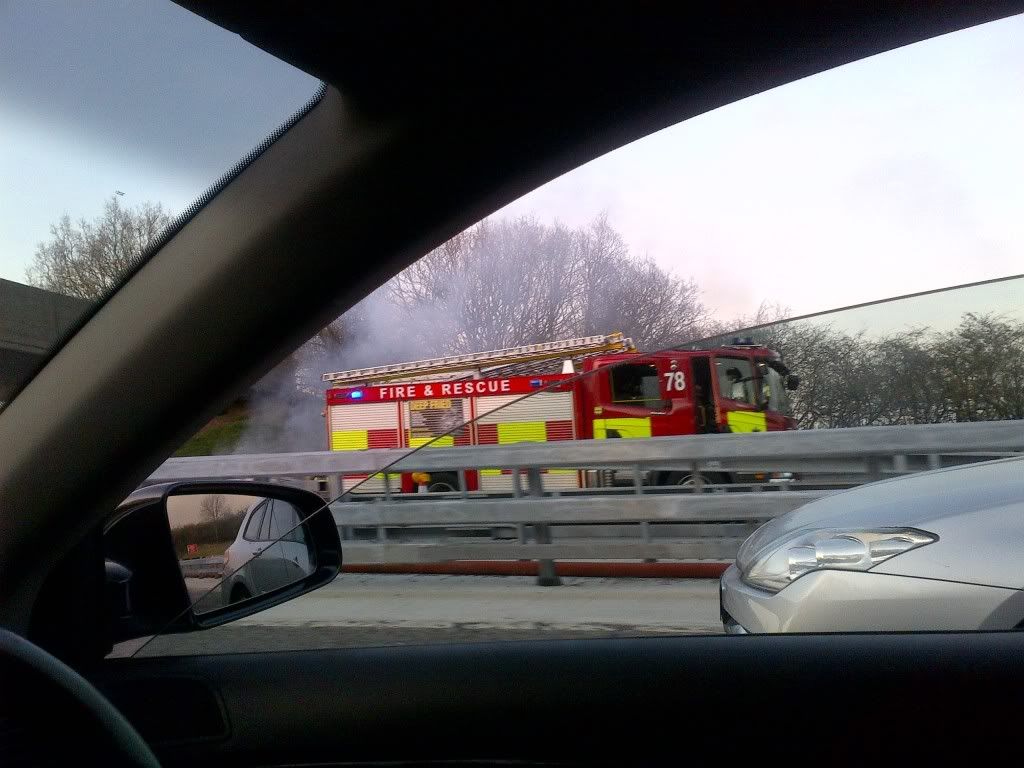 Seems like a pickup truck had caught alight, luckily the fire brigade were on the scene pretty sharpish. By 9:00pm we were back home, 8 and a half hours of driving and 407 miles later.
This bit may be irrelevant to most of you but just in case there's any UK bassheads reading this...
If anyone ever needs anything alternator/starter motor or even just general car electrics related Grove Autoparts is the place to contact, especially if you're located in the London area. Sonnie and his team are very knowledgeable and mechanically capable. They have all sorts of diagnostic and testing tools to trace any problems you have and have a huge store of parts in the back. I know some members on here have been a bit frustrated when trying to contact Sonnie, usually getting told to call back later or being told Sonnie will call them back soon, but believe me Sonnie is a very busy man.
I have a feeling that Sonnie had let us jump the queue in terms of the work he had on so he could get our car done in a day. Besides the Golf there was also two BMWs waiting to be worked on and another car was being dropped off on the weekend, alongside other people turning up during the day dropping alts/starter motors off and picking up other parts.
A big thank you to the team at Grove, I had the 3 mechanics alongside Sonnie working on the car from 10am till around 4:30pm and only got billed for 3 hours of labour. Furthermore Sonnie's hospitality was spot on, we had free reign of the unit, supplied us with some chairs to sit out in the sun and even offered to lend us a car during the day so we could sample the delights of Mitcham. A big thank you to Conan (of Conan Study Blacksmith) as well, his fabricating skills are top notch and uses the best materials out there.