Hello Ladies and Gents,
Gonna use this to intro myself a little since I am new....feel free to skip and look at pictures
First time build log, First time wall build and a bunch more first, get the popcorn and sit back to watch me fall all over myself during my first big build.
Doing a C-pillar wall in my 91-92 Rodeo, mainly doing this build to break ground. I have never done a build this large and I have never done some of the things needed to complete this build. So I am using it as my beginners project. I have spent the last 12 years on/off installing my own electronics and friends stuff, everything from basic upgrades to TVs and under the window multi woofer enclosures, and have been doing research and studying the whole time. I figured it was time to step my game up and I came up with the plan to do a budget wall build and go about it piece by piece taking notes the whole time. I am hoping that by the end of this I will be ready for some big boy equipment.
So, on to the good stuff..This is my Frankinbeast - I call it "WhiteNoise"
It is composed of all the audio stuff I collected whilst being broke as a joke....
All work is done by me at home, exhaust was only thing, I borrowed my buddies shop so I could use the lift and not weld laying on my back.
White 92-91 Rodeo, 3.1 v6 4x4, 5 speed.
-New clutch 6mnths, new front driveshafts and hub inners 3mnths, New rear end inners 2mnths, New air shocks for Wall build 1mnth...
-New windshield 3mnths, same crappy tan interior that came in it....FML is not Priceless
-Custom exhaust - more because my old exhaust was falling off
-I have painted all the exterior trim and underbody black
-Tinted windows
-Got 2 sets wheels and tires - one chrome/mud and the other black/street
-Installed Viper alarm and door locks
-Air shocks in the back running 50lbs psi, max is 120lbs psi - good for 1900lbs
-LED dome lights - white, had HIDs but ballast blew, so hyper white bulbs for now. Gonna do a 2004 Rodeo front end swap so I can have clear headlight housings and get HIDs back again. A number of Dent repair and re weld the driverside back door seal. It had rusted out.
-Shaved the antenna off the front fender are relocated behind fender, antennas are
in my OP
Electrical...
AutoCraft Gold G34 battery - 160amp rebuilt stock alt. - JuiceBox Black Cherry soon...
7 - C&D UPS12-200FR 54Ah model.
I need, another alt or bigger one
4ga and 8ga for the PX4.580 and Kenwood amp,
Got 14ga OFC on all highs and mids
Subs - 12ga Sky High Car Audio Wire
Execution Audio 0ga 100ft Blue and Orange
8 db link 250 amp anl fuses and holders
AT 80mil deadener and poly-fil in all the body holes.
Audio stuff...
What I have now...
Kenwood KDC-X996
Front Stage:
SoundStream PX4.580
2 - 10" GRS Woofer
2 - 6x8 KS Components w/ 1" tweets
2 - SSMB 6.5 Midbass
2 - 3" Tweeter horns
2 - 1" Silk Dome tweets
Rear Stage:
Kenwood KAC5204 350.2
2 - 6.5 components w/ 1" tweets with passive crossovers
Sub Stage:
2 - AQ2200D.1 gonna run one until I get more electrical
8 - Hifonics ZRX12D4 - 12" dual 4ohm
17.5 cu ft after displacement 26 before, 34 hz tuning
And now pictures.....Warning Rookie ahead...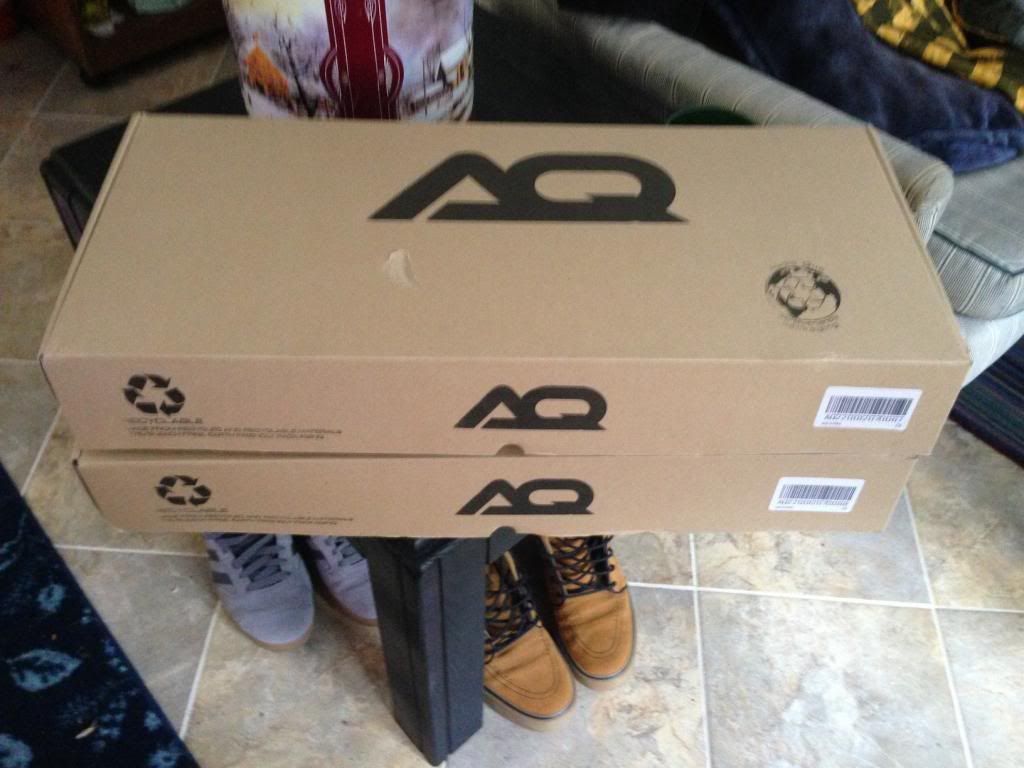 The foam you can see is not factory foam it is from a recording booth in a studio
You can see my doors with just the 6x8s
Here is when I first put in the PX4.580
Wire Spagetti you can see 3" tweeter horn with the crossovers I soldered on the back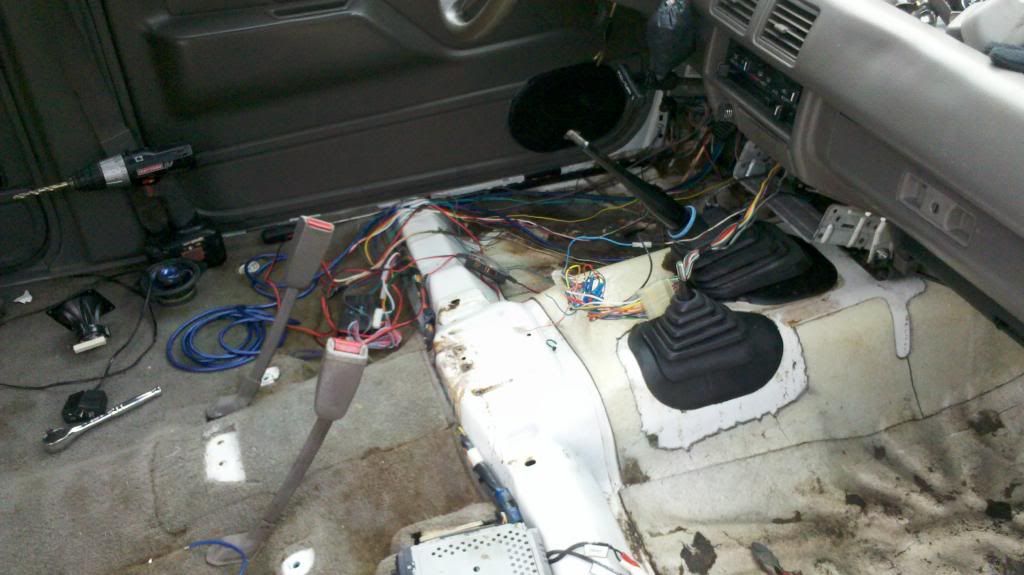 following pic is my dad cutting hole for 10", he cut that one I cut the other one.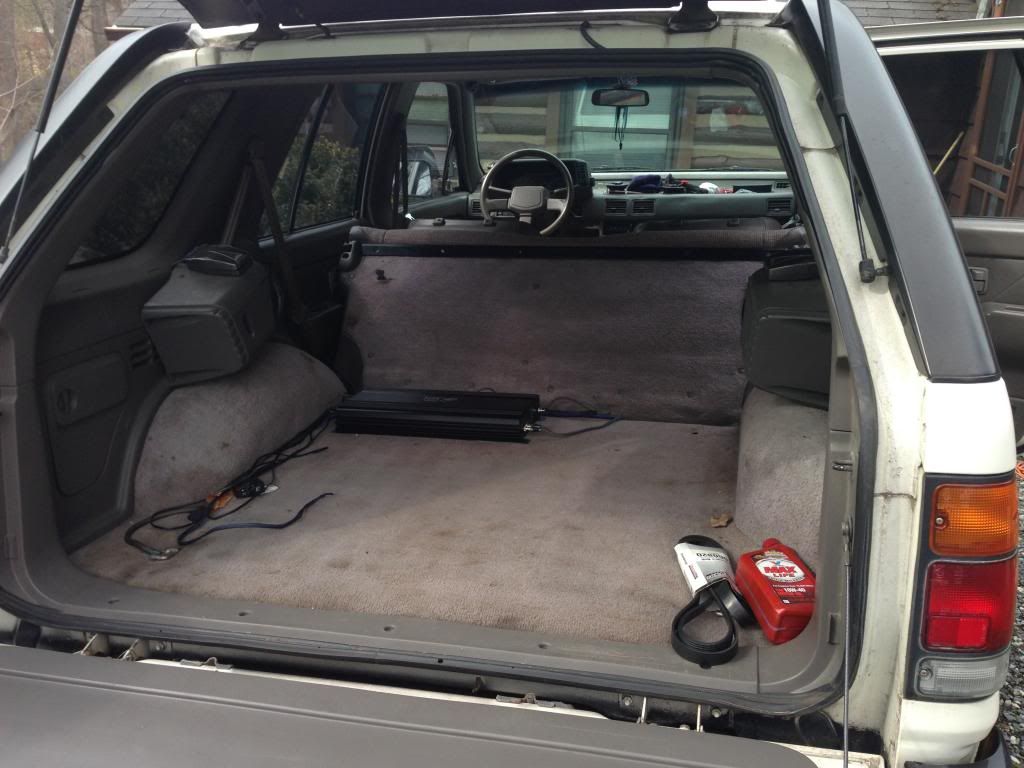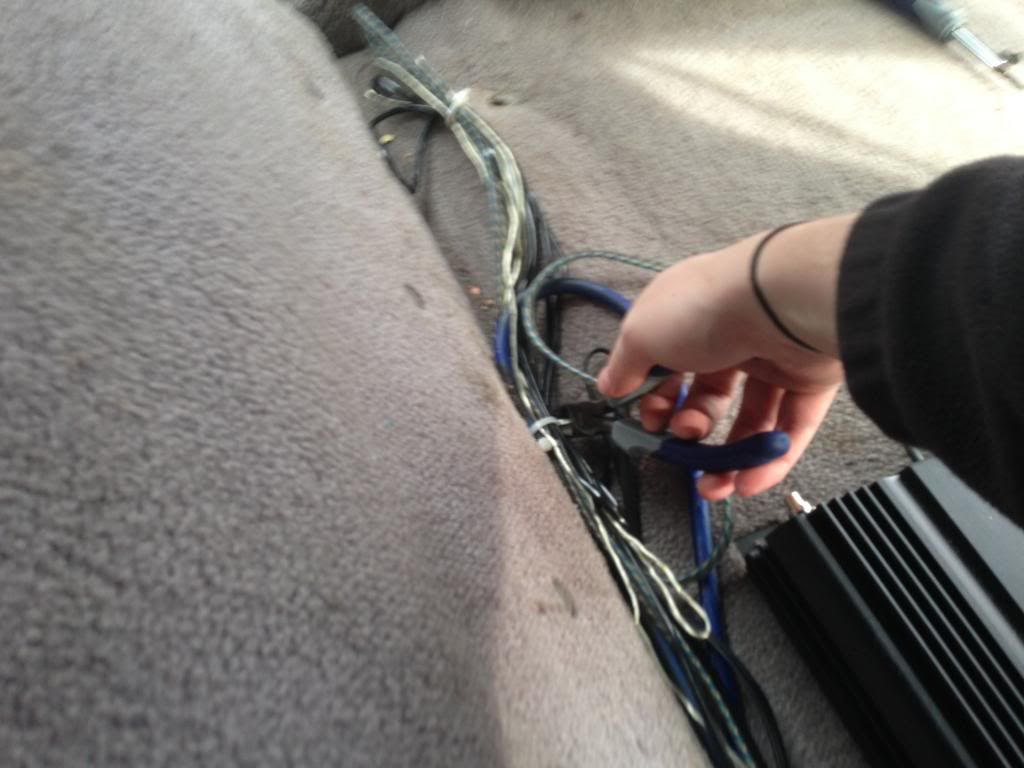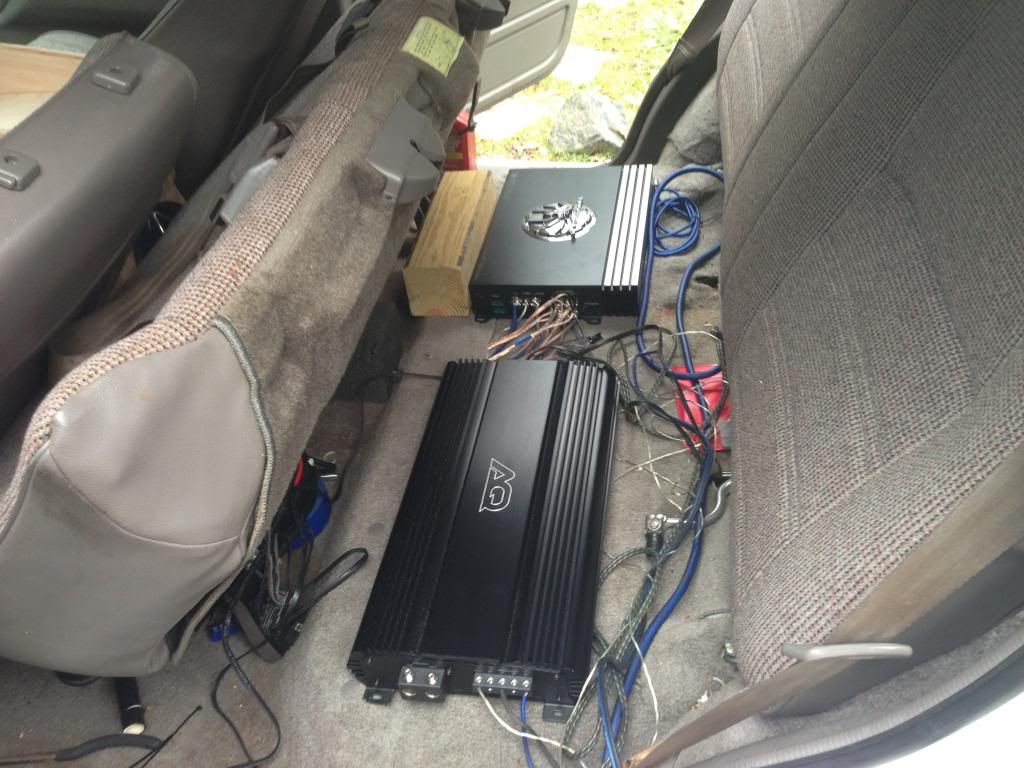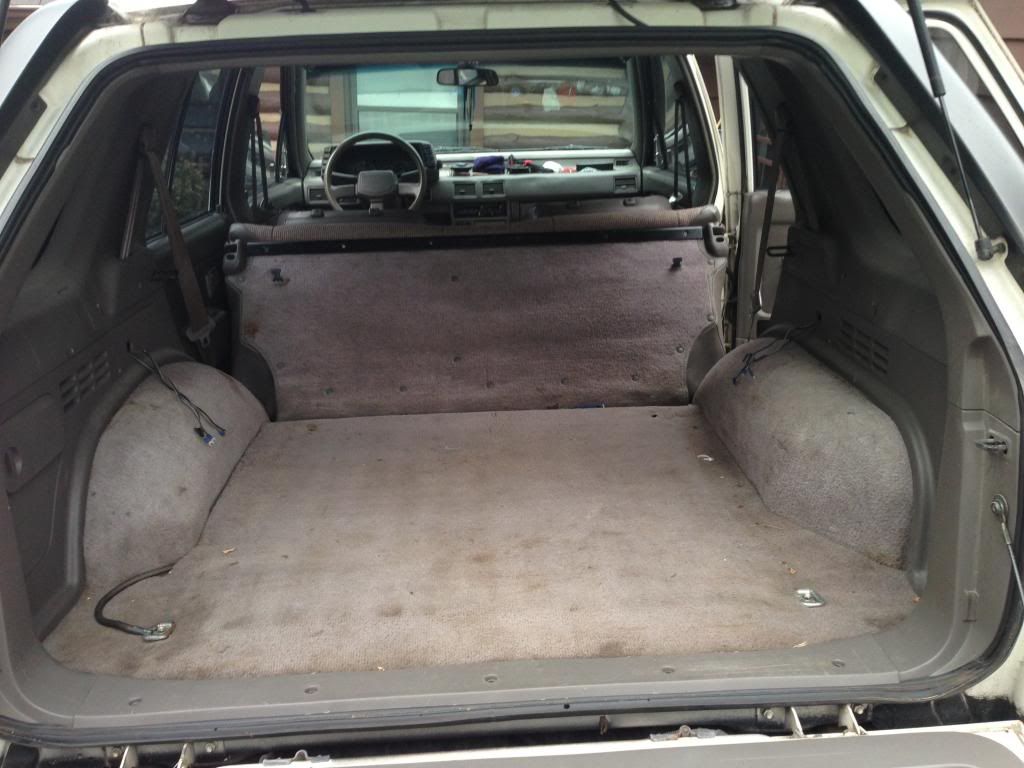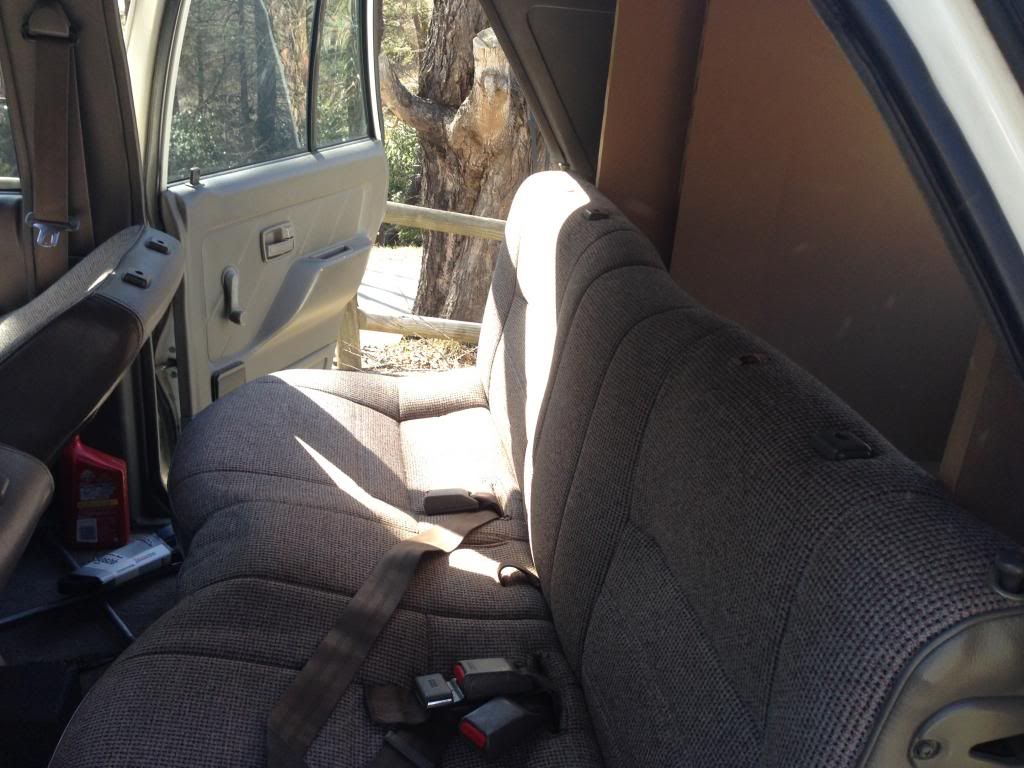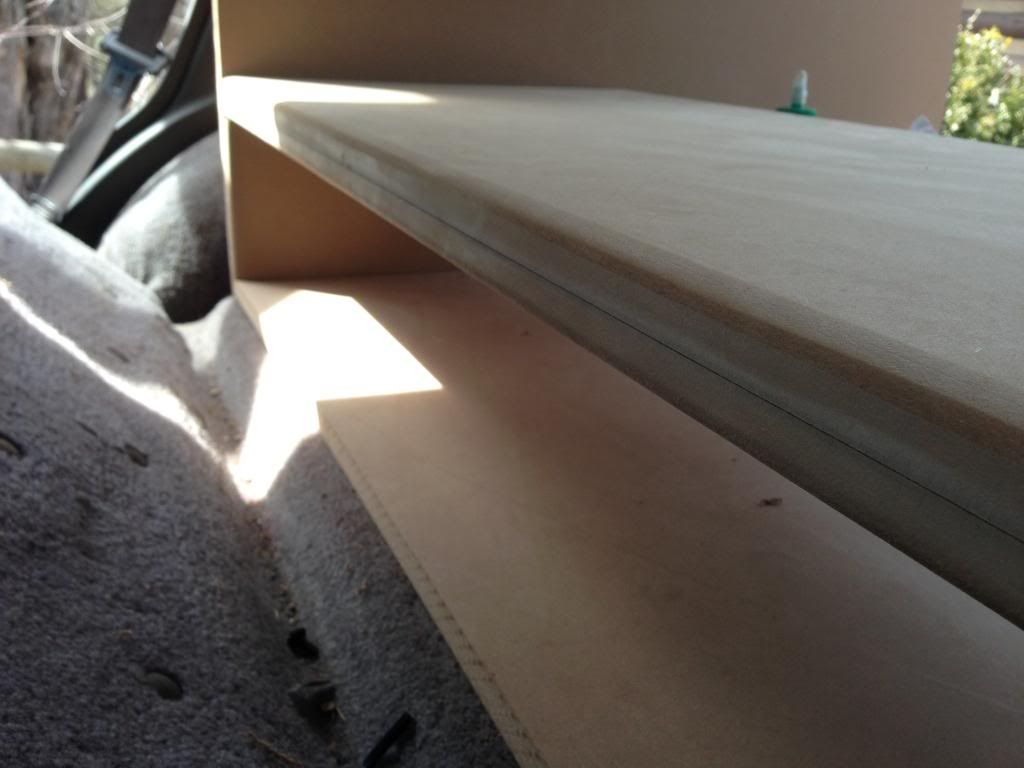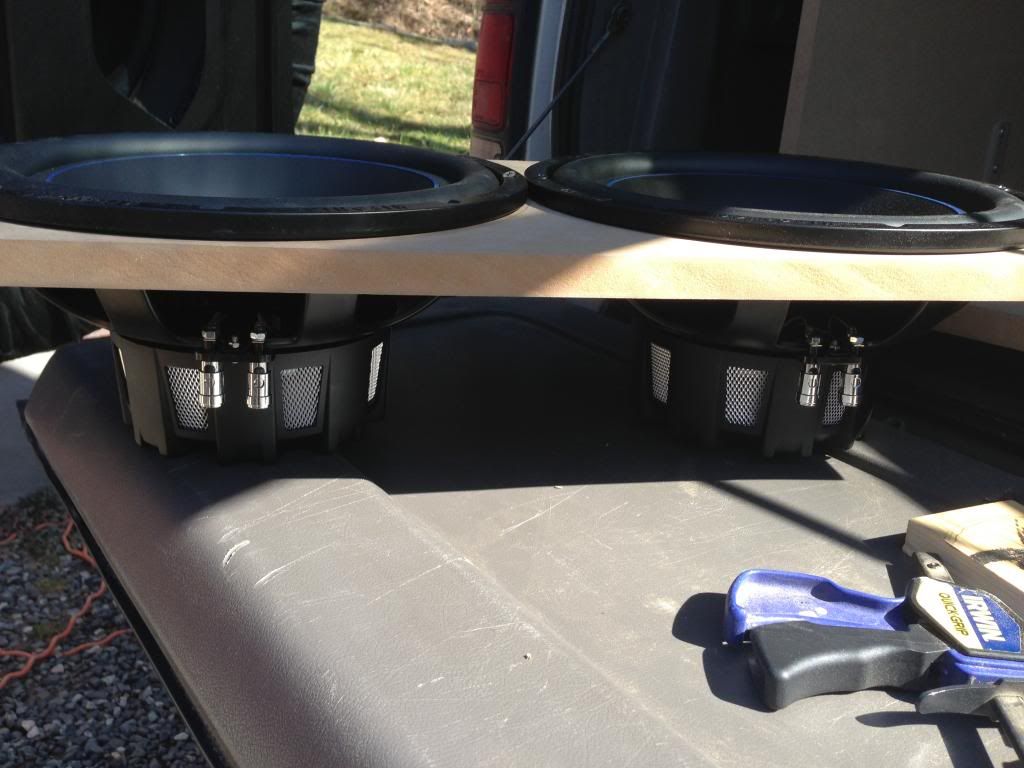 I mocked the whole box up and put sub in and everything before disassembling and beginning fiberglass and Bondo.
The entire box will be fiber glassed and then Bondo where needed and upholstered so I don't need it to be perfect.
More to come....being lazy on uploading pictures.
But between the fiberglass that is done so far and all the metal corner bracket -roughly 30 brackets inside and out lol-, then 2" screws here and there and 2 - 5/8's threaded rods -one up and one side2side-
This bad boy does not flex a bit when you push on the panels