Alright I'm gonna start my build log a little early guys.
As most of you know me by my username got160s? or as me in person as Jacob Morris.
The username was meant for me to set a goal, and that is to do a 160db on music sealed up in my suburban. It was not meant to be cocky.
I will be competing in Bass Race 159.9, Heavyweight Bass Boxing, Park N Pound, and maybe a few others.
Here is the list of equipment I will be using:
My vehicle is a 1999 Chevrolet Suburban LT K1500 (A.K.A The Bammin Beast)
Enclosure Will Be A Nasty 4th Order In A 3:1 Ratio, With A Drivers Side Port
This will all be designed and done by myself and a few buddies. This will be a promotion for my company as well (Legit Kustomz)
TO KEEP UP ON ALL OF THE UPDATES SUBSCRIBE TO MY YOUTUBE!
got160s's channel - YouTube
Substage:
24 DC Audio Lvl4 M2 12s (D1s)
Amplifiers:
2 DC 9.0Ks (Possibly 4 total later on)
Front stage speakers:
12 Crescendo PWX 8s
8 Crescendo FT1 Supertweeters
(Six 8s and 4 Supertweeters per door)
Front Stage Amplifiers:
(2) Crescendo Audio C1100.4s
Not sure what to do with the rear doors right now.
Batteries:
30 XS Power XP1000s (16V)
Alternators:
(3) SingerAlternator Externally Regulated 350 Amp Alts (16V)
(Which will produce over 400amps!!!)
&
(1) SingerAlternator Internally Regulated 350 Amp Alt (12V)
Sound Deadening:
105sq ft. of Kno Knoise from KnuKonceptz
Wiring:
16 Runs Of American Bass 1/0 Gauge.
Head Unit:
Alpine CDA-9886
Extras:
(12) ToolMaker Buss Bars & Dual Inputs
Processors:
AudioControl Epic 160
Here's what the suburban looked like when I first got it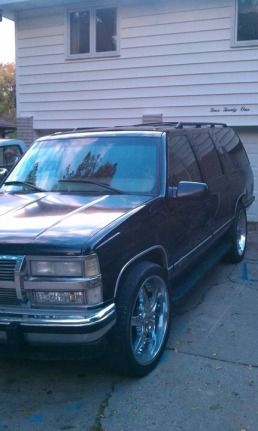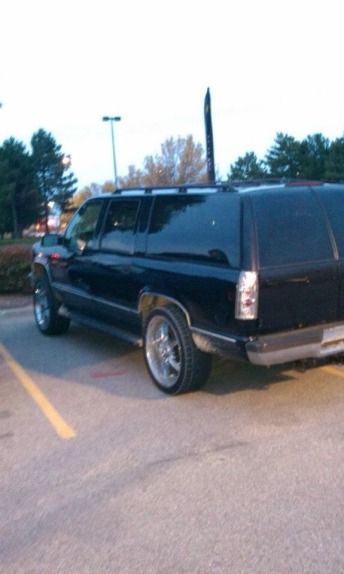 KEEP TUNED!!!
__________________
Vehicle: 1999 Chevy Suburban AKA The Bammin' Beast
Battery: 25 XS Power XP1000's
Sub Amp: 3 DC 9k's
Sub Stage: 18 DC Lvl 4 M2 12's in a Nasty 4th Order

To view links or images in signatures your post count must be 0 or greater. You currently have 0 posts.

Subscribe now! Prizes will be given away for every 1000 subscribers!