figured since it's been years since I posted a box build or even really shown what I'm currently running I decided to post up my newest sub stage.
For this time I'll be running a single 8" w7.
After I spent a ton of time trying to get a horn to work and not getting it to fit in the space I wanted to use I gave up, and decided to use a series tuned 6th order with an aperiodic chamber, IE a quasi 8th order bandpass.
I always write what my boxes are and sign them since I usually sell them.
here you can see where I ended up changing the design to increase front Helmholtz chamber to lower the low end -3 a little more.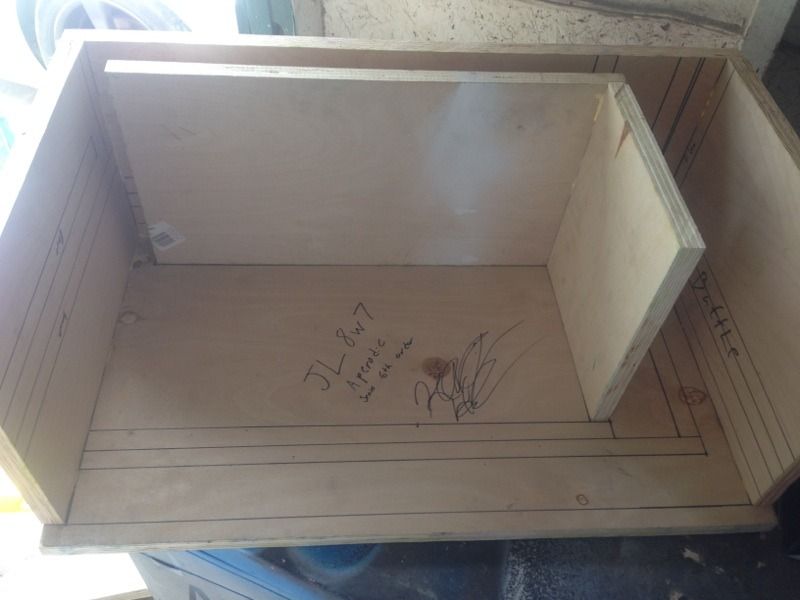 started the box assembly by the 3 main walls and then from the inside out.
this picture shows the stepped double baffle, I could get a little better response by not extending the 2nd baffle all the way to the right. This change in response is probably only noticed by numbers but I always try to make the response as nice as possible since If I get off on 3 different walls the minuet differences start to add up.
my router has grown legs and is gone so had to cut this with a jig saw and chamfer with a belt sander, considering the tools I think it came out just right. FYI the spare aluminum dustcap laying around happens to be the perfect cutout for a 8w7.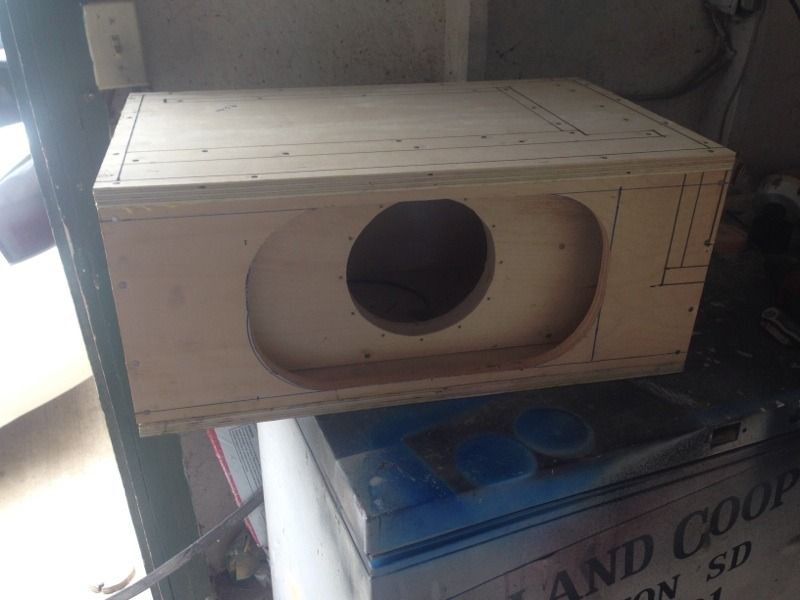 here it is all together, and my awesome work bench/freezer. My goal was to mimic a JL HO box since I'm using their subwoofer. I think it's pretty close in aesthetics performance kills though.
now I dampened the enclosure using rubber undercoating, I noticed doing this to birch takes out the ring it has if not braced properly. I think this box would be fine with out it since it's got like 9 internal pieces but I had it around and figured it would be a good base coat.
and last I fleckstoned it. I was going to carpet it but I had this around as well so said **** it. After this is done drying I'll be adding the final touches, my Bonneville has CF trim in it so I'll probably use the CF vinyl I've got to cover the baffle and my blue LED's inside it.
I'll need to find a way to get some decent videos on here. This enclosure is flat as hell, it's got a little dip at 30hz and down but it will drop under 20hz. On 150rms it's louder than the 12" I had in my car before hand. I can't wait to get this on 500rms. I'm actually surprised how close to my predictions this came out. With as many equations I had to do to design this and get it to couple with my car I can't believe it does exactly what I wanted it to do. People would never really believe what this enclosure is actually "tuned" to, really goes to show that port tuning is only that and has no real bearing on what the enclosure sounds like. This enclosure is tuned in the 60h range and it doesn't care about playing "under tuning" or anything like that. The enclosure was designed to unload the cone the entire time and it does it well. It really wants me to grab a zv4 and a SCV-4000 and do this enclosure on a larger scale.
__________________

To view links or images in signatures your post count must be 0 or greater. You currently have 0 posts.