Figured I'd start this now. Before I say anything more, I am going to start with this disclaimer: this build is going to be slow, but then really fast. I can't put one component in without having the rest. So, it's going to be 2-3 months of designing, planning, and procrastinating, and then it's all going to come together in a week's worth of work (hopefully). I'm only starting it this early to hopefully get some help/tips/thoughts to help me see something I may not have.
Now that that's out of the way, here she is:
The Blazer was having problems, tranny was making noises and starter was starting to go and I didn't trust it to drive out of the city. It legitimately was the biggest source of stress in my life. Threw in the towel, got the car. Got tint done this weekend too.
Here's what I pulled out of the Blazer. All of this will be transferred to the Impala: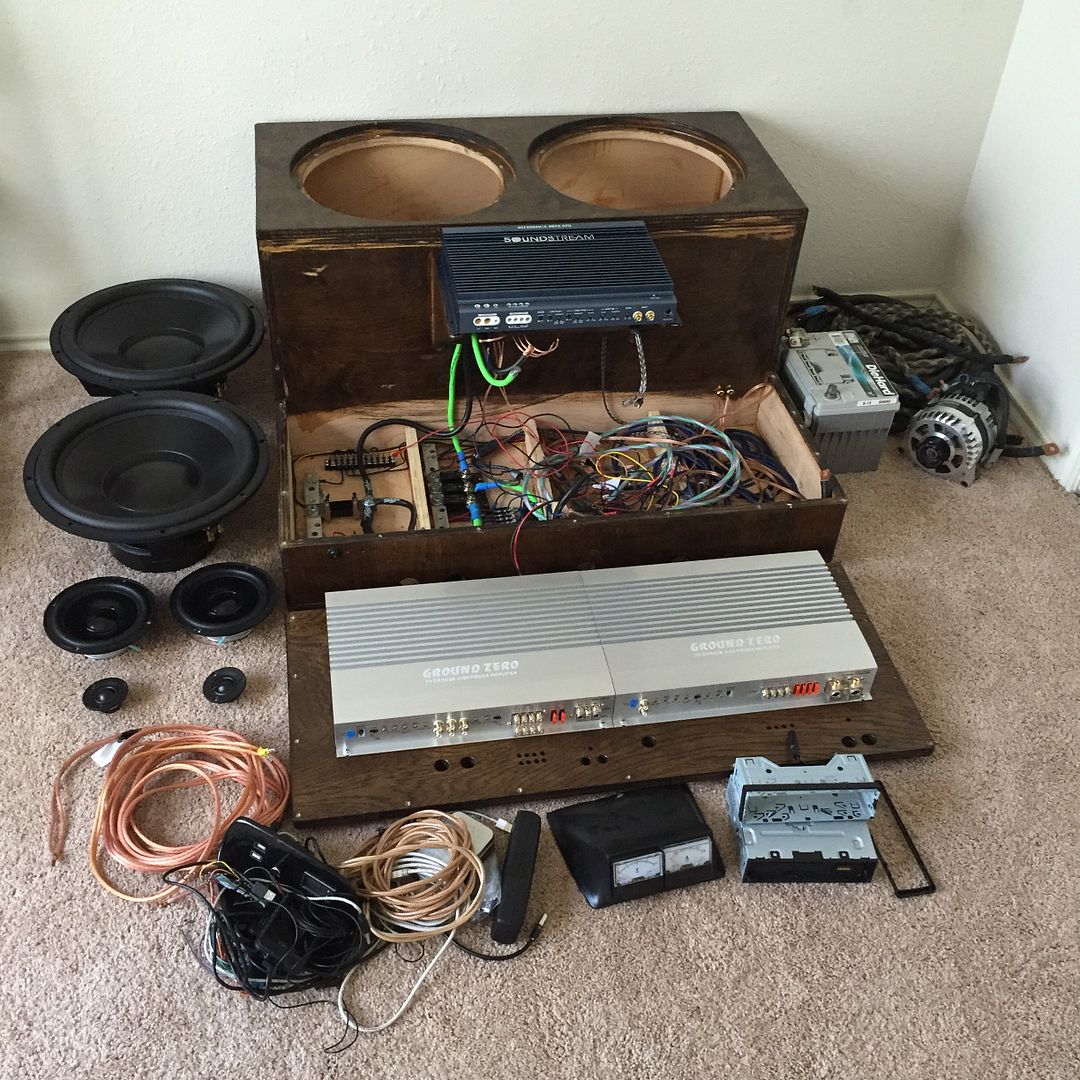 For my head unit, it will be an 80PRS. Just ordered the dash kit, wiring harness, and antennae adapter. I really hope I can get the voltage meter in the pocket under the HU (because I'm going from double DIN). Not really sure where else to put them. Now I had both digital and analog voltage and ammeters before, but I might not be able to do the analog this time. I would still like to. Here's what I'm working with:
For my tweeters, I'm reusing the Vifa NE25VTS. I will be putting them in the sail panels. I still have to decide aiming, any thoughts? I think I am going to aim both at either the center between the two seats, or opposite headrests. I did the latter in the Blazer and liked it so that's a sure fallback. But I just ordered spare sail panels to play with.
Mids will be Stereo Integrity TM65s. Will be fully sealing and deadening the doors, as well as applying the KHA method of driver treatment, including the foam ring to the plastic door panel. Will be nice to actually fit drivers behind the stock door panel.
For my substage, I'll be running only one Dayton HO 15. Since my seats don't fold down, I've decided to do a 4th order firing through the speaker grills in the rear deck. I will be doing 2 cubes rear chamber, 1.6 cubes net at 54Hz with two 5" ports for the front chamber. Here's the grill I'll be firing through and the trunk I'm working with:
For my amps, I will be running the Soundstream REF2.370 for tweeters, a Ground Zero 4200XII bridged to the mids at 8ohms, and a Ground Zero 2400XII bridged to the sub at 4ohms. Not quite sure on placement, but I think in the trunk what I'm going to do is put all wiring in between the sub box and seat, box right behind that, and then the amps placed vertically in a row (side to side, so looking from trunk like this: = = =) with the rear covers off. Then I'll put plexiglass over the amps, so when all is done, looking in the trunk all you'll see is the amp guts. Plus, I'll still have half my trunk.
Pretty excited about being able to make this look pretty OEM. Only thing that will be different is HU and tweeters.
What's the best cheap deadener now?
__________________
Build log:
To view links or images in signatures your post count must be 0 or greater. You currently have 0 posts.

High resolution photos:
To view links or images in signatures your post count must be 0 or greater. You currently have 0 posts.