Well to make a long story short. My uncle passed away last year, and i bought one of the most loved things he left behind. His truck. He bought it with 2 miles on it. He has everything documented by date and year since 1990. Every oil change, wiper blades, brakes etc. Before his passing some damage was done to the truck and he never got to fix it. There is also some rusted spots that got extremely bad from sitting out in the elements for the past amount of months. It is now officially my truck. I will make a list in the next post showing what will be done to it. My goal is for the truck to be ready to go to college with me in 6 months. I am not sure if this is possible but i will soon find out. I will be doing ALL work myself except final paint and fixing the rusted rockers and cab corners. Any one who has connections for parts etc let me know . ON TO THE PICS as it sits now: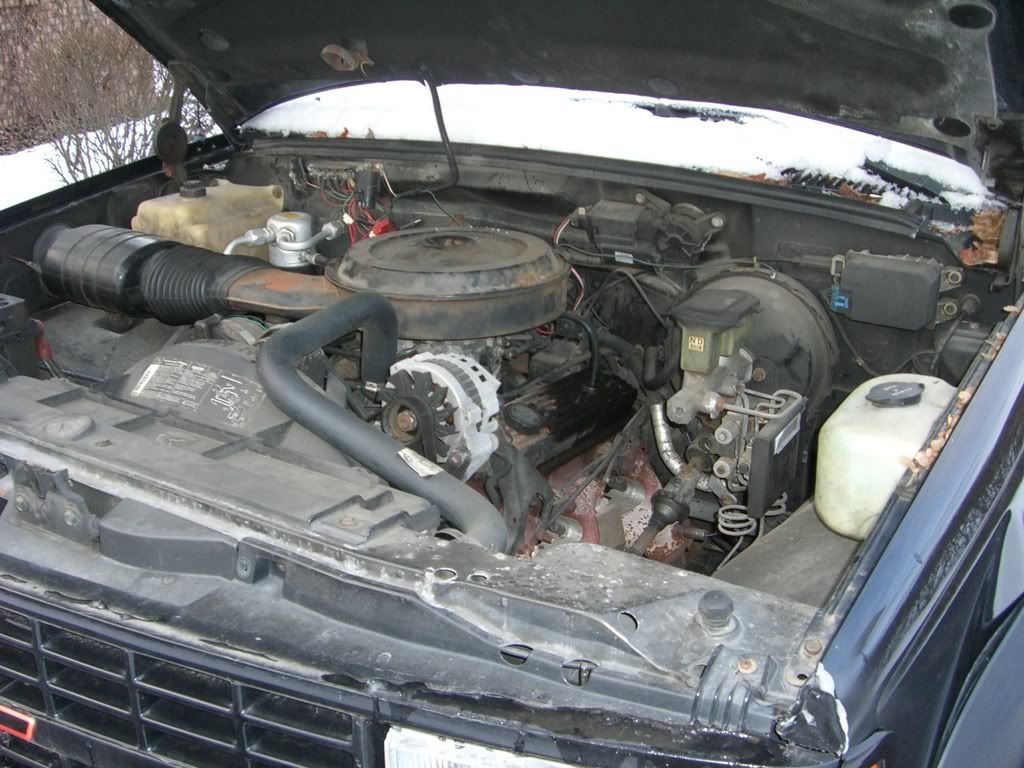 [/QUOTE]
Ok Got the cab corners and rockers glued in. Had to make new backers for them also.
Used the stud gun and got 95% of the damage to the front of the door out. Filled it and also fixed a couple other dents while I was at it. Then sprayed some primer on it and guide coated it.
After blocking, filling, blocking, filling, blocking, filling again and again my arm fell off:luke: But the dented pass side fender was ready for primer!
After Primer dried, I blocked it again and found 2 more small dents that got filled. Another 3 coats of primer were sprayed and now it is ready to be edged in and wet sanded for paint.
Also got the driver side fender blocked and primered. I will get it blocked and primer it again maybe today so it will be ready to edge it all in at the same time.
went and checked it out today and got some pics of some fitment assembly. looks really good cant wait to see it cut n buffed. Chip was just starting on that when i left wish i woulda come later. not too much left to do now and im sure brian cant wait to get this thing outta his hair!! hahaha onto the important thing.. pictures.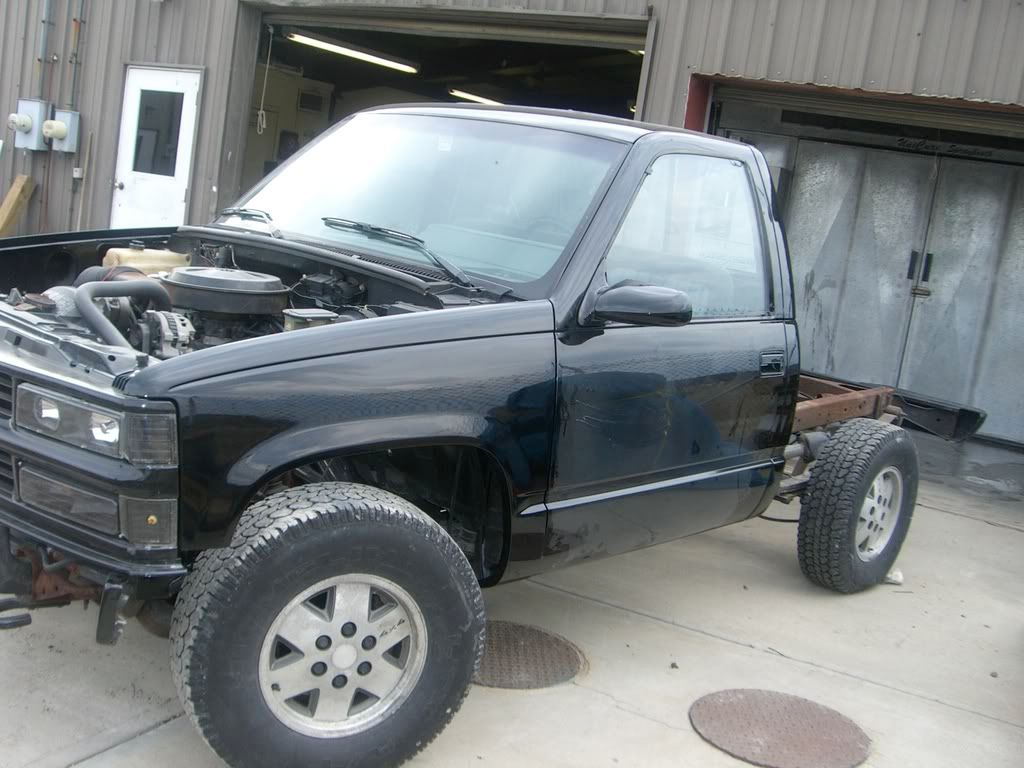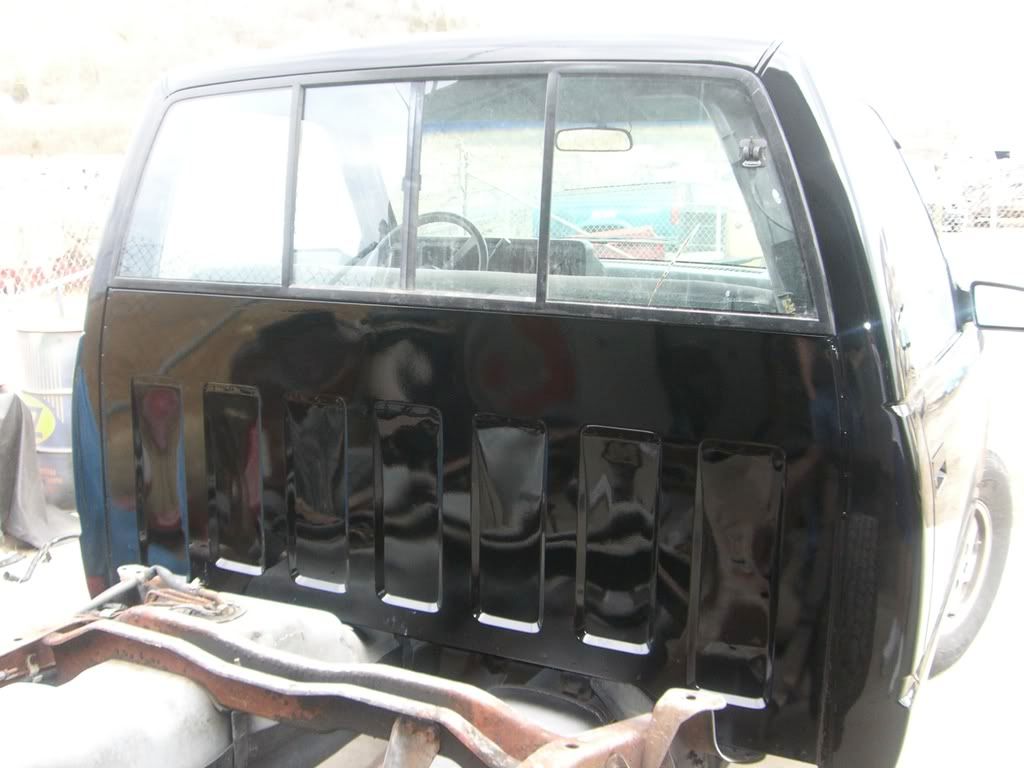 and a picture of my next upcoming project.
YIIIKES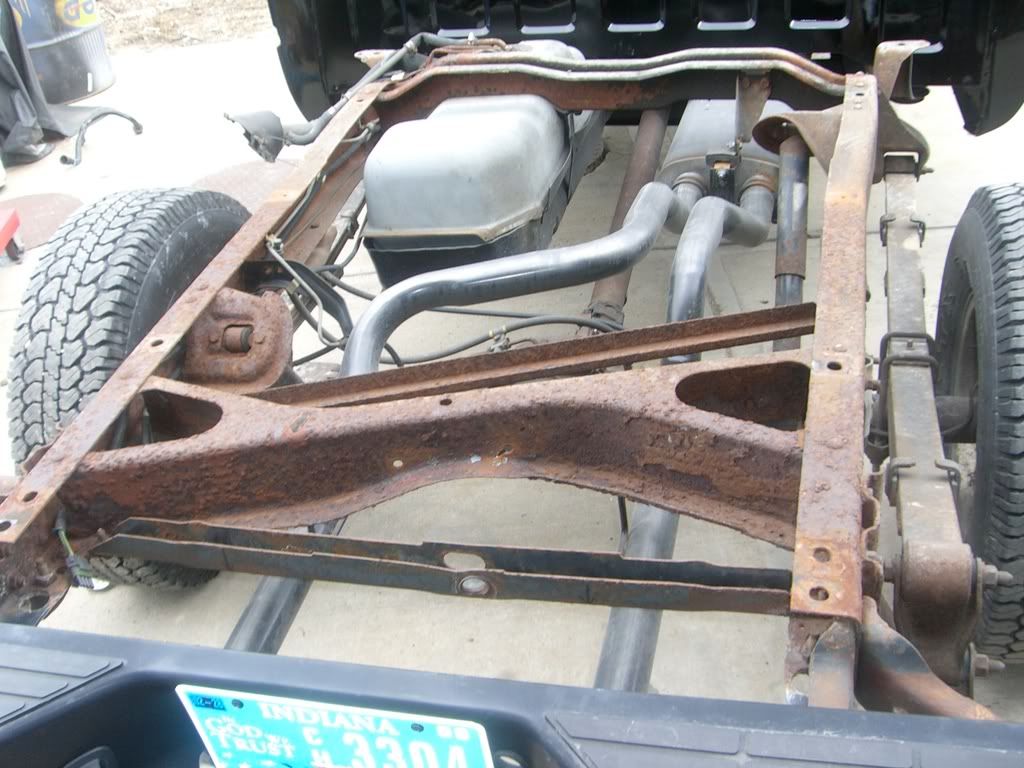 Took a few hours today washed and waxed the truck.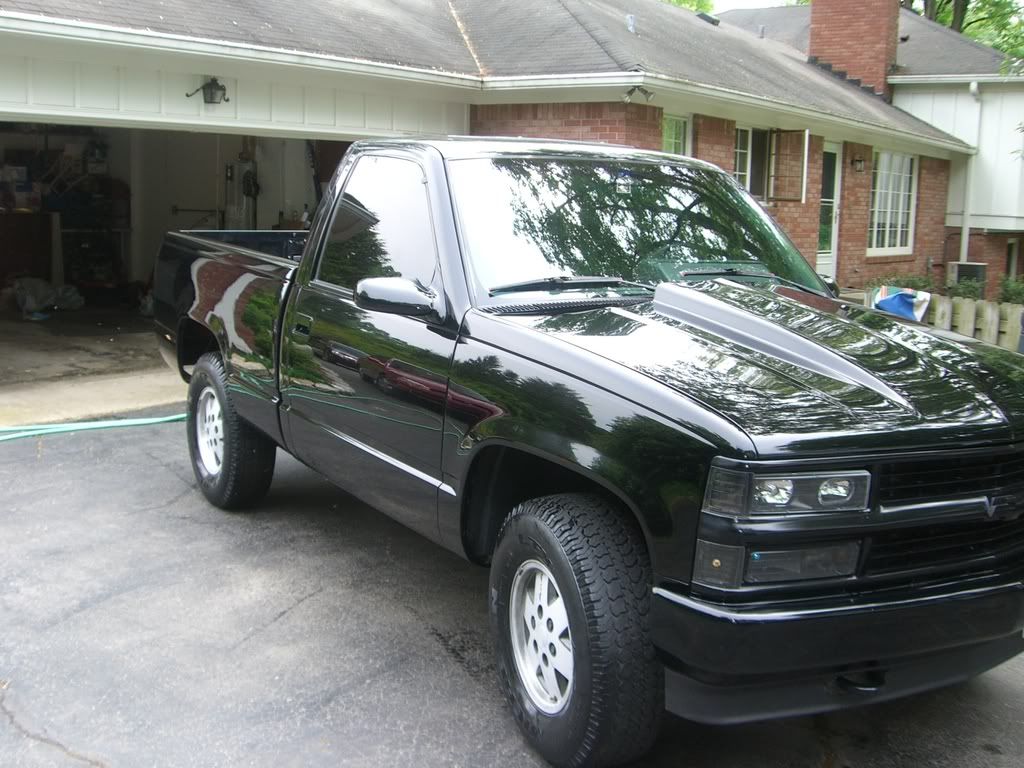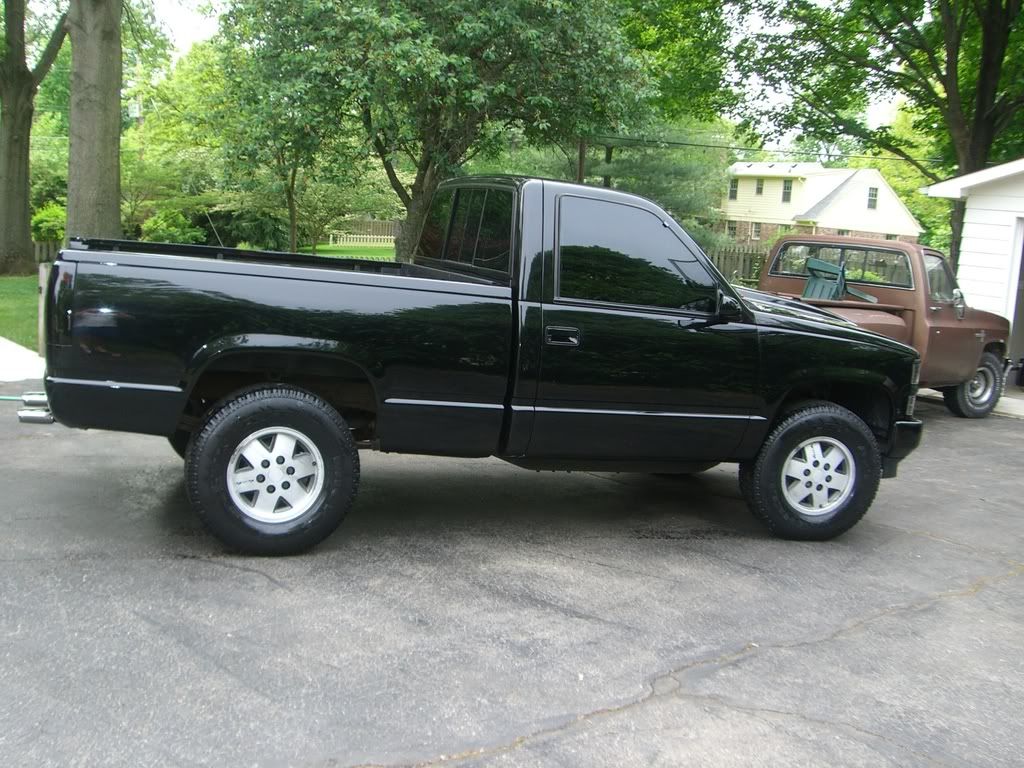 As you can see i still have not had the time to get my exhaust shortened since the roll pan went on.
got a bunch done in about 3 hours today. Ill let the pics do the talking.
one of the corner covers came off... cheap ebay corners.
Got the seats set in for now. Tested and both seats have power, but i need to repaint both bases i hurried up to be able to drive the truck abit before the sun was all the way down.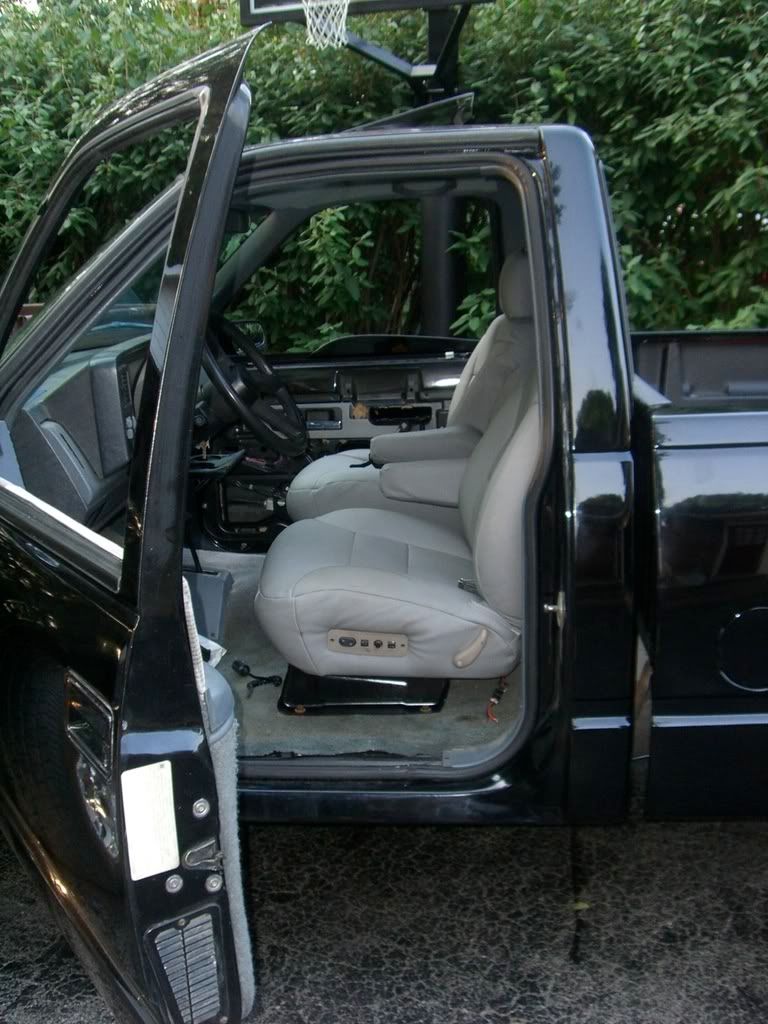 and heres one with the windows rolled up
After lookin over the truck a LOT closer today in the sun light there are a few areas that i may have to get re cleared. Looks like someone that was doing the final sanding went all the way through the clear in a couple places so ill have to get that straightened out.
Well i got the 50lb bucket of aluminum oxide which is 10 times better then the glass i was using yesterday. i worked on it for about 4 hours and then spent 2 hours cleanin up the shop because after i got done with the truck today i could barely walk around. I also put leds in up in the markersand im buyin a new set of corners to do the tops because i didnt seal them with silicone and one cover fell off. ANY WAY.... on to the pics.
and heres the rust from today only... prettty bad.
Heres some pics of my shop.
Pics of the leds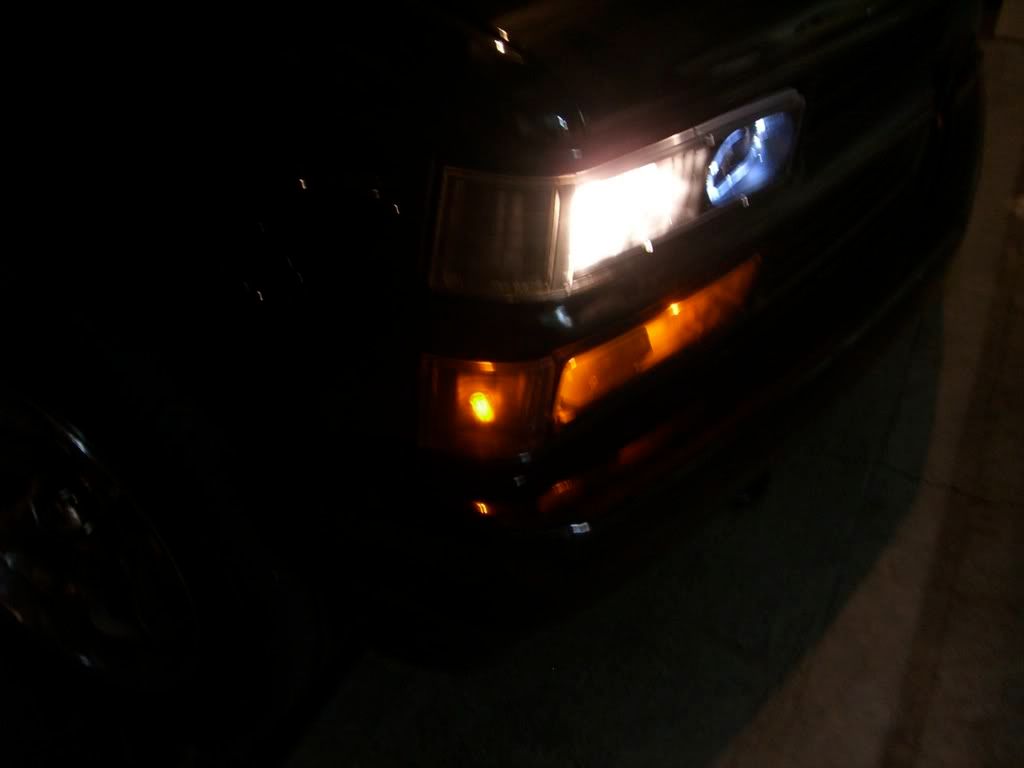 well i got a good amount of work done today. Also ordered about 500ish in new parts, new springs, new stock bushings, new fuel pump, and fuel line as well as a bunch of hardware for boths that i know once i take off will not be reusable.
Pics
Passenger side
Drivers side
there are a couple spots where it dosent look nice and smooth, but its still strong and nice and solid. i may redo them when i finish up with the insides of the frame and cross members. gettin close to done, just waitin on parts now.
Well i got a good bit done, but also took a bit of a step back. I punched a hole in my radiator so i upgraded to a 34 inch so i need to make yet another mount for the fans. How ever in the last 2 days i DID get the e fan controller mounted and have it wired just waiting for the final placement of the fans to finish the wiring and clean it all up as it looks like a jungle right now. I also finished painting the frame for now, there is one cross member and most of the inside of the drivers side that is not painted but the rest is w 4-5 layers. tomorrow all the new suspension hardware will go on gas tank will go back in and hopefully the radiator will be here and i can go buy the new hoses and make a new mount for the fans. basically i wanna have EVERYTHING as far as suspenion and the fan done and put back together tomorrow, just waitin on springs. Enough ramblin onto the pics.
new shocks compared to old ones... reaaallly old ones
frame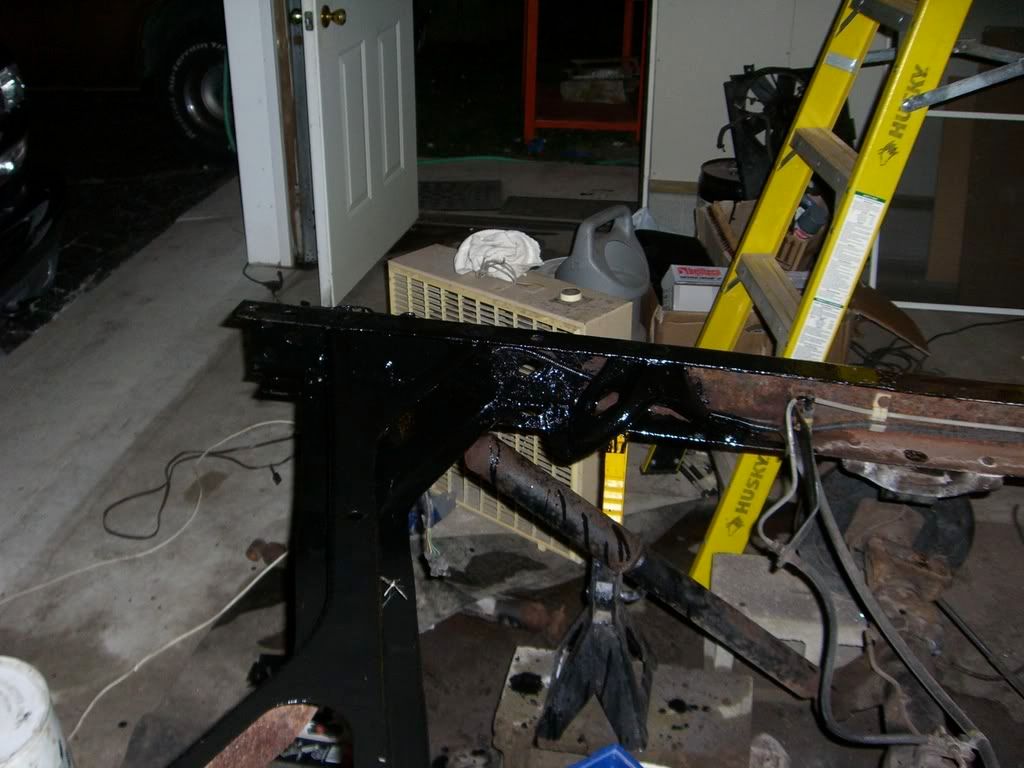 Losely wired and mounted e fan conroller
Today.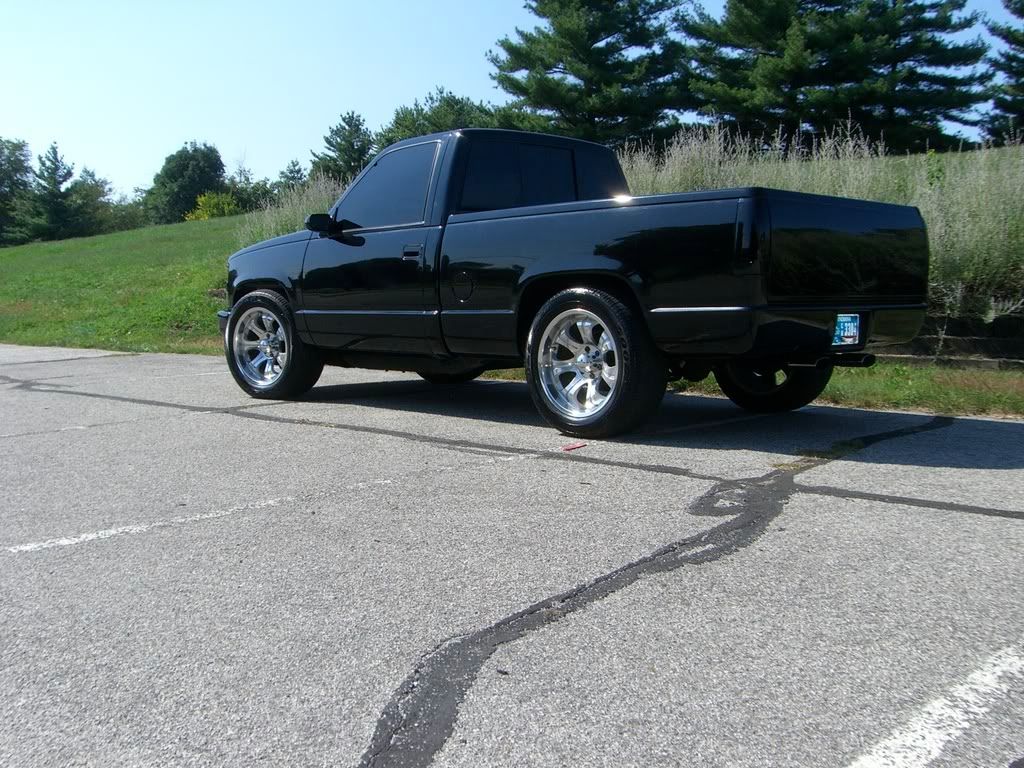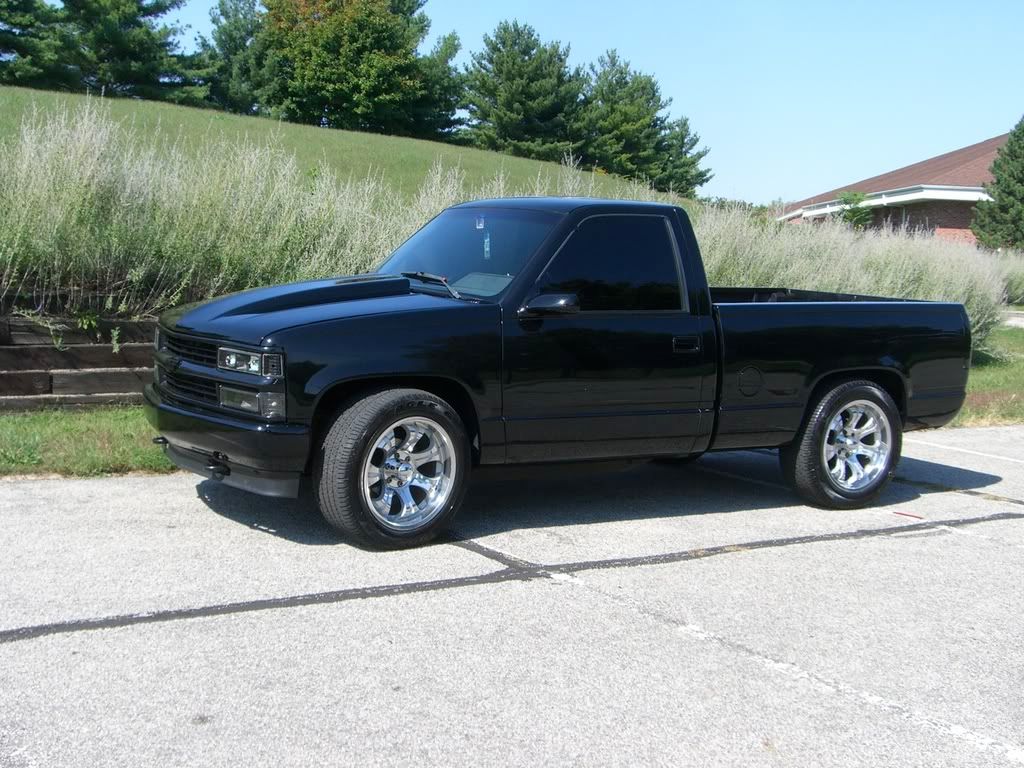 I made a thread in the photo section but hadnt been in this thread for ever so ill update here too.
Soo i was bored today and was out tying up some stuff on the truck and decided i really wanted it to be blacked out. SOOO i smoked all the front lights. Idk how the lights will look at night yet but i dont think it will be TOO bad. Anyways i love it and i got to put the new corners in so that it dosent look like ****. On to the pics.
Before.
After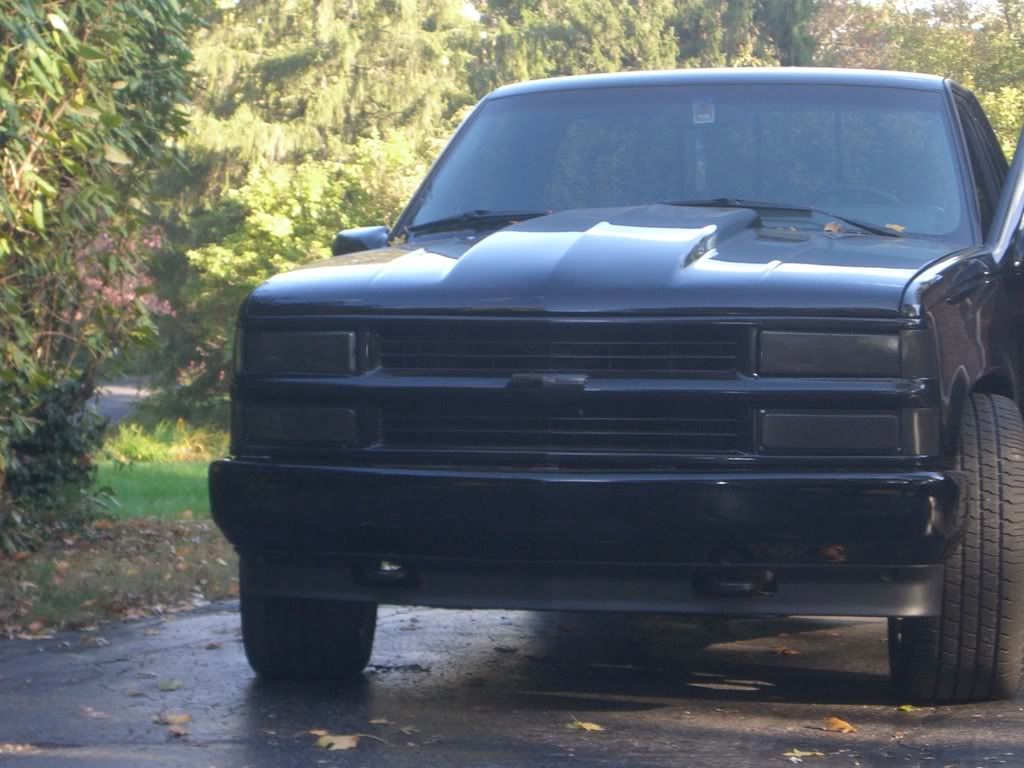 well i got the girl in her winter attire and cleaned her garage yesterday. kinda a shitty pic but u get the idea i think
Got the brakes all done. ended up not bein able to use the original set up i have so ill b sellin that and lookin for a big brake kit in the next few months.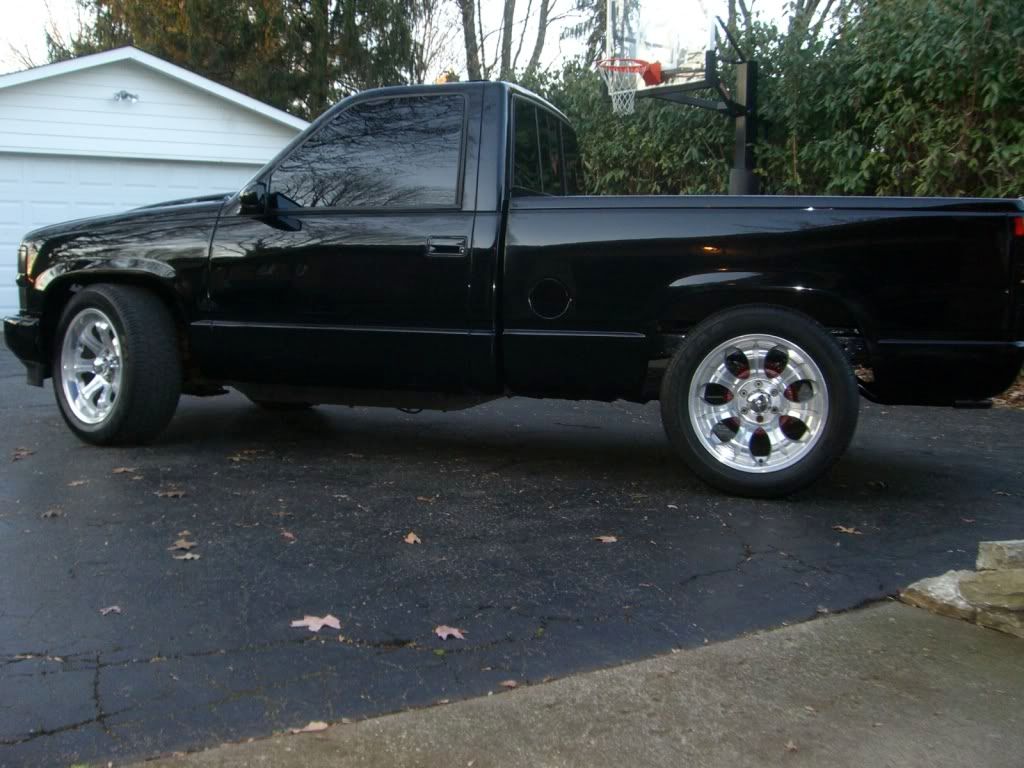 Now for the interior. Started off stock with a bench and just looked old and not really matching the exterior any more.
How it started.
Then
Then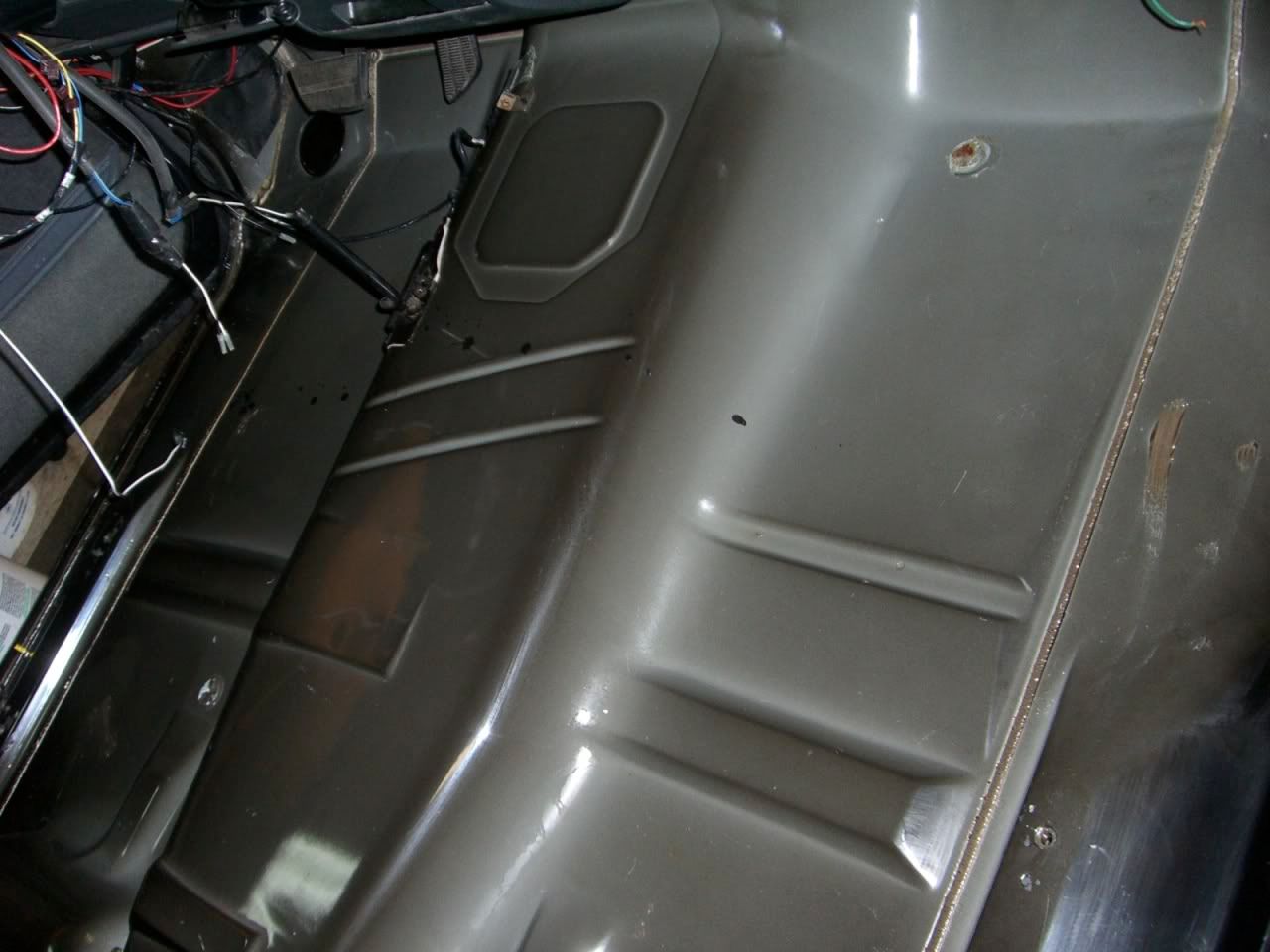 Then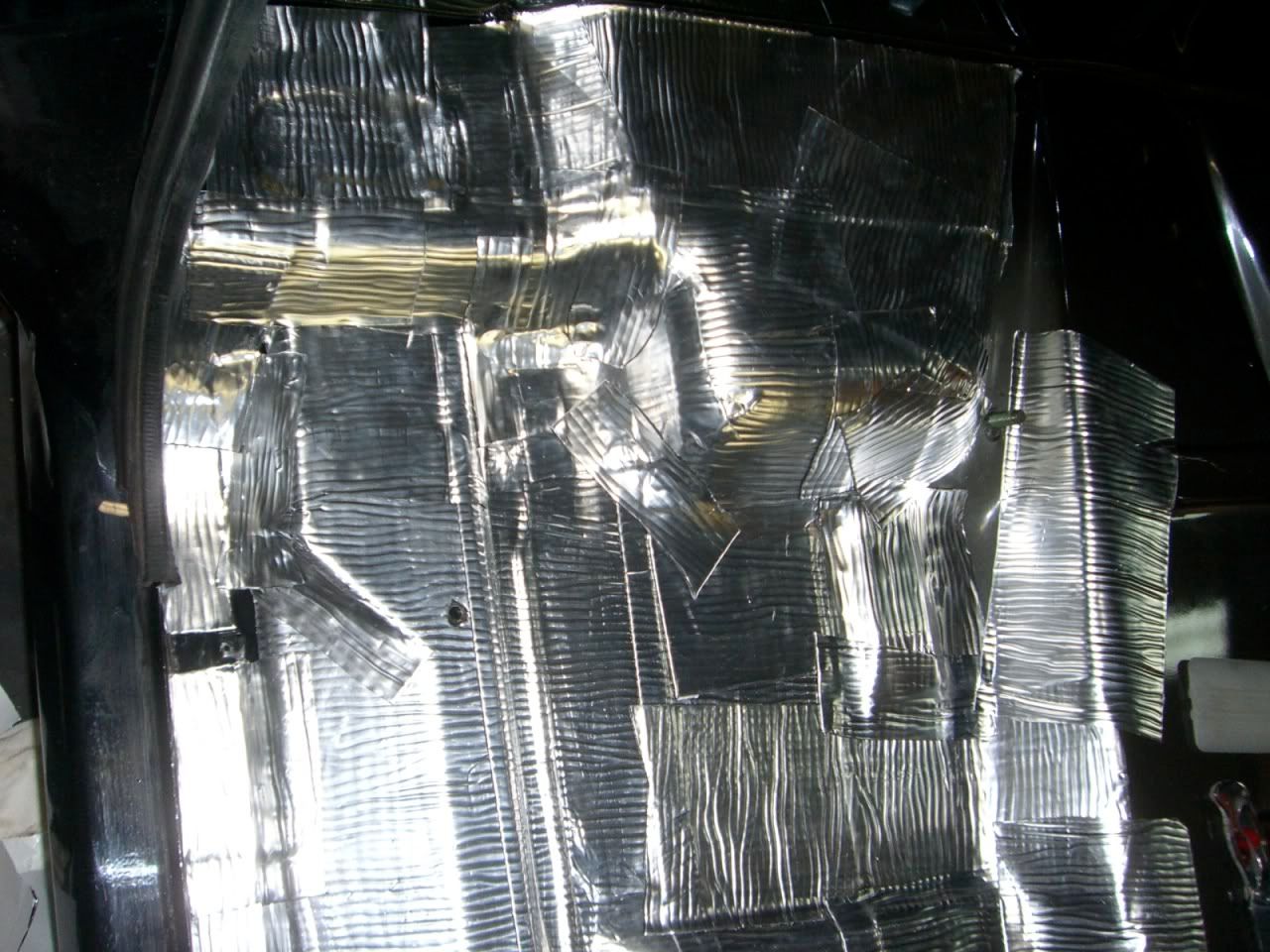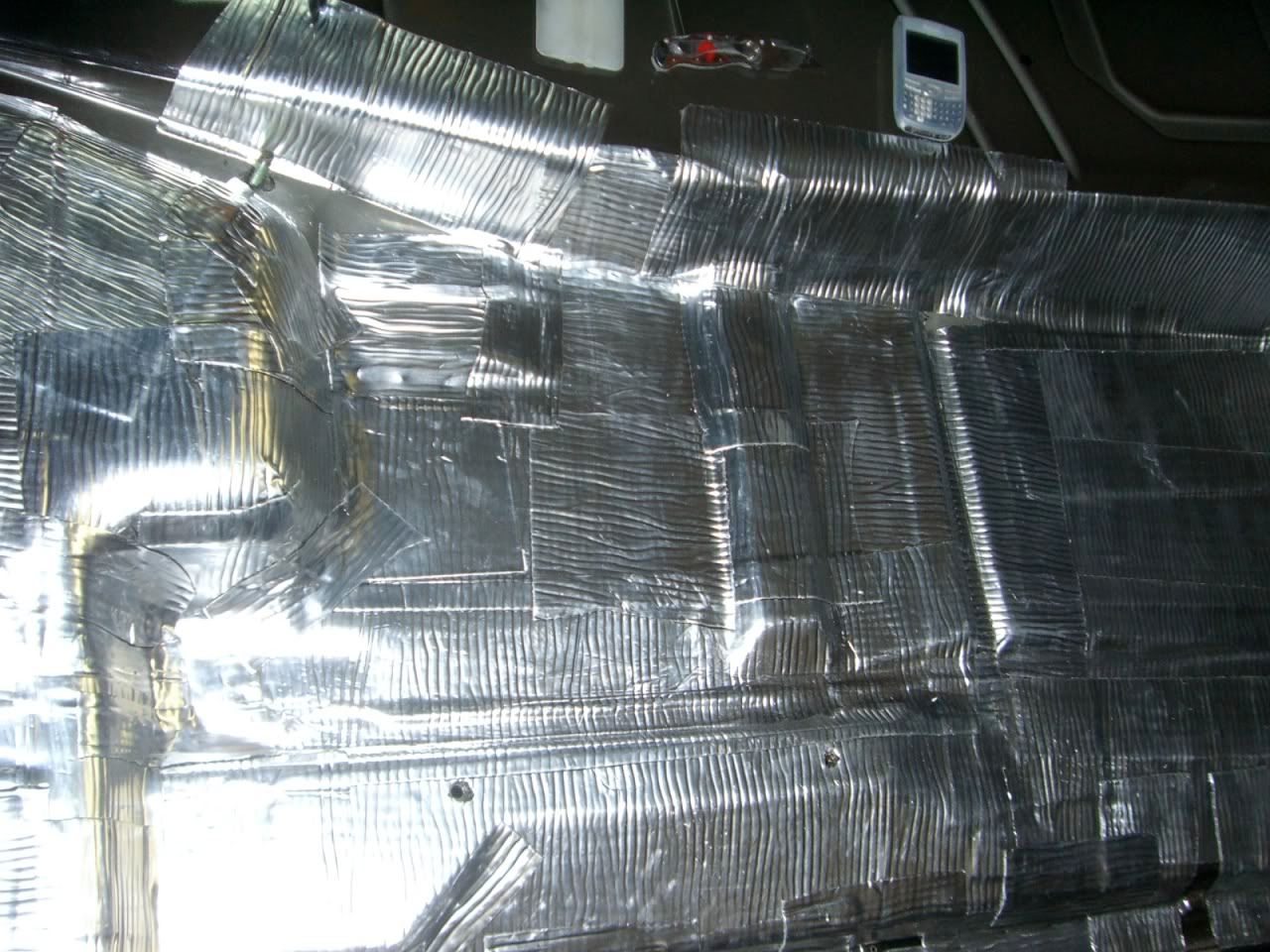 Old carpet out, new in.
Old Carpet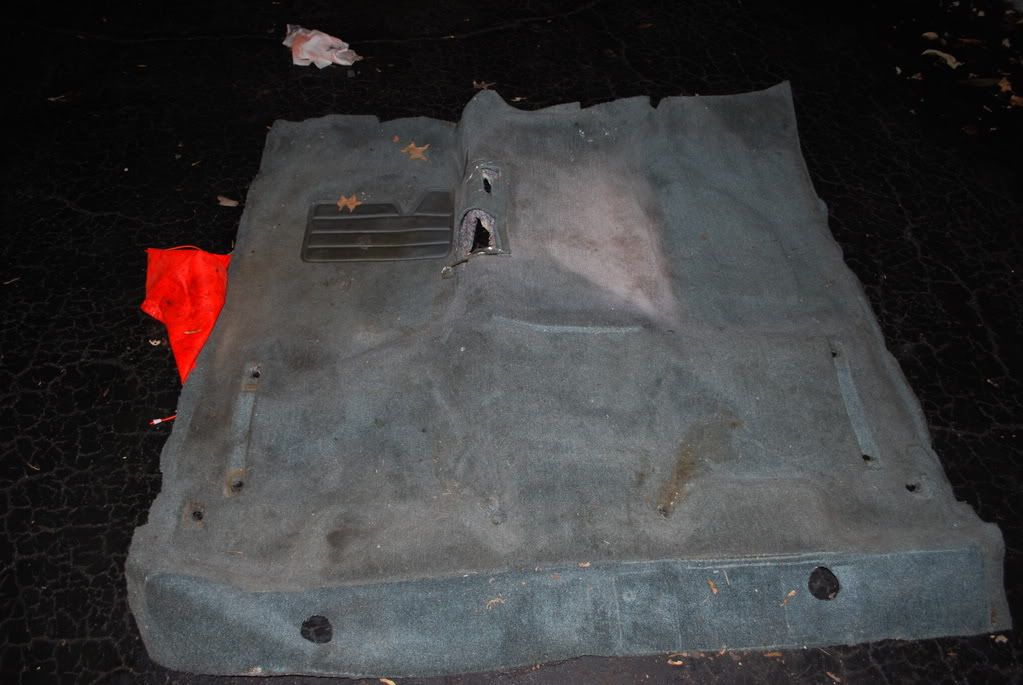 New Carpet laid in.
And some free floor mats and just a bit more to do tomorrow before i move onto the doors and dash.