This is my first build I am now 17 years old but I bought my Tahoe last year in December.
Its also not an ordinary build log of just system its a log for everything I've done to my Tahoe..
2003 Chevrolet Tahoe
almost completely stock at this point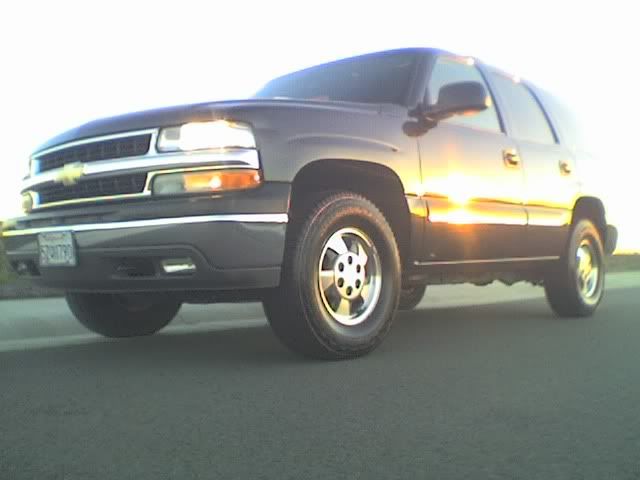 Fi BL 18" Fully Loaded Dual 2
installing the head unit
wiring in a GMOS in order to keep the Bose speakers (for now) wasn't that hard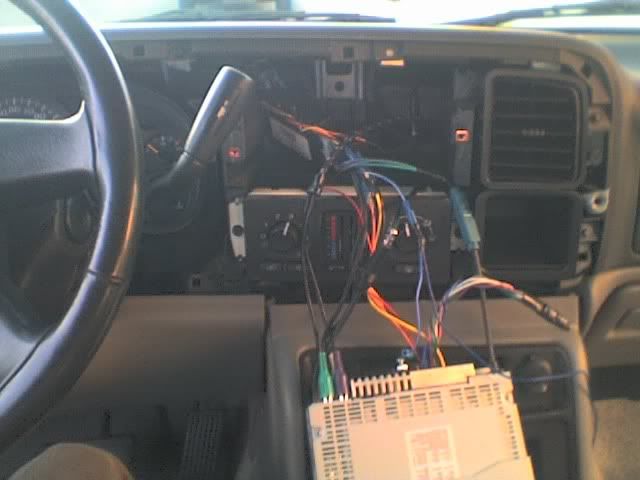 my original plan was to put the Kinetik on a battery tray from Chevy but there were too many complications and things just didn't fit right.
so it ended it up in the back under the passenger side seat on top of a little piece of MDF so it wasn't floating on the seat brace.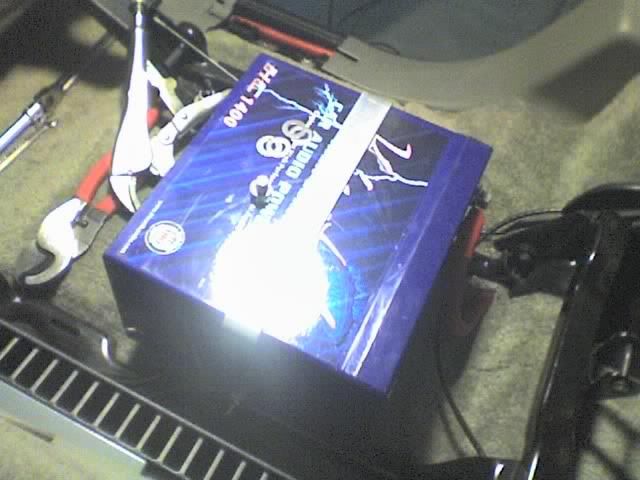 with the seats out so I could get the RCA, Power Bass controller, remote turn on, and 1/0 under the carpet...
the 1/0 is ran on the opposite side of the car it just looks like its right next to the RCA's in this picture
So eventually I decided to take about a 2" long piece of PVC and let the amplifier float about the seat brace and just screw the amp with long enough screws to the frame.
I got lucky and two of the seat braces were perfect size away from each other so I only had to screw twice and bolt the other two to the brace.
...where to mount the remote.
Do like everyone on YouTube; let it just hang around - too sloppy.
Mount it in between the seat and the center console - ends up ruining the upholstery
Copy Chevy and mount another switch on the side of the seat because it already has enough room to get your hand too it and it is out of the way - I think we will go with this one.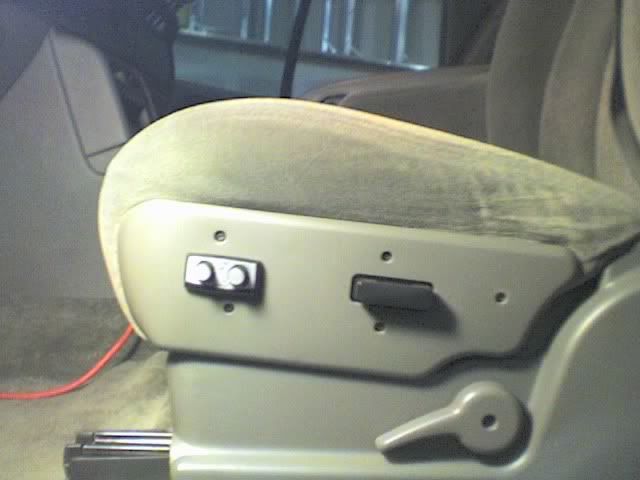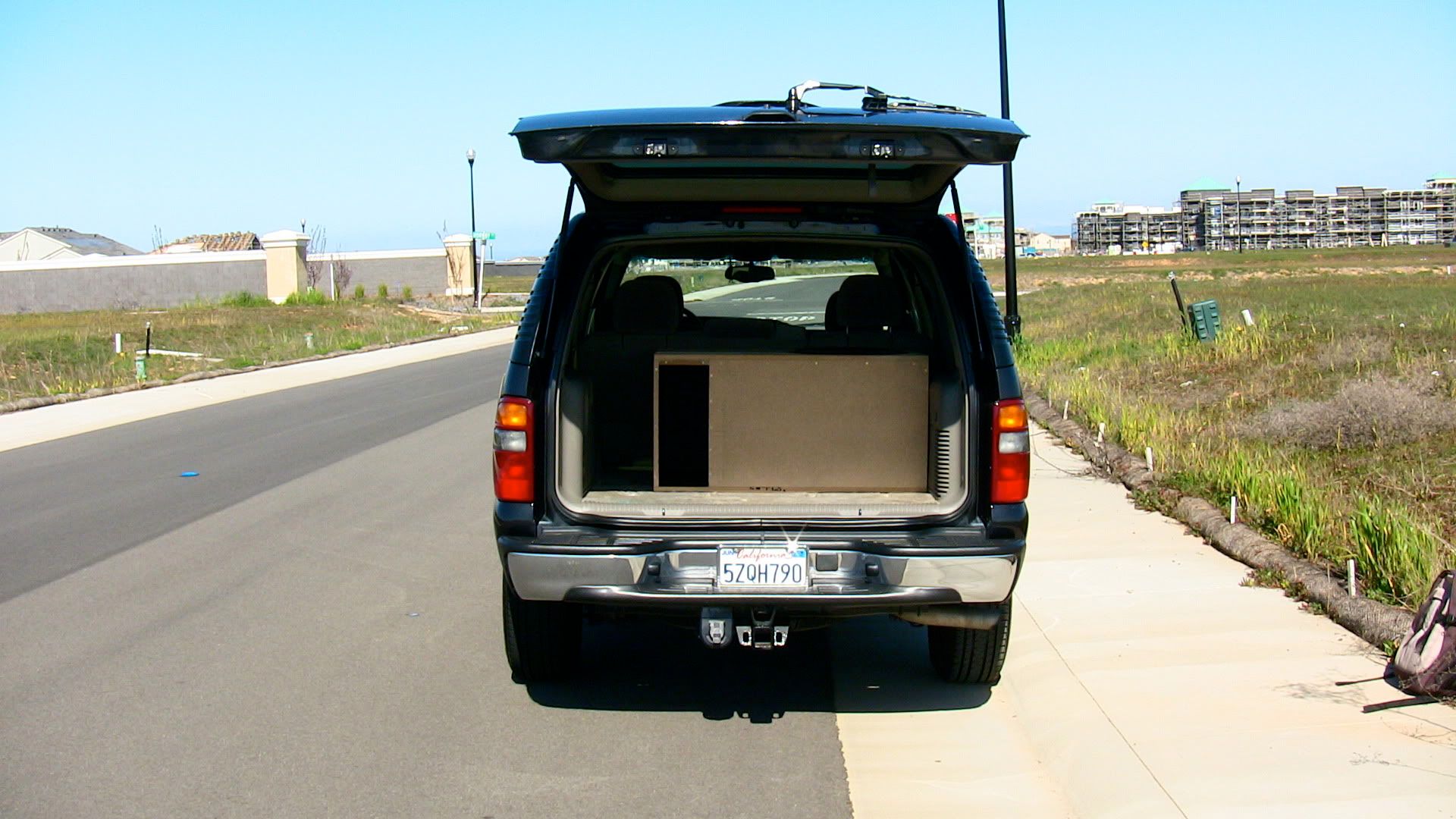 took the whole back out just to get the carpet up and get some deadening down.
also did the a-pillars and front doors off of 12 sq feet.
keep in mind the only things that are completely covered are the a-pillars everything else I did where it needed it most or in the doors where it made the speakers sound better.
I would totally recommend sound deadening even if you just do it behind your speakers.
it made my highs crisper and my mids have a little more bass.
overall I eliminated most of the rattles and even the most annoyingone... my over head rear air control panel snapped on the bottom so it flapped to the beat and the high notes made it buzzz horribly.
took it out and put a bead of silicone around it so it is not going anywhere.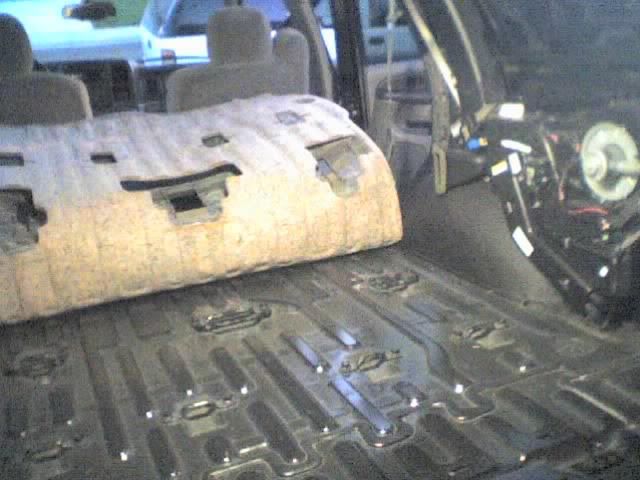 rear bose speakers
painted my bowtie body color came out pretty good
first I sanded it down with 600 until it was dull, then shot some bulldog adhesive promoter so the paint won't chip.
waited 5 or so minutes then shot another coat and waited another 5.
shot a light coat to get some color down, it wasn't necessarily all covered.
waited a few minutes then really shot some on, came back after a few more minutes when it was settled and shot a light coat
300 Amp DB Linc Alt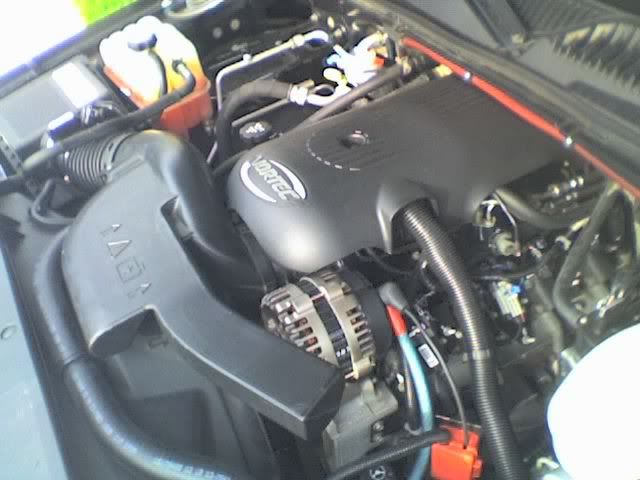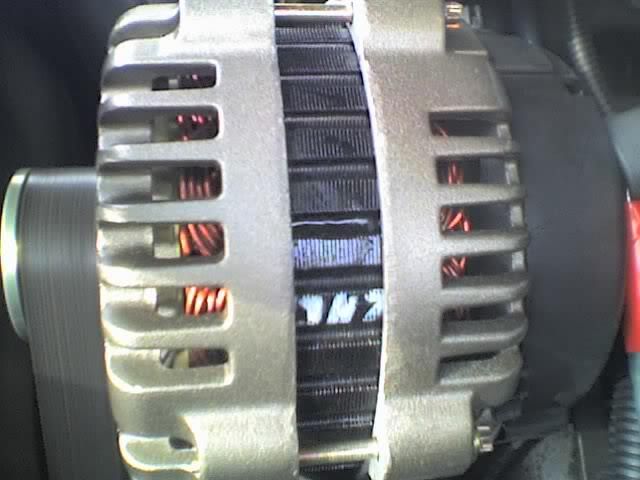 well been thinking about it and decided to order an EQ.
got the Clarion EQS746 it will be here Tuesday and in later that night for a car show at my school on Wednesday.
carpeted the box today and I also had an idea to carpet underneath because I didn't want to look at a carpeted box and bleach stains and bars for the third row.
so first things first...
sub out of the box since it was first put in.
[IMG][/IMG]
was a little tough getting it out since the double baffle is really tight against the gasket and some of the glue got on it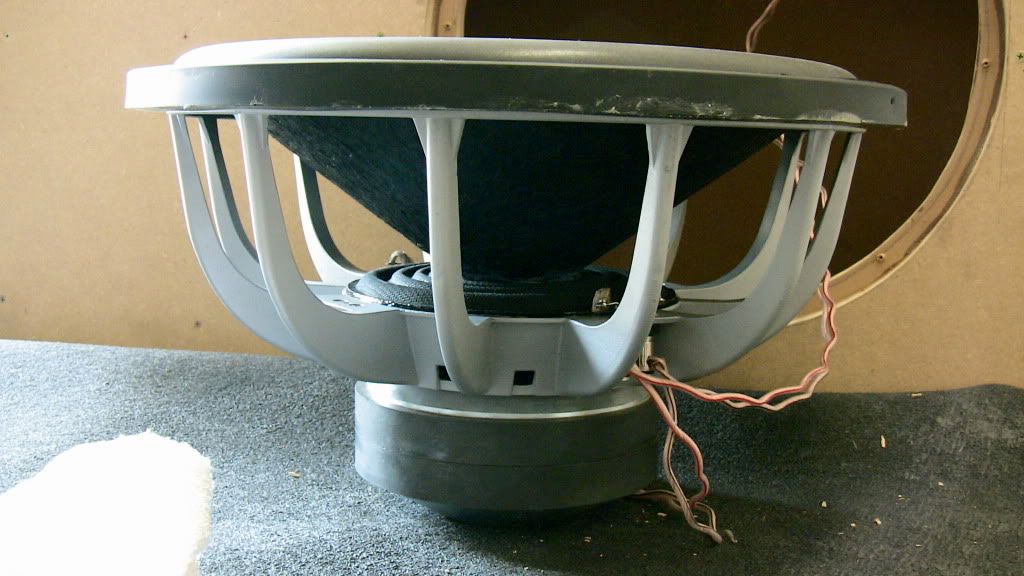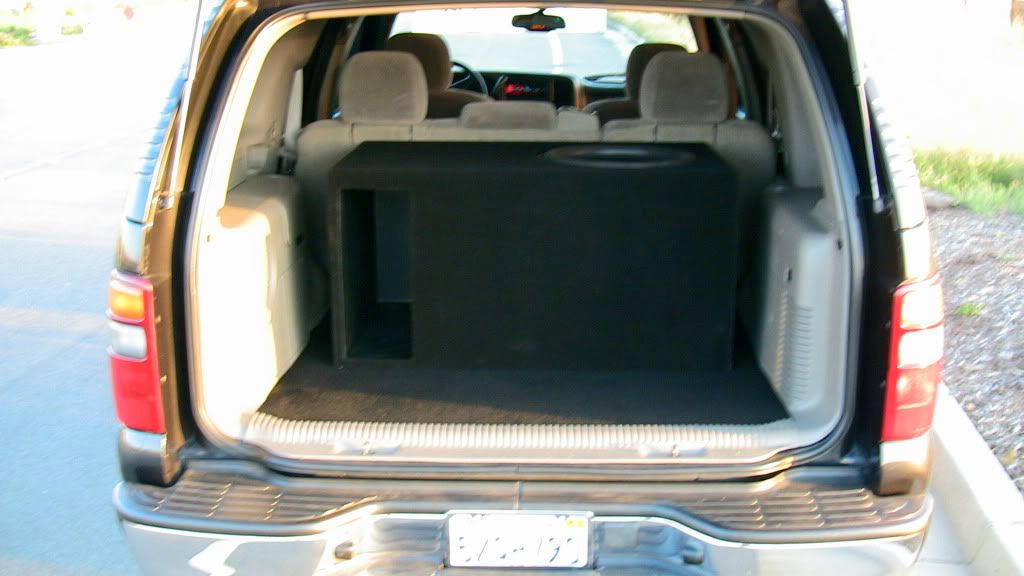 took a little while to get it just right.
looks clean as hell on the black carpet underneath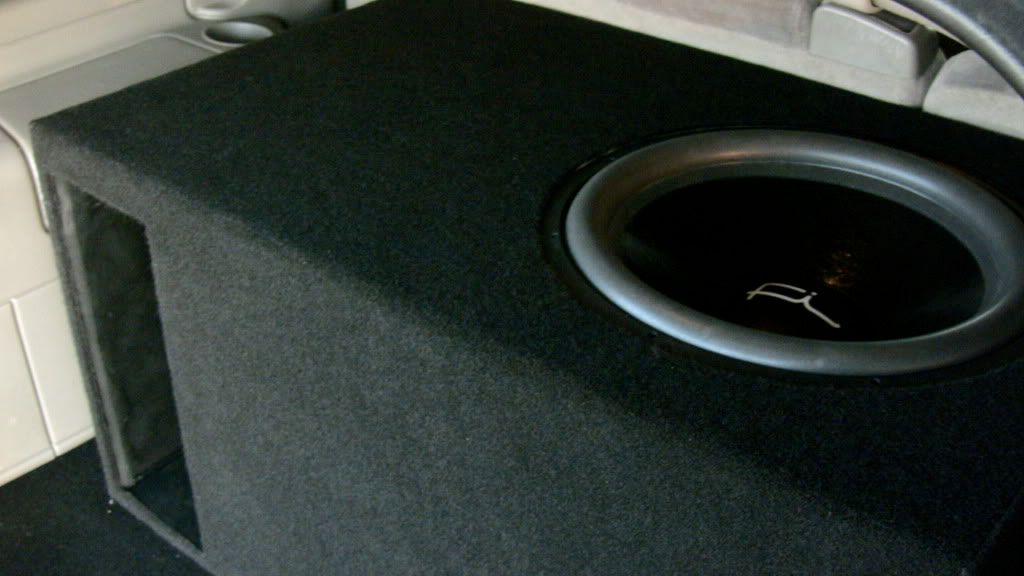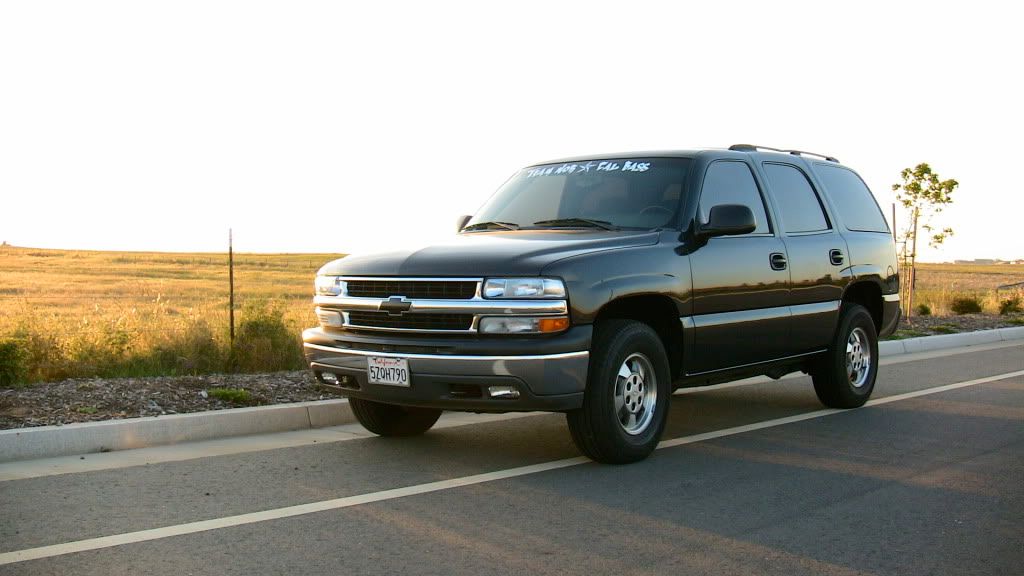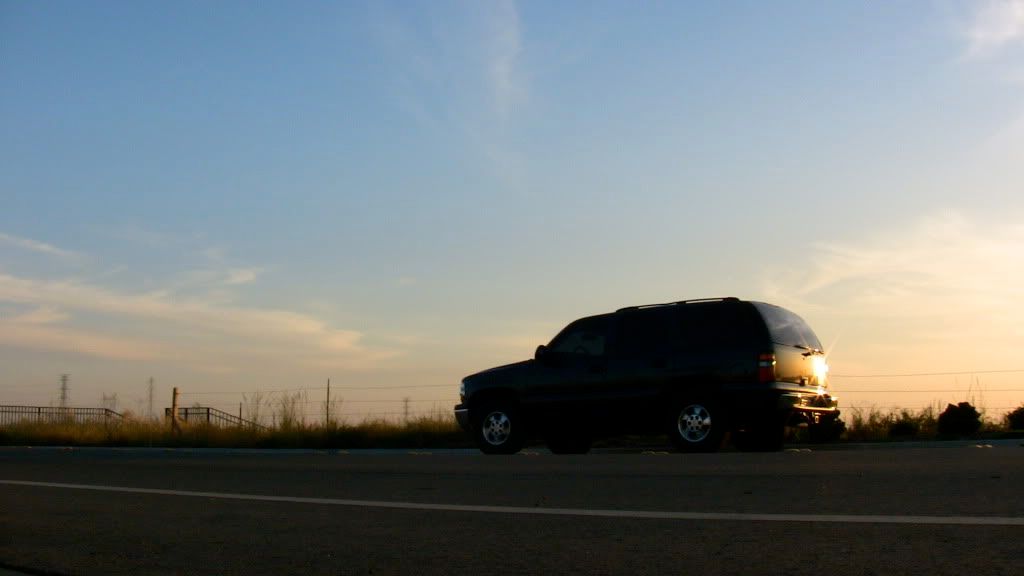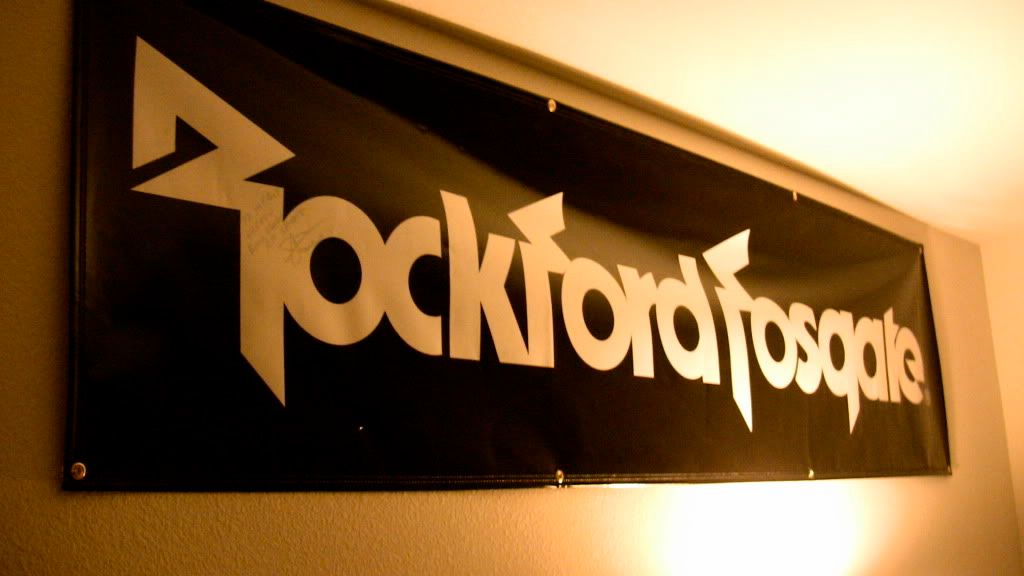 been getting a lot done.
finally carpeted the box.
washed my car like never before.
gave it some nice wax.
bought a equalizer and installed it and attempted to tune it in 3 hours.
let me tell you an EQ makes a world of a difference
I have a lot more control over my sub and the mids and highs got louder and more clear even with my sub up.
glass wax is more like it.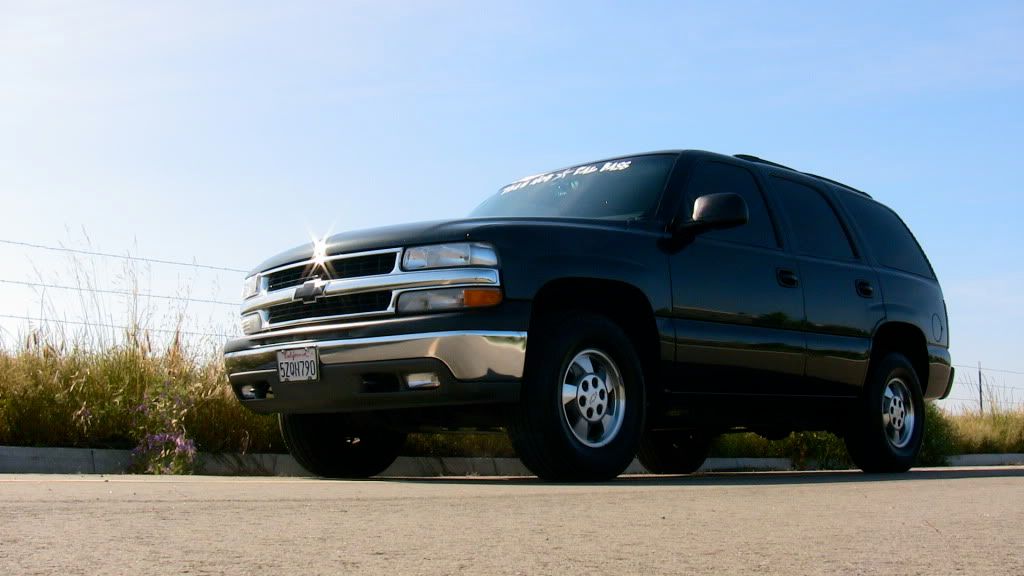 Team Nor*Cal Bass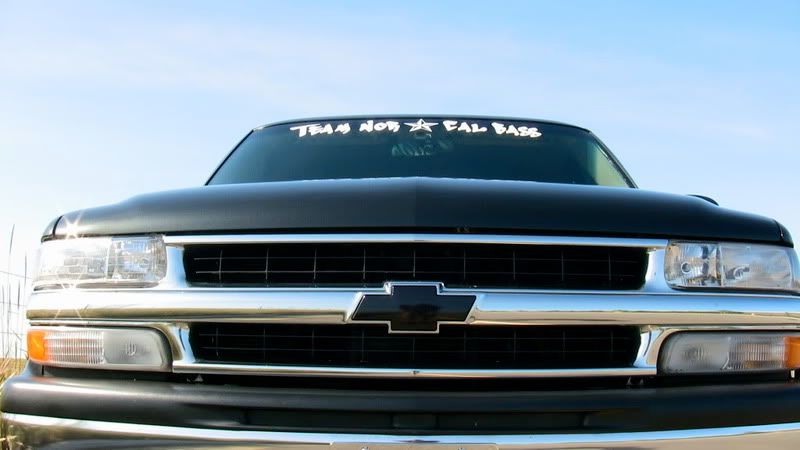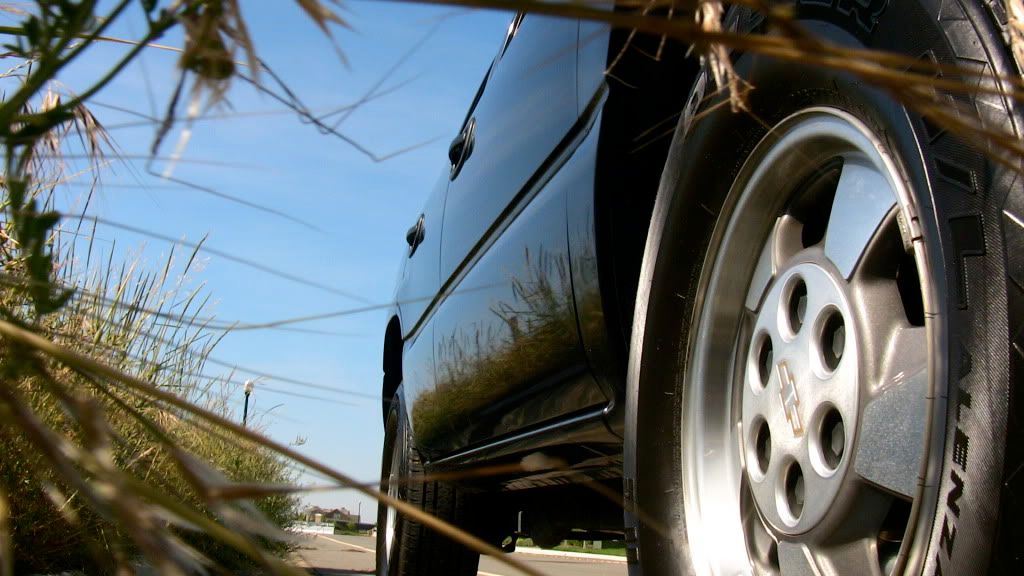 the Clarion EQS746 matches with my Alpine and RF blue lights.
I decided to keep the Alpine red though to give it some sort of separation.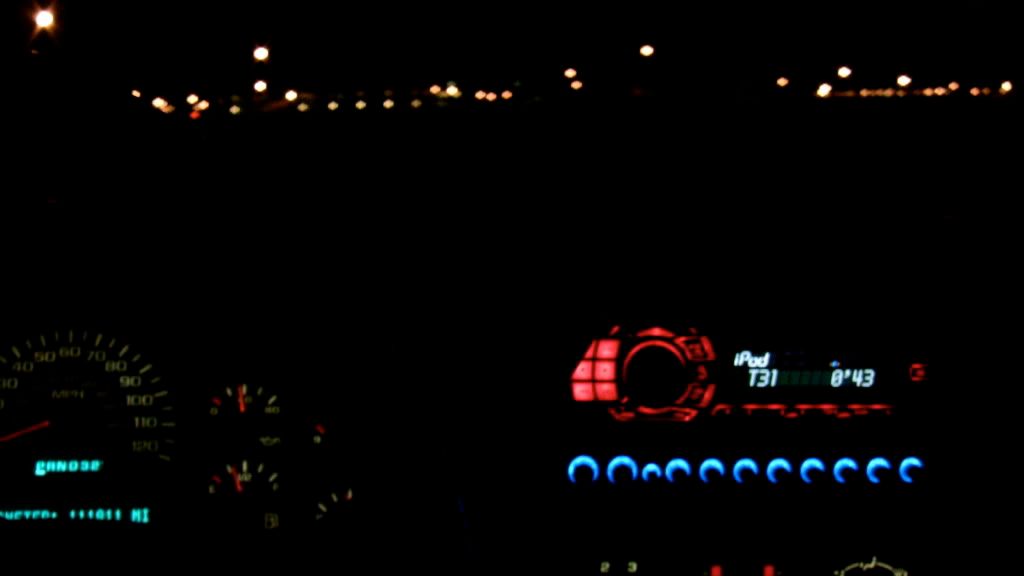 so I started on the suede in the door panels with the stuff in the picture above.
turns out it is more of a purpleish color inside the car and outside it looks more gray.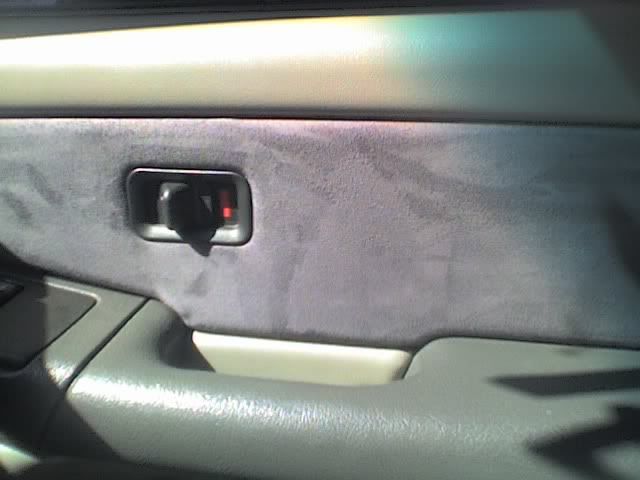 thats the passenger side
so went back again today and got black suede
the drivers side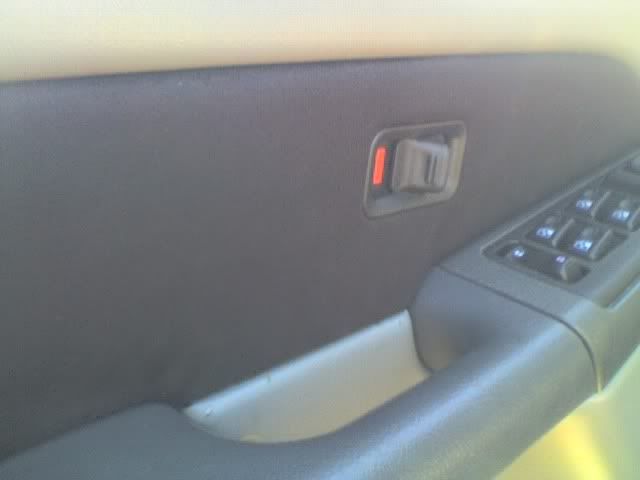 still need to fix this
getting it all masked off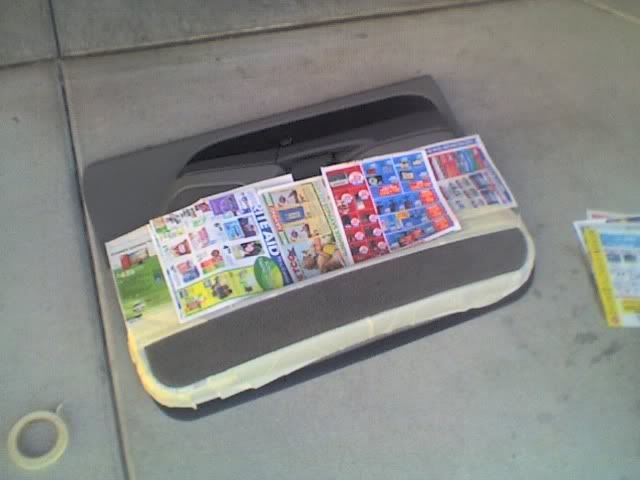 3M spray adhesive
one done!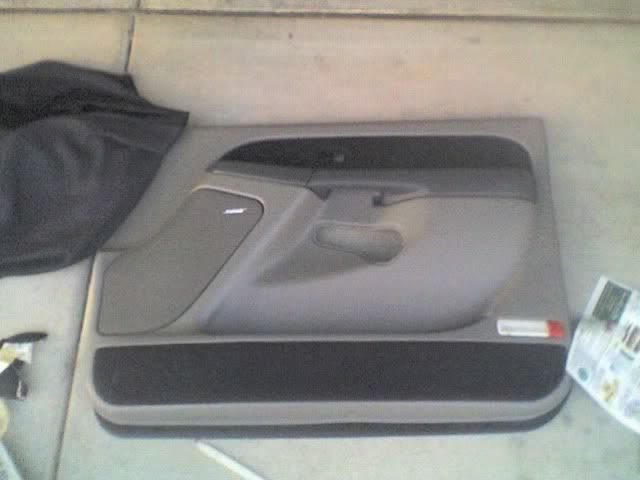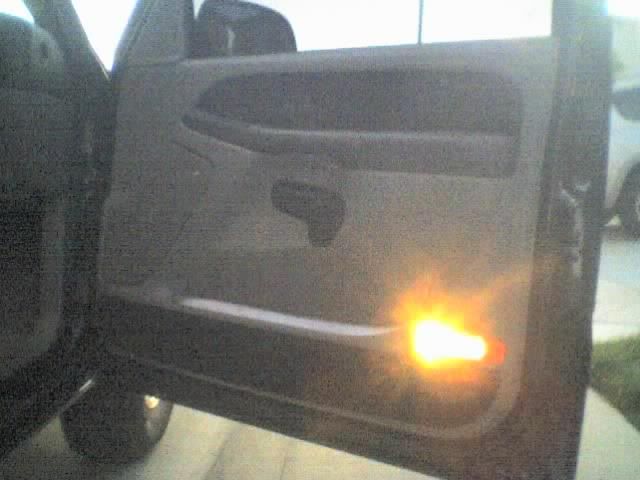 just some updated pictures little things have changed here and there.
and today I grew a pair and turned off my subsonic filter since RF has it set to like 28hz.
I've never heard 3hz before
thanks BigPimpin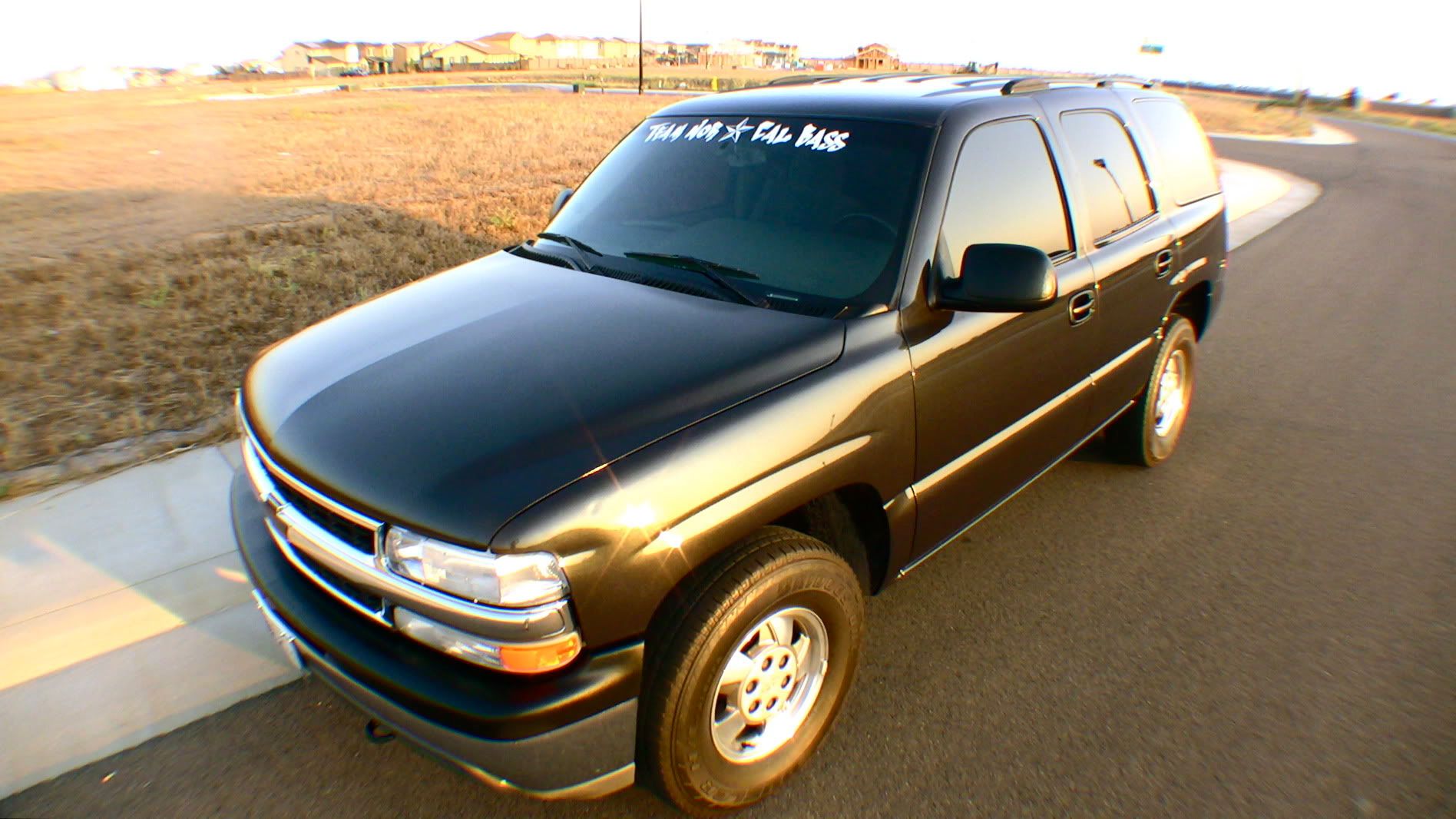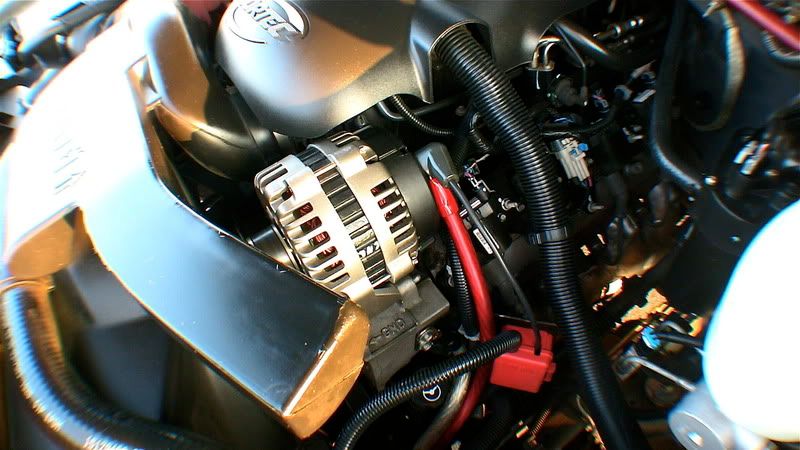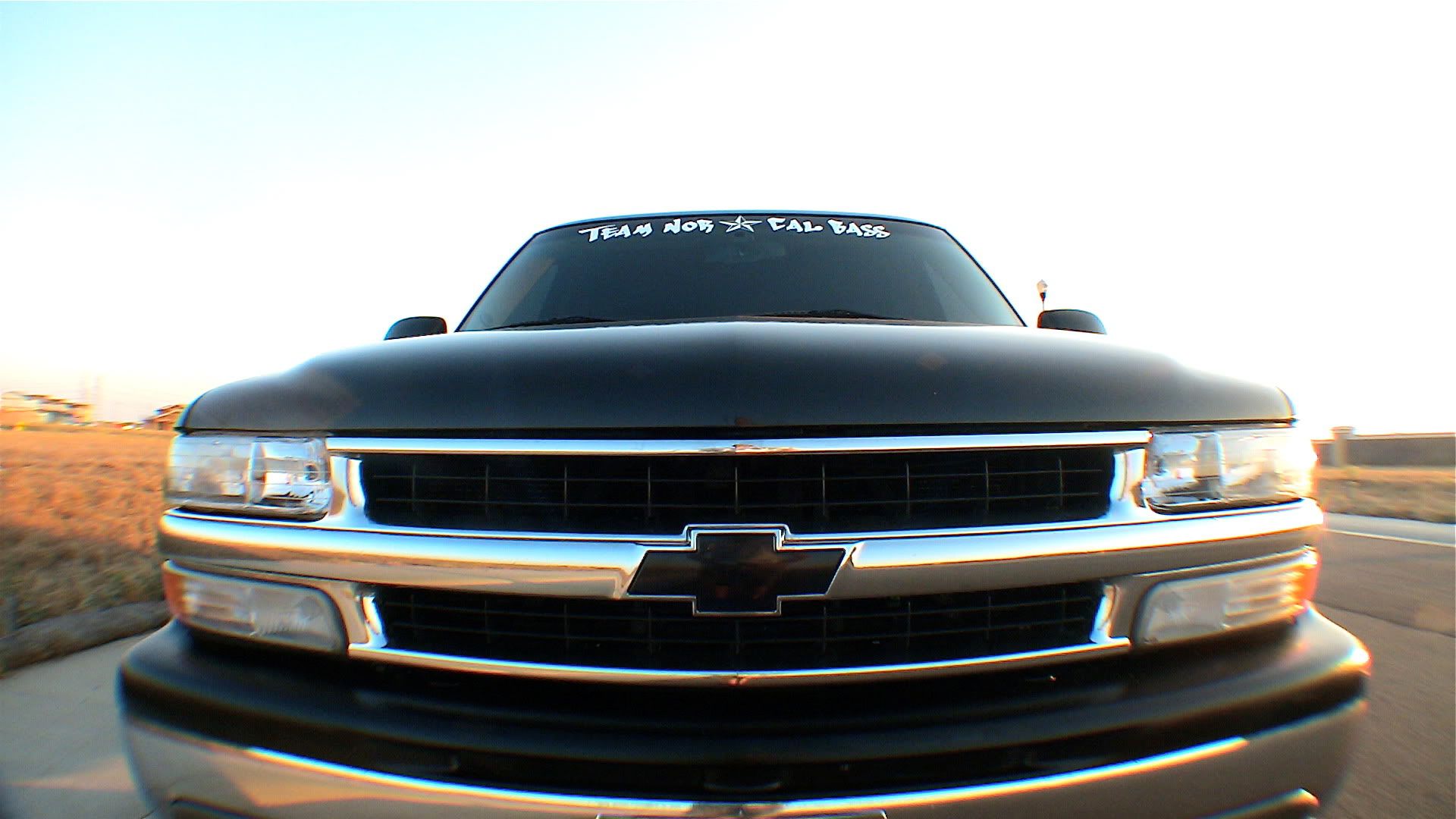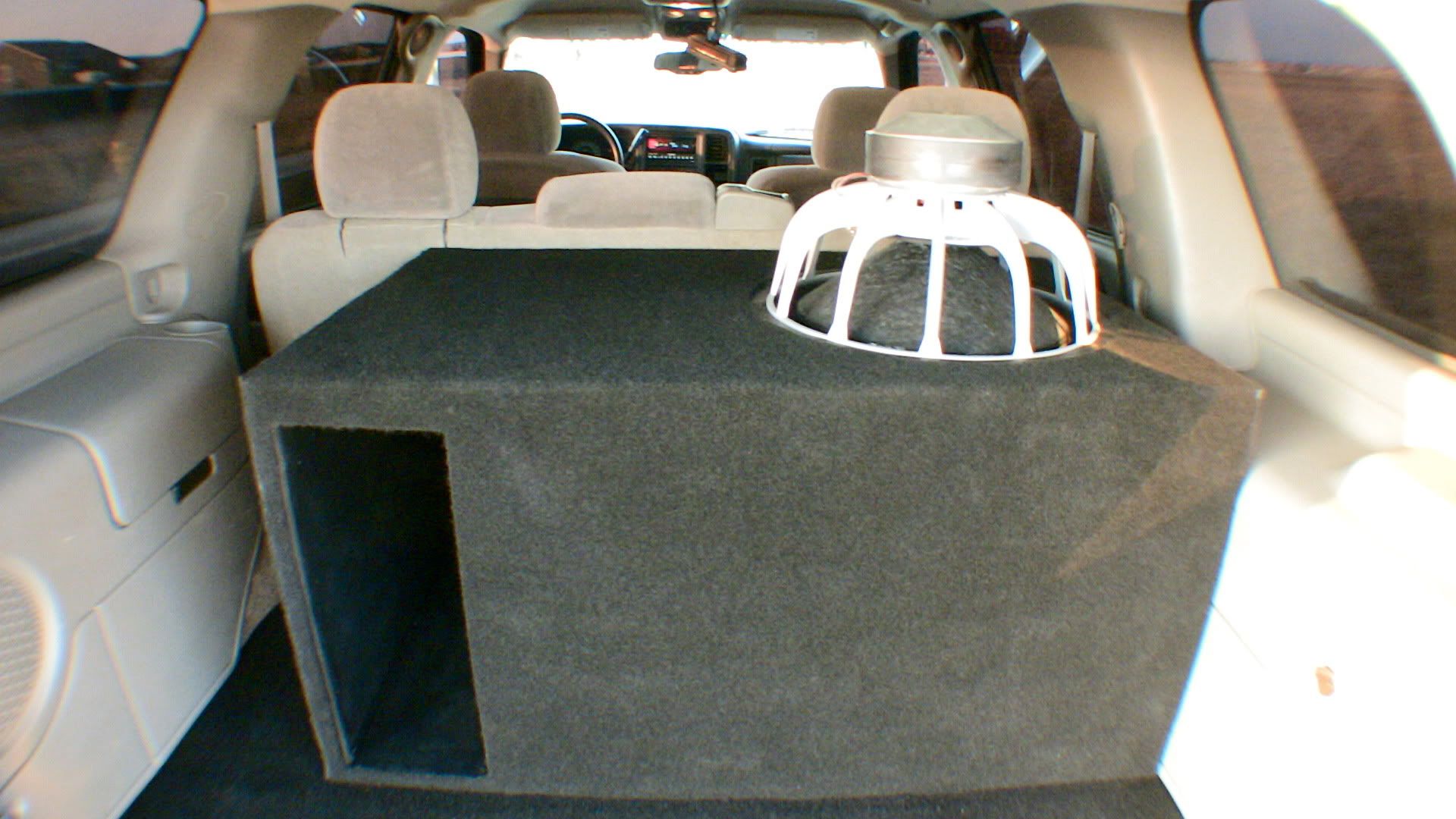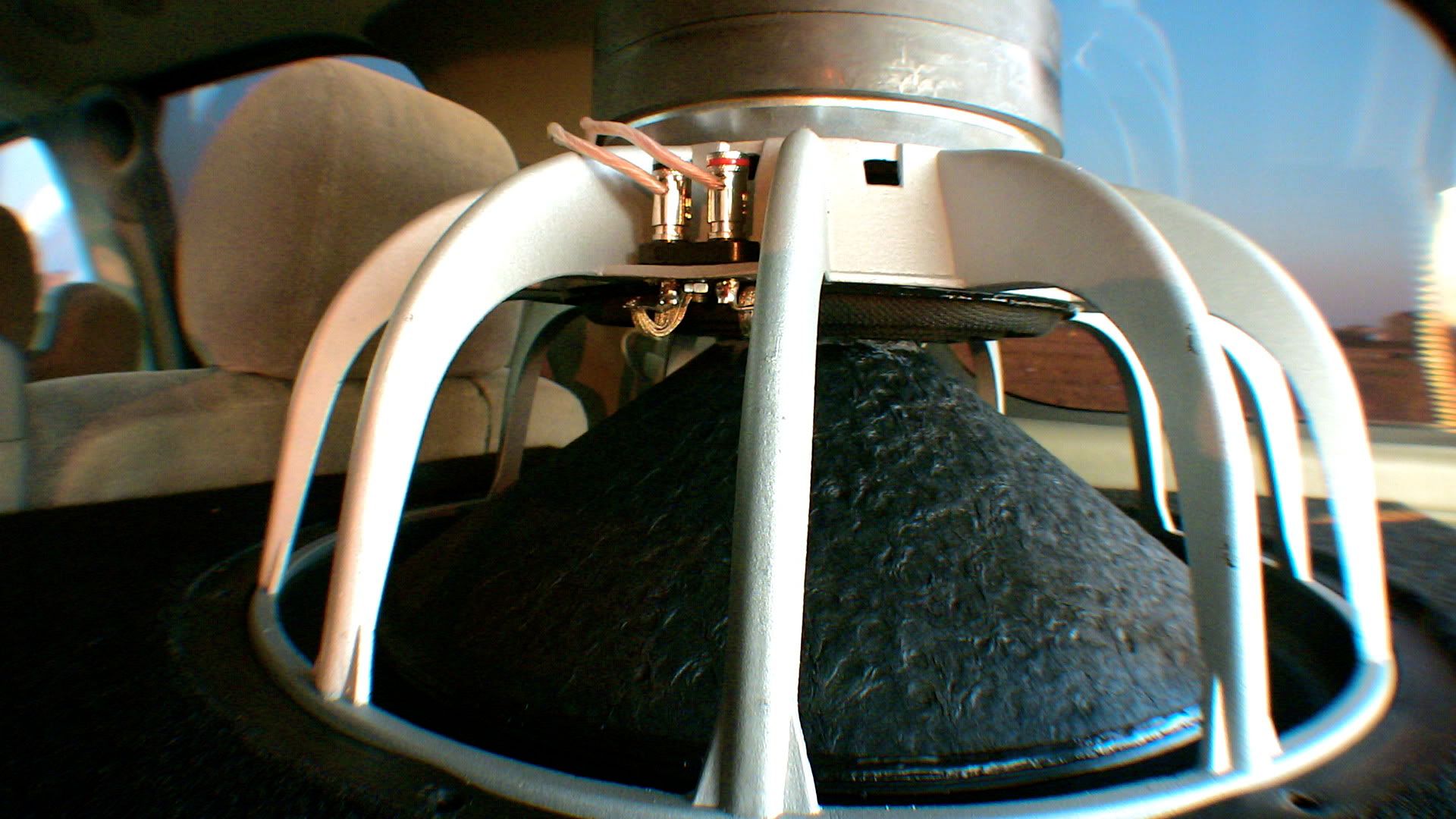 tried my first sun visor with suede.
looks like nothing that I want to do in suede will be easy.
this is kind of the first step for my suede headliner.
and of course I used my Fury folding knife don't know how I would do suede things without it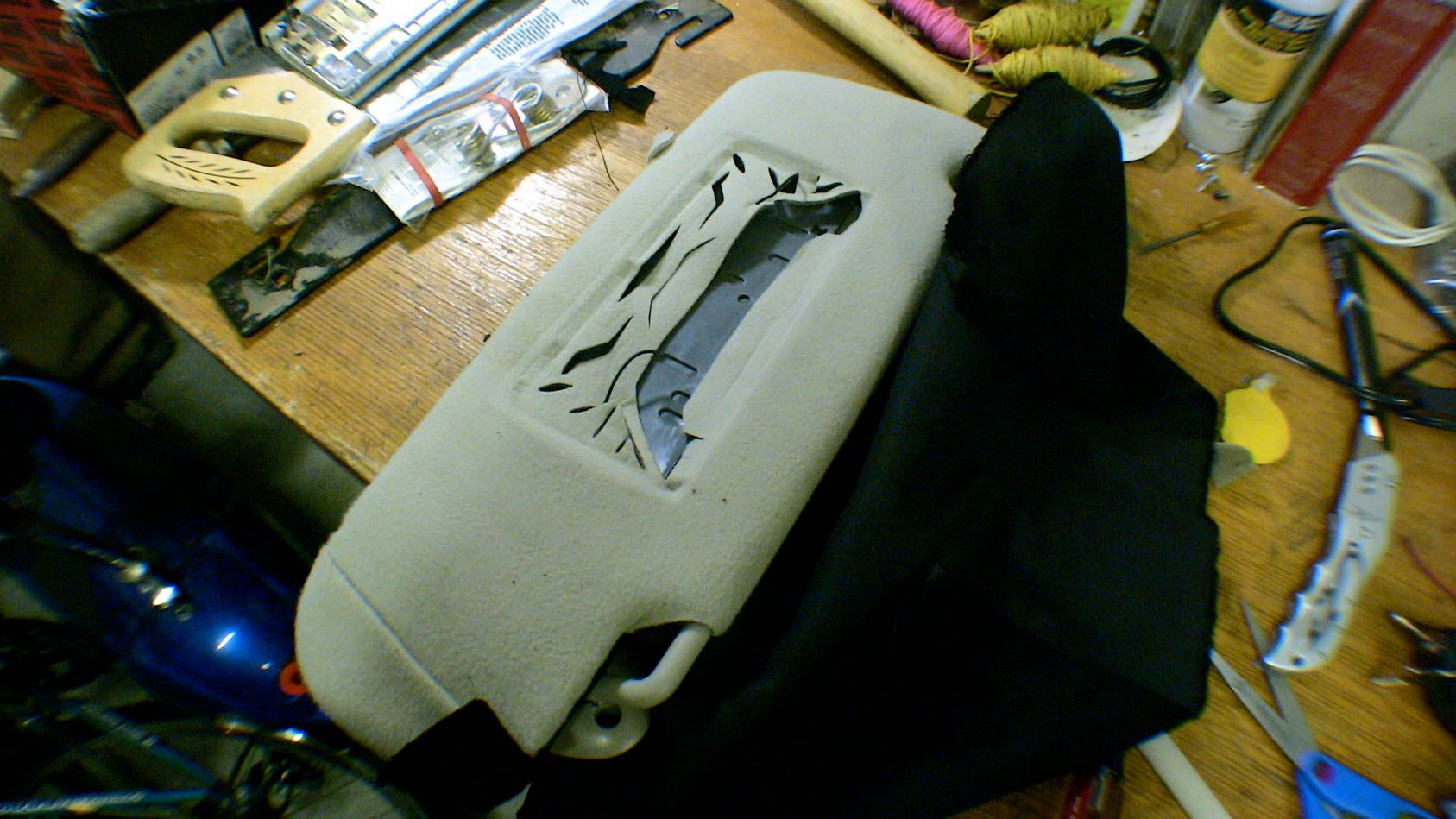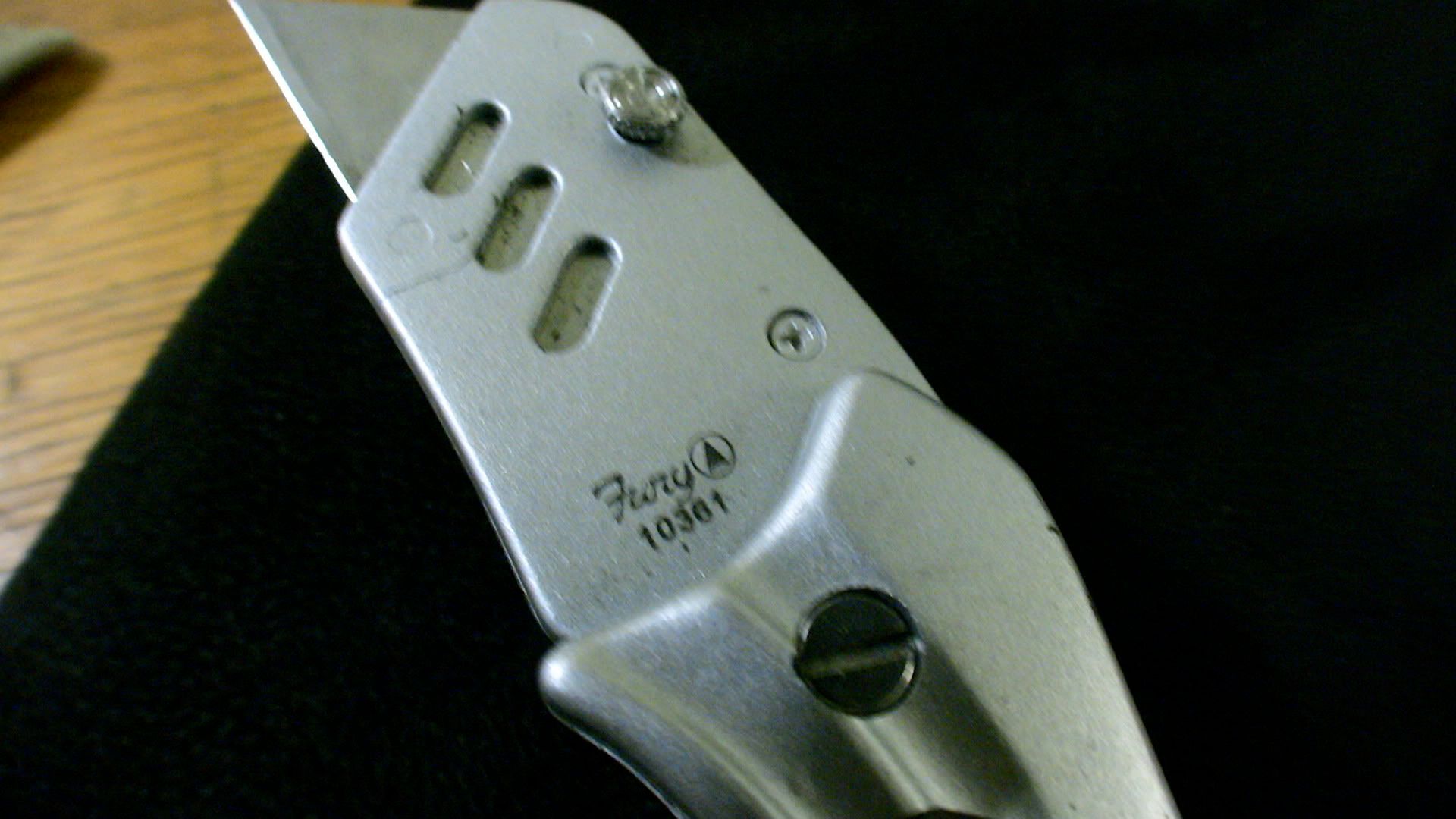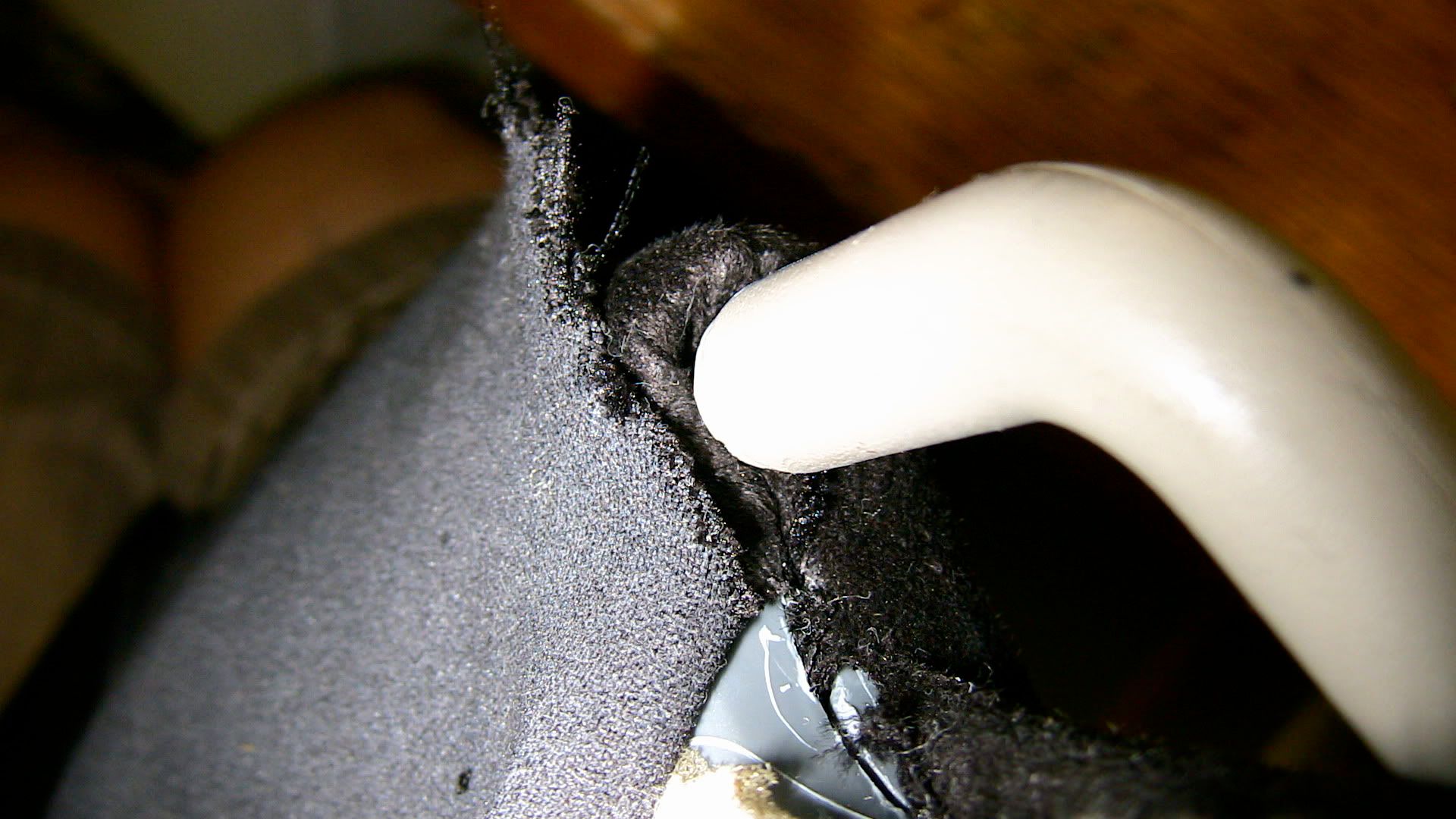 getting there...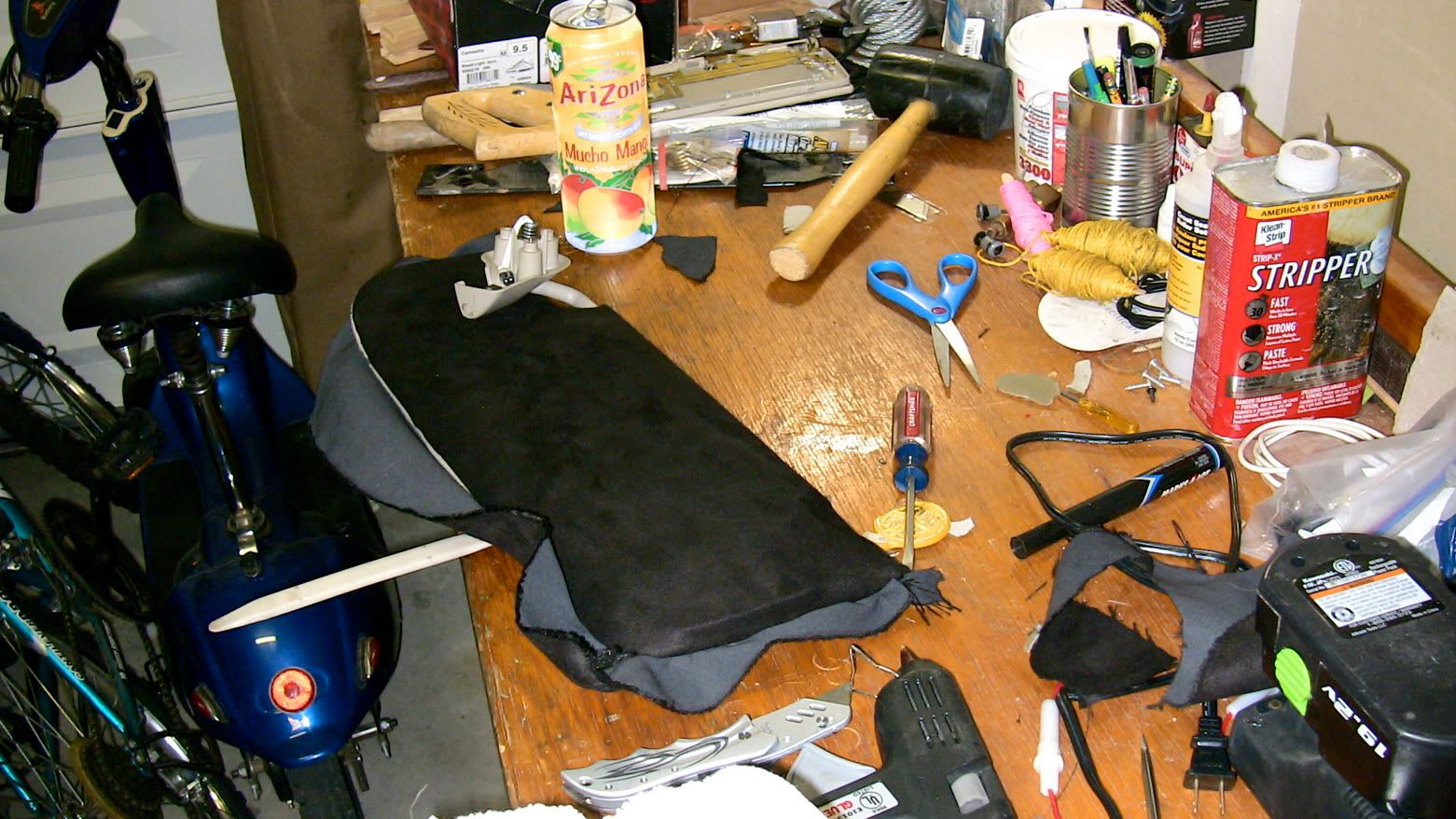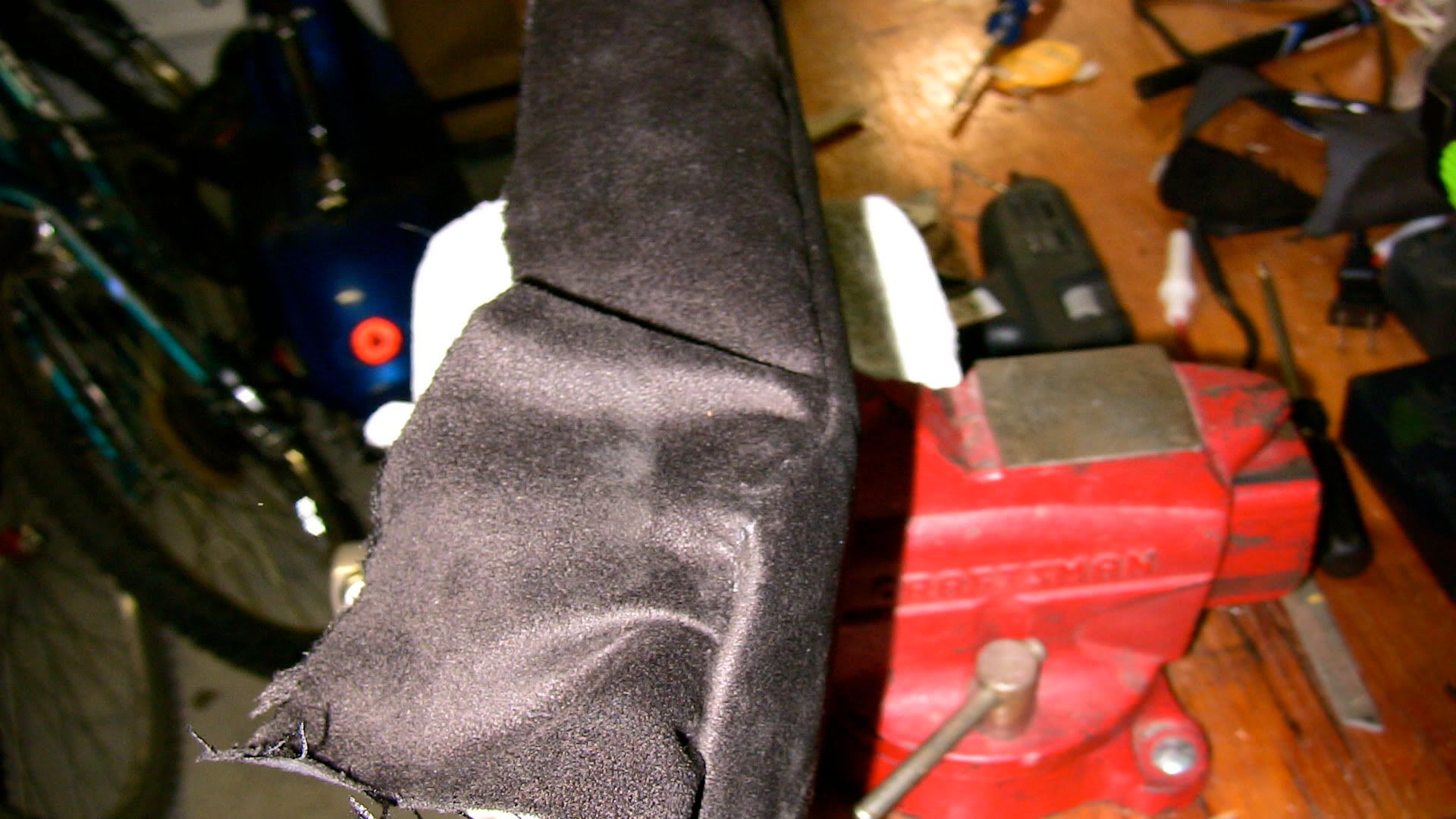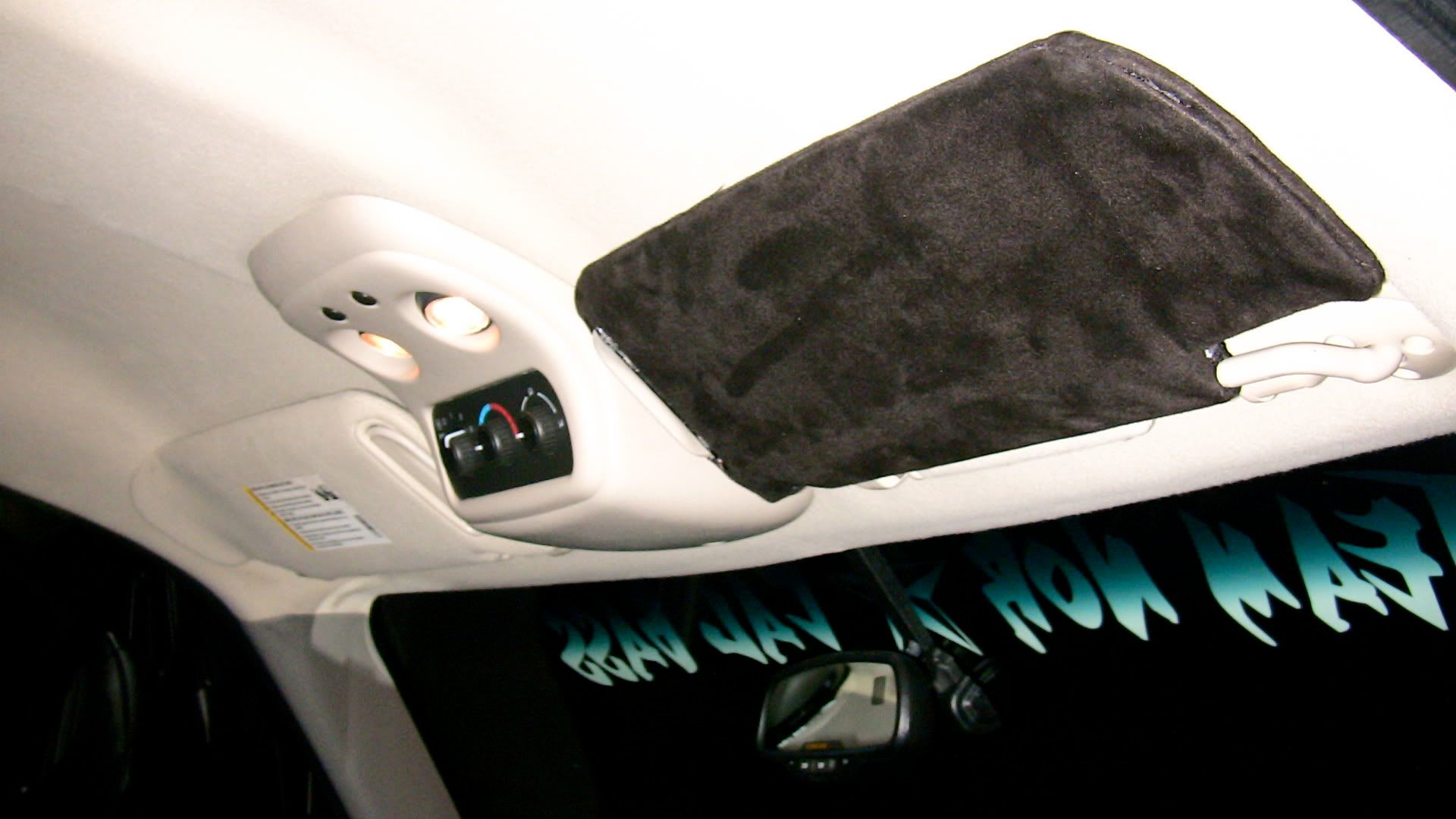 got some speakers today.
3 sets of T3 Audio Components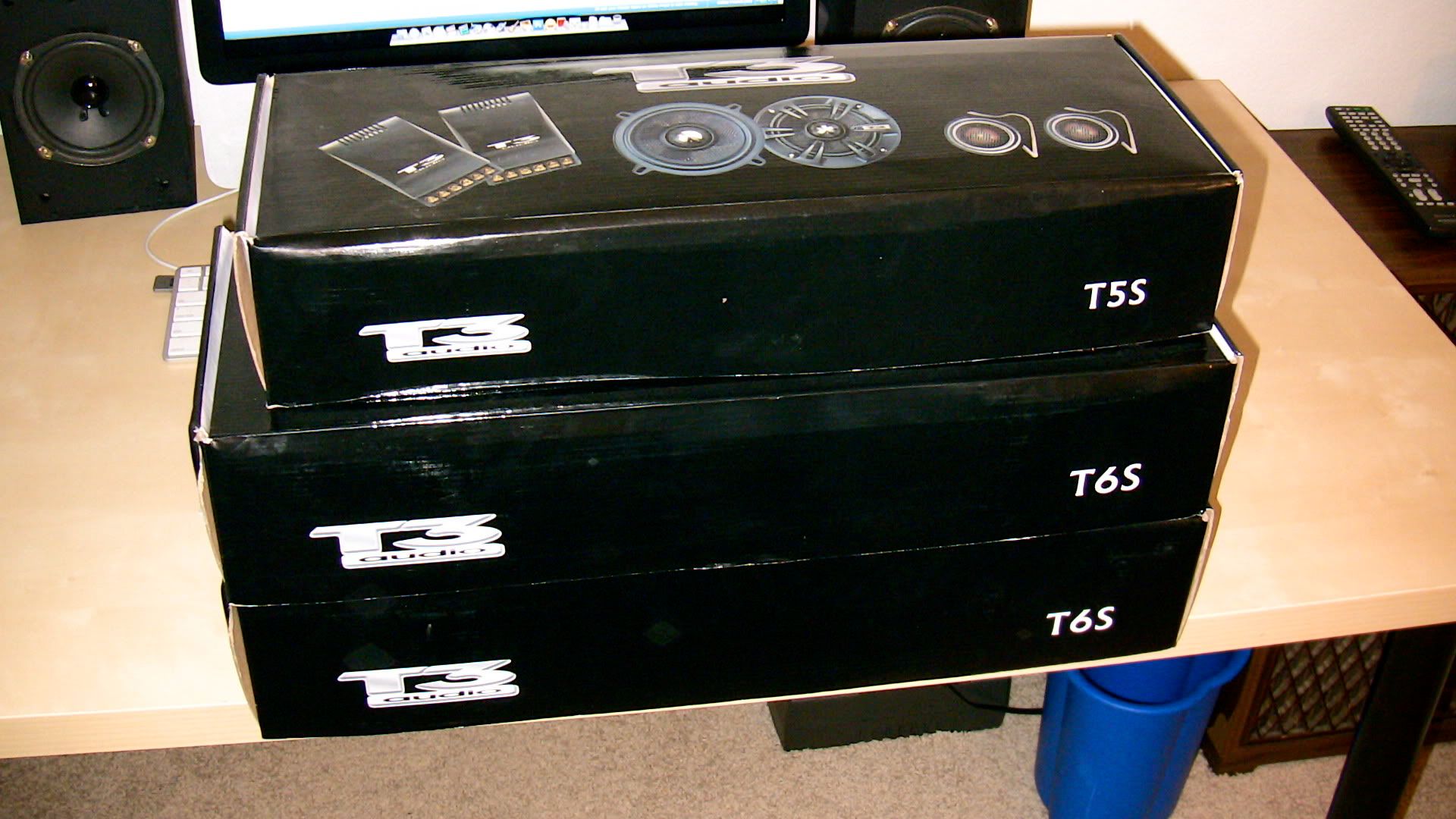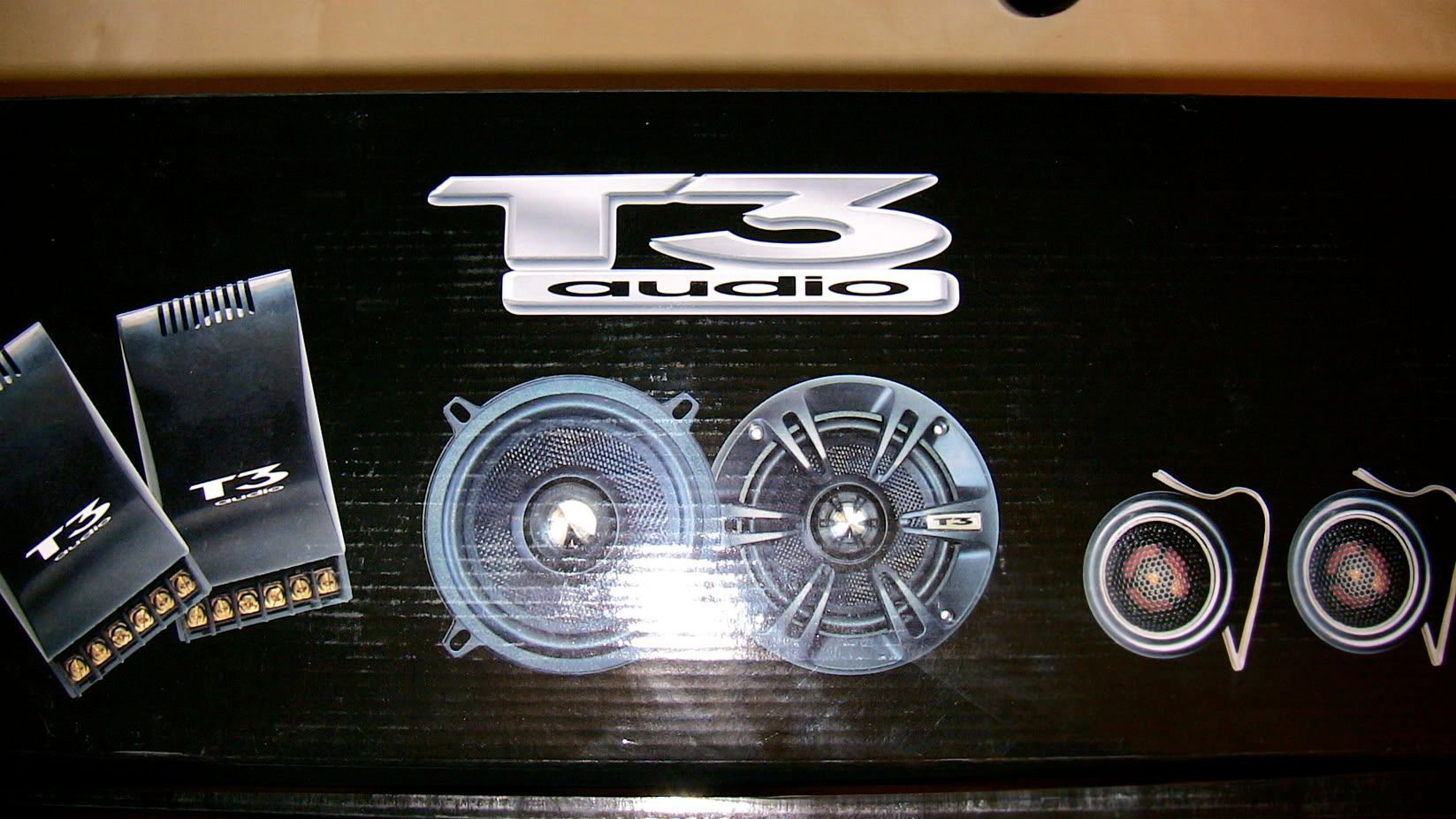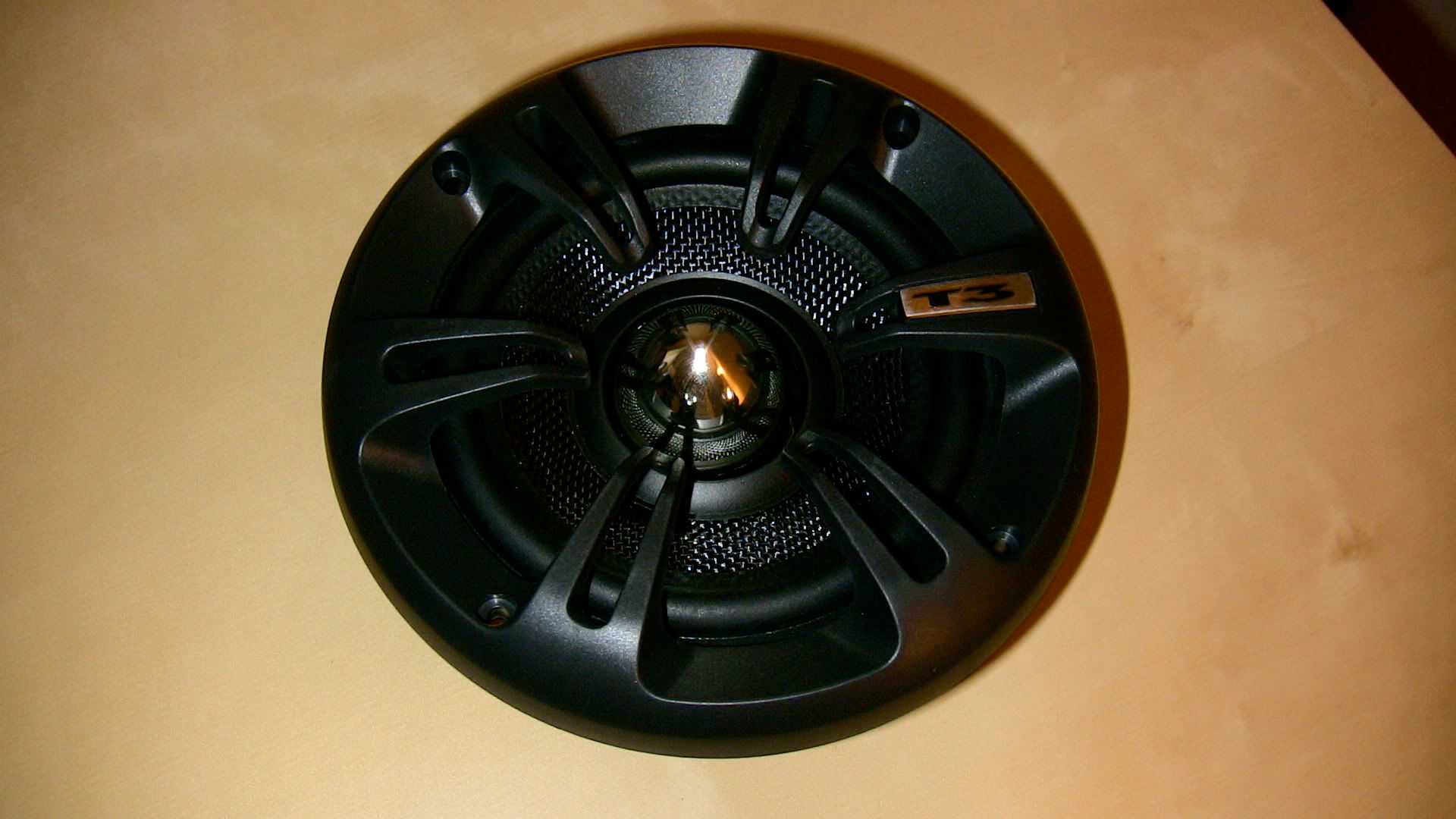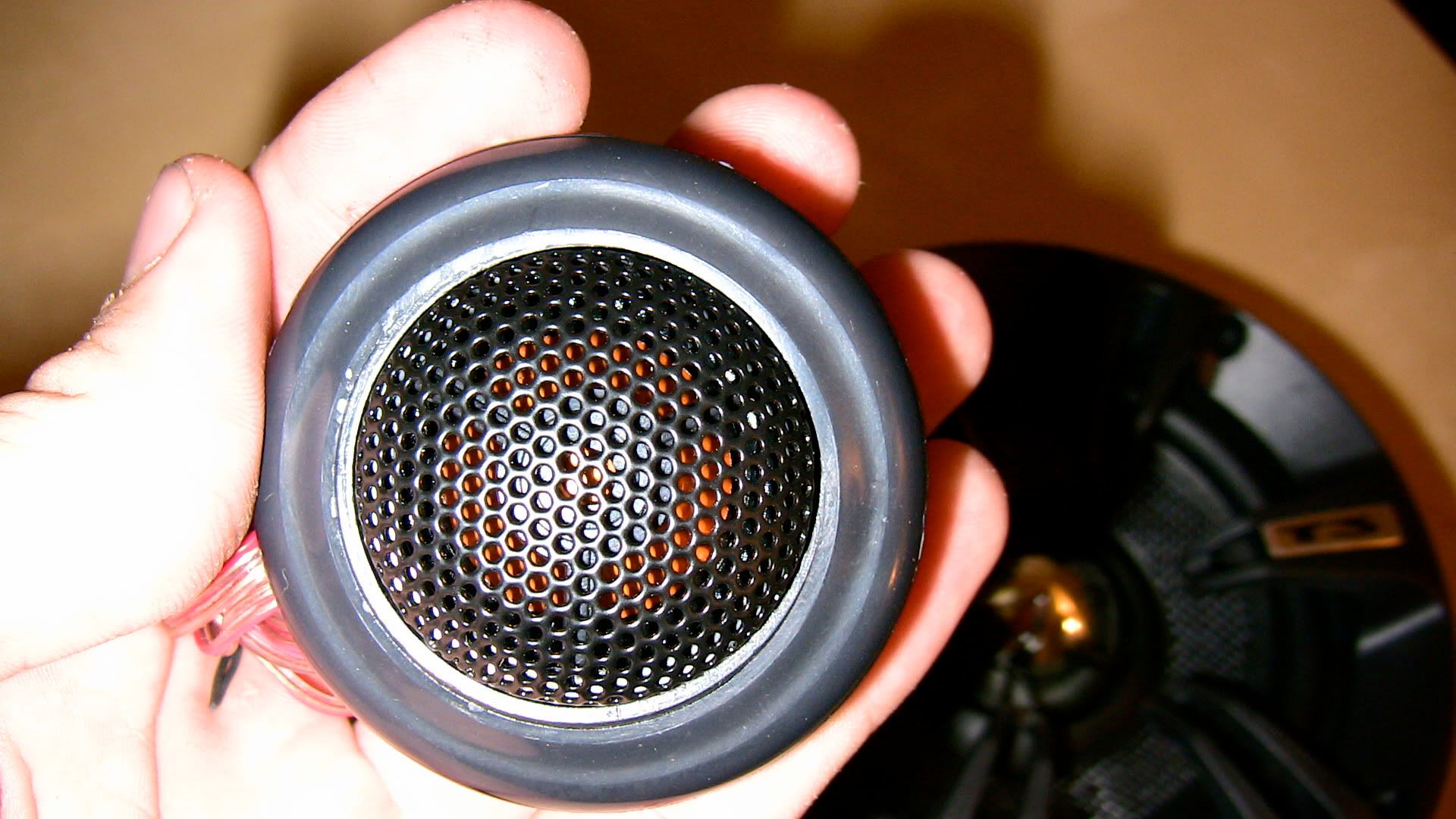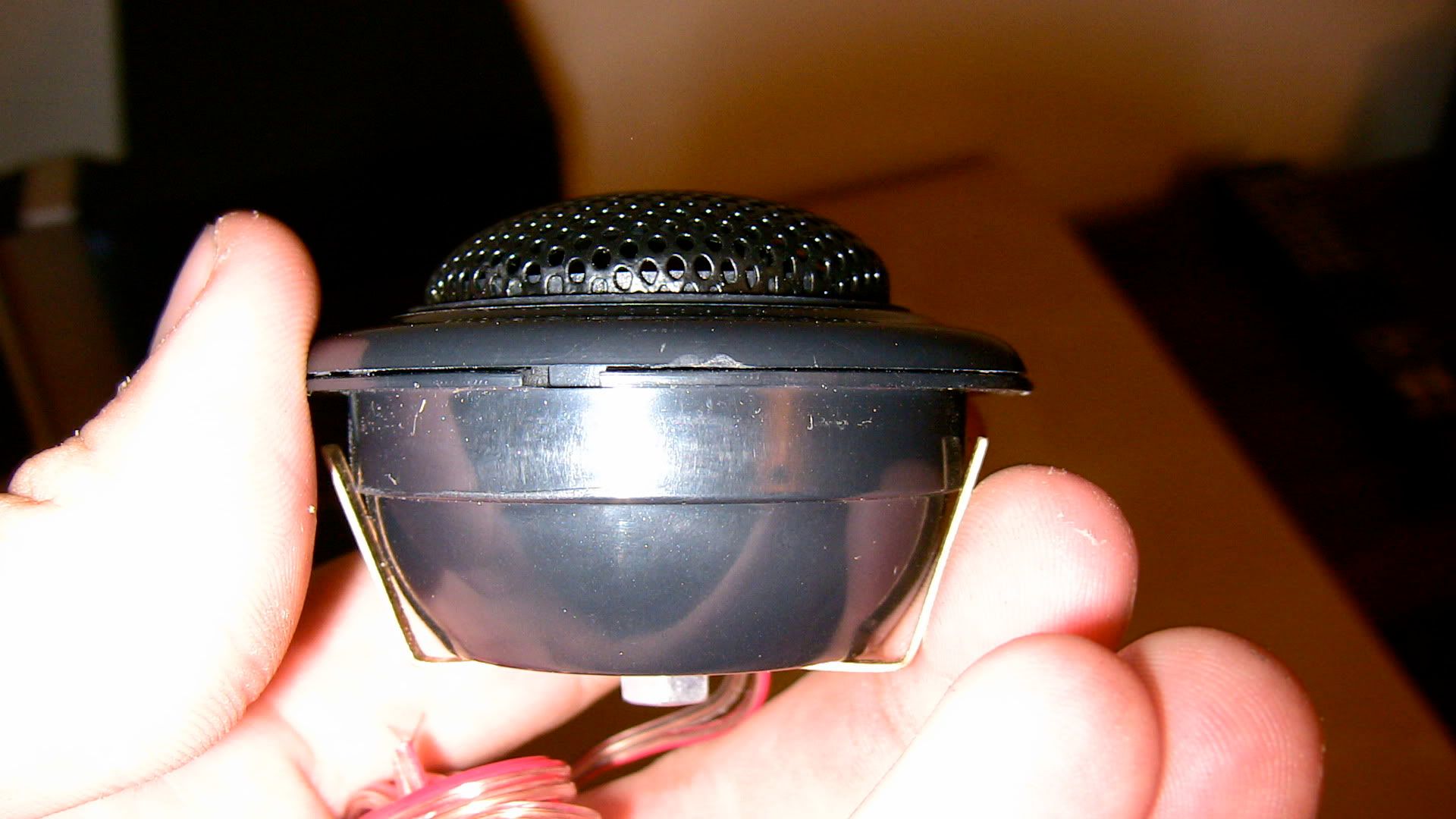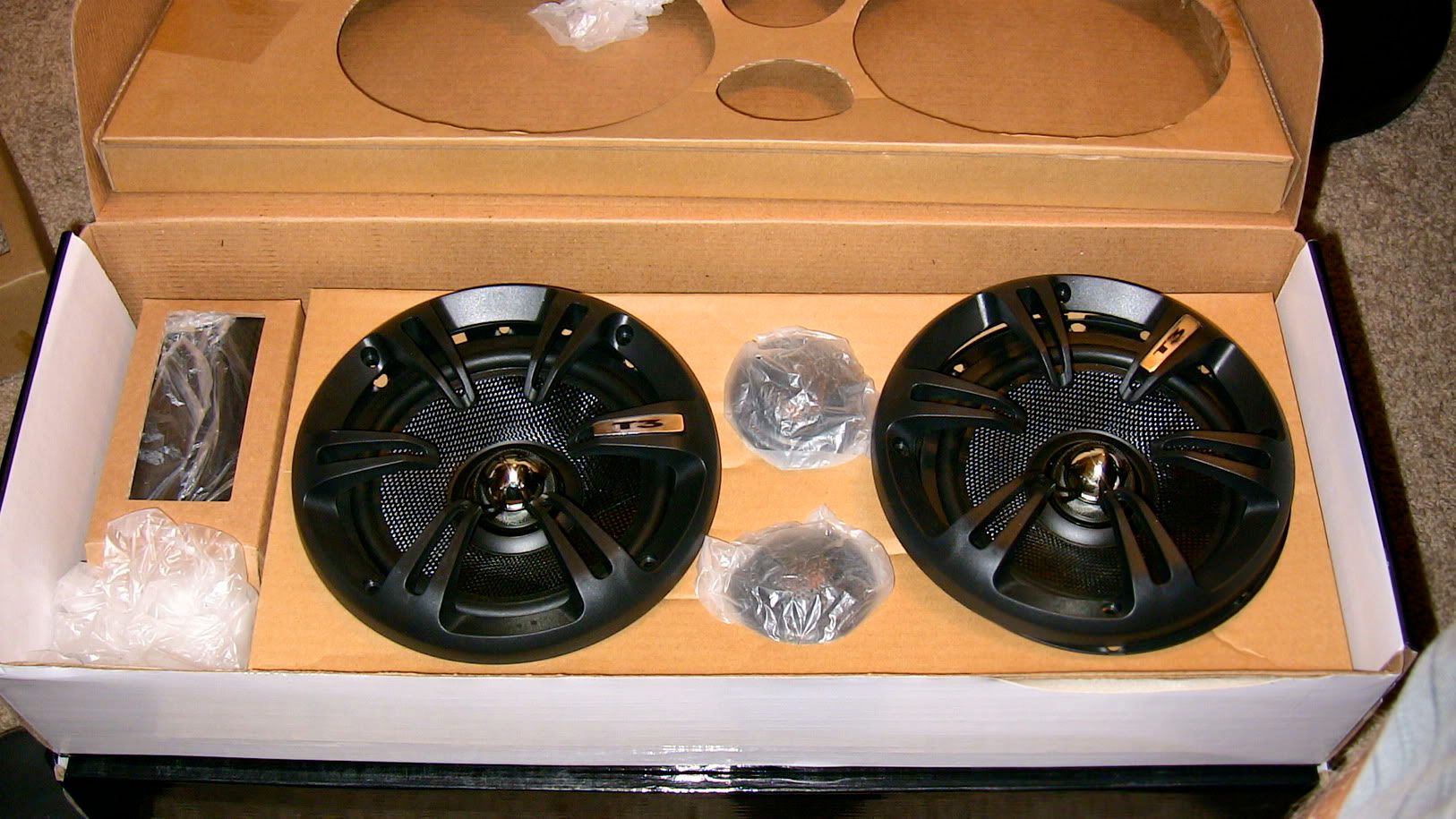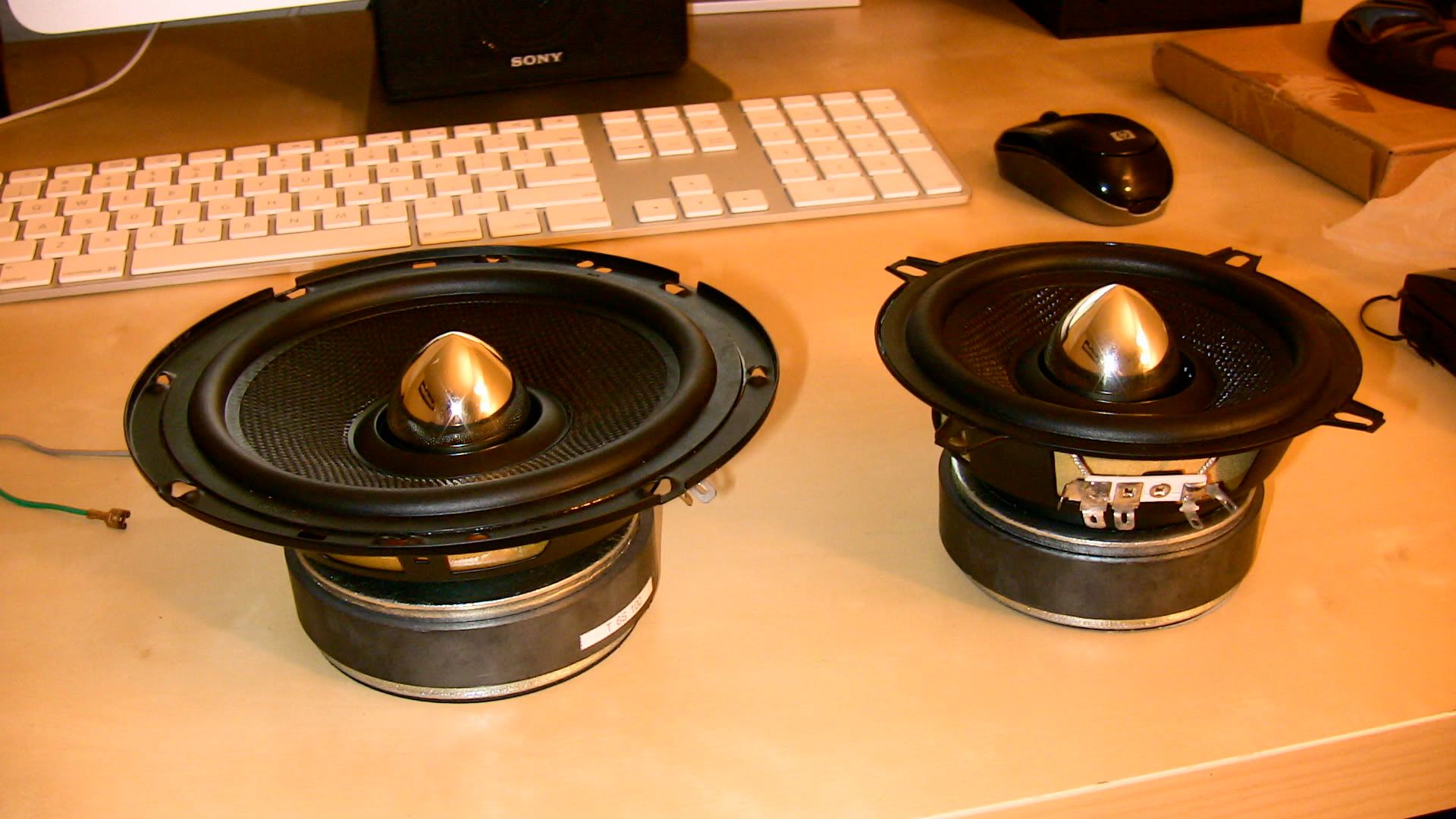 been using my SecondSkin for a lot of miscellaneous rattles in my car and it works great!
came with the folding knife and roller
to the right and left of the rear window on tahoes and suburbans are air vents covered by air vent caps.
this is where the air can escape from the cabin but it also lets SPL out.
so I took the vent cap off and took the vent out to expose the leak
covered it up with the SecondSkin and now when you shut the doors with the windows rolled up and you are inside you can feel slight pressure on your ears because the air doesn't escape.
and finally my worst rattle is both the back plastic on the hatch and the trim around the rear window.
both flex and buzz at higher frequencies.
as promised more pics of the box.
11 cubes built with 1.5" MDF all around and a 3" baffle with a 3/4" flush mount.
2 layers of 29oz fiberglass all around.
155 square inches of port tuned to 36hz.
primered some more yesterday to get an even finish then painted the port with a can of touch up paint for my car.
box built by Elvis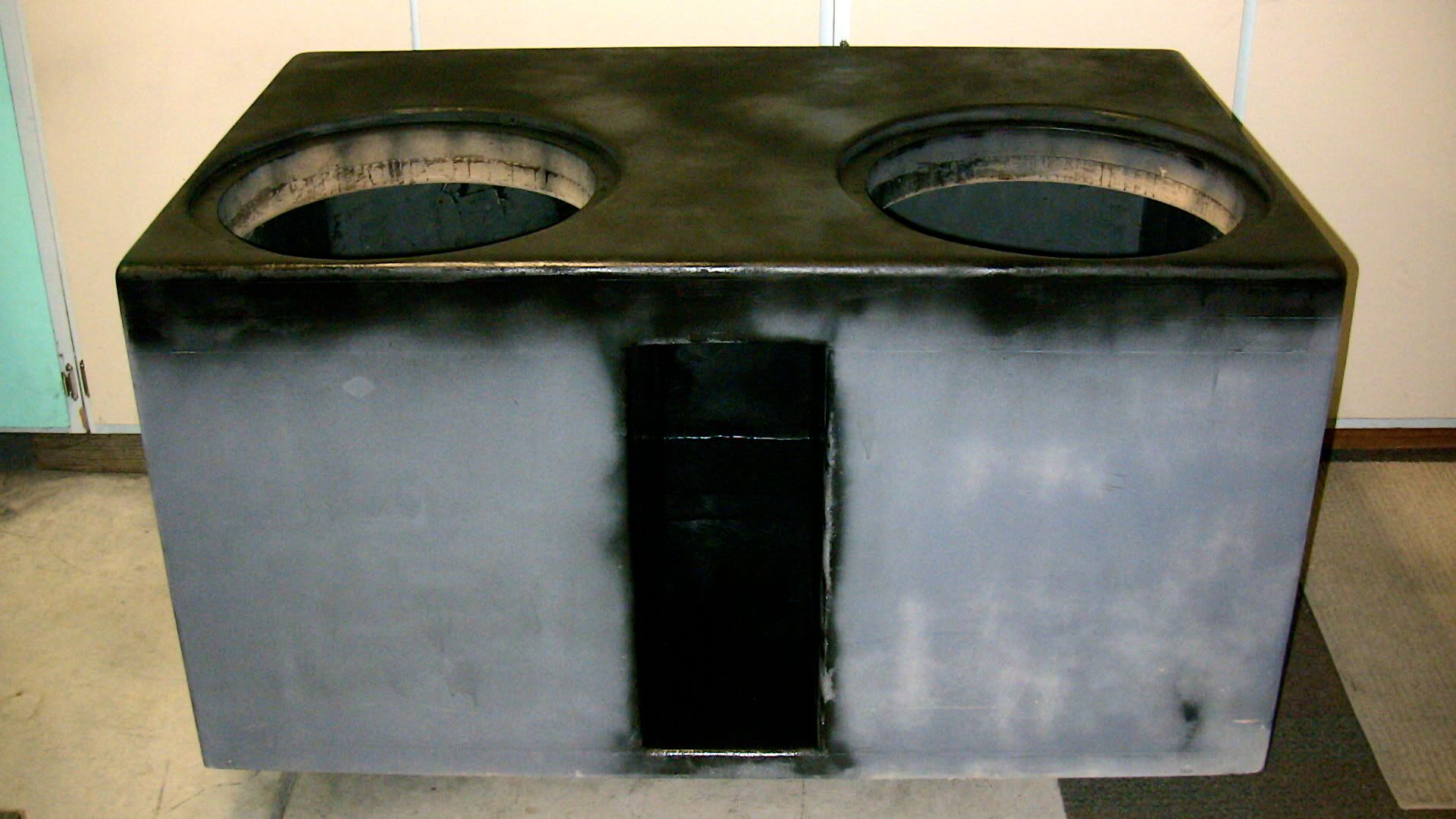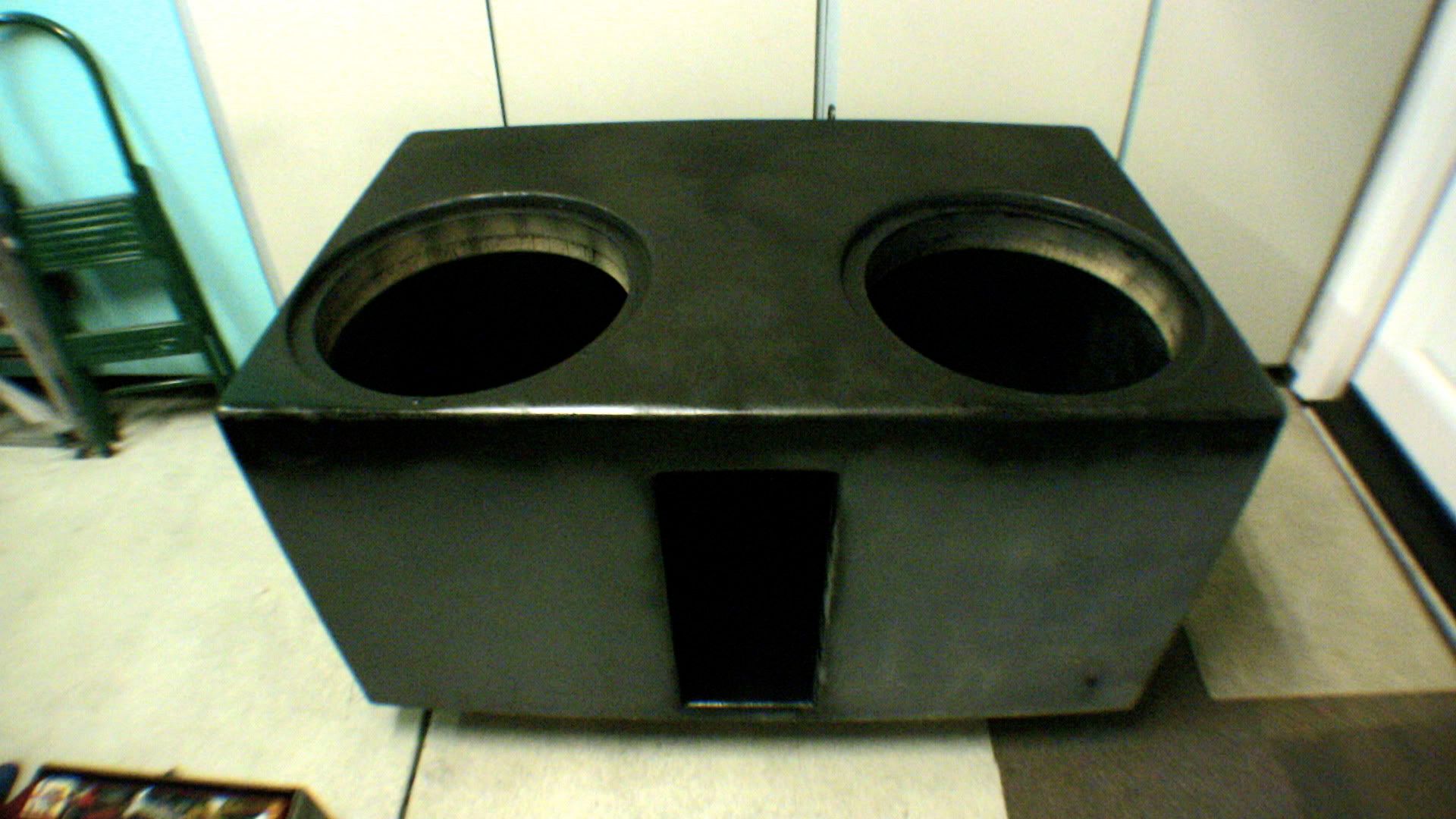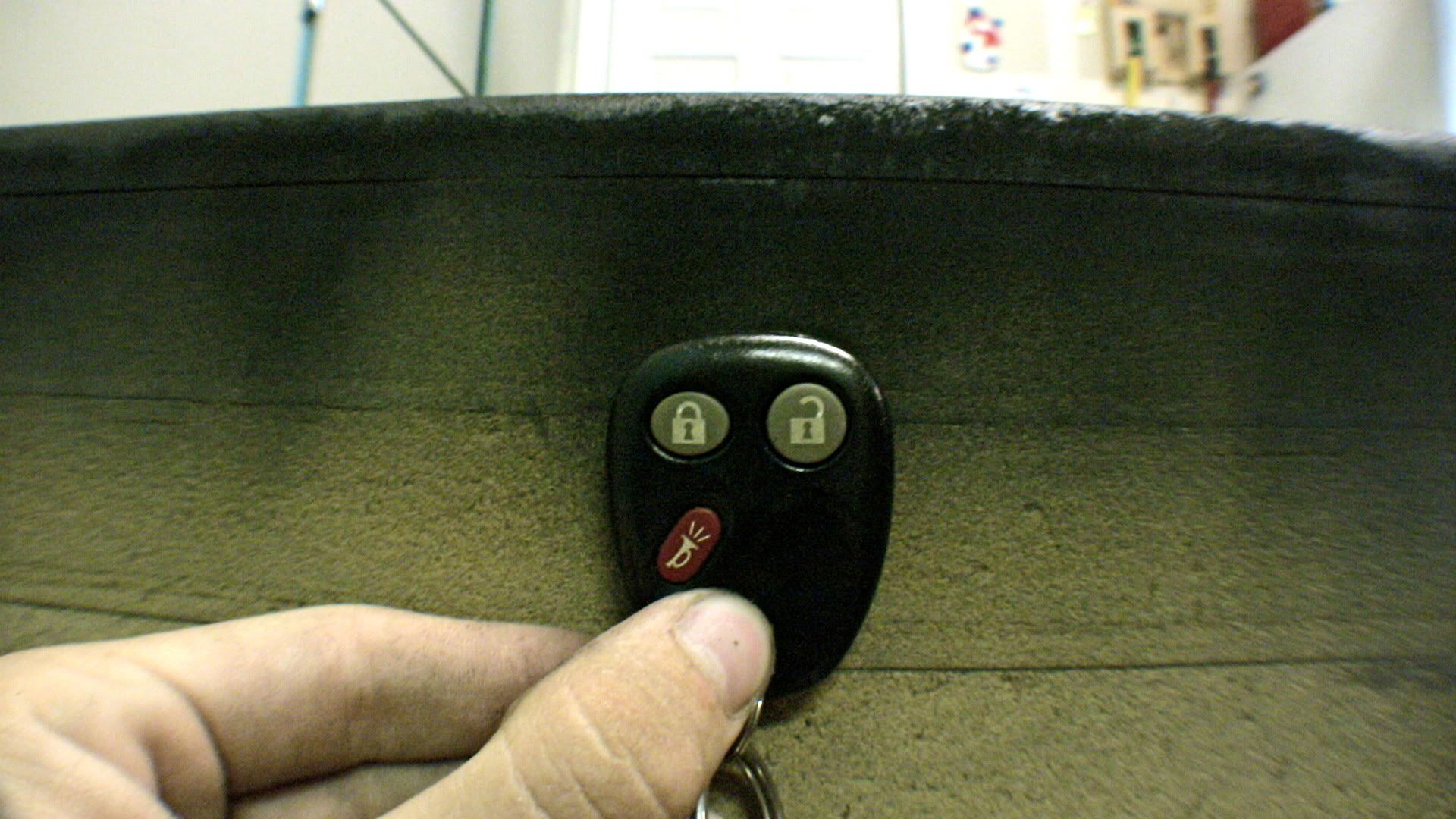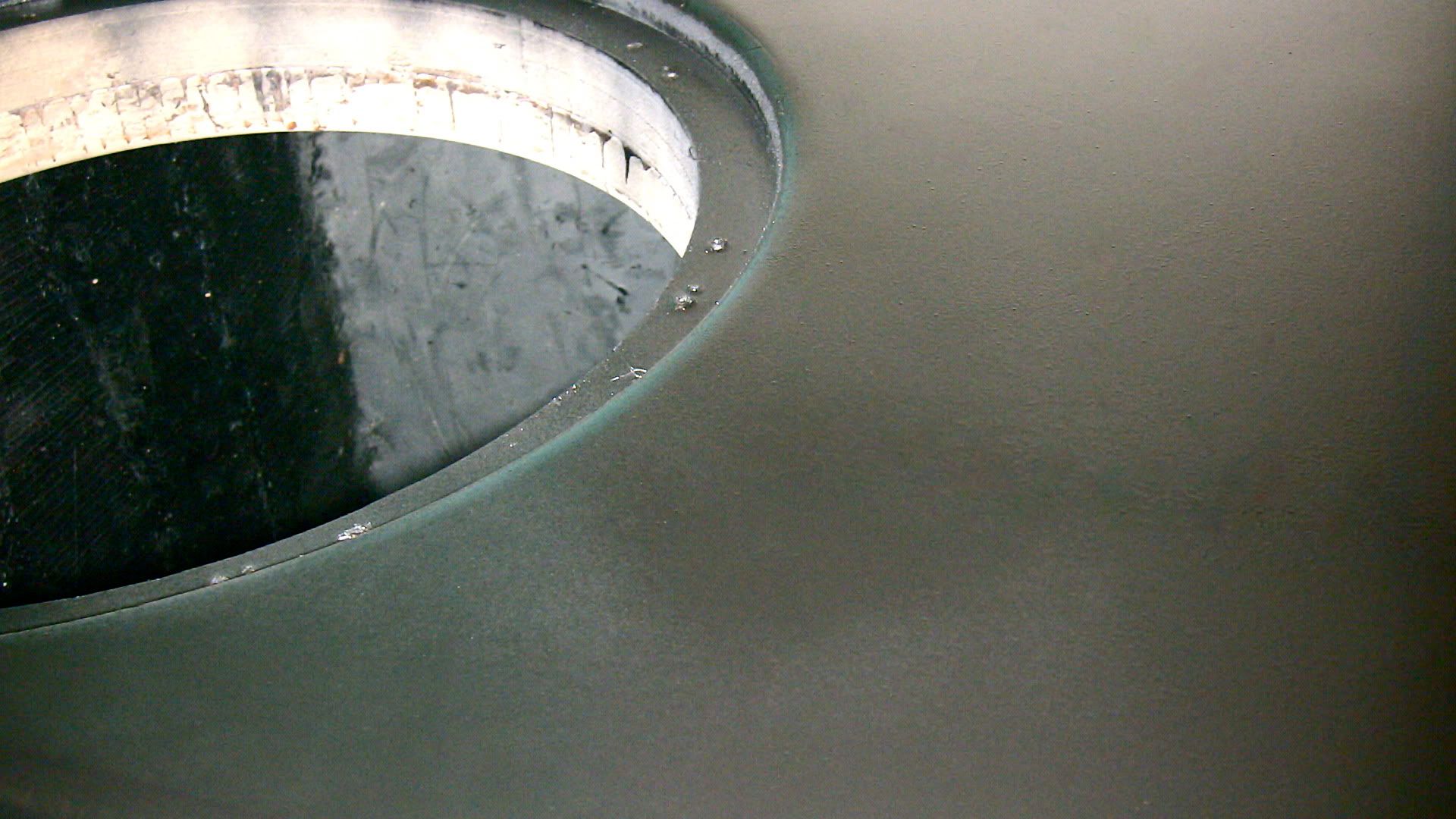 been workin a lot on the hoe lately every day I am out cleaning it, installing something, fixing something my neighbor always asks what it is this time and wasn't I working on it yesterday
so lets see...
started installing my comp sets the a-pillars were a little tricky because of the depth of the T3 tweeters but I got it to work with no bulging.
it wasn't until I got to the back doors that I decided to rip the stock plug off the old Bose speaker and solder it up to the new speakers for a quick connect/disconnect.
oh and a little tip make sure you don't use your dad's 20 year old soldering iron otherwise you could be waiting a while for the solder to melt.
so 2 tweeters up front in the a-pillars
2 6.5" mids in the front doors
2 5.25" mids in the back doors
2 tweeters tucked away in the d-pillar but I will be moving them to the rear doors when I get an amp.
I'm thinkin for the last set of 6.5" I am going to buy the q-logic kick panels.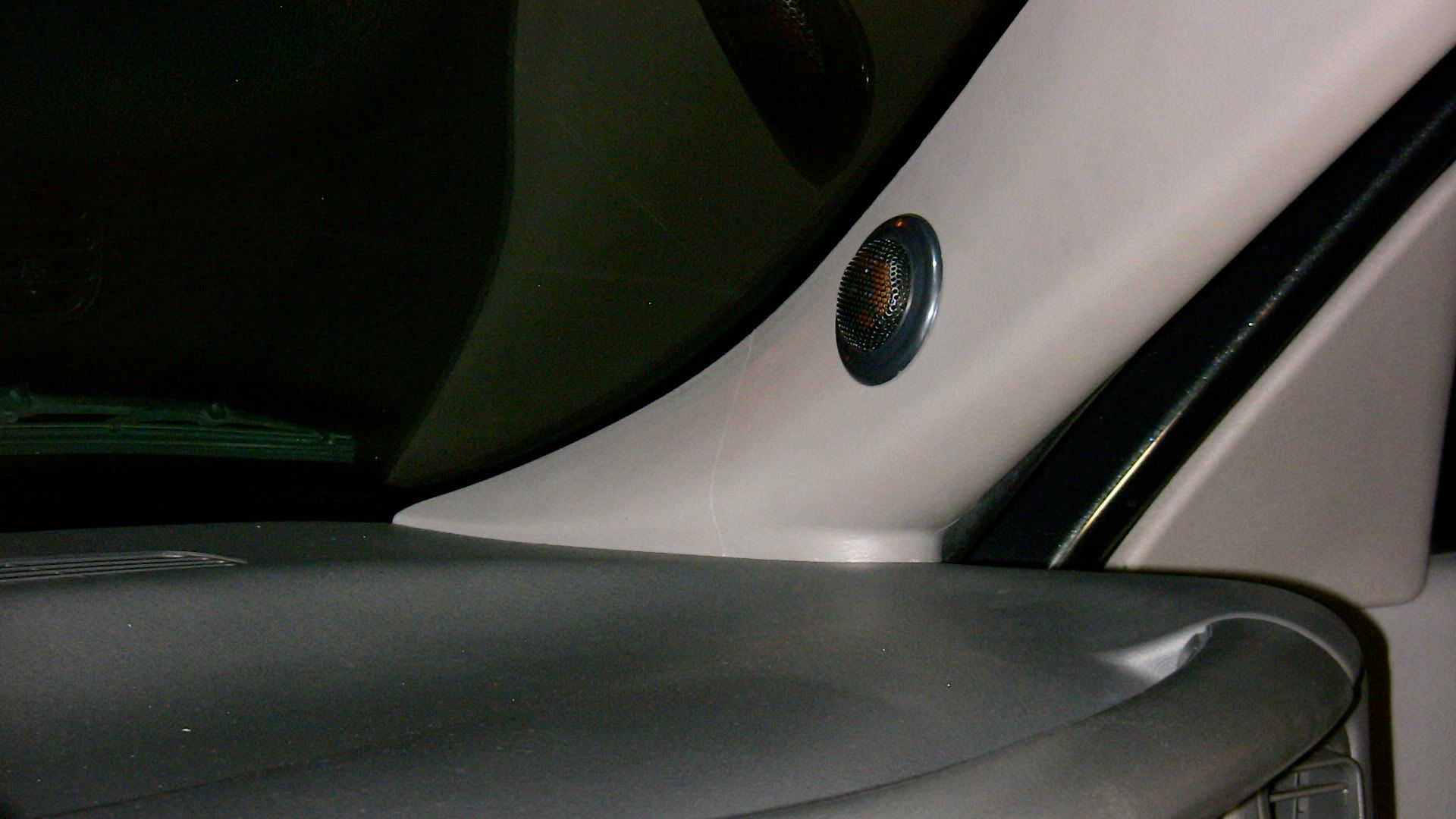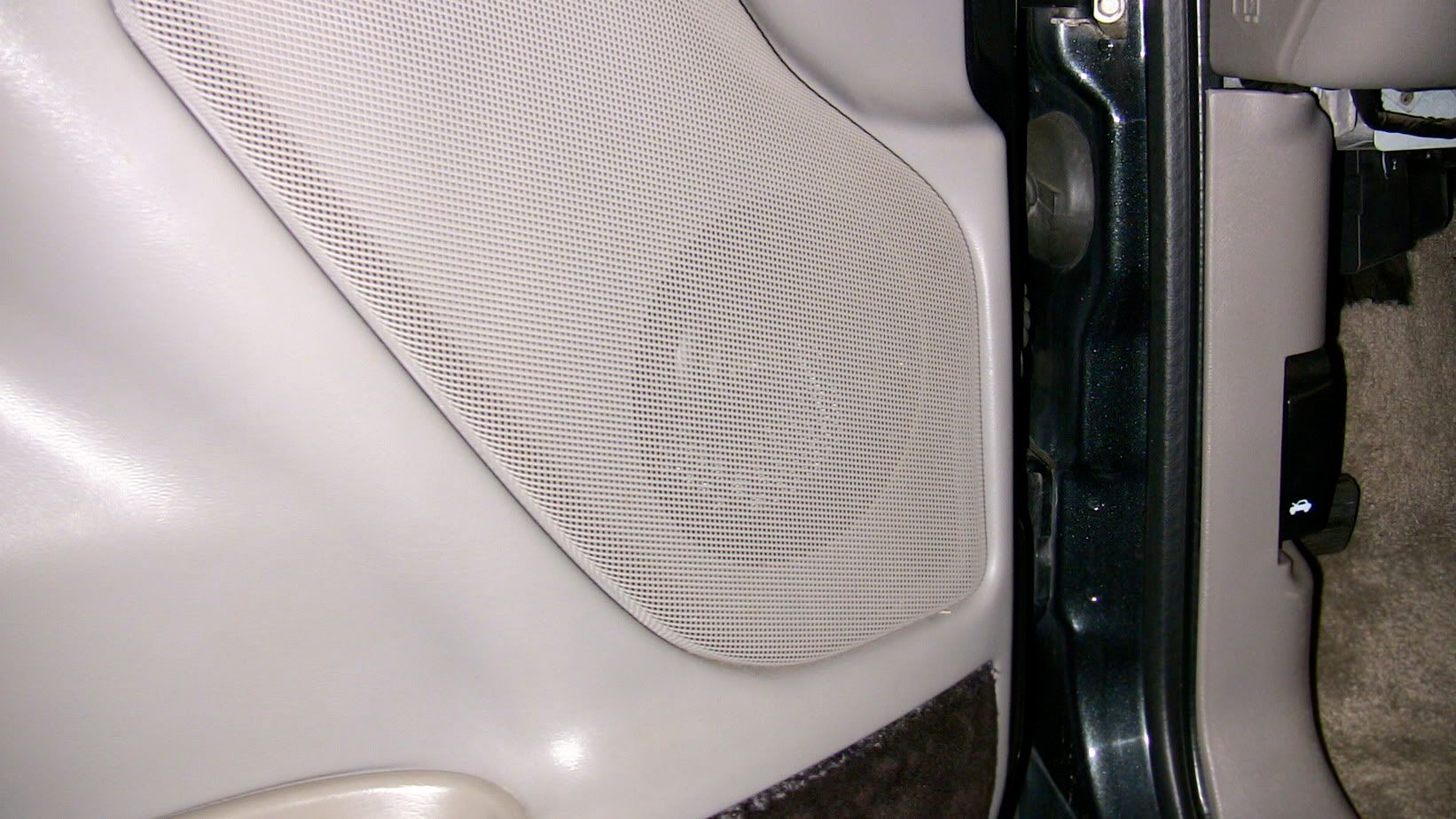 I'll take some more pictures during the day.
wasn't impressed at the loudness even off the headunit and the tweeters seemed to overpower the mids up in the a-pillars so I grew a pair and went behind my dash again tried to figure out why my EQ wasn't working.
CAUTION: not the prettiest wiring job but I understand whats going where so thats what matters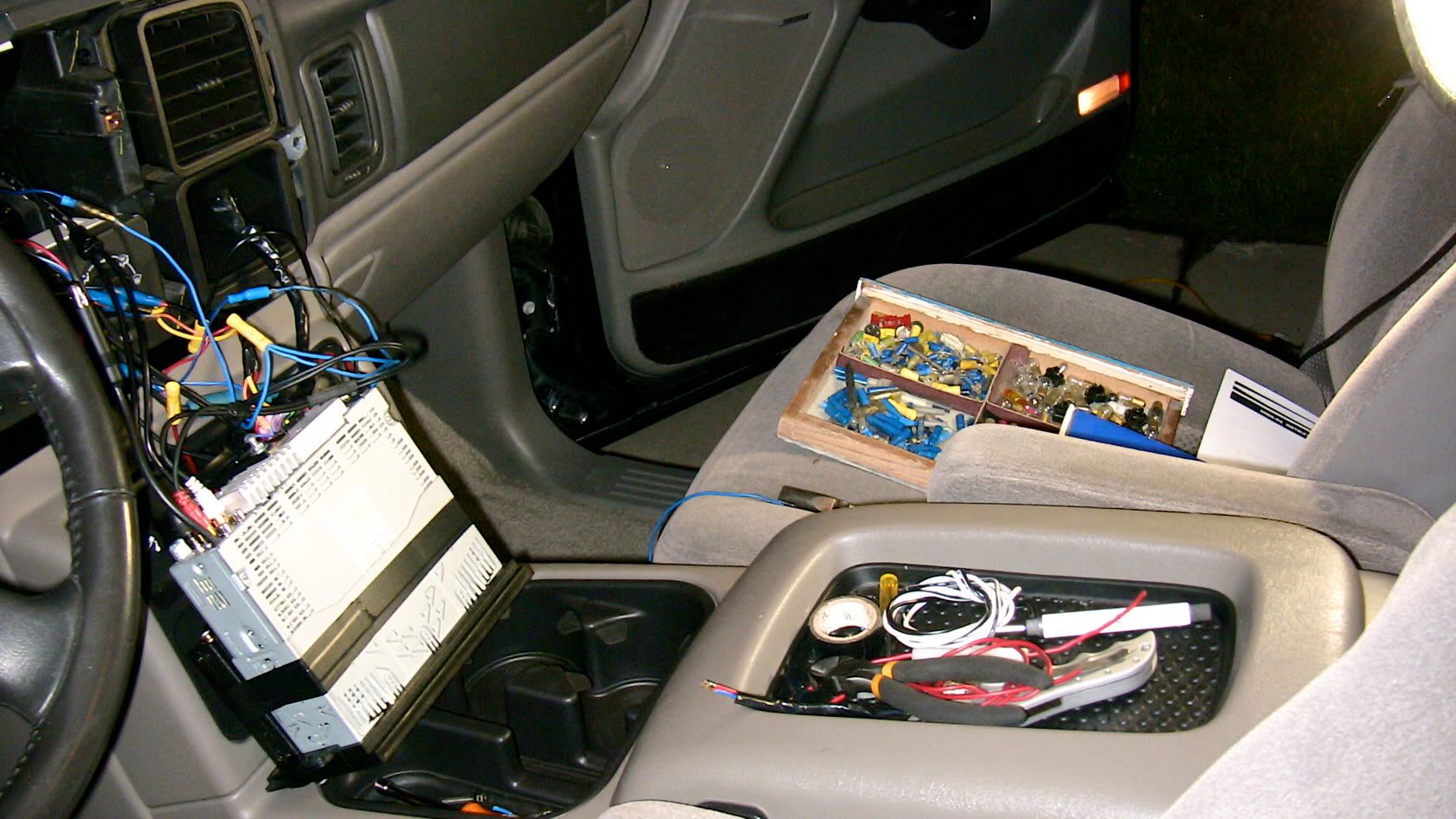 ...more sanding FTL!
knocked it down with 100 grit then smoothed it out with 220
also got the holes that the wire used to come out of bondo'd up everything is lookin smooth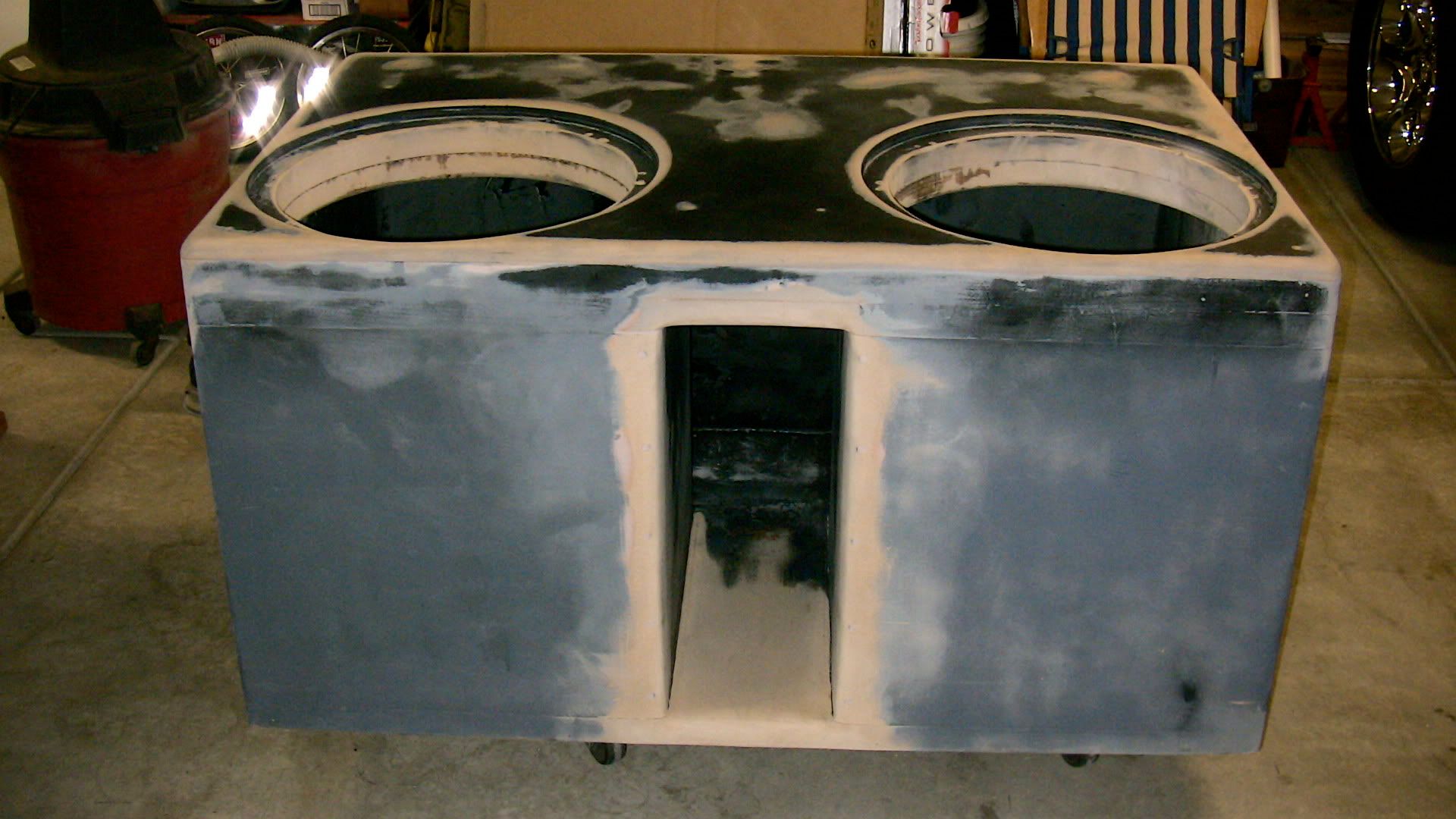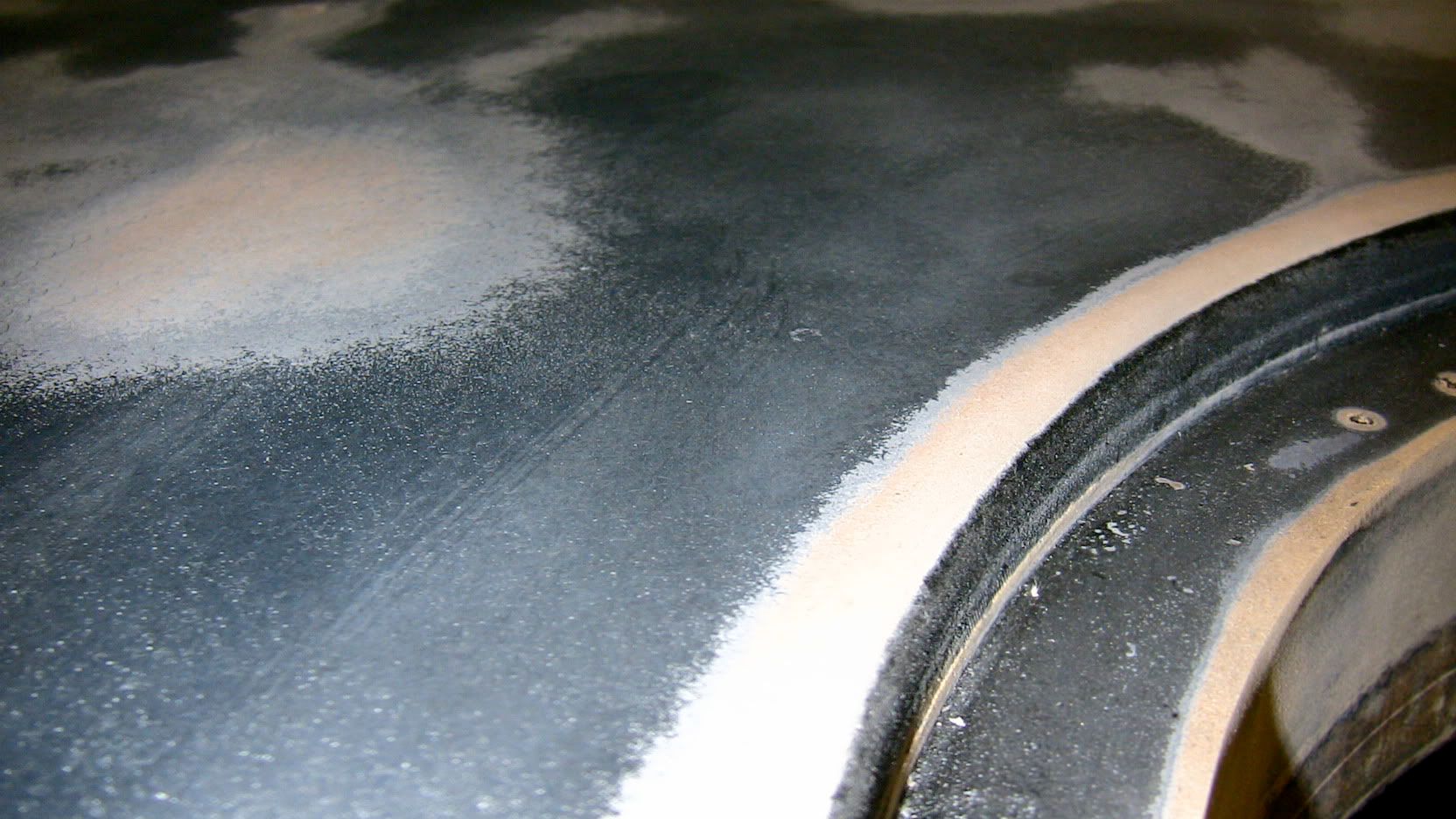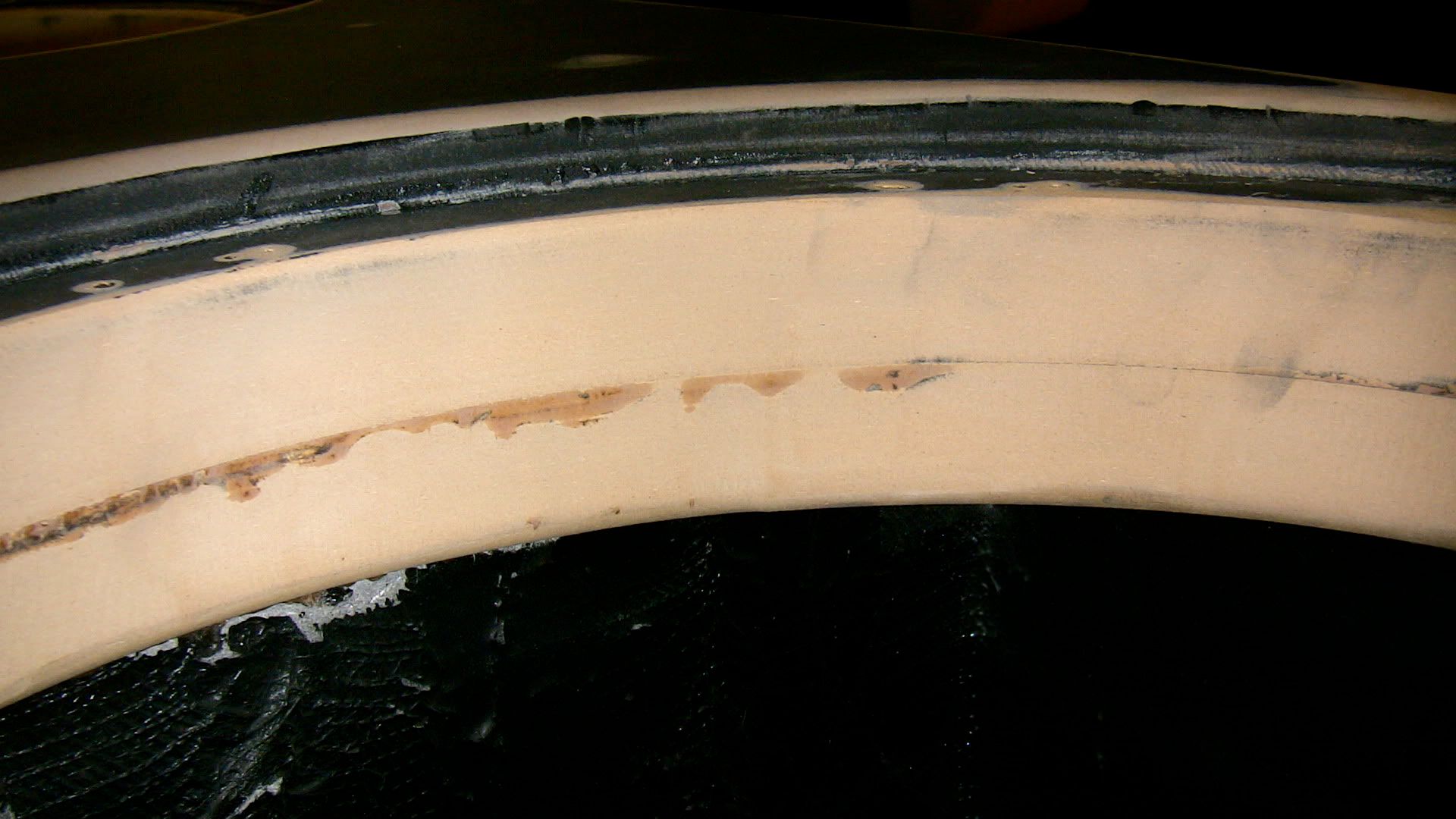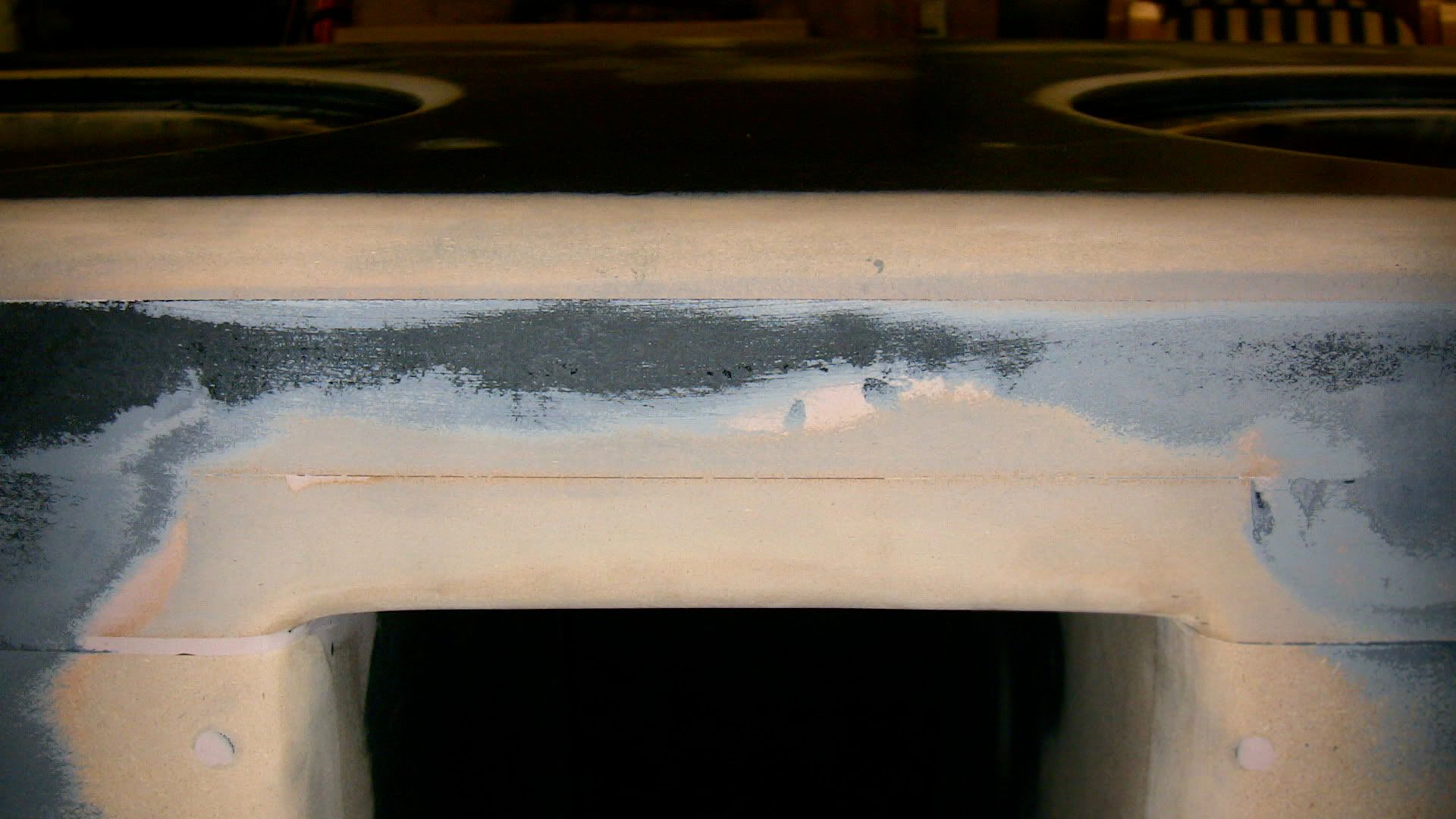 I'm thinkin about putting my running boards back on soon that would have to be a weekend project because knowing how slow I go I would only have one side done in a day
so overall I say **** rain!
water spots on mah new rims luckily my neighbors all have tahoes with rims and one of them hooked me up with some nice polish.
Boss 24" Rims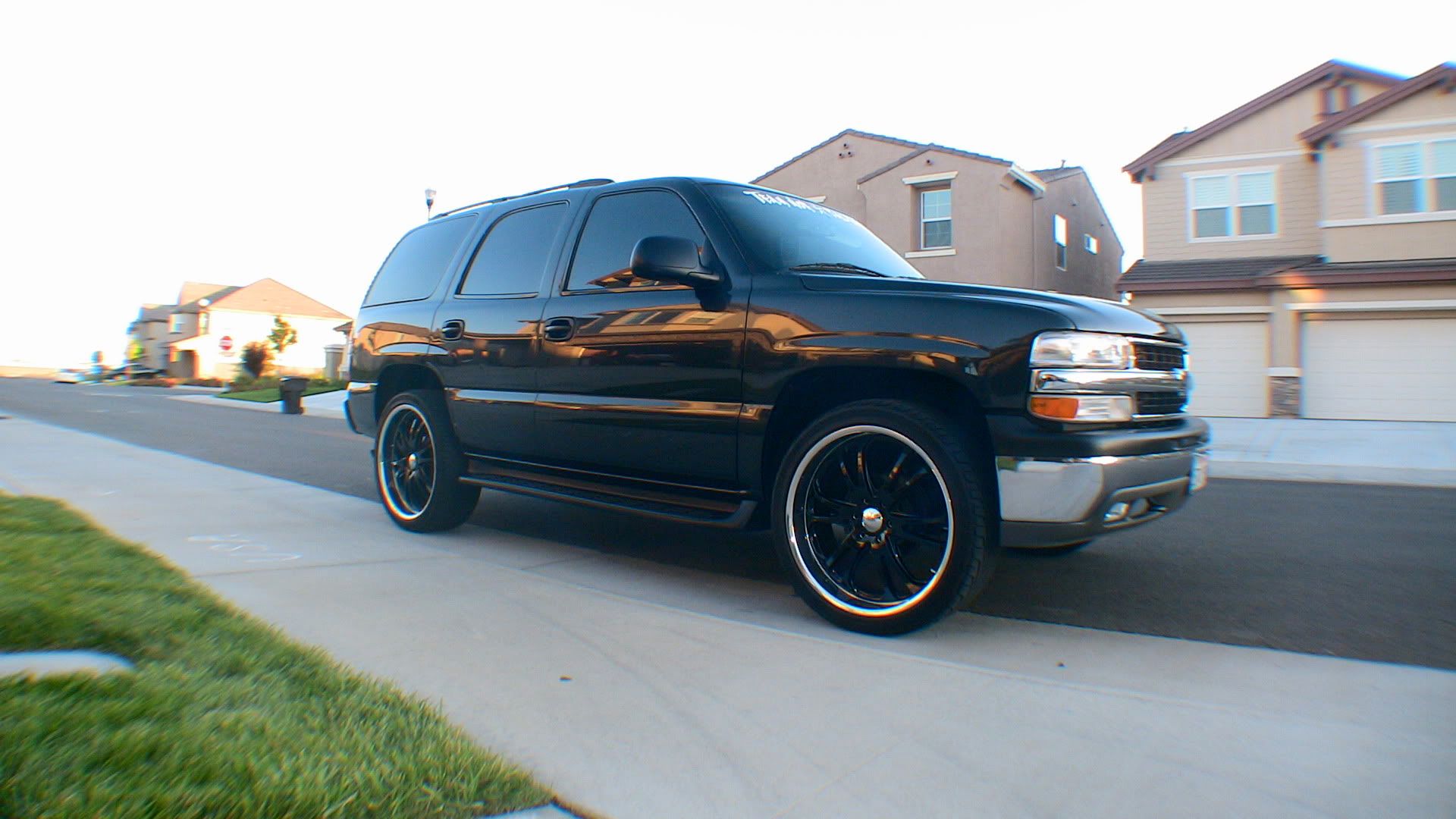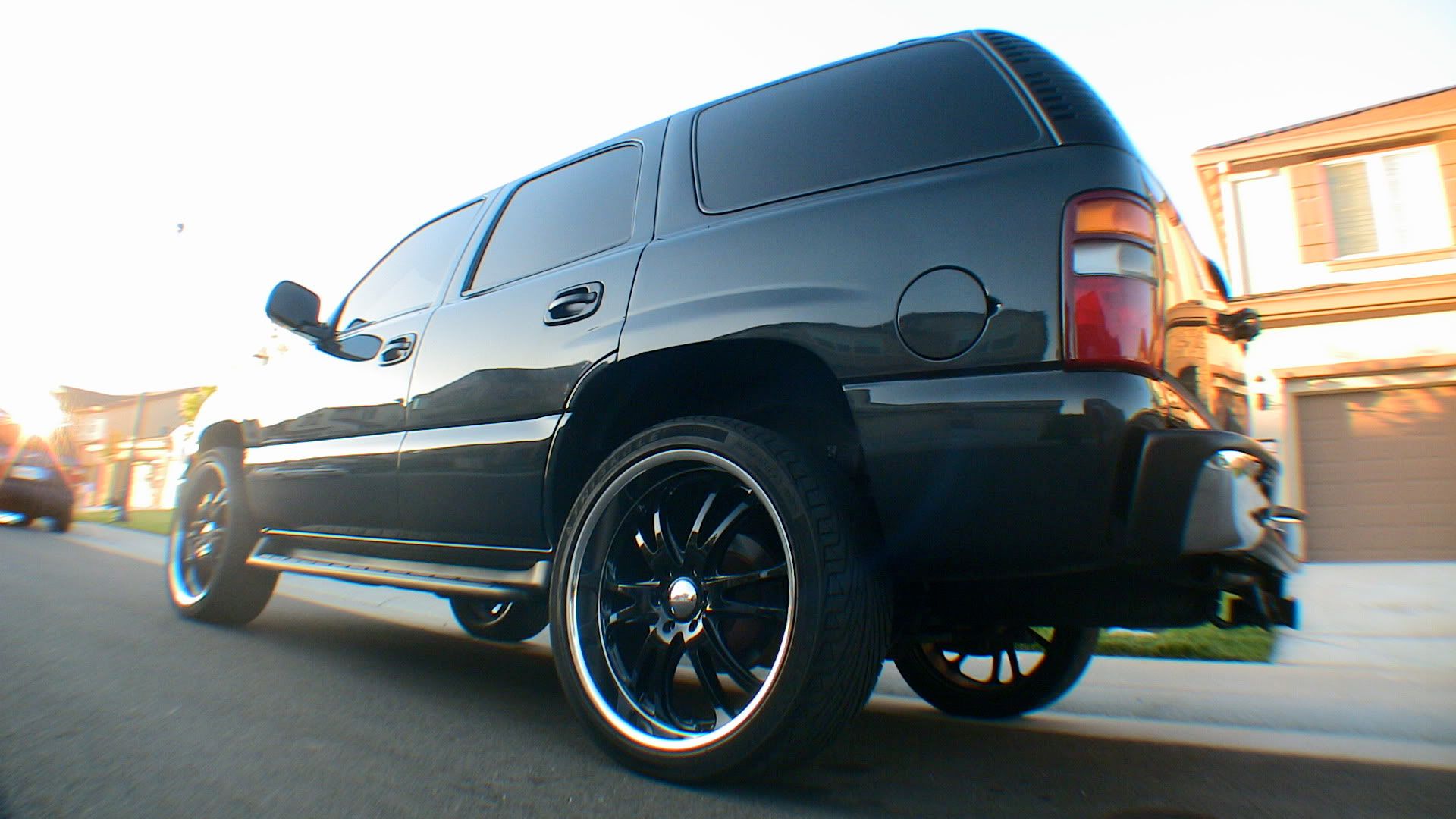 me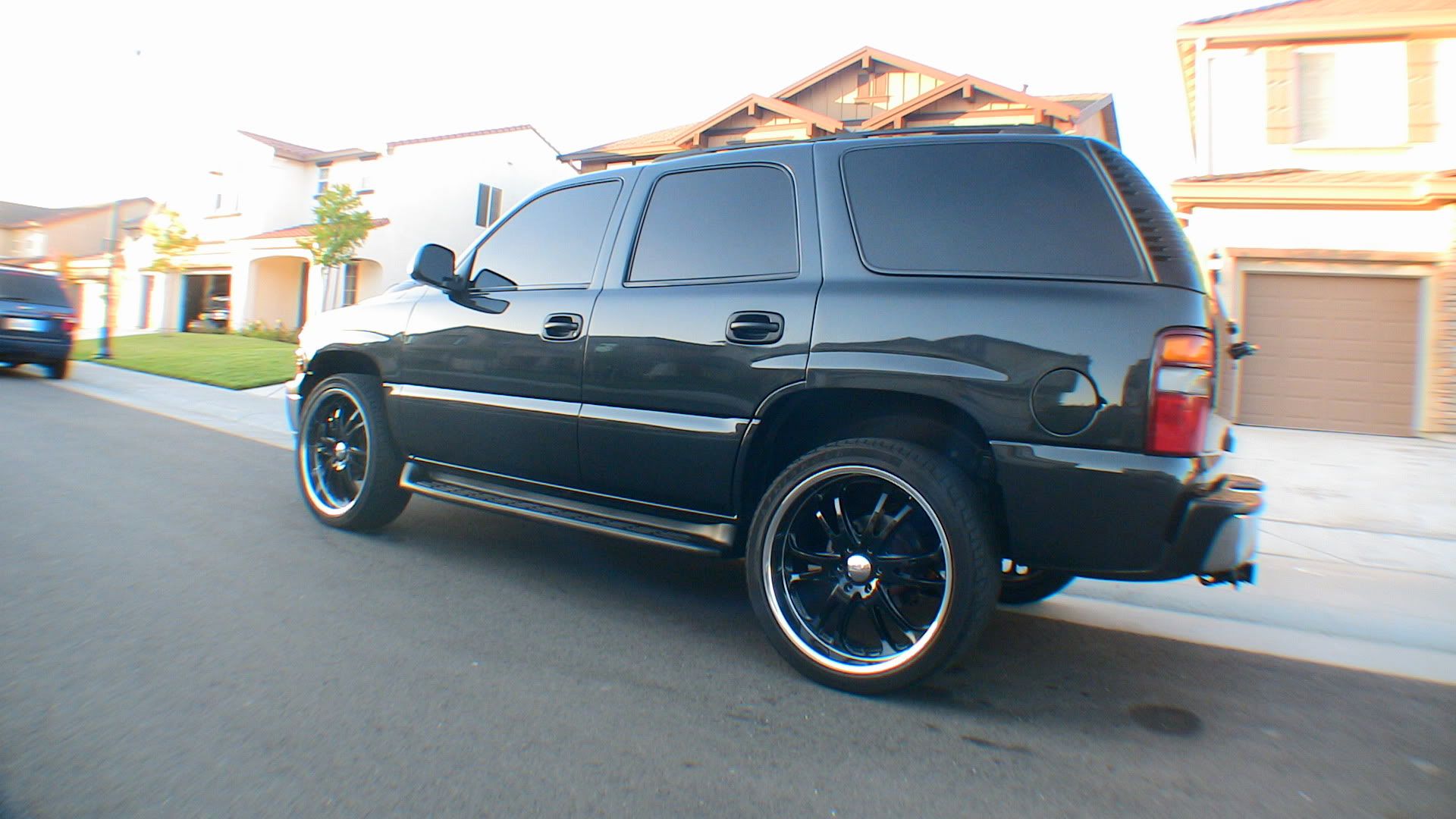 RF t1000.1bd and Kinetik HC1400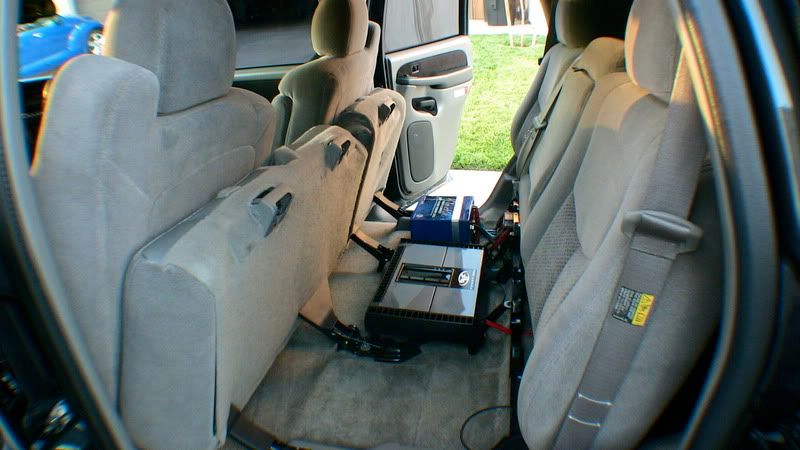 the place where the bose used to be will be pounded out or I will grab so normal ones from the junk yard.
these will end up being black to finish the doors.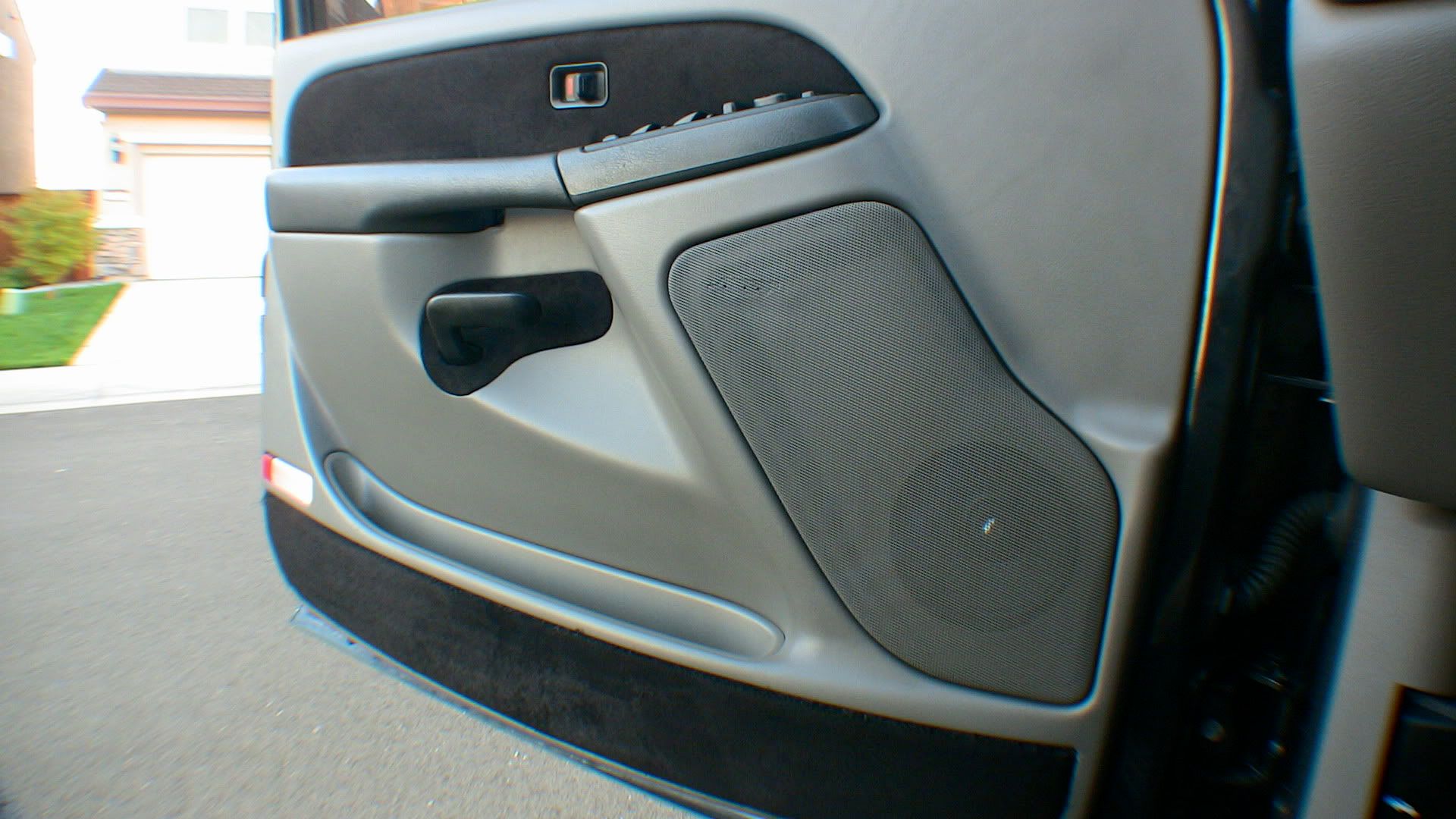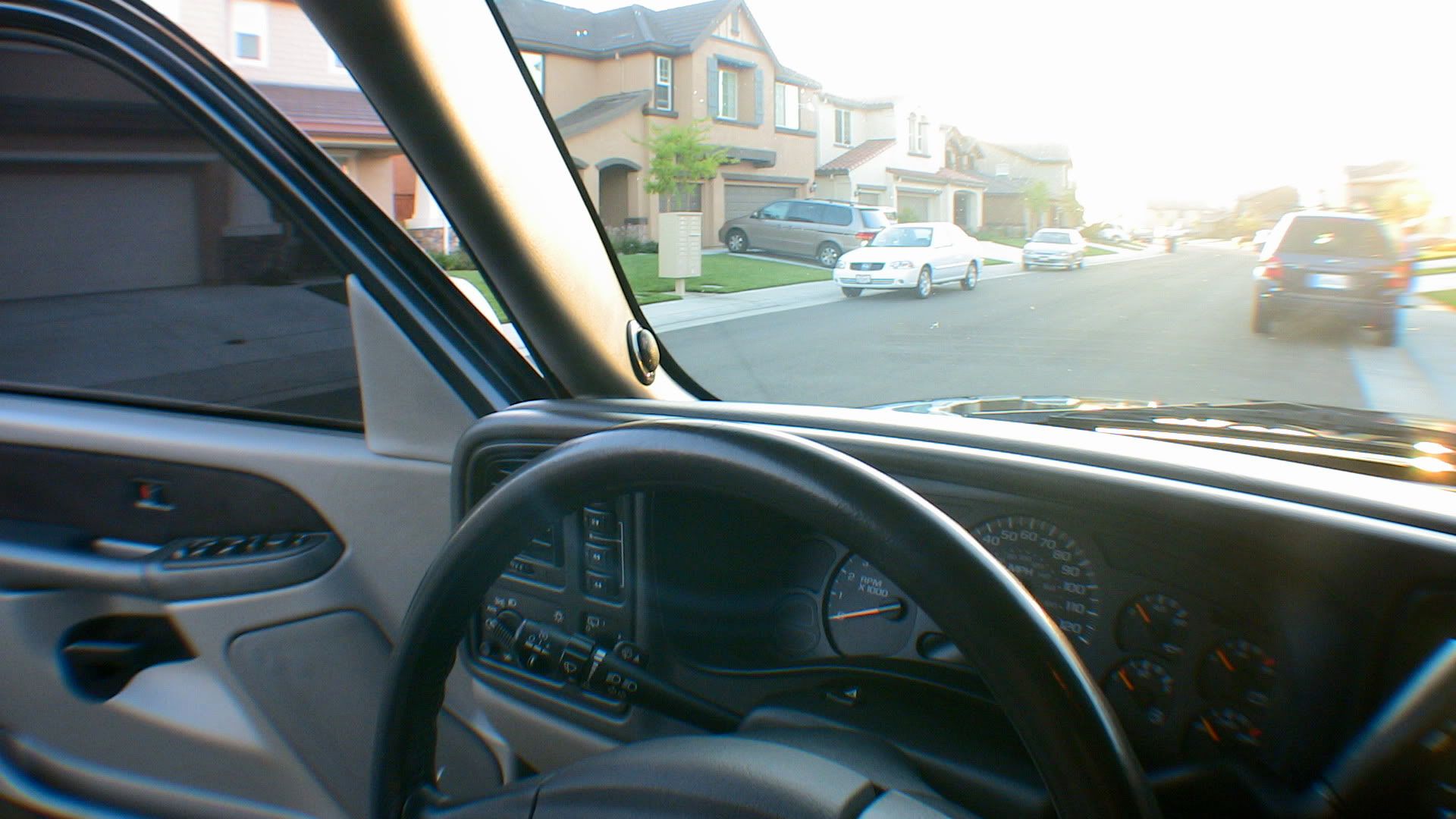 I used the stock plug for easy disconnect.
soldered and heat shrunk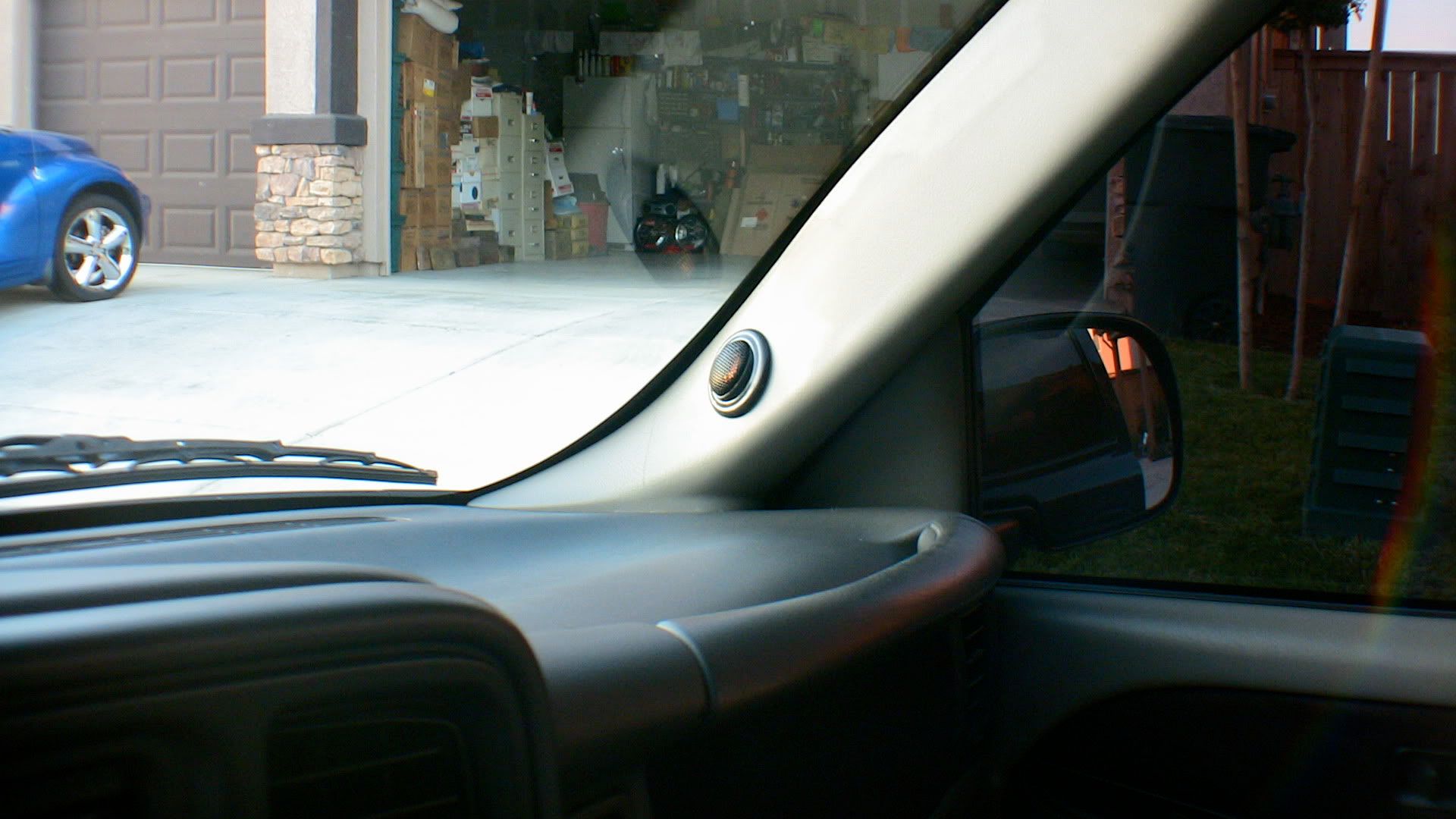 still haven't really got the EQ dialed in just right I was messing with it tonight and I think I might have it where I like it.
treble on the deck at 0 and high pass at 120hz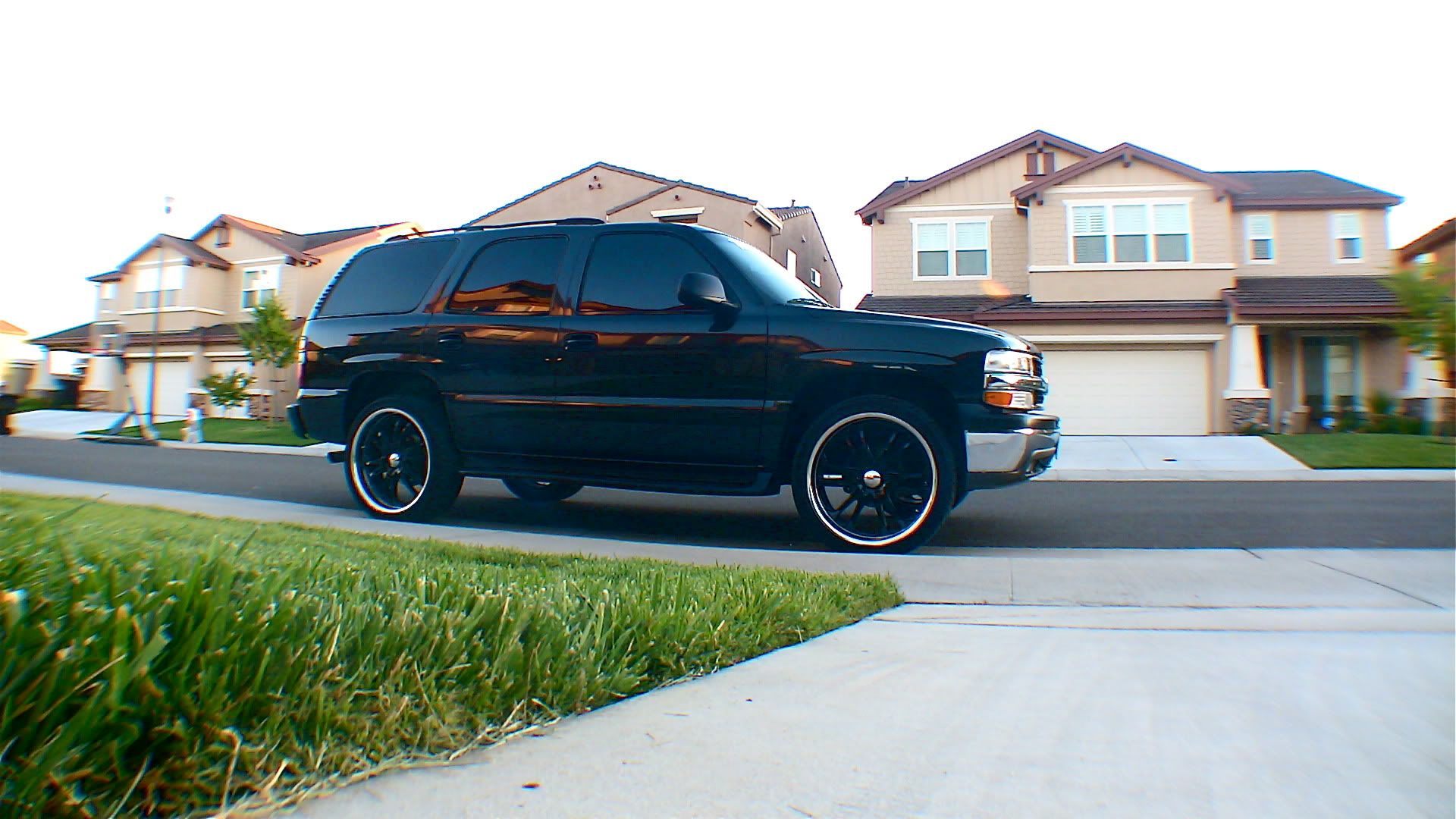 on the way over to check the output of my alt at 3 different places I was playin some songs and Justin was tellin me how he used to hit every single note of What It Is by Gorilla Zoe...
long story short he said that his Tline would be louder than the box I built hands down so we go and grab it.
stick it in normal and its slammin pretty hard, I had the SSF on because I couldn't play lows with my old box then turned it off with the Tline and it was hitting some nice lows.
got curious today and figured why not invert it since it seemed to help my last box with lows and so far with a tiny bit of testing it is pumpin out the lows!
I'll go grab some pictures real quick before it gets dark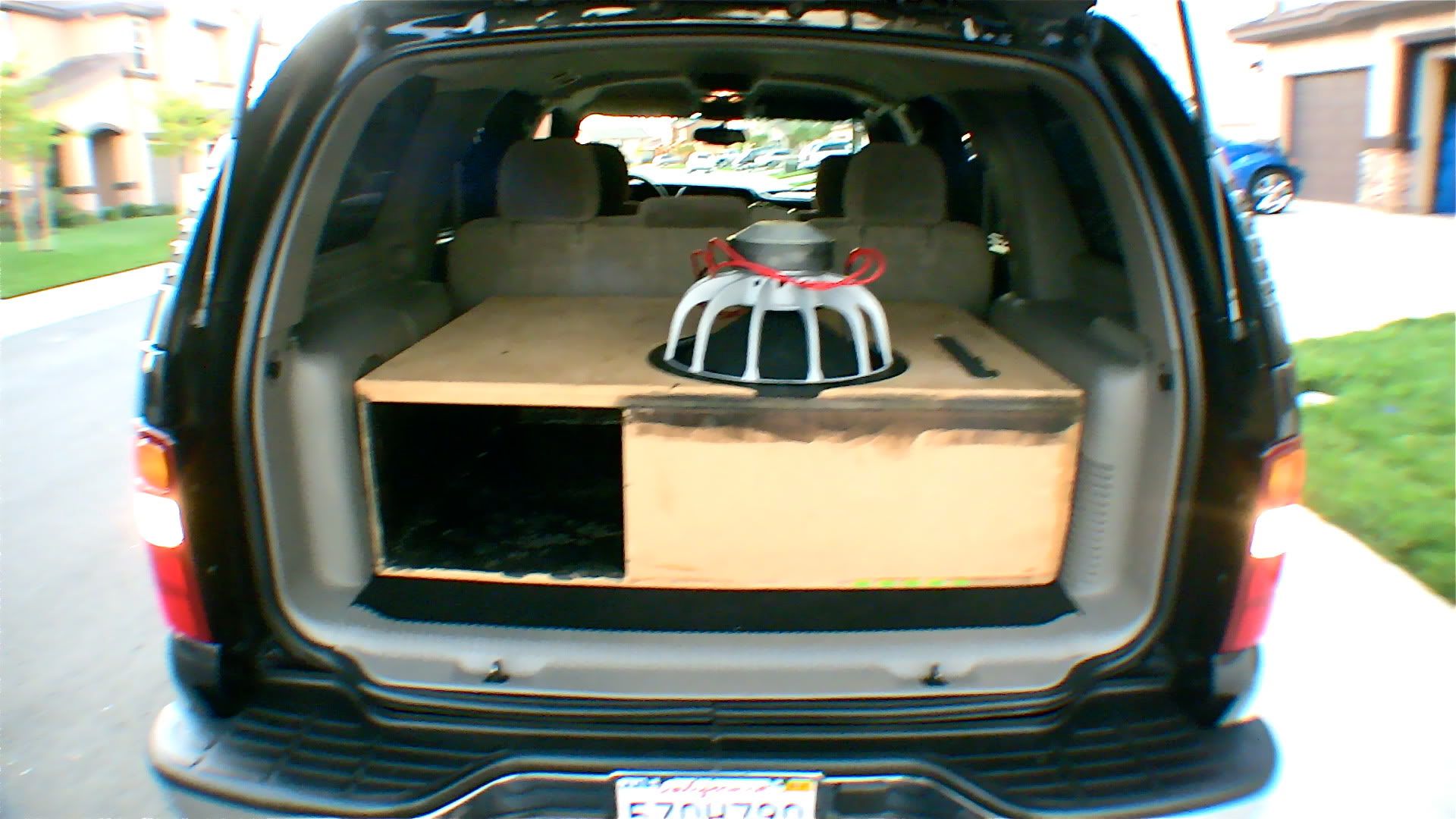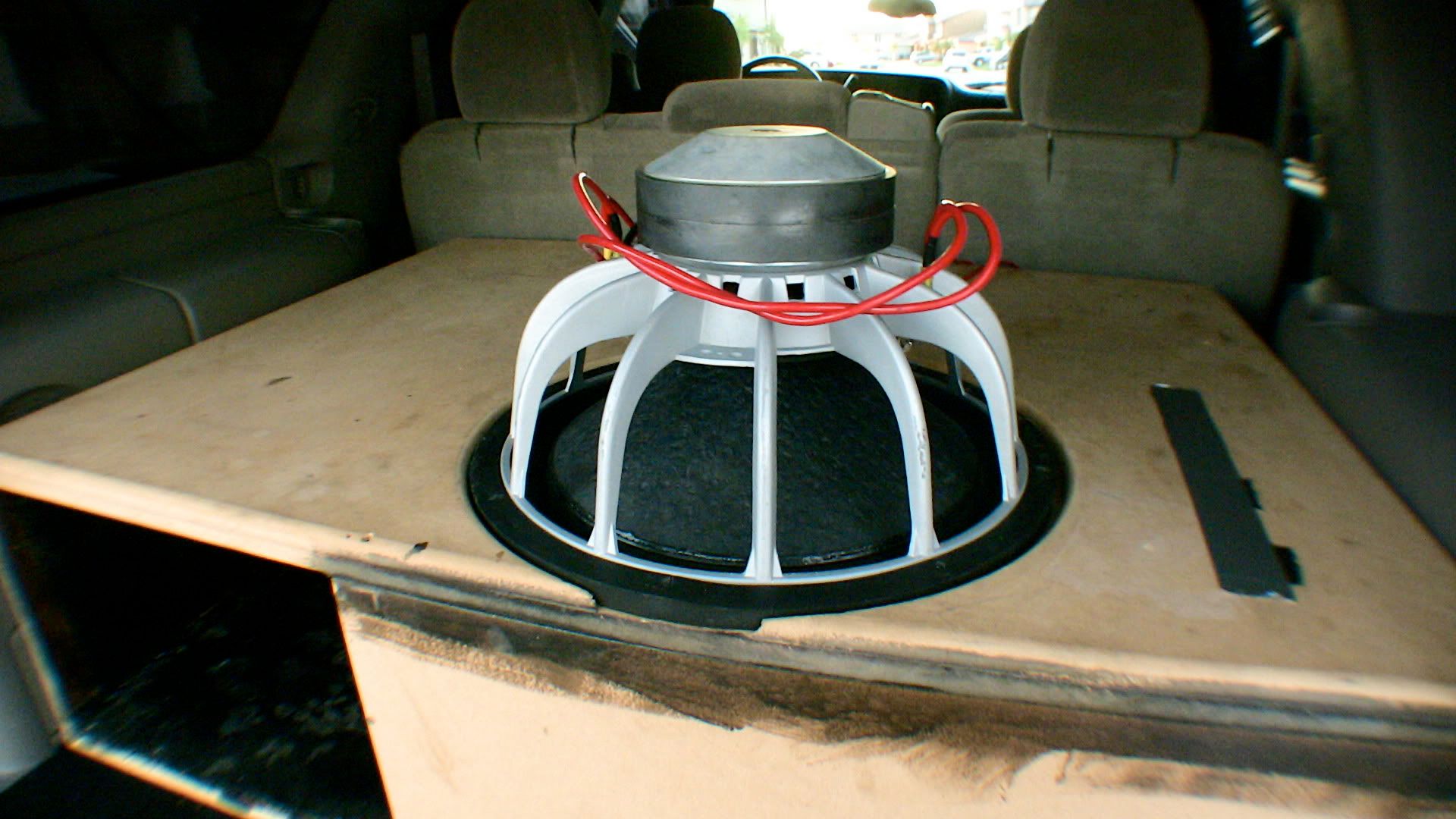 also created a new way to connect my sub and wire it up.
I was sick of twisting together 2 wires and trying to shove them in so I got creative
grab a bolt, a nut, a couple washers, and a ring terminal.
crimp/solder the terminal on stick a washer on the bolt, then the terminal then another washer and push it through the sub terminal and put the nut on the back and tighten.
and YES I realize the more connectors the more resistance but I am not running mad amount of power so its fine for right now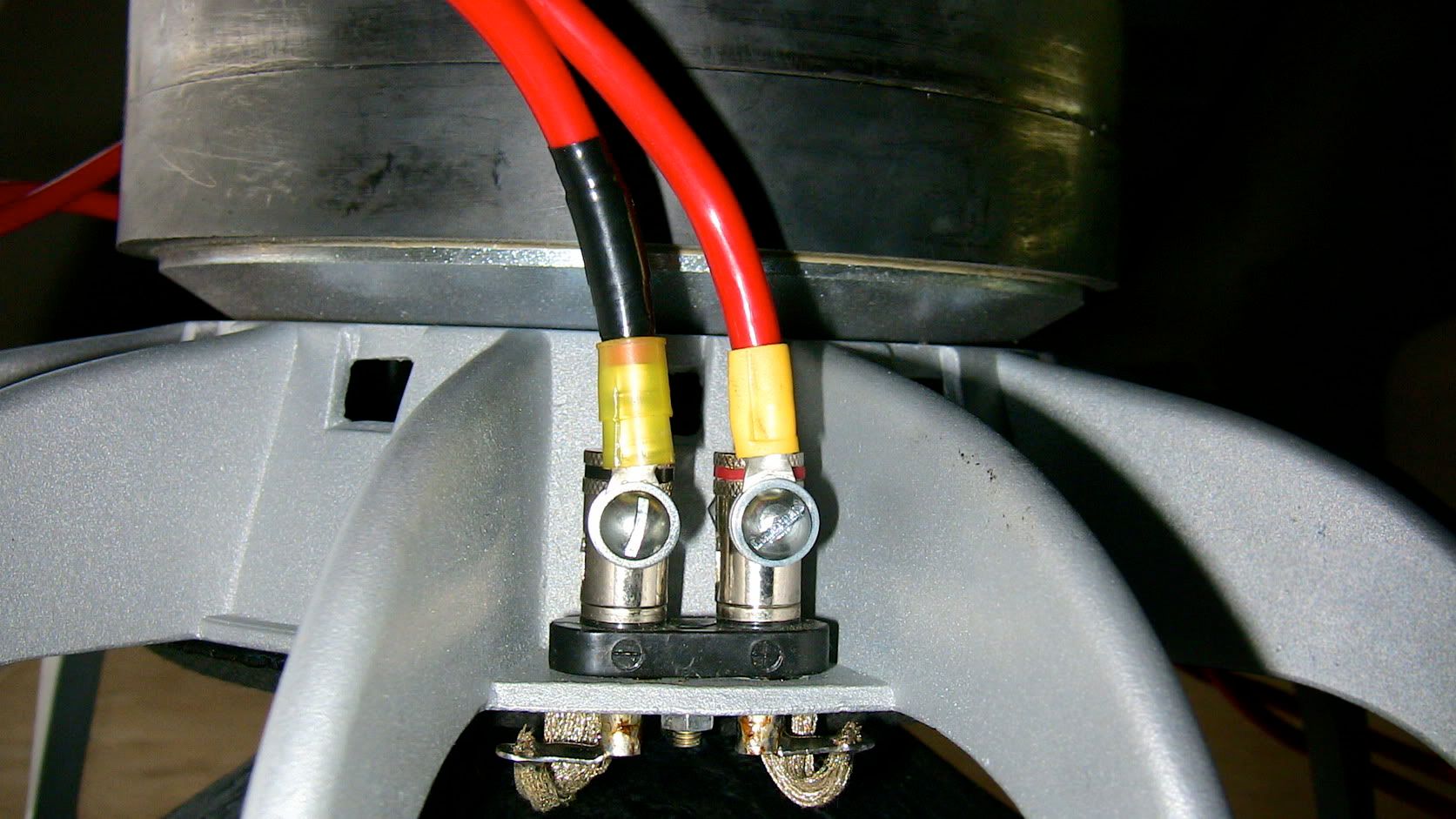 1 layer of fiberglass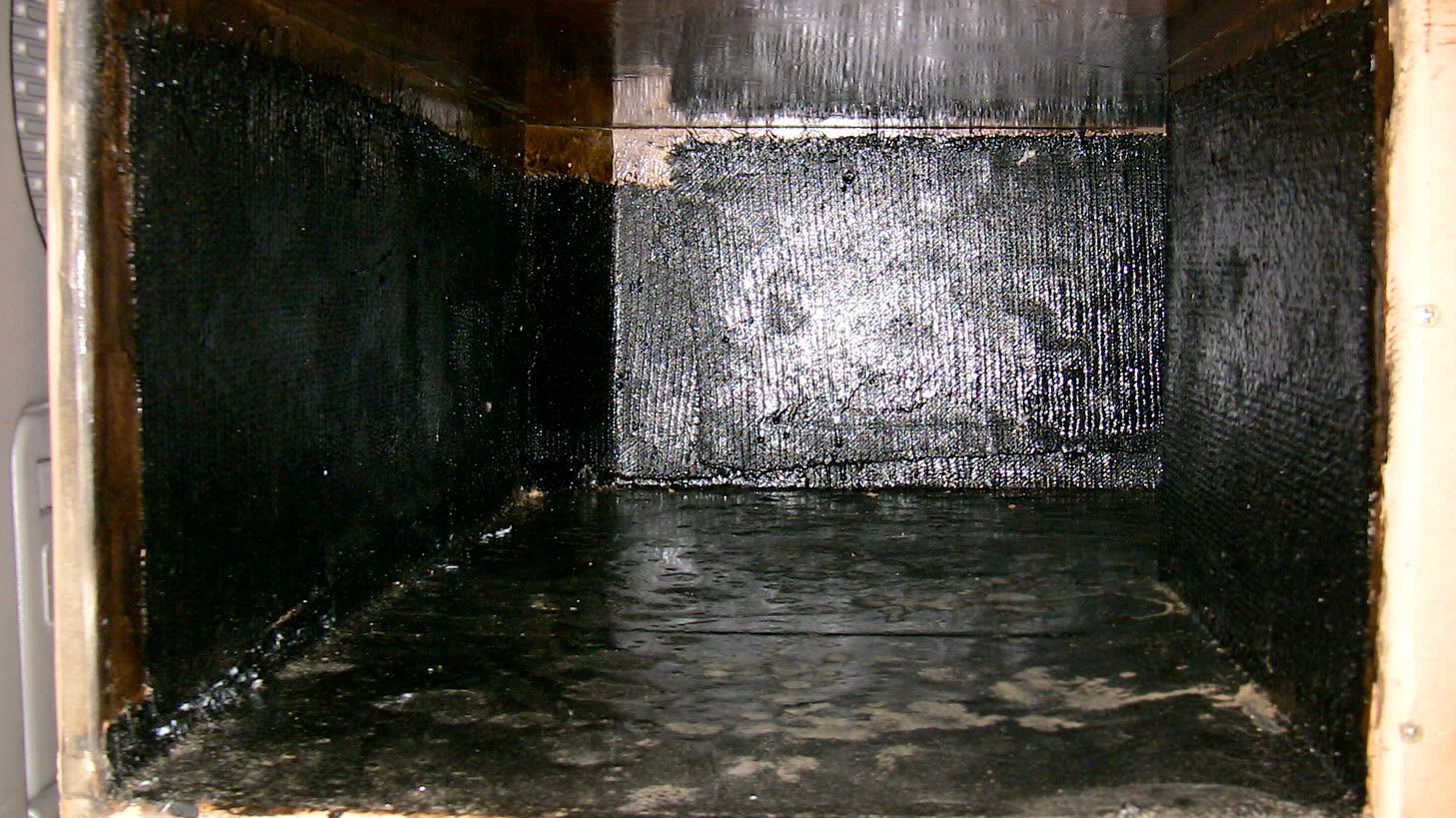 the wires aren't neat but I don't really care since its temporary and its so low that you can't see it unless you peak over the seat
word of advice... NEVER EVER use a battery isolator they are garbage.
did a test the other day at SQmonte's house and tested the post connected to the front battery by the alt and resting voltage was 12.7 then checked the post connected to my kinetik in the back and it rested at 11.1
my voltage is a lot better now that it is out.
I also figured a way around Chevy's stupid idea for a grommet in order to wire up my back doors when I get my Sundown SAX-100.4
also got my voltage meter today probably just going to wire it up and put it where the headliner meets the windshield by the mirror and wire it to a switch so I don't always have to see it on
my DC Power 270sp is on its way should be shipped out tomorrow if Rob got my address in time
click the sig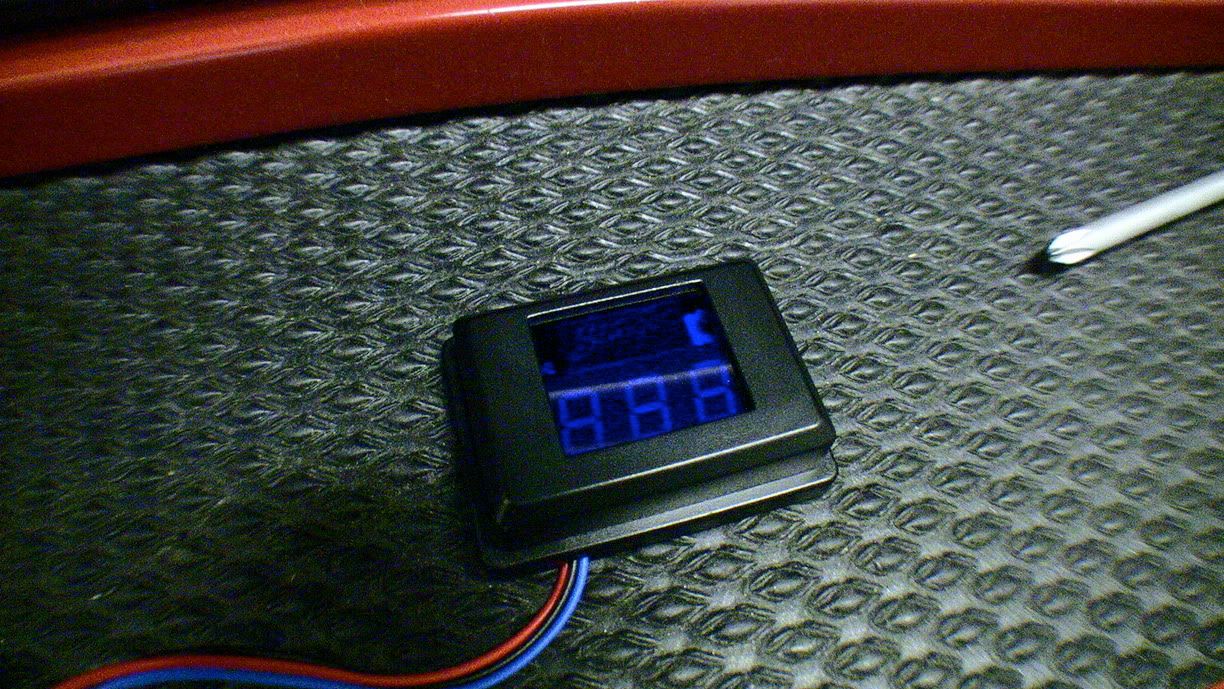 which turned into my dash coming completely off...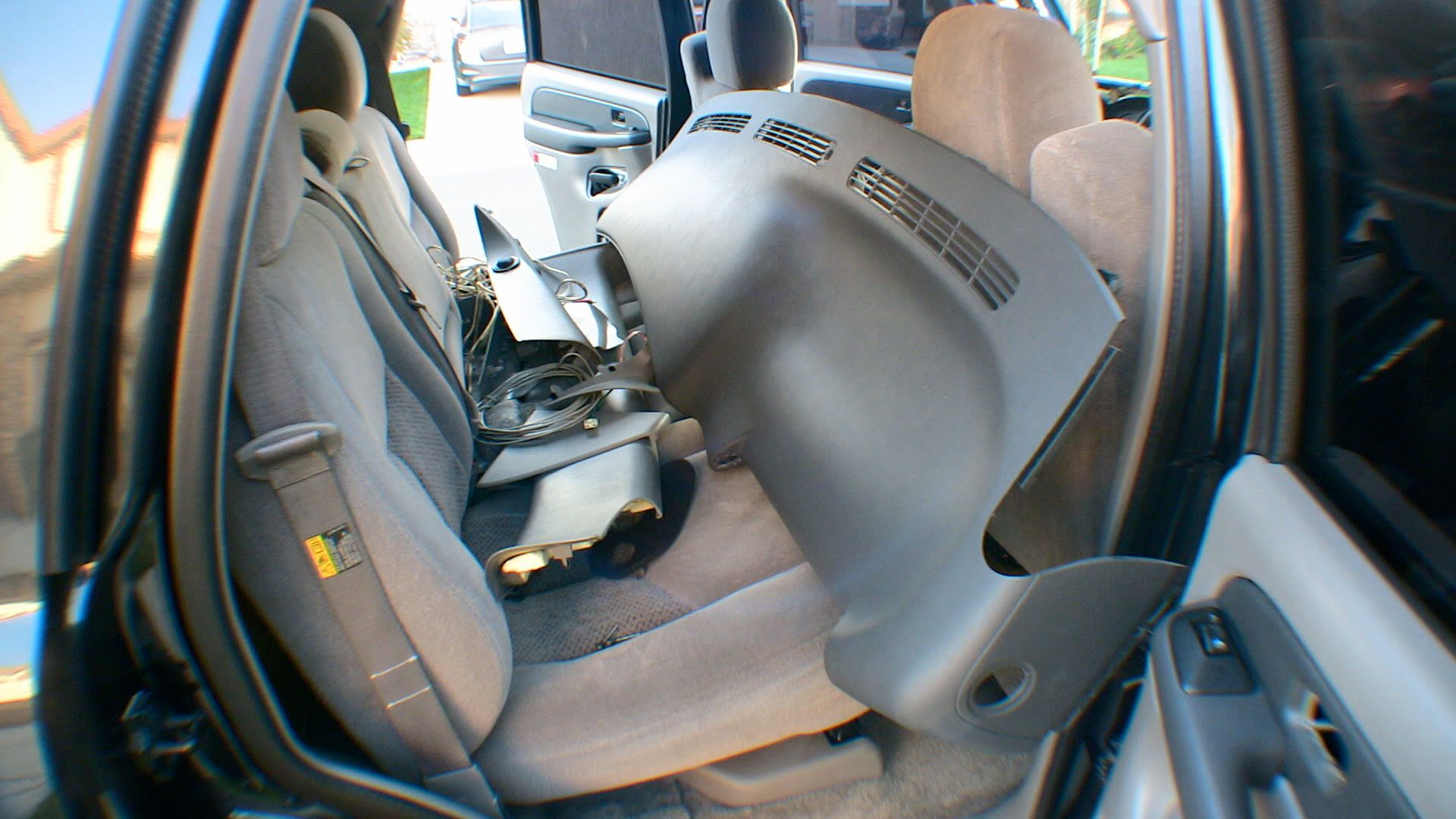 why? because I was curious and for ease of wiring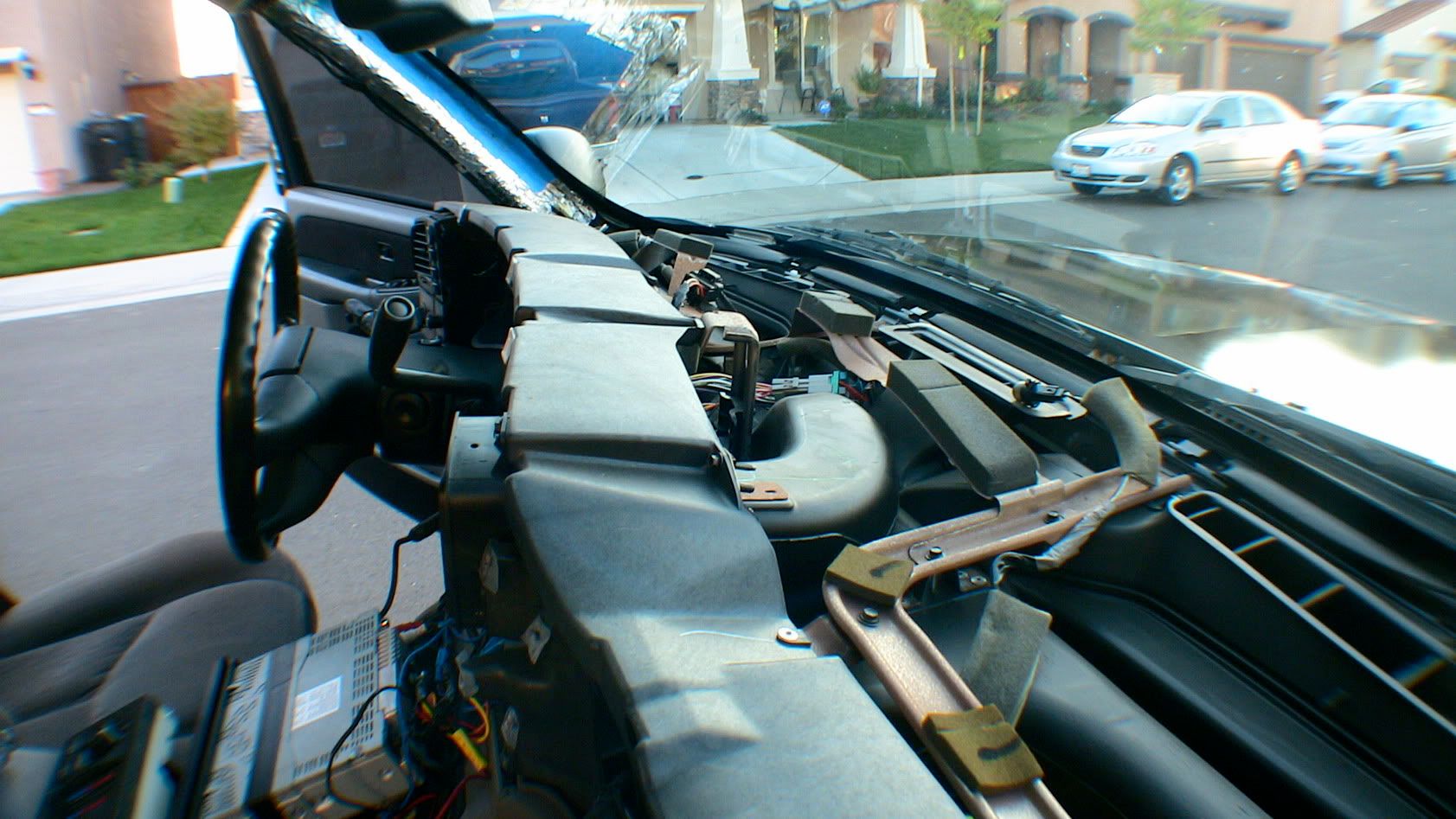 sloppy wiring which will change once I order a new harness and some relays once I get my 4 channel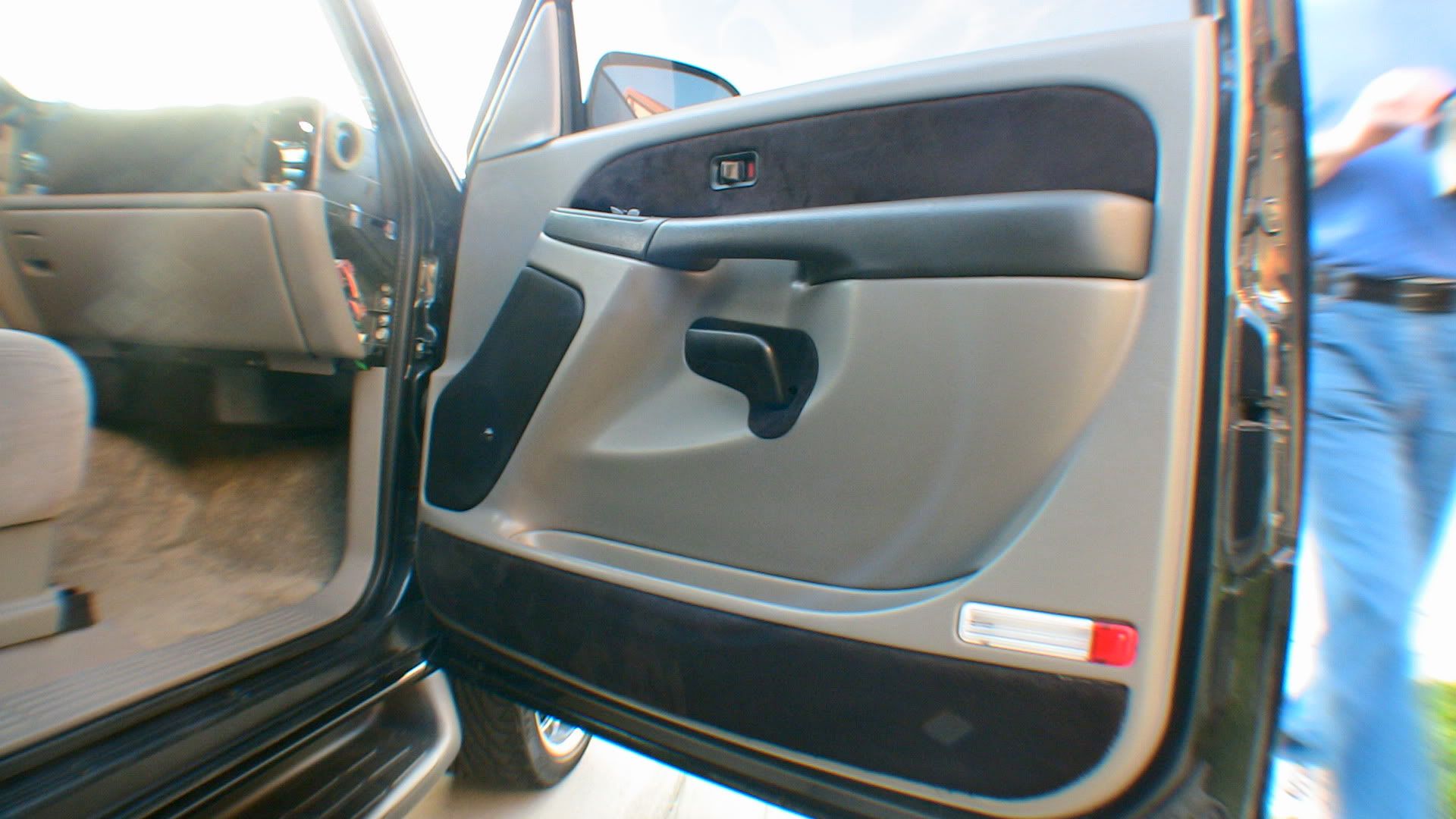 the T3 5.25" midbass in the rear door waiting for some power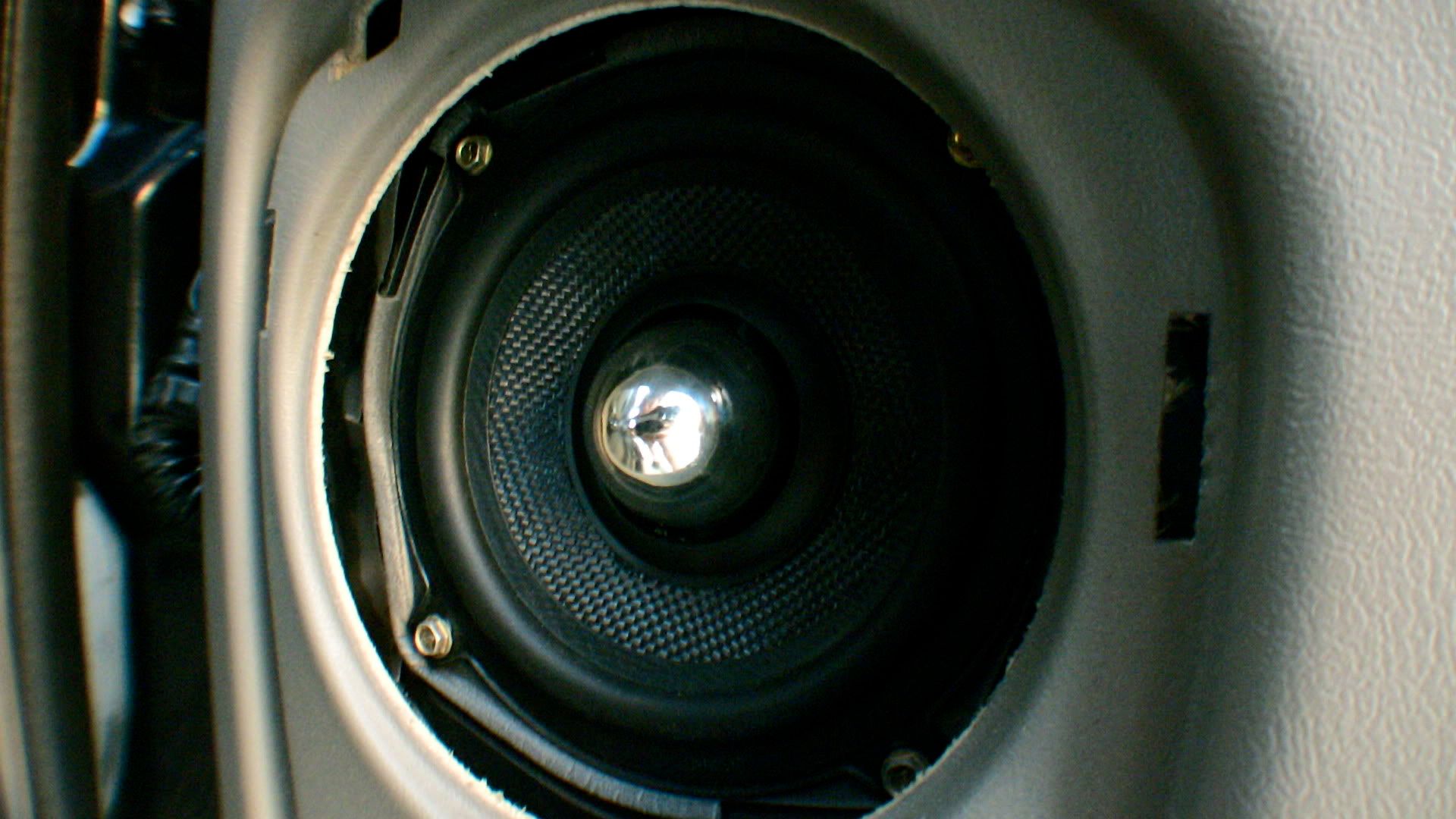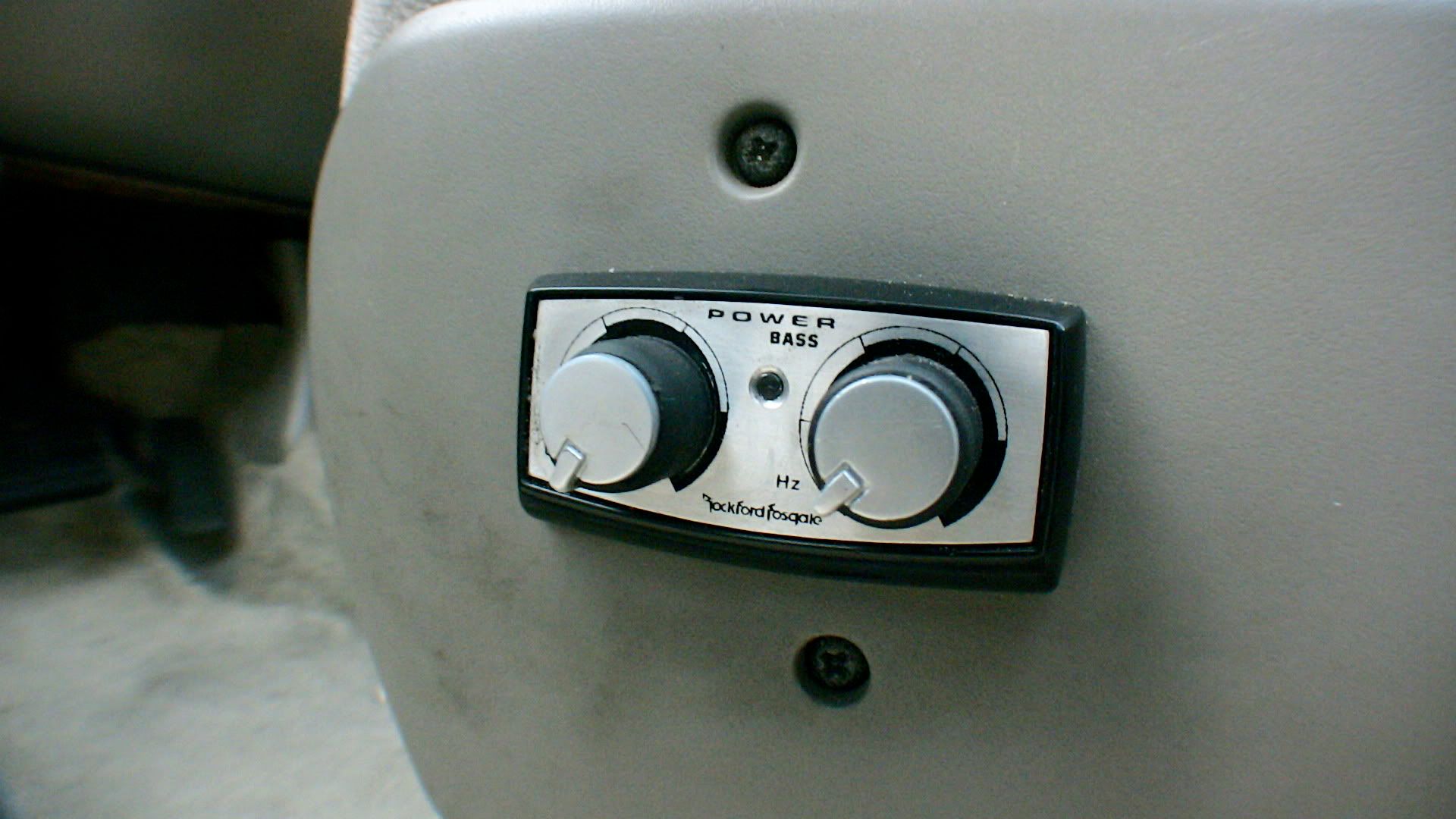 this one is for the performer
always be aware of the clear coat you use.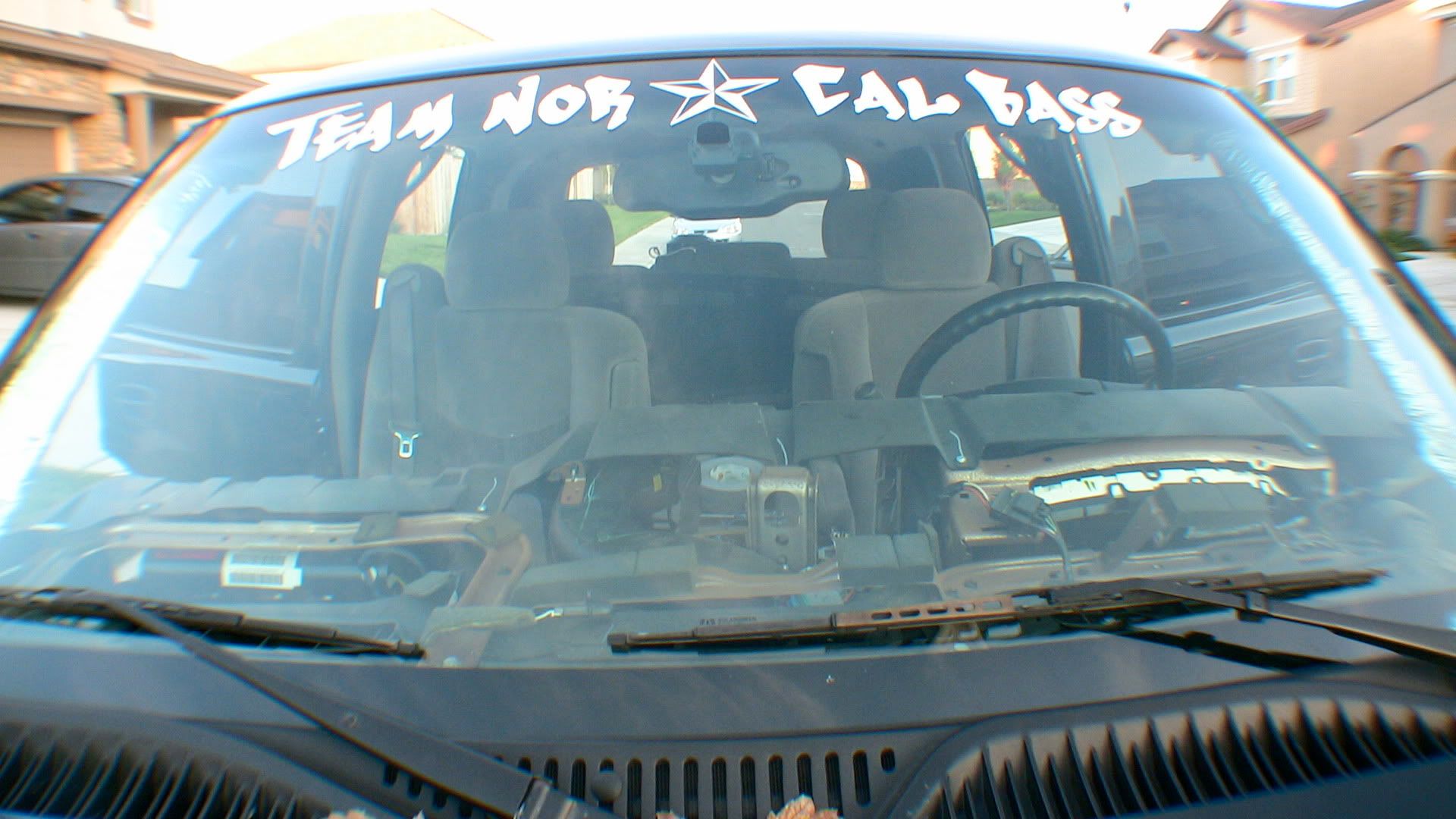 speaker wire ran and 2 old school RCA's until I have some money to replace them with RF to match the sub RCA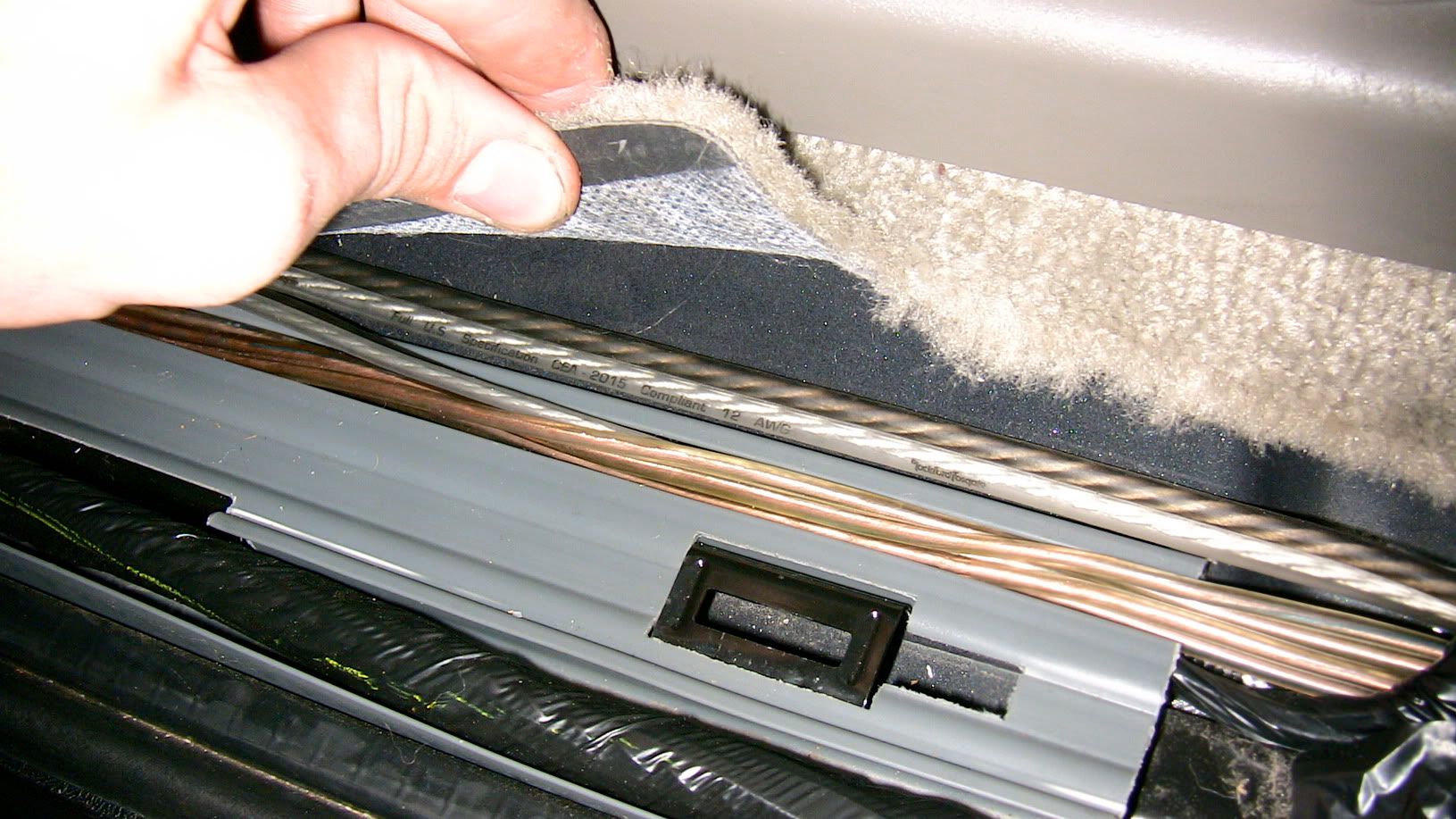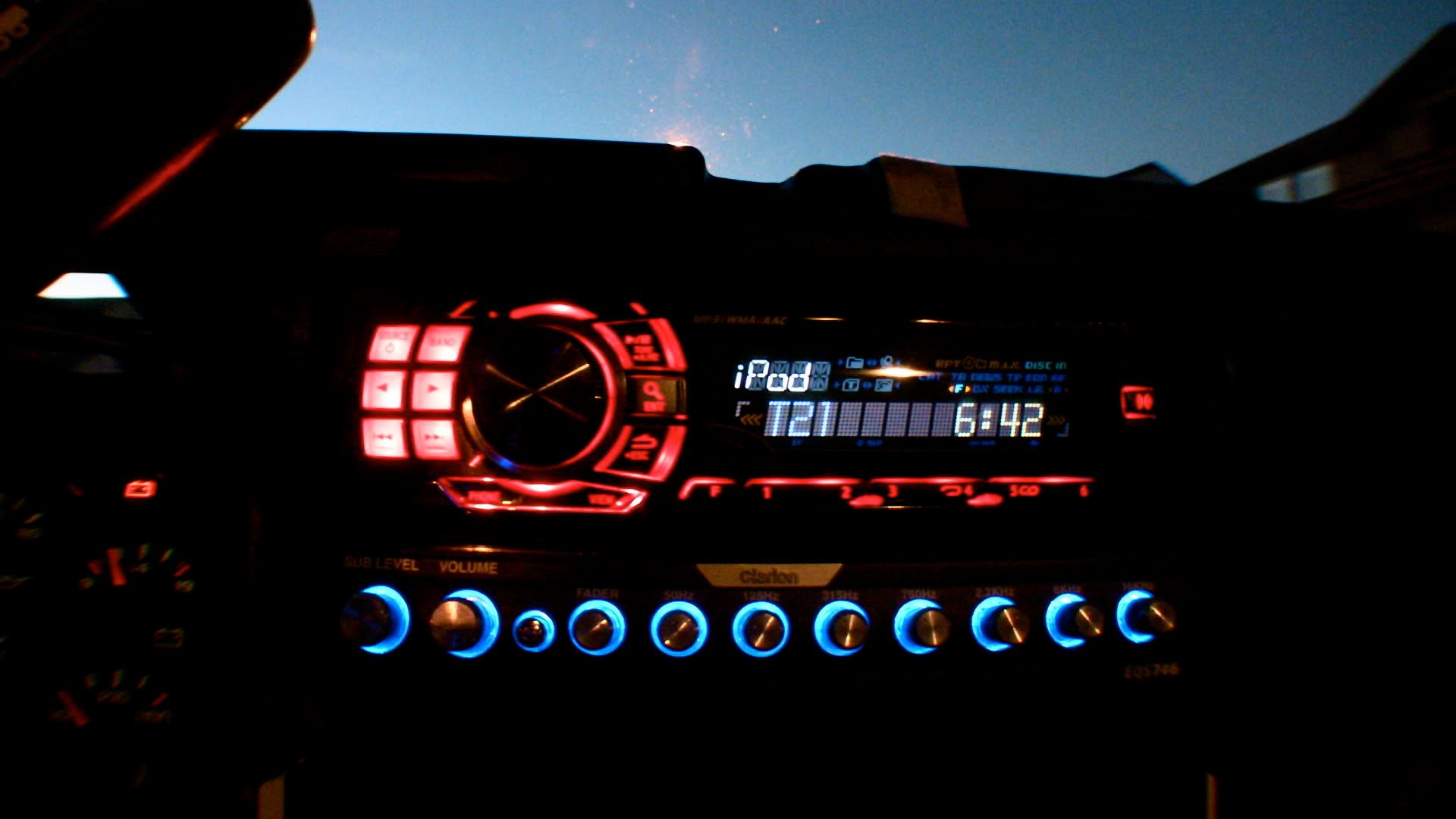 now comes time for the voltage meter. I decided to put it in the cubby hole after all.
couple of screws and a hole for the wires.
wires ran to the switch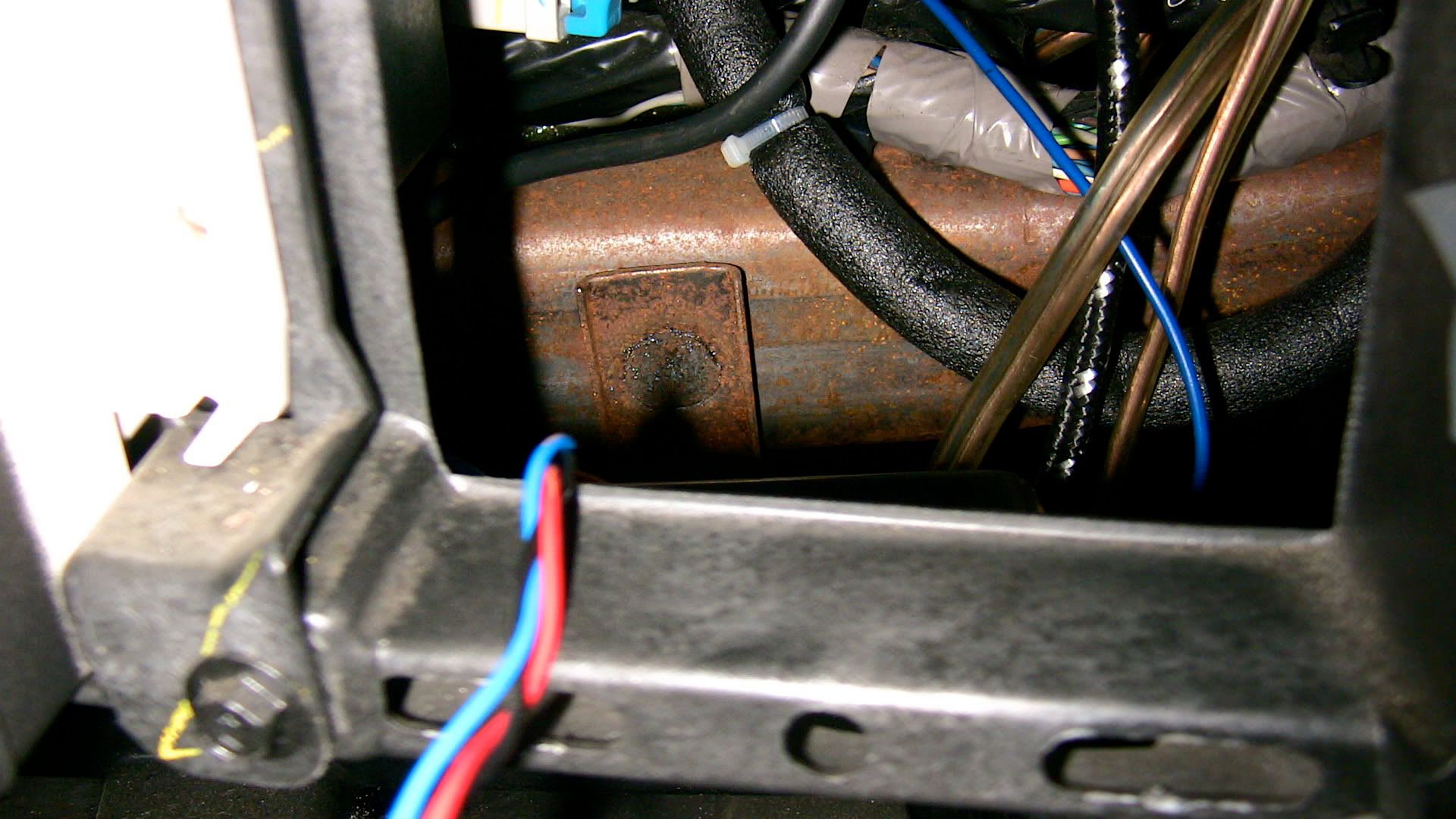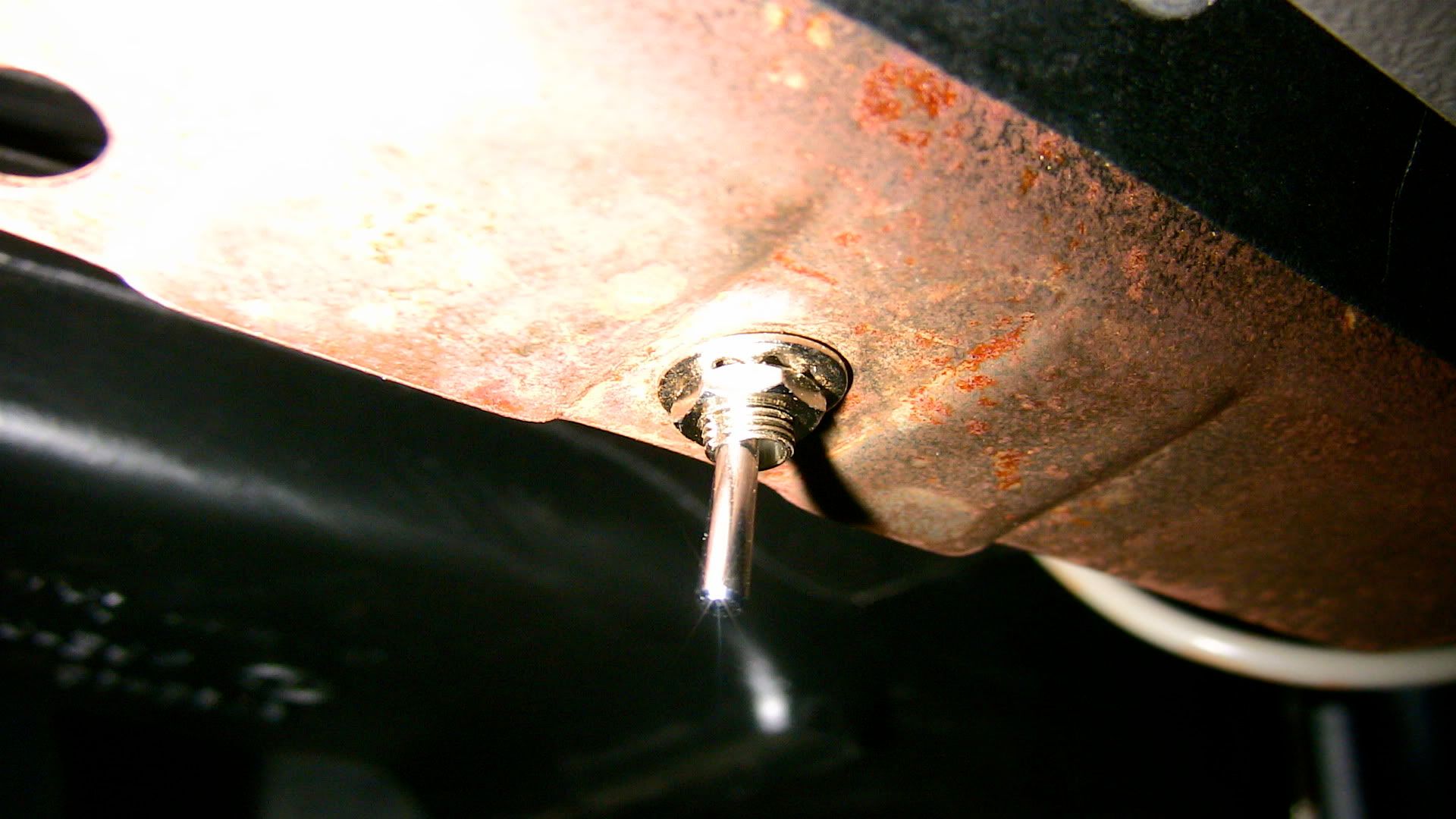 its not necessary for it to be on all the time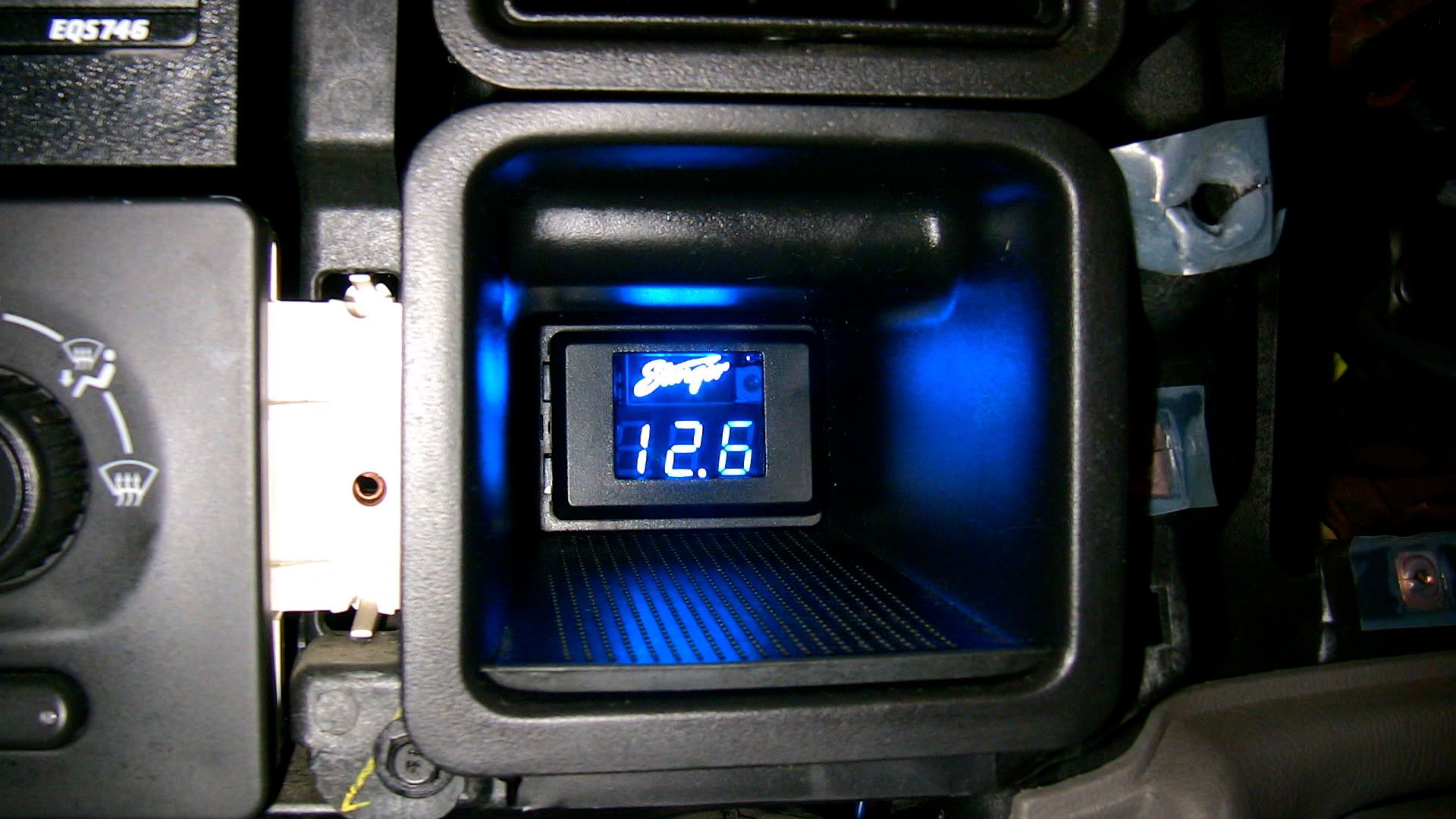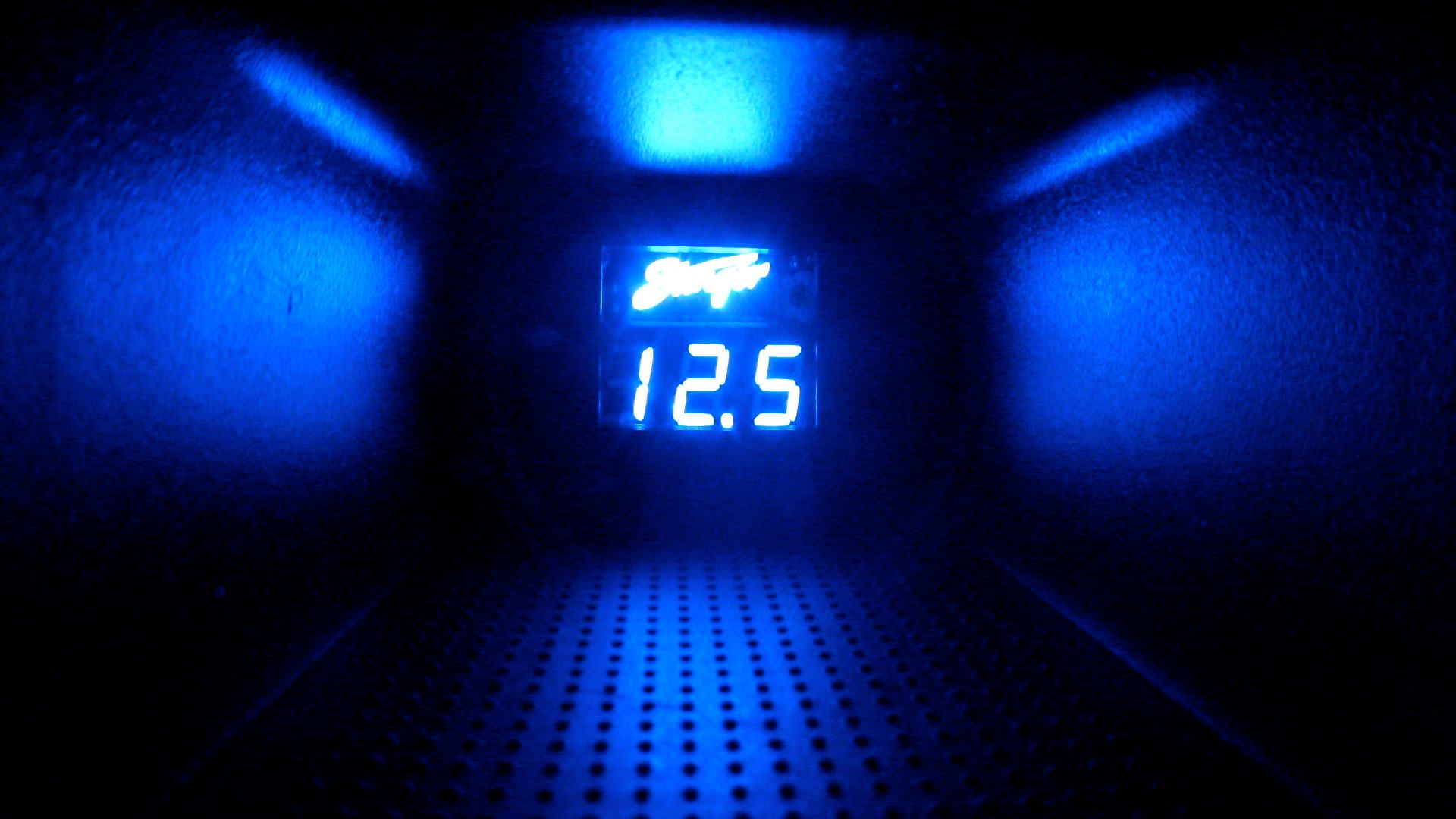 so here is my way of wiring up '03+ Tahoe rear doors
you've got the plug aka the problem
[IMG][/IMG]
just big enough to snap in to the door frame so that means no running after market speaker wire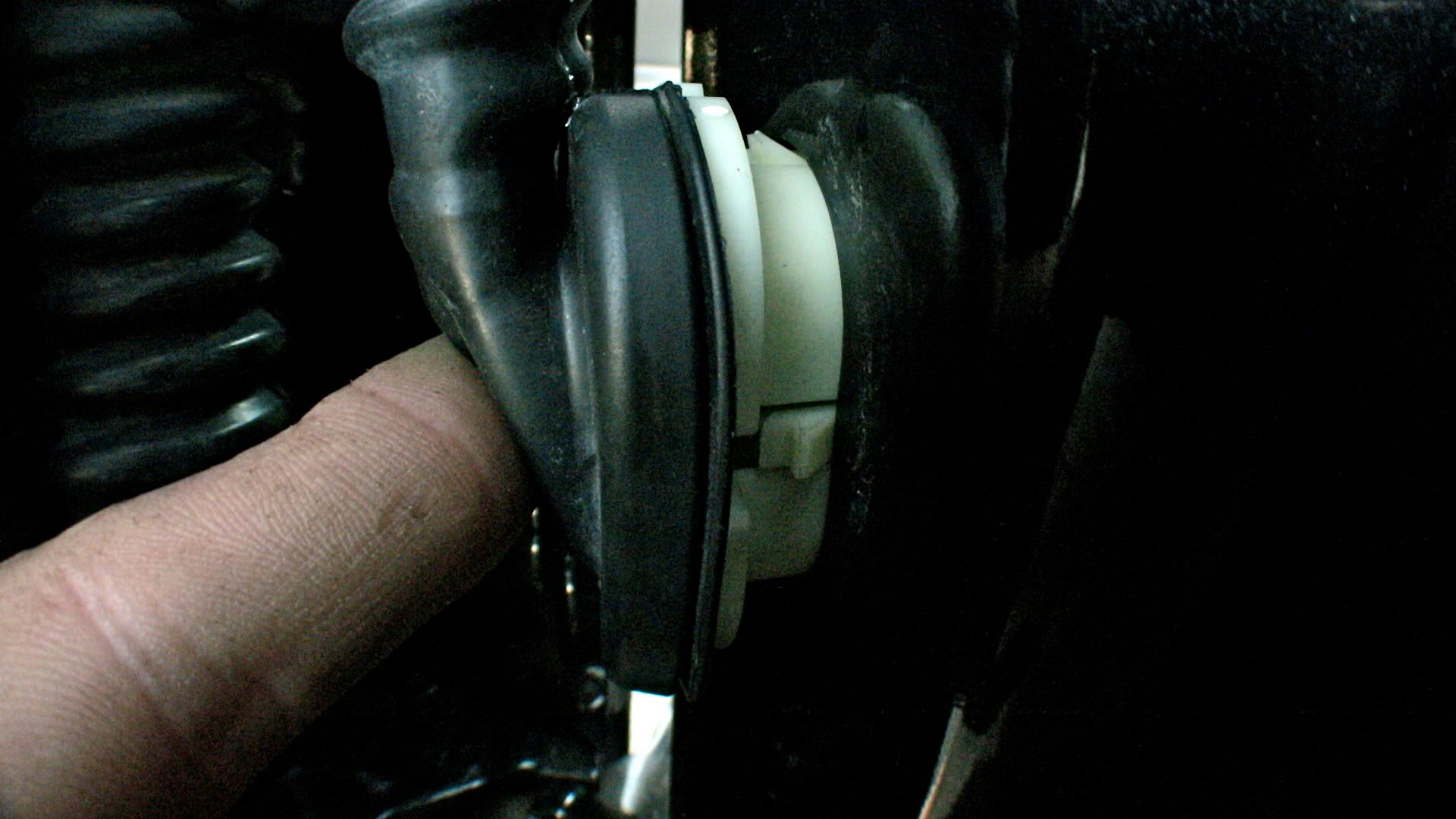 and not really any room in the plug for 12 gauge connections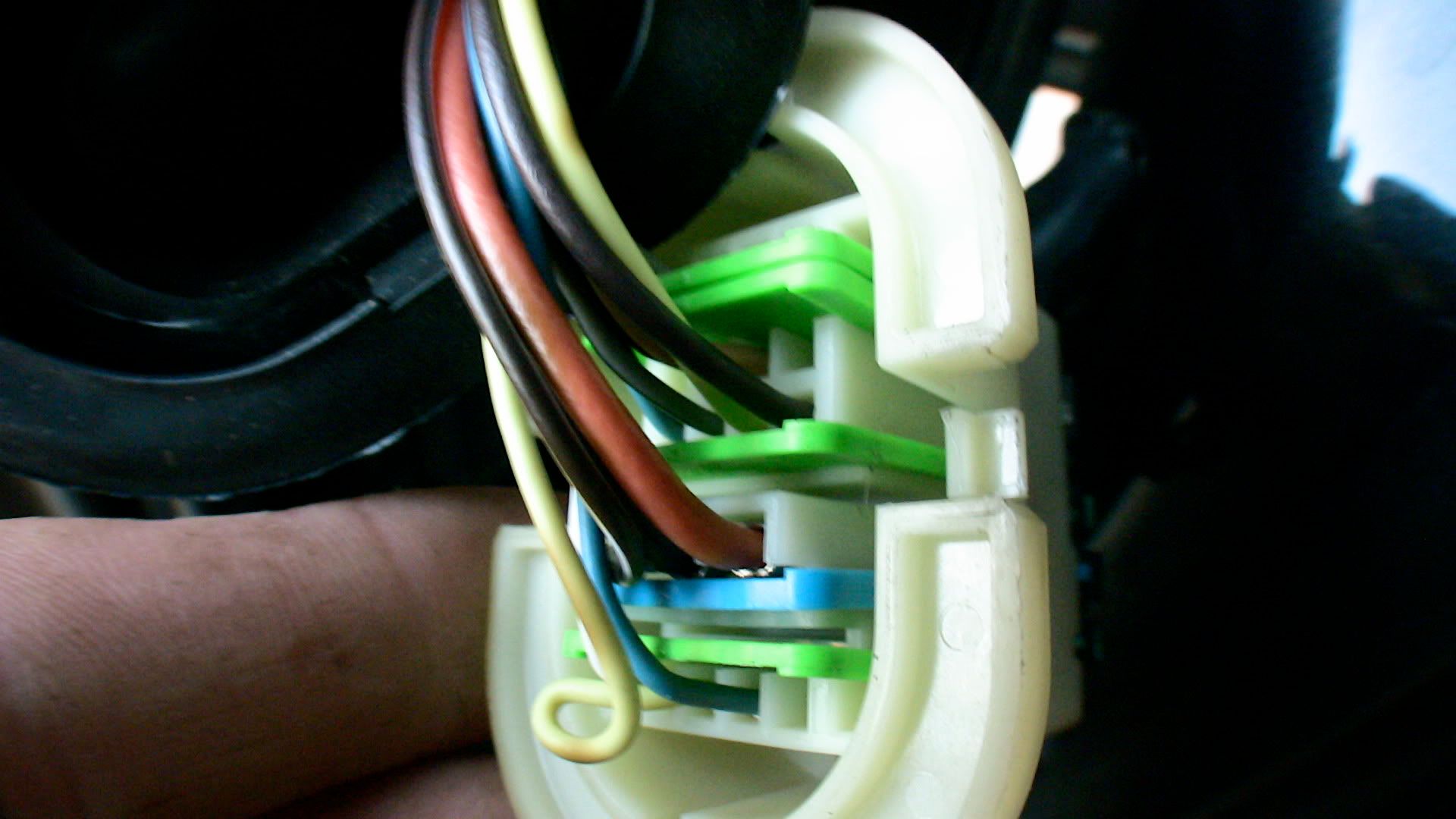 but there is room if just the black clips are connected since they are smaller than the actual plug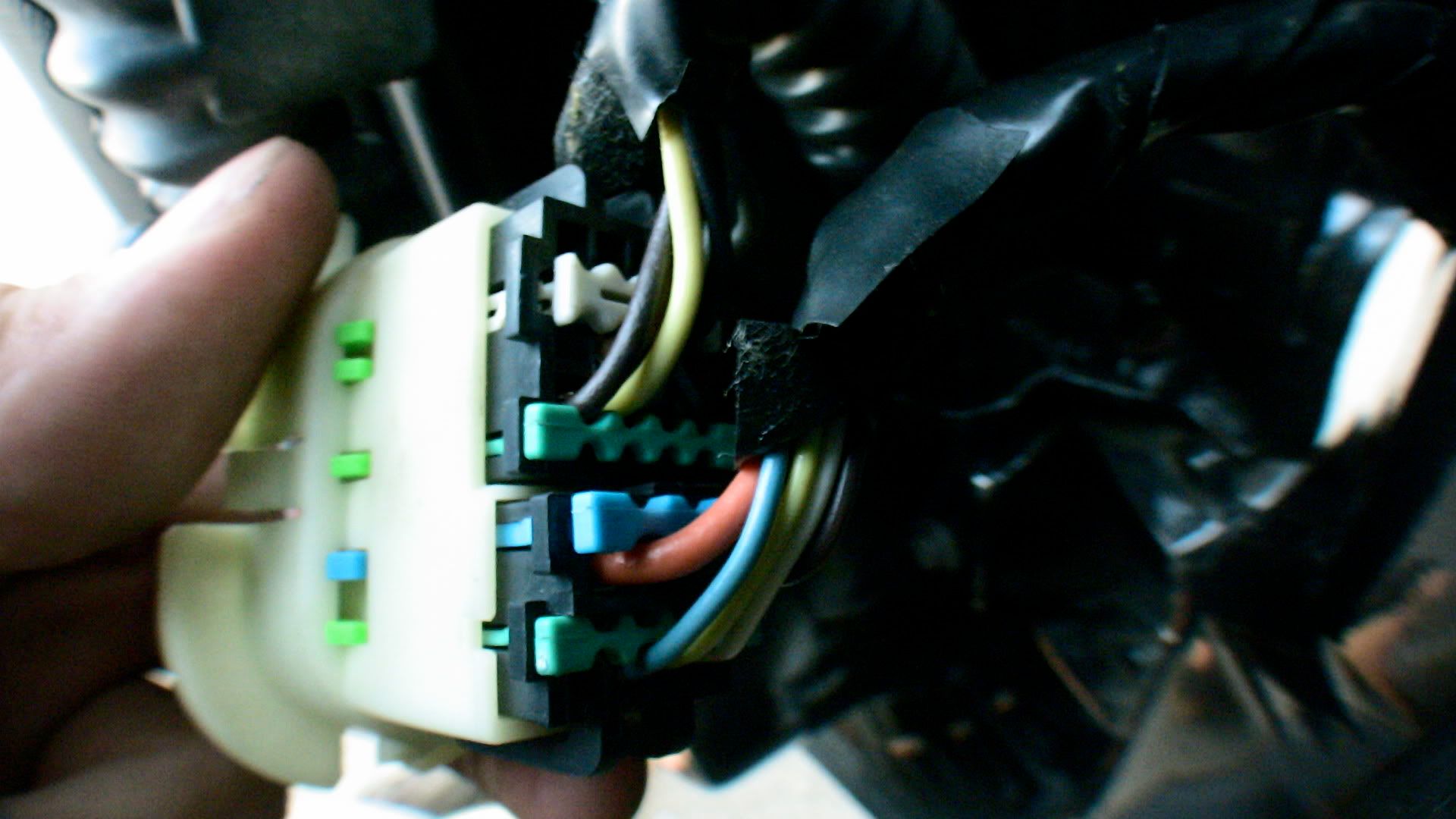 the pins that need to be pulled out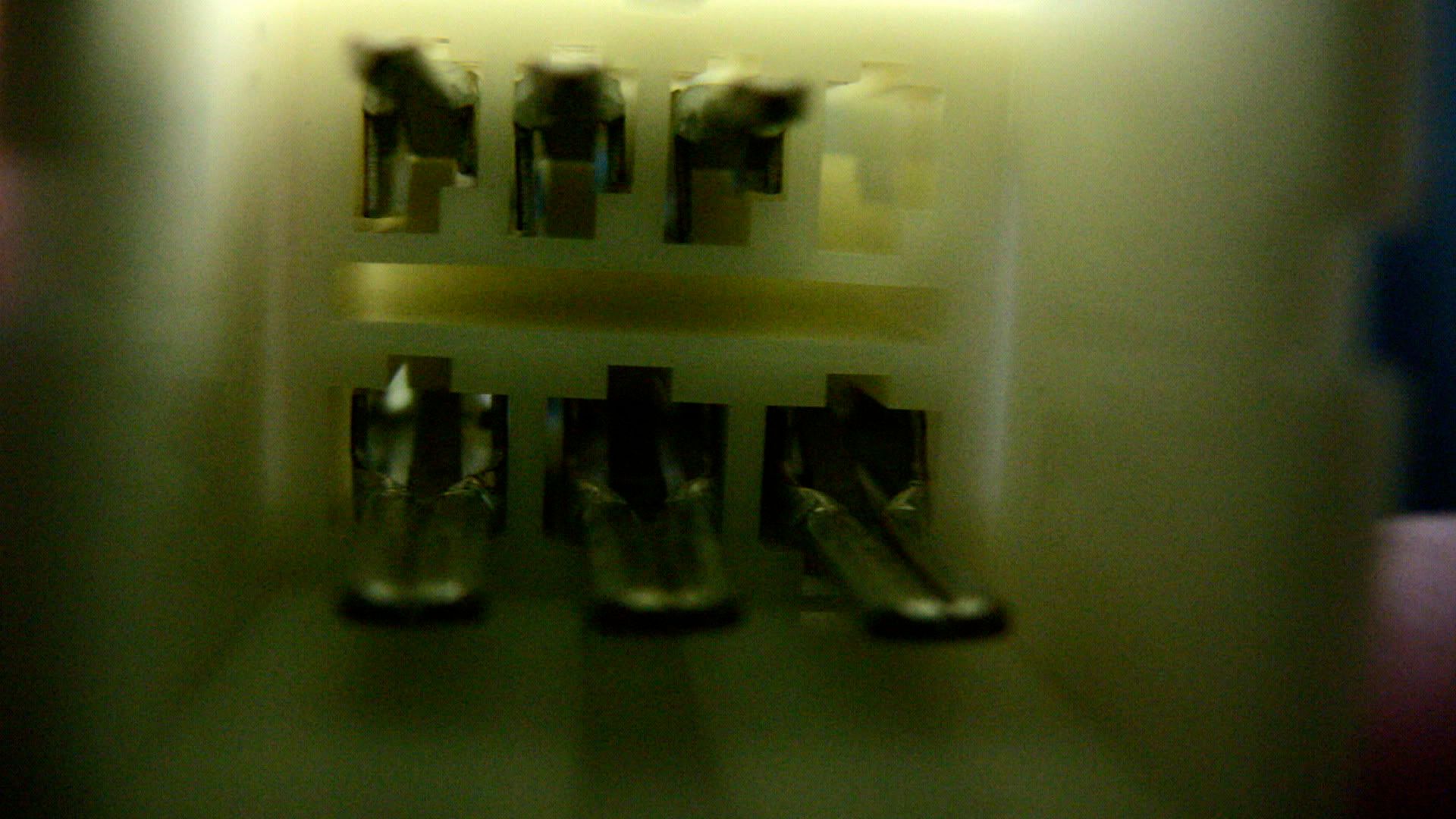 notice the tabs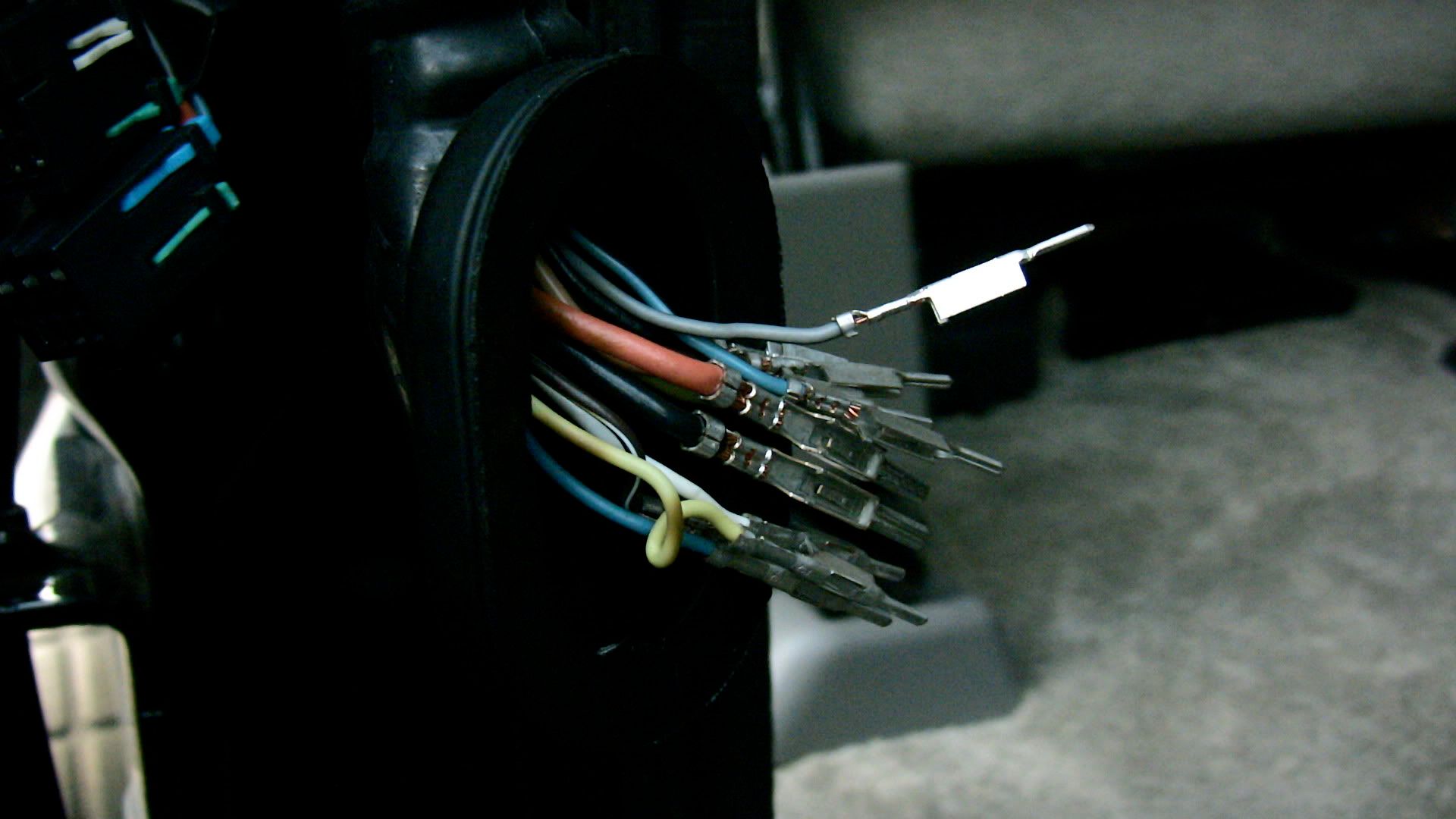 bent them over so some heat shrink would slip over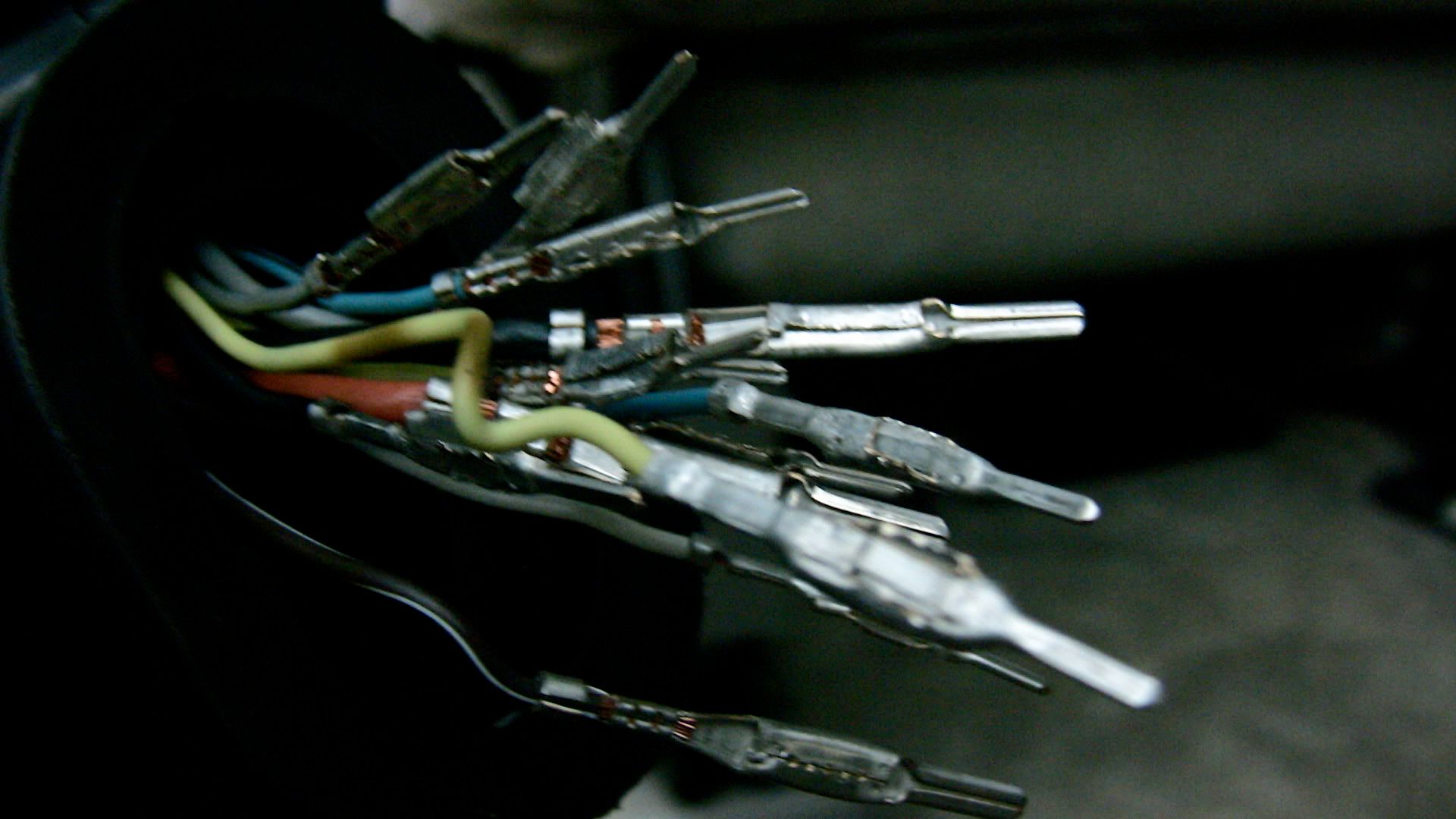 each pin heat shrunk so nothing can short or ground out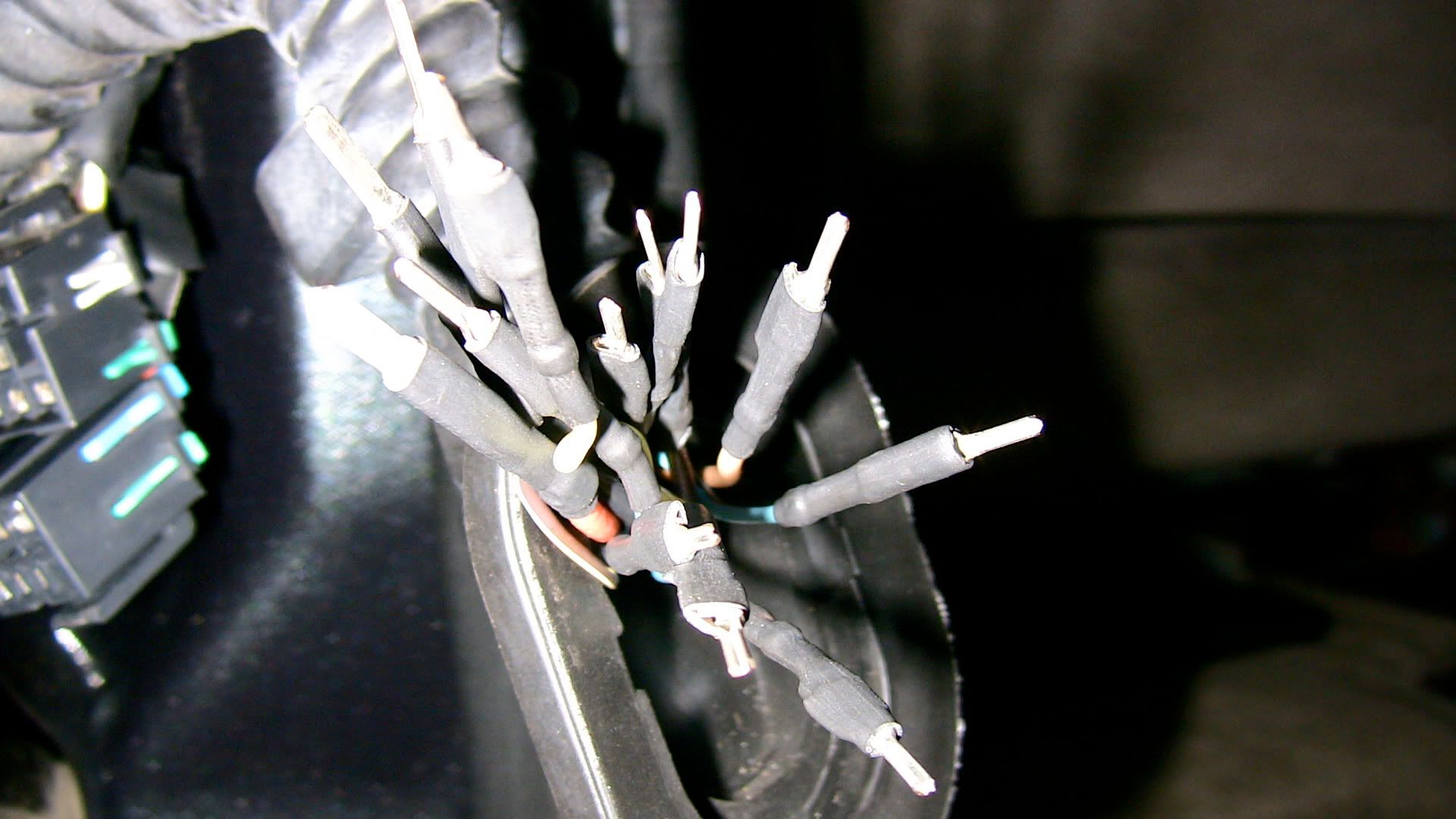 silicone lube and duct tape is your friend for pushing wires through grommets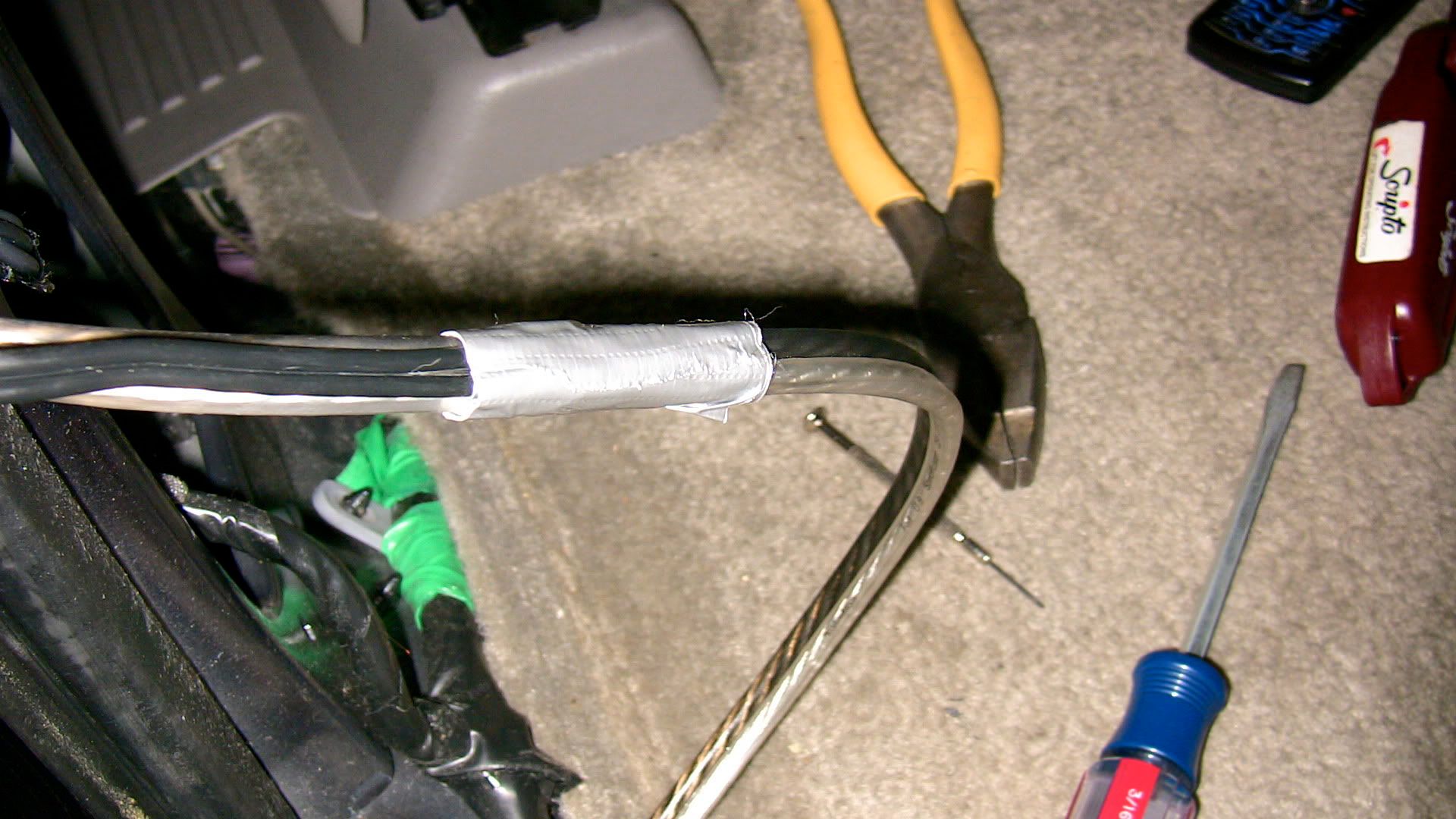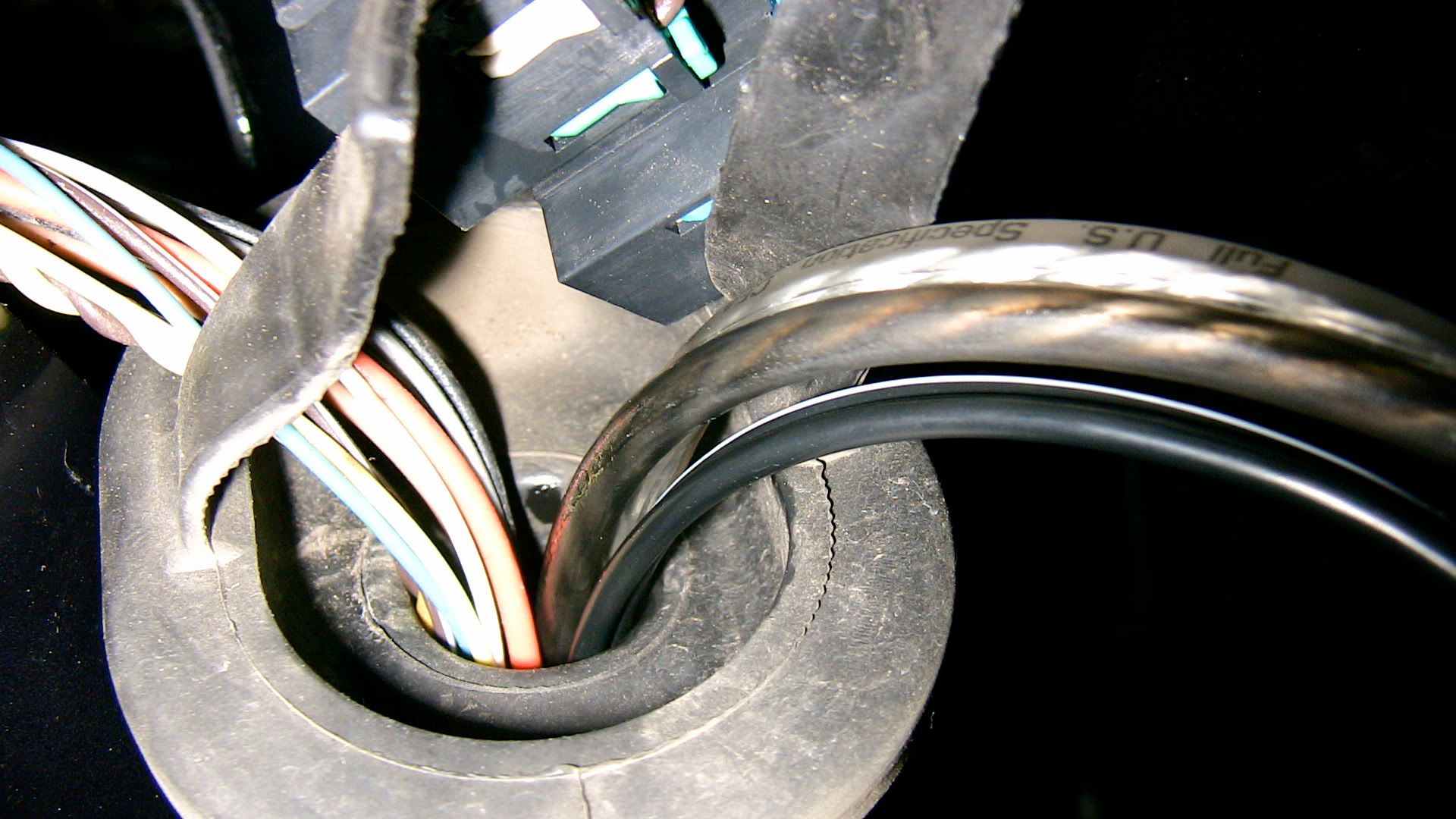 black plugs all wired up
not exactly water proof but I'll be thinking of a solution soon
the boot was only meant to wrap around the white plug not fit in between the door frame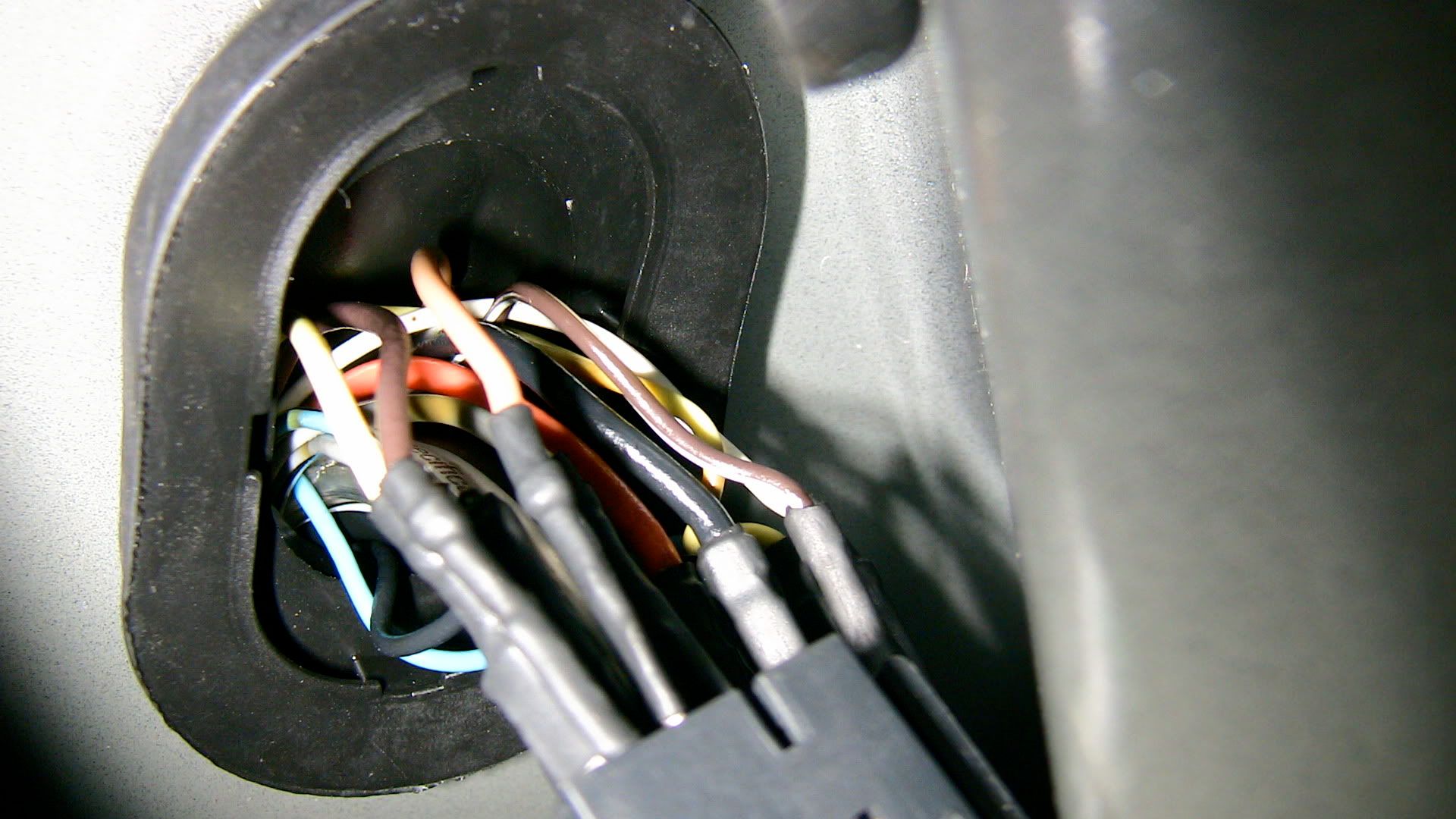 RCA's, speaker wire, and Rockford Fosgate bass knob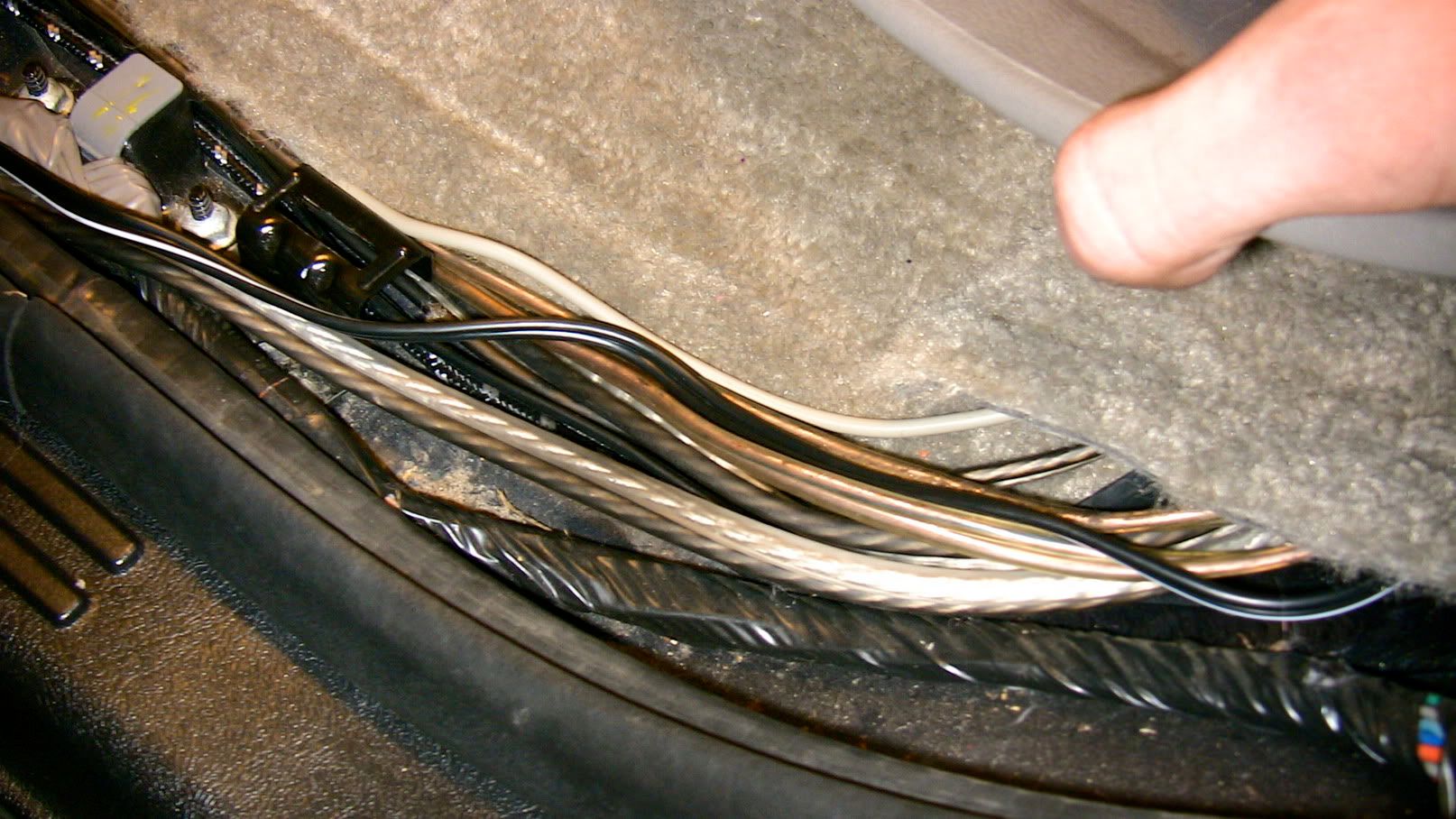 waiting for a home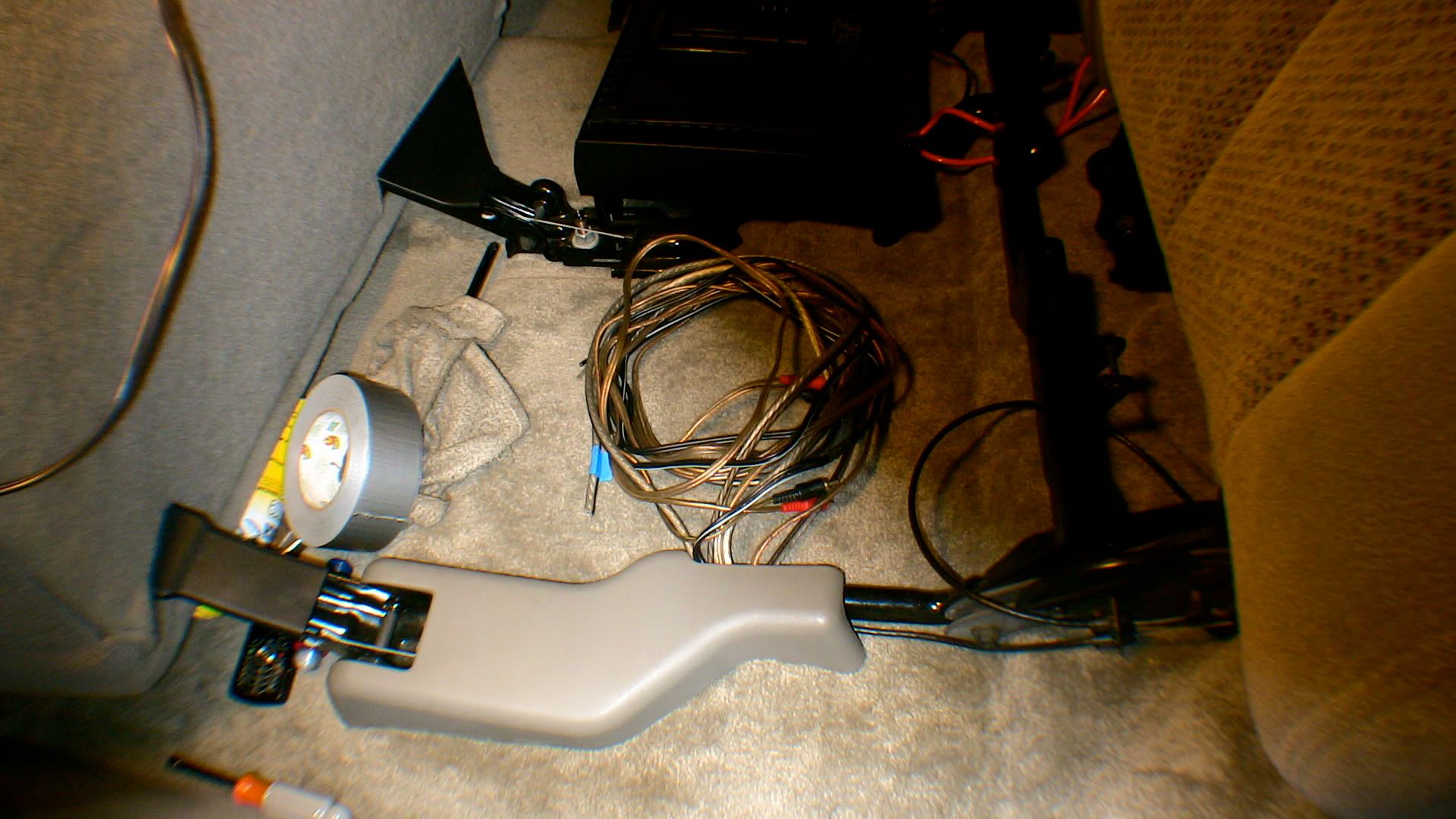 kinda messy but I still need to mount the crossovers so it will get cleaned up
just a bit of progress on some crossover mounts.
I want to wrap it in suede but I need to wait until I get some more so I painted them to match my grills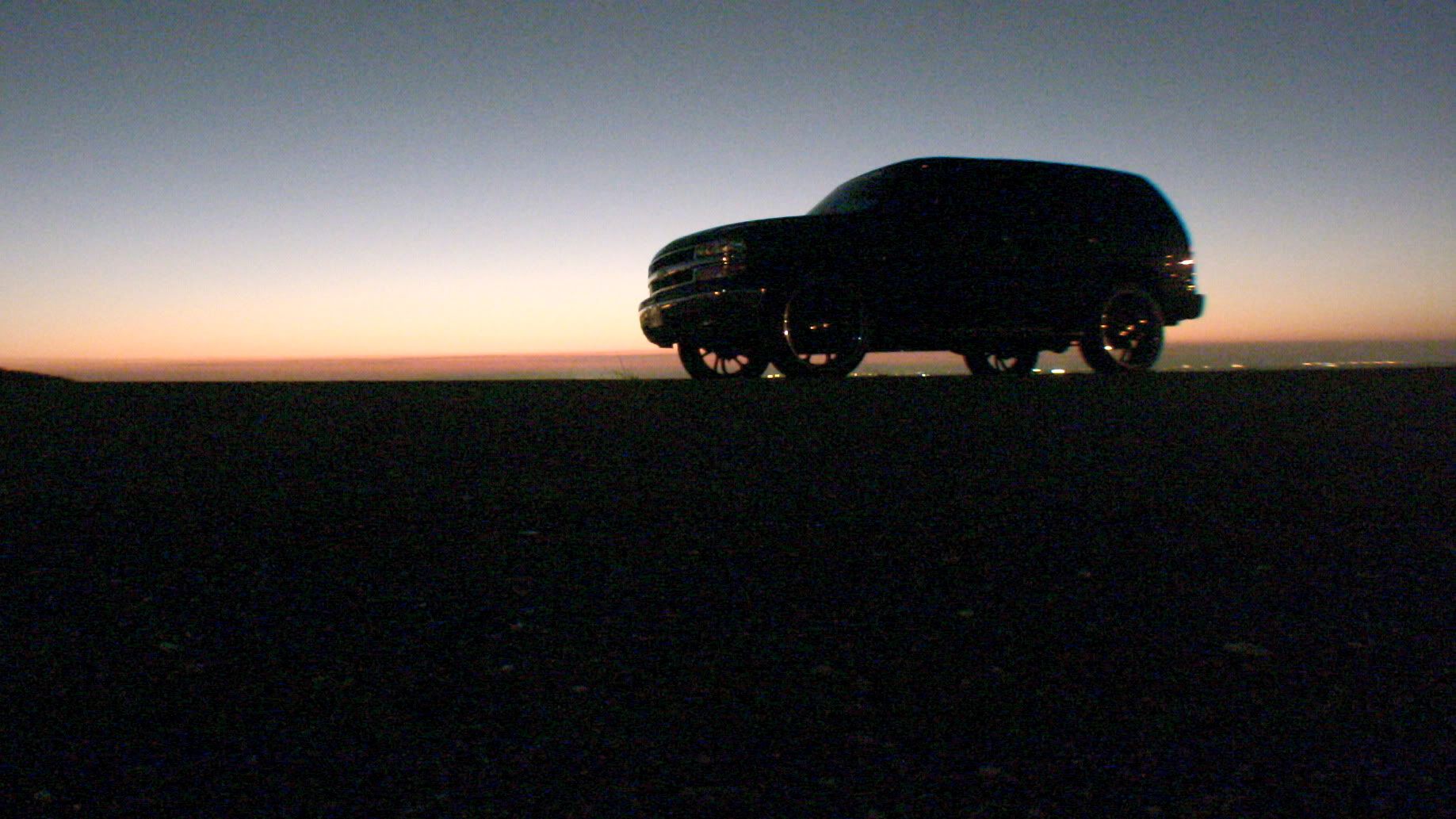 looks like I'm on the list to get a BlackBear tune Jan 23rd
CLICK!
Nor*Cal meet up if you want your name on the list let me know there needs to be a minimum of 10 before we can get a date and I'm the 8th spot and there is a $50 deposit to lock your name in then we will meet up some where in the bay area to get the tune for $200
COMPLETELY 100% worth it check out the site!
should have a ton of pictures coming up within the next week.
on the list...
took the headliner down
put 5 sheets of the black foil SS on the roof in between the braces and one sheet of the regular foil that I found over the second brace
going to shoot expanding foam in the braces for a little more support on top of what is already in there and throughout the roof there are holes and the b-pillar is hollow
suede headliner using SS high temp spray adhesive
new alt should be here Nov 9th
and temporary pictures of my HID's
they are 12k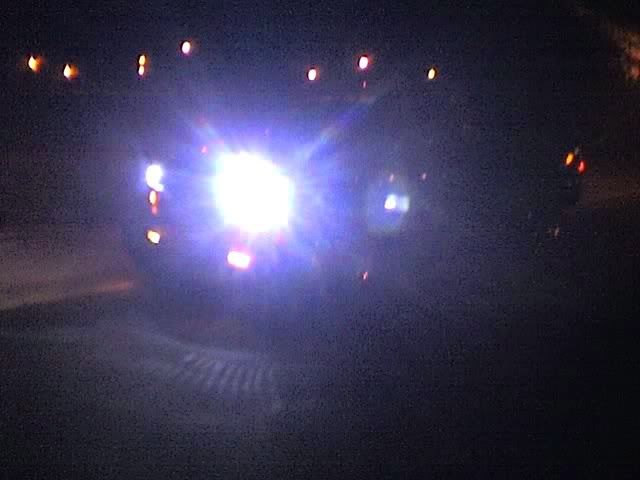 they are bright as ****! but not as purple as I expected them to be.
probably going to get some 3k for the fogs and some new blacked out projector housings with angel eyes
...anyways since this was bumped I bought some Expanding Foam today
I wanted the big gap filler but I was tired of looking so I got the red can
duct taped all the holes and went to town.
got my whole passenger side b-pillar, where the roof meets the car, and the first brace going back
makes a world of difference from what I heard and some of it still isn't dried yet
tested some new BigPimpin and seems as though my peak frequency has dropped
maybe I'll take some more pictures tomorrow when I do the other side in foam and on top of that a little 17.8 pound package is coming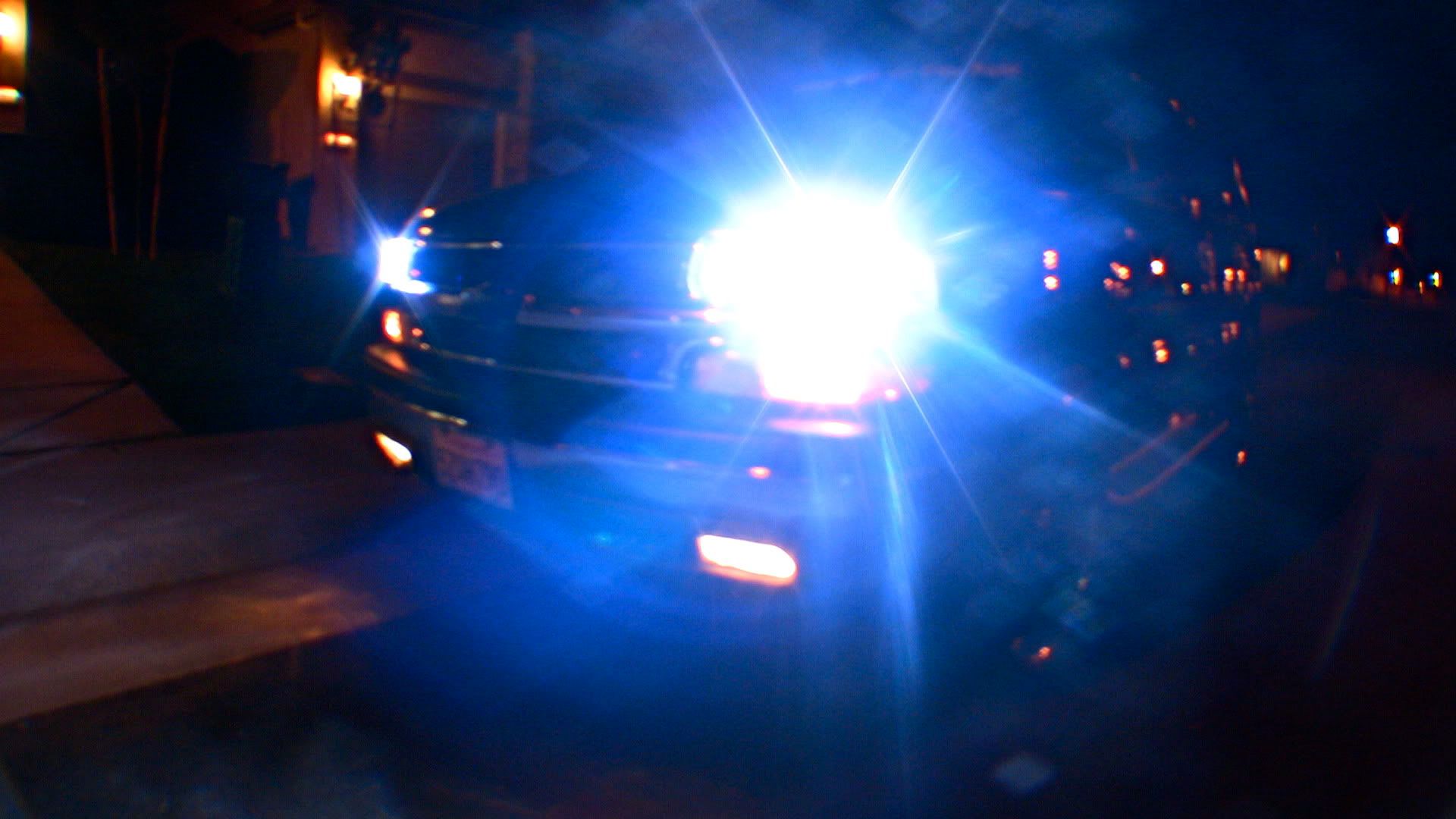 a good 50-60 feet from my tahoe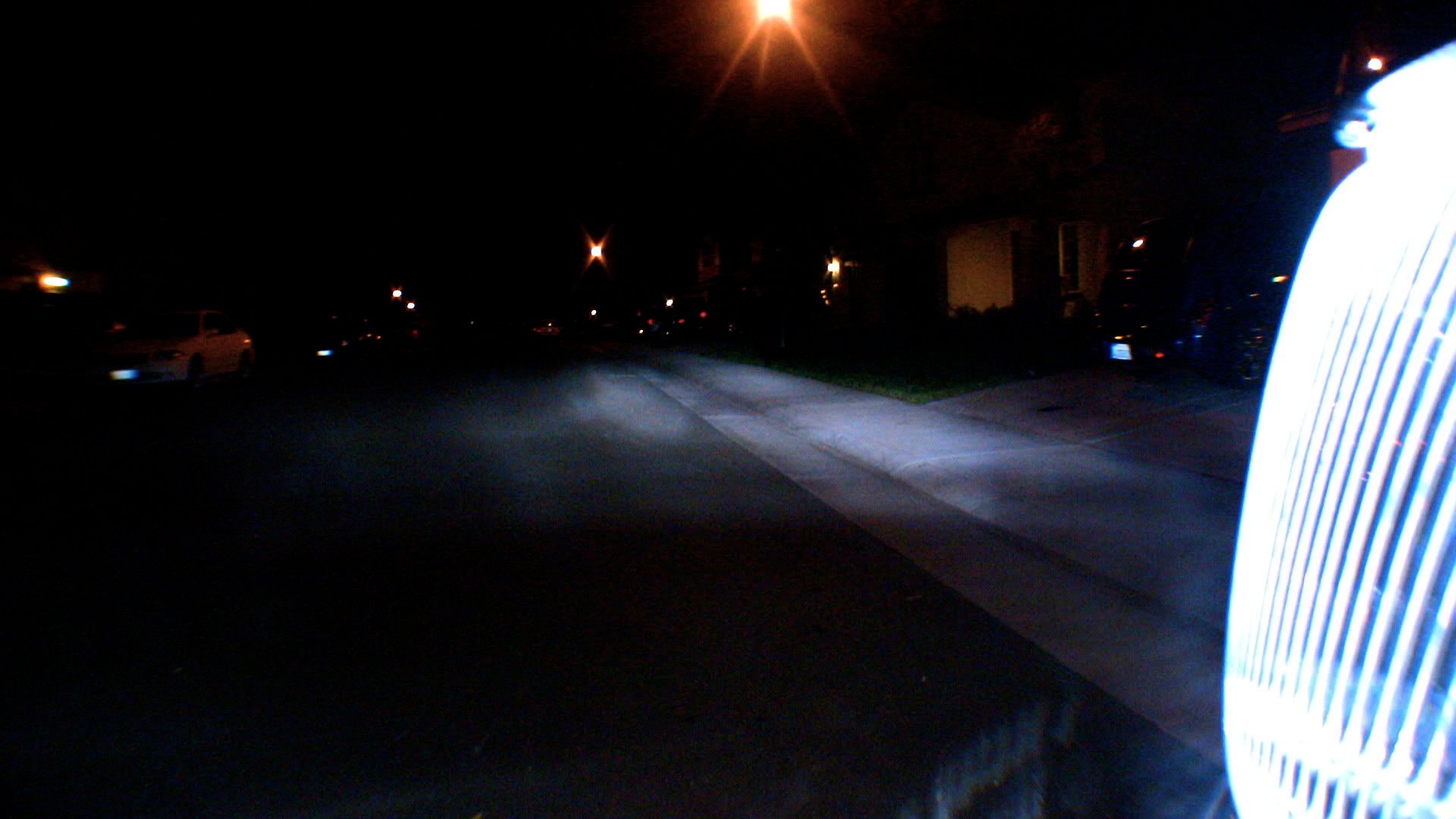 got my DC Power 270sp today
start it up idle at 14.6 instead of 14.1...
doesn't seem high enough so I decided to throw an MLA on there now I'm sitting at 15.1
I'll wait for a cold start in the morning.
haven't done to many tests voltage wise besides driving
its definitely louder more aggressive and lows are more defined because there is some power pushing them.
I don't drop below 14.4 if my battery is nice and fresh I rarely saw a 13.9
at idle is a different story I am a little disappointed that it is still dropping into 11.9-12.2 when it is supposed to do 180~amps at idle
it will jump right back up whenever there is a tiny break in the bass but I'm guessing just get a bigger battery and I should be good
can't wait to drive to Gary's house in West Sac so I can charge the batteries properly they have been starving ever since I got my system
pictures tomorrow! guaranteed
started with my new alt can't complain about that after seeing 14.1 for so long even on cold starts 14.1 was the highest I would ever see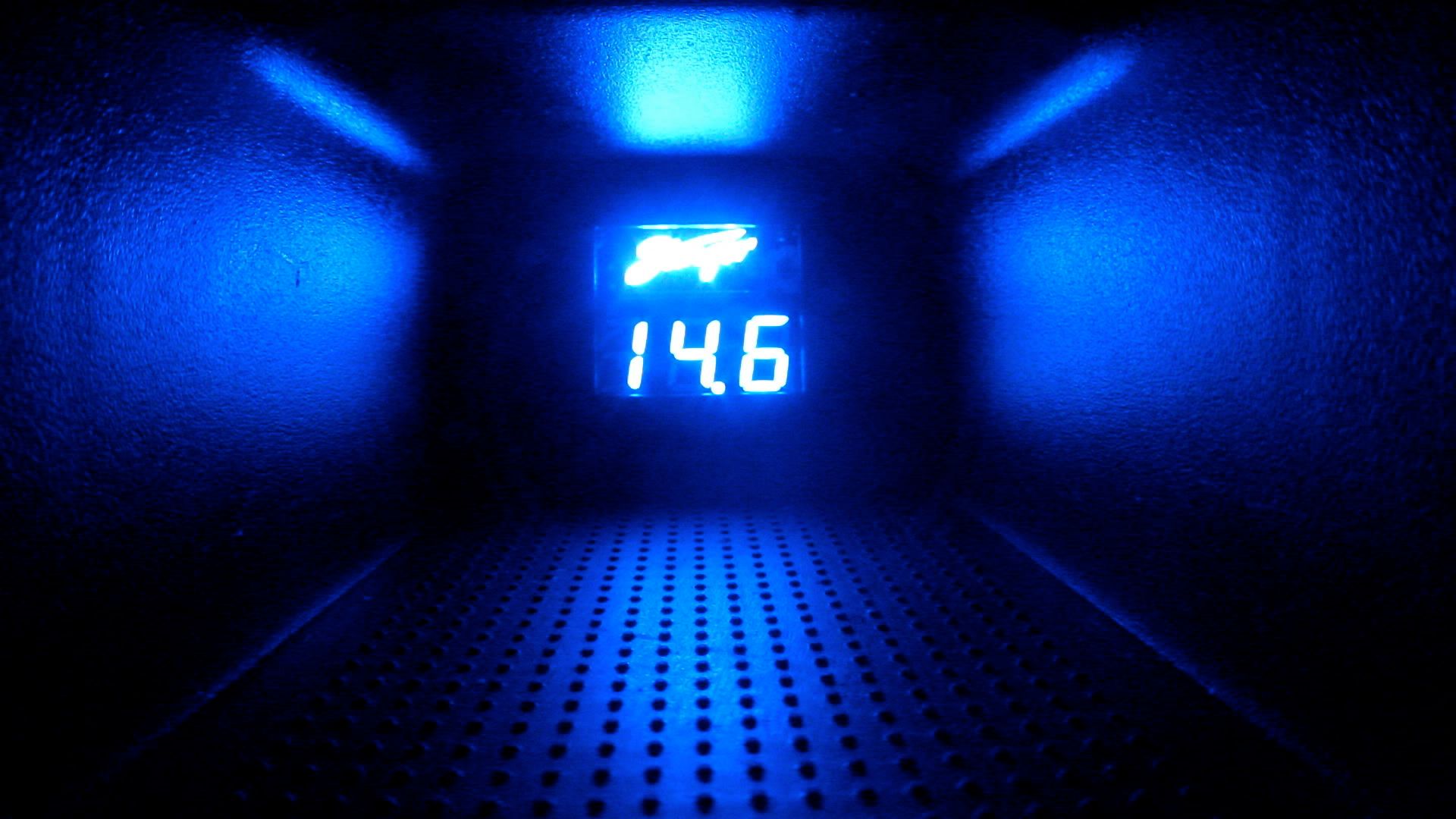 the mess that is my roof... took the headliner down and duct taped all the holes for expanding foam
definitely worth the effort because it makes a clear difference once its hardened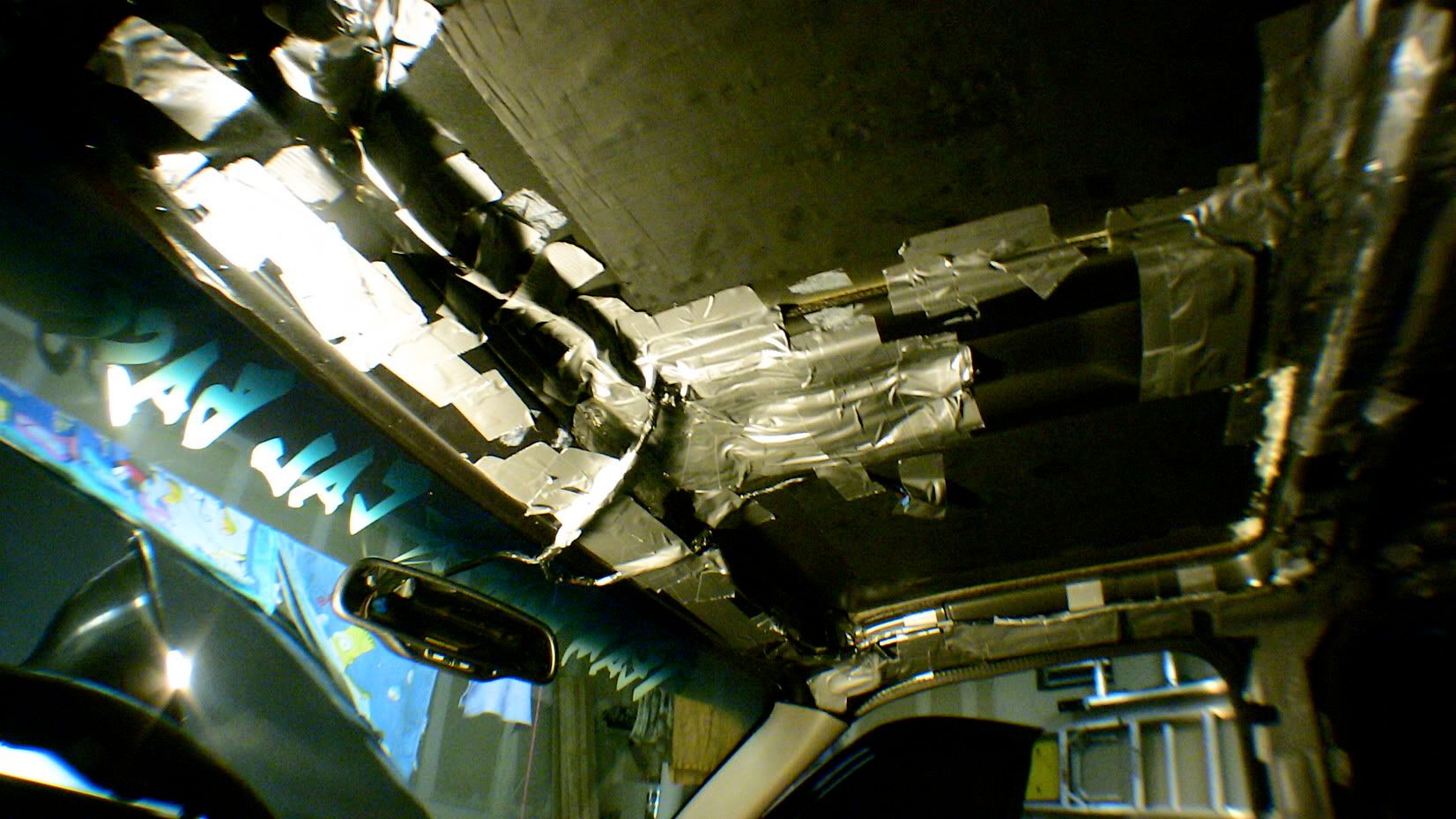 broke that brace off from the roof, by broke I mean the "stock" expanding foam came loose so they don't stick together (the roof and the brace) anymore
some black SS damplifier pro DEFINITELY some good shit went on easy stays stuck makes a big difference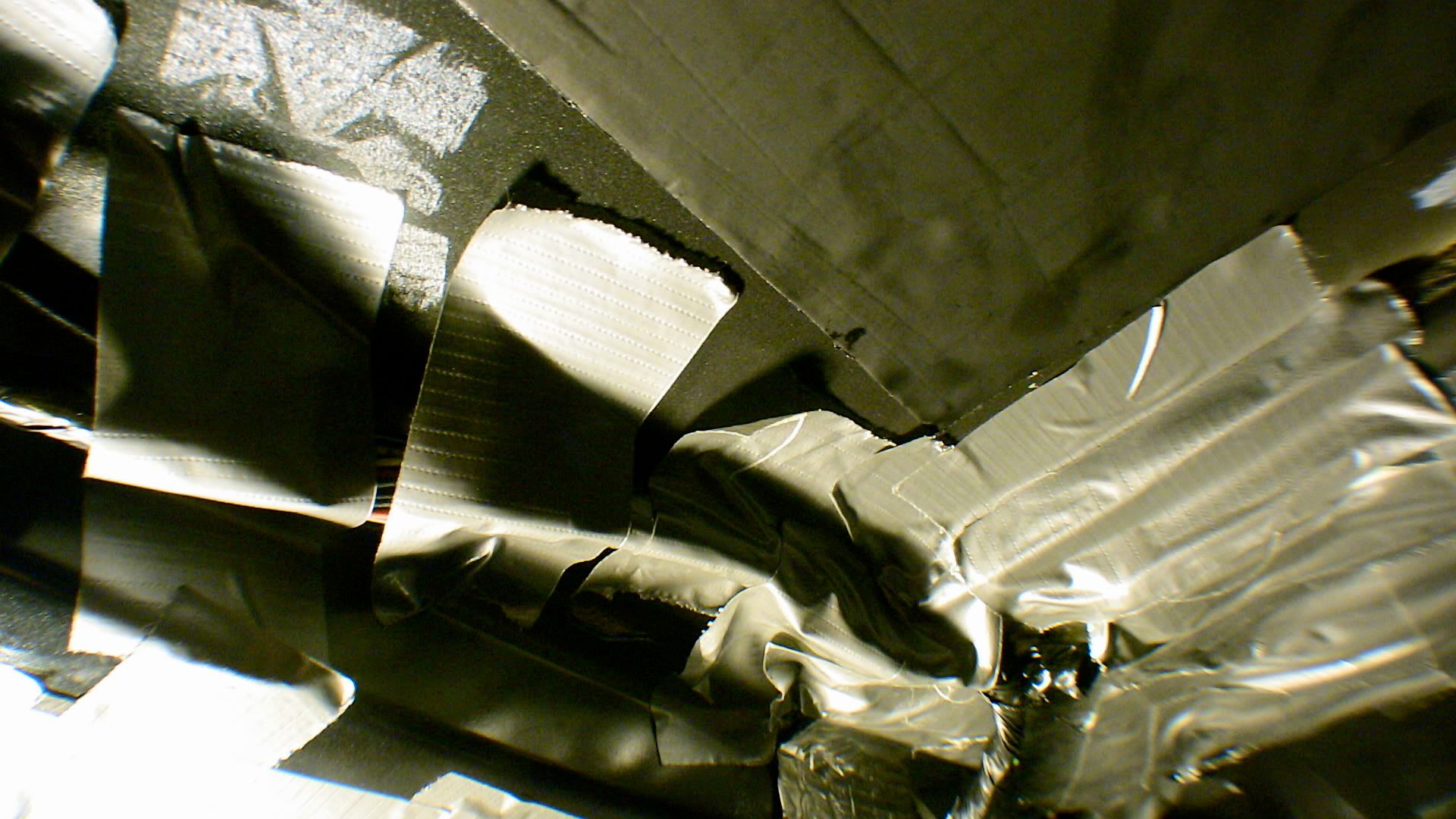 bought 5 cans of this stuff and probably need 15 more if I want to accomplish everything on my roof
maybe I'll get the big gap filler
MLA mounted on my fuse box... I thought it had a sticker to go with it to say what it was but maybe I was wrong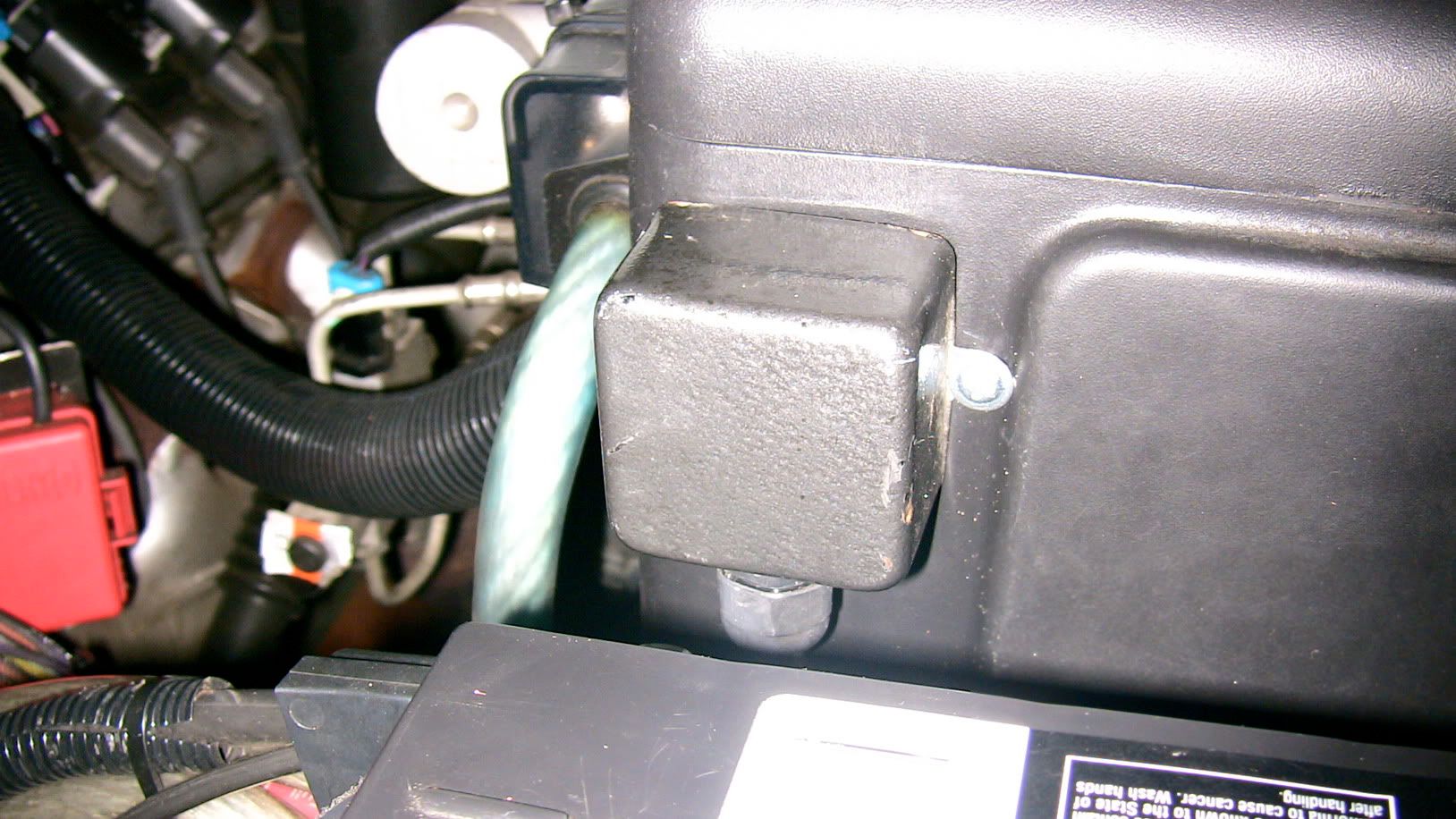 waiting for 2 more alts to plug in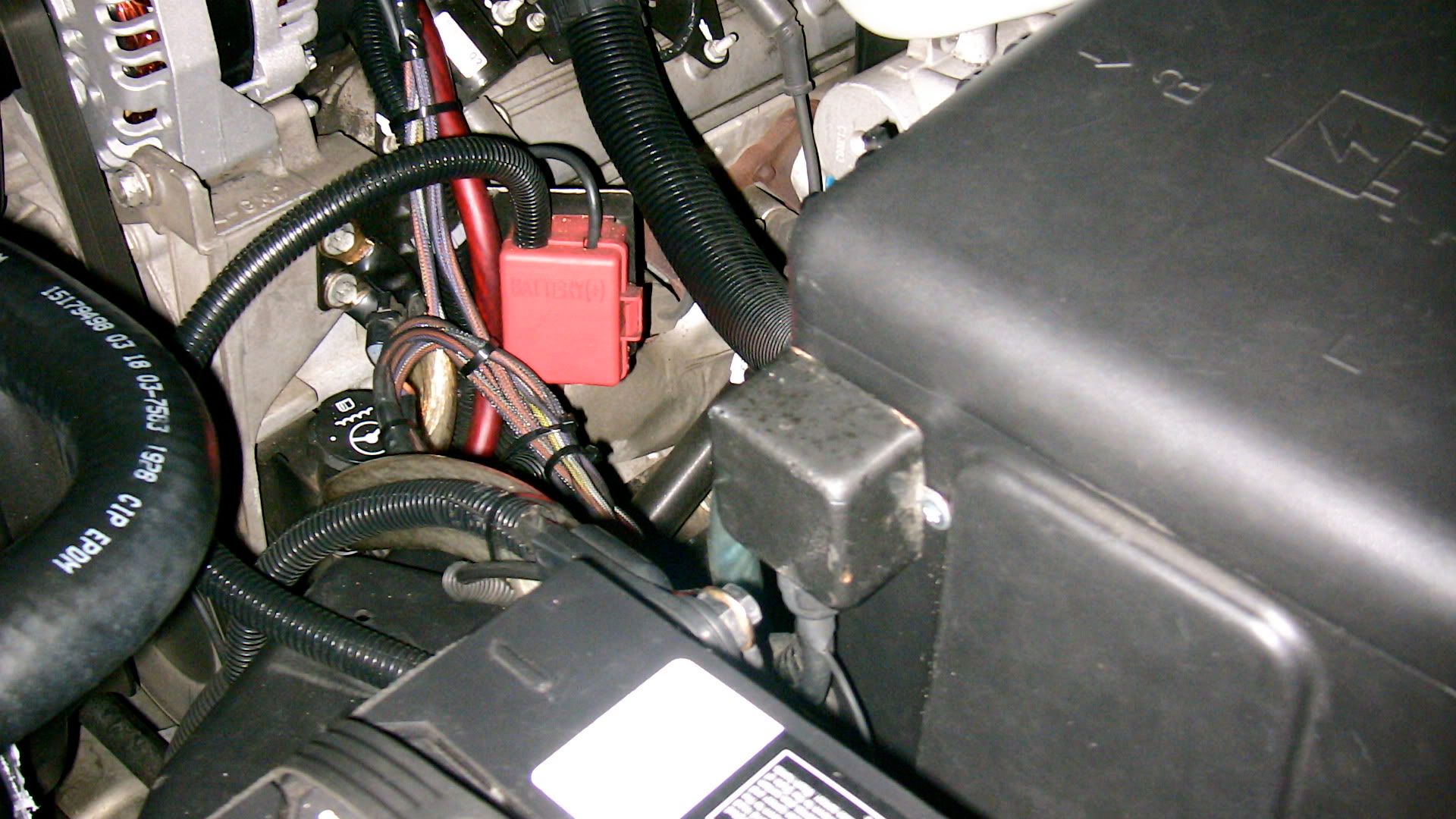 my baby the DC Power 270sp the thing is massive I should get a comparison shot of it to my "300 amp" both 300 amps that i've had were about the same size as my stock and way smaller than this BEAST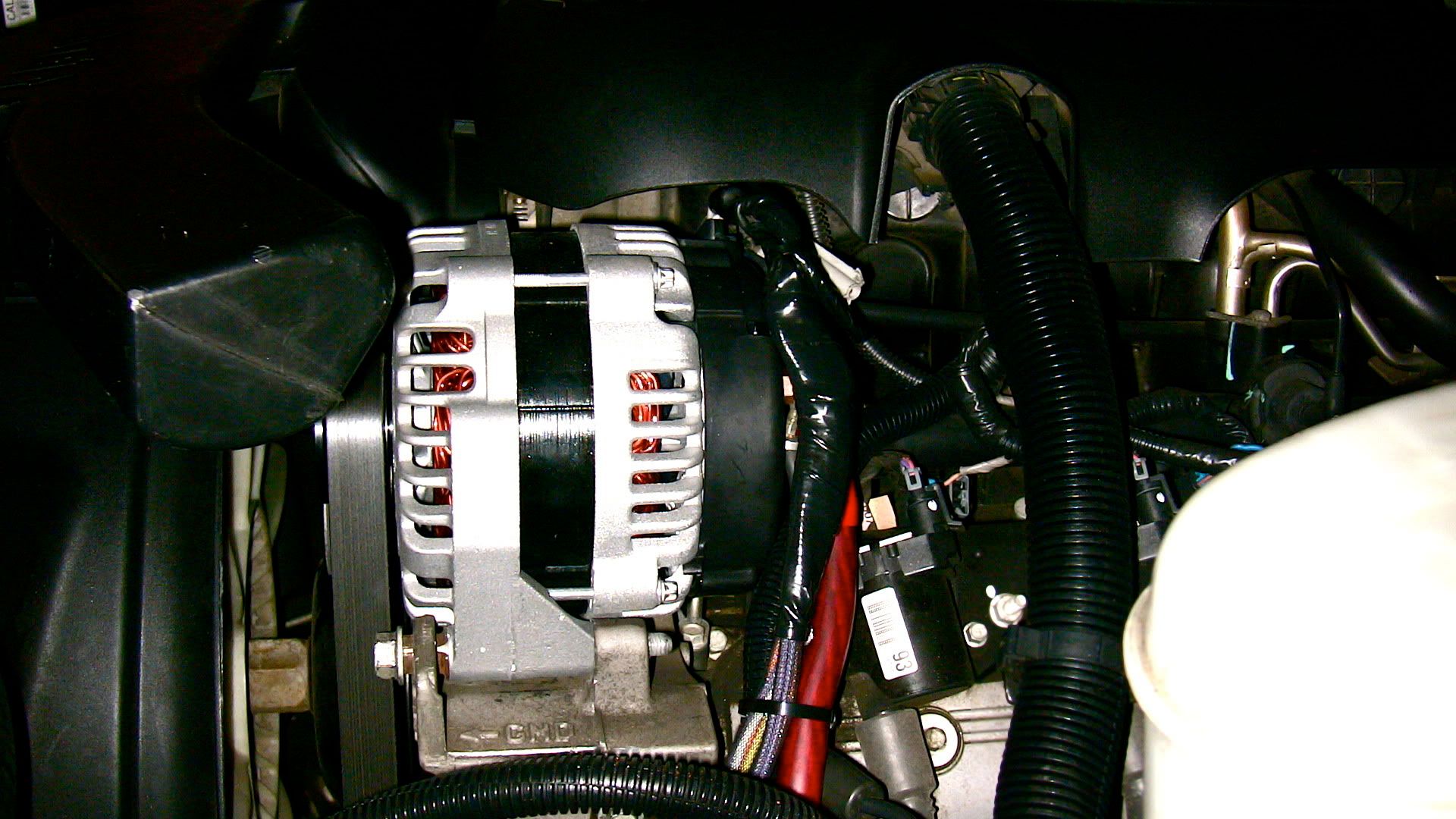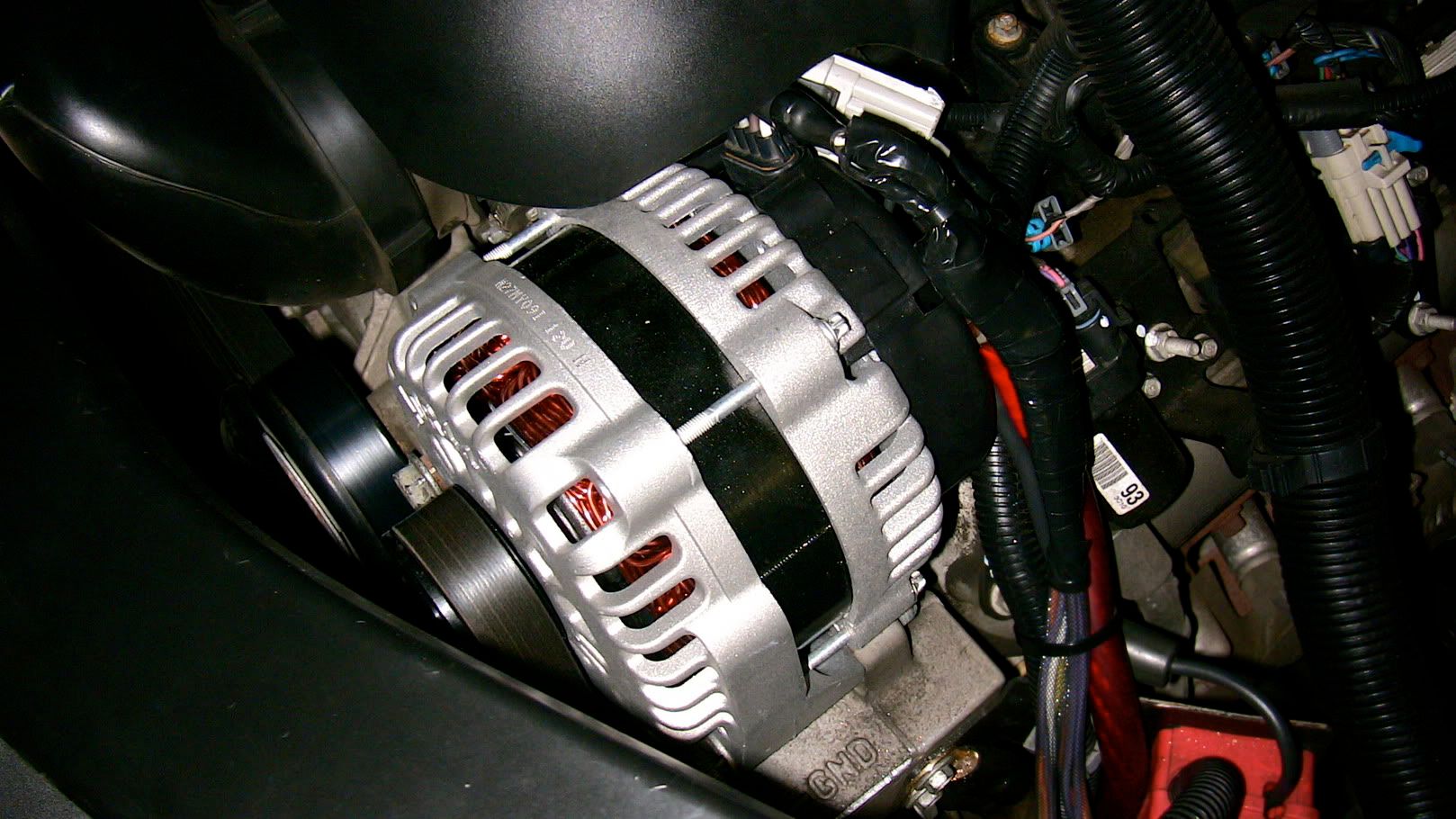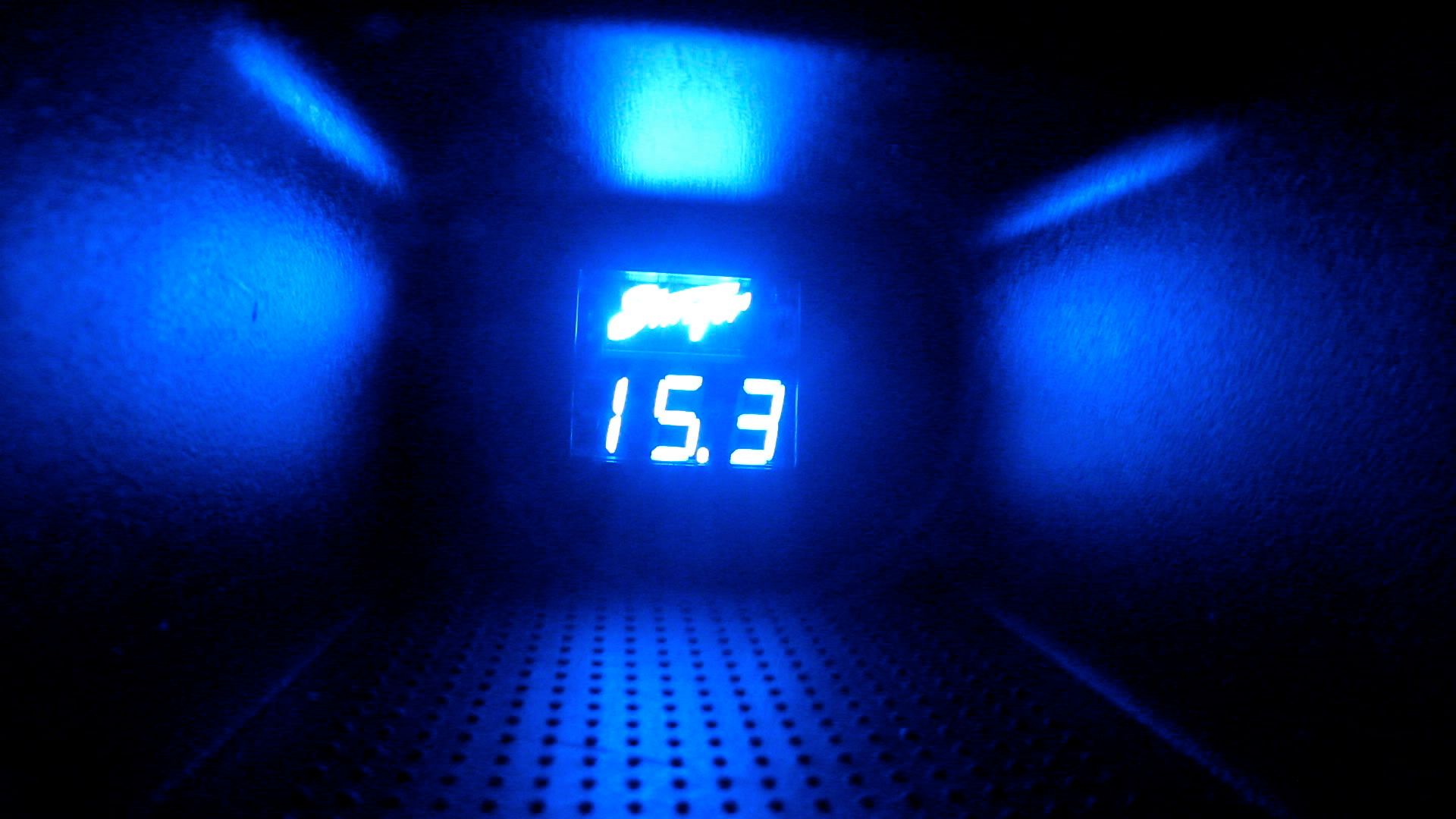 as for my system ever since I started this whole deadening/more power thing I can't seem to find my peak its not 40-42 anymore I think it has dropped (to the ear) in to the lower 30's my sub really likes 32 and I can't complain with that
so today I look back to see what its doing to my hatch and I see my sub gettin up out of the box jumpin up on the lows
come home pull back the gasket to unscrew the screws... 3 of them were just kinda chillin in there and one sheared
its kind of bad but I have always wanted to say I sheared I screw with my beat.
anyways got it all screwed down this time with no gasket to make a better seal solid as a rock then did the duct tape gasket trick
started wrapping some panels and managed to move one of the tweeters from my a-pillar to my door
my upholstery shop
my dog lucy keepin an eye on things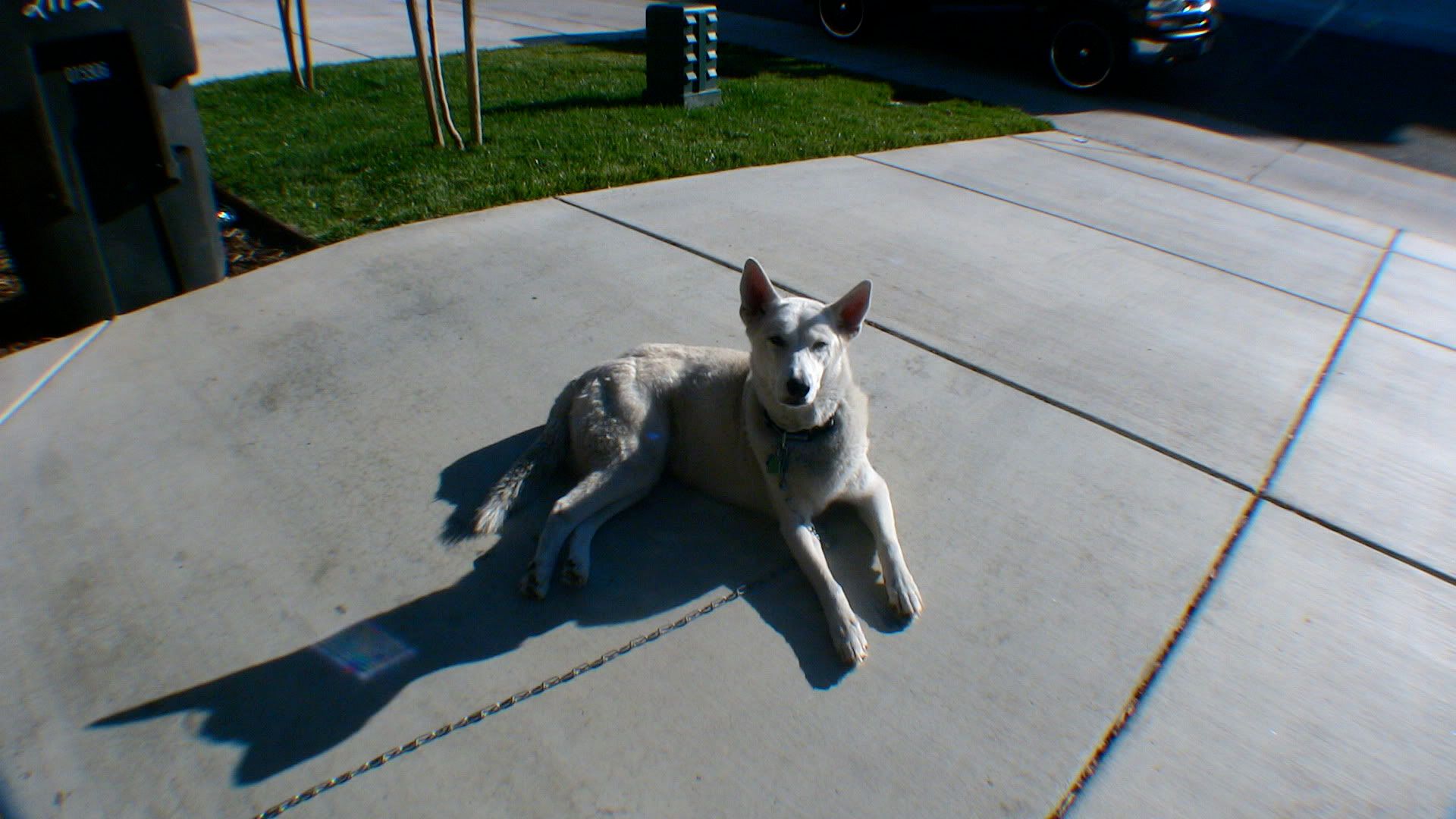 my drivers side door panel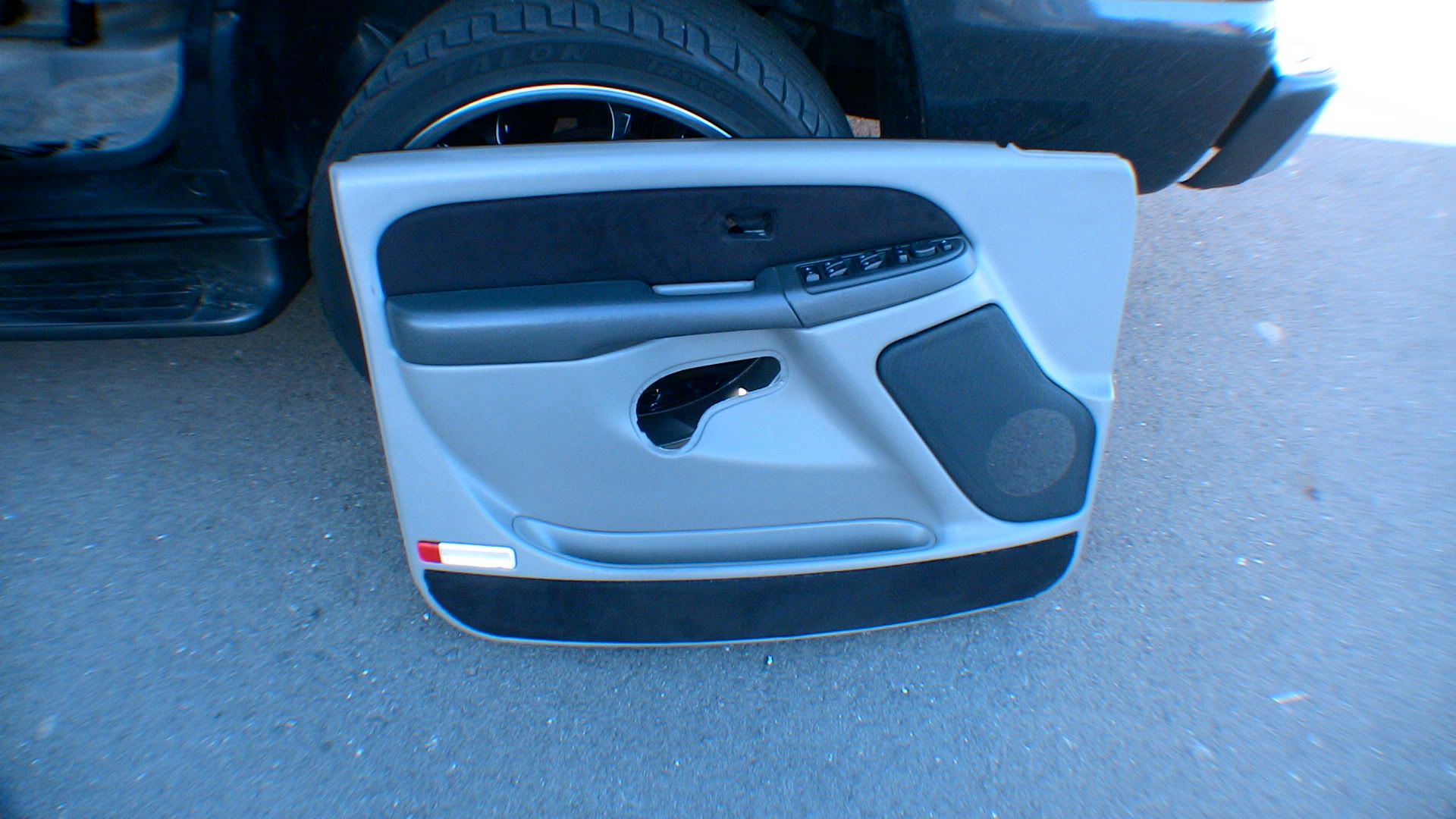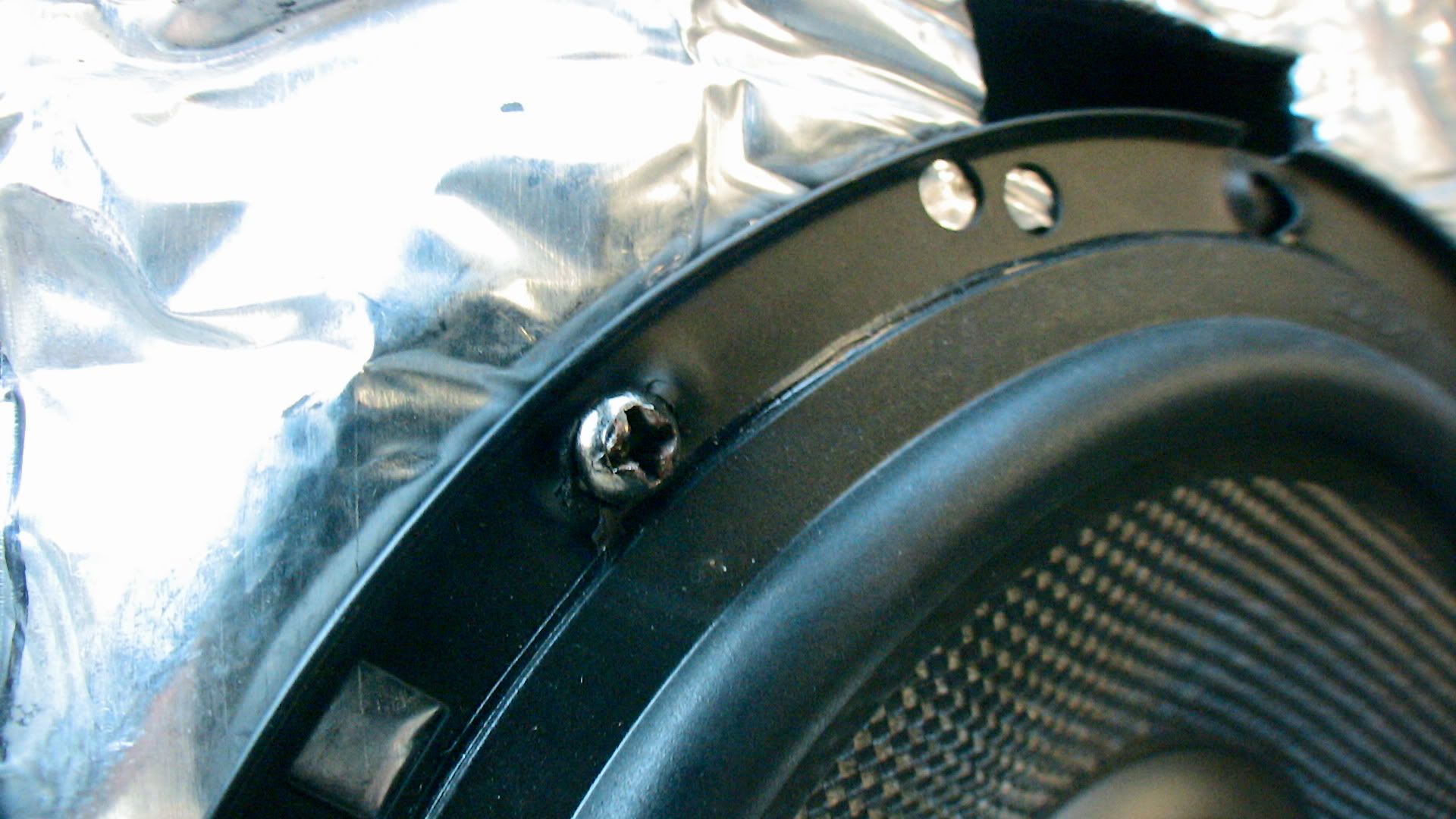 1 finished b-pillar wrapped in black vinyl it looks and feels like leather very nice stuff
the back side of it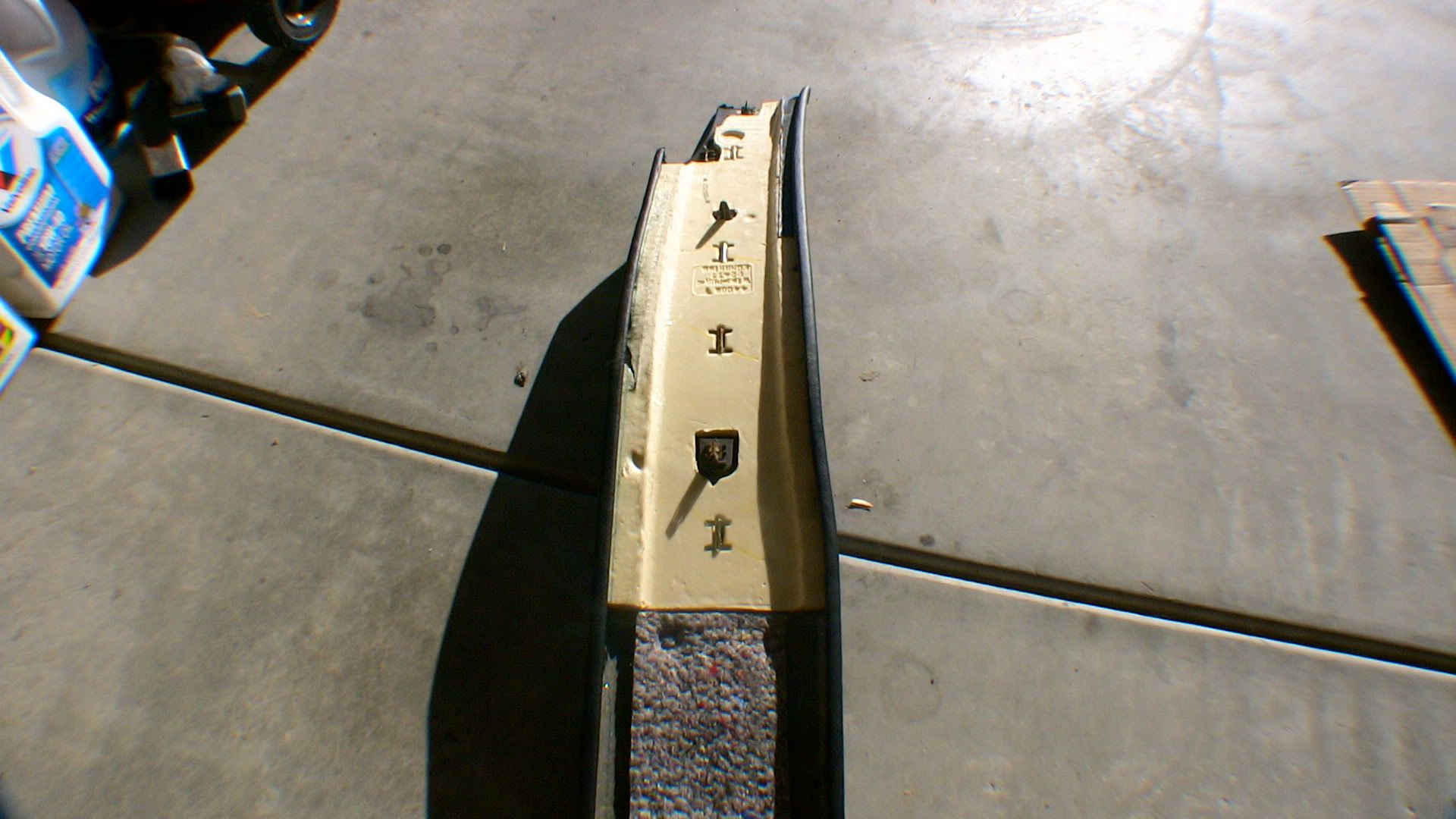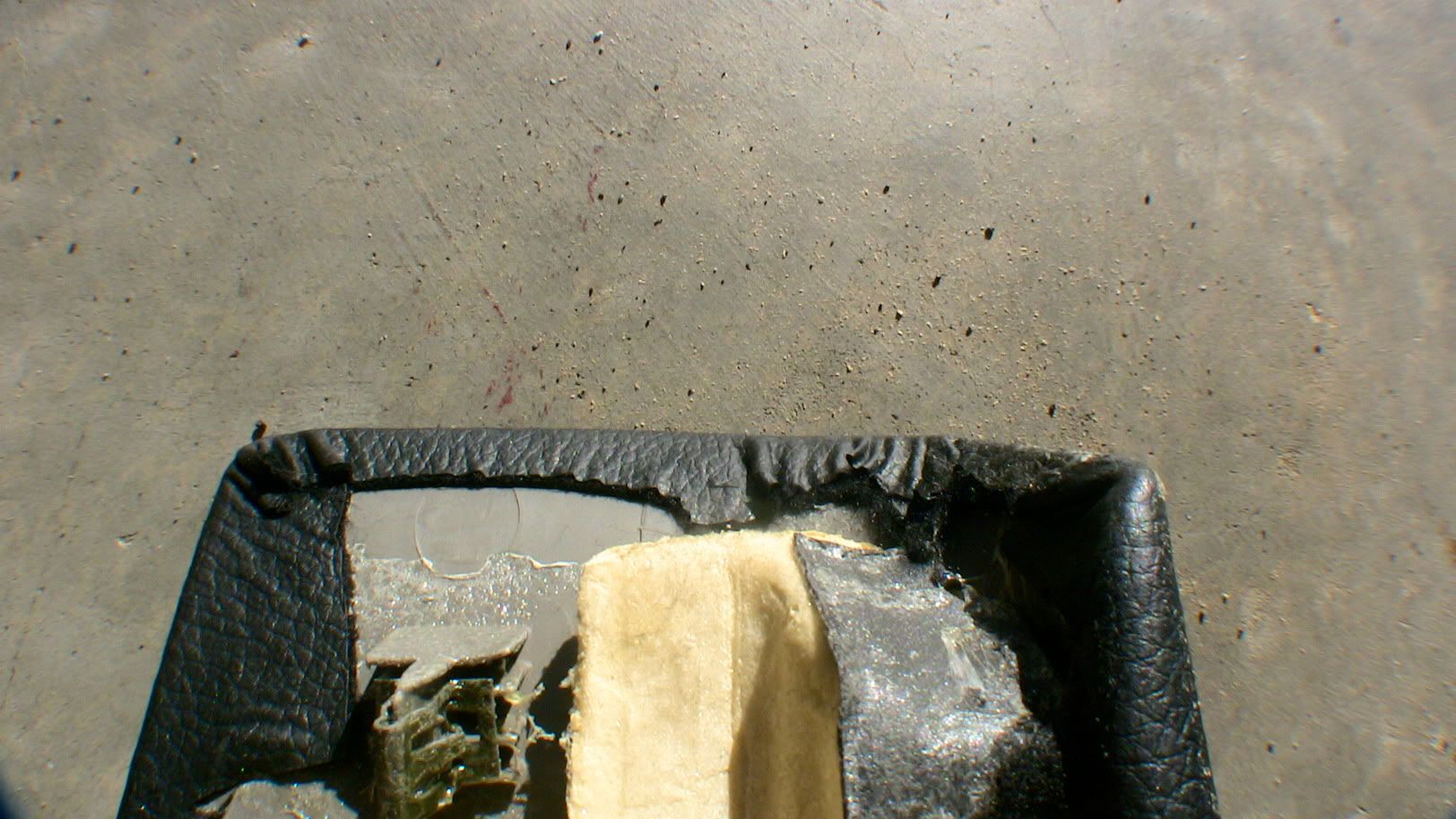 this is a little side step when you open the rear doors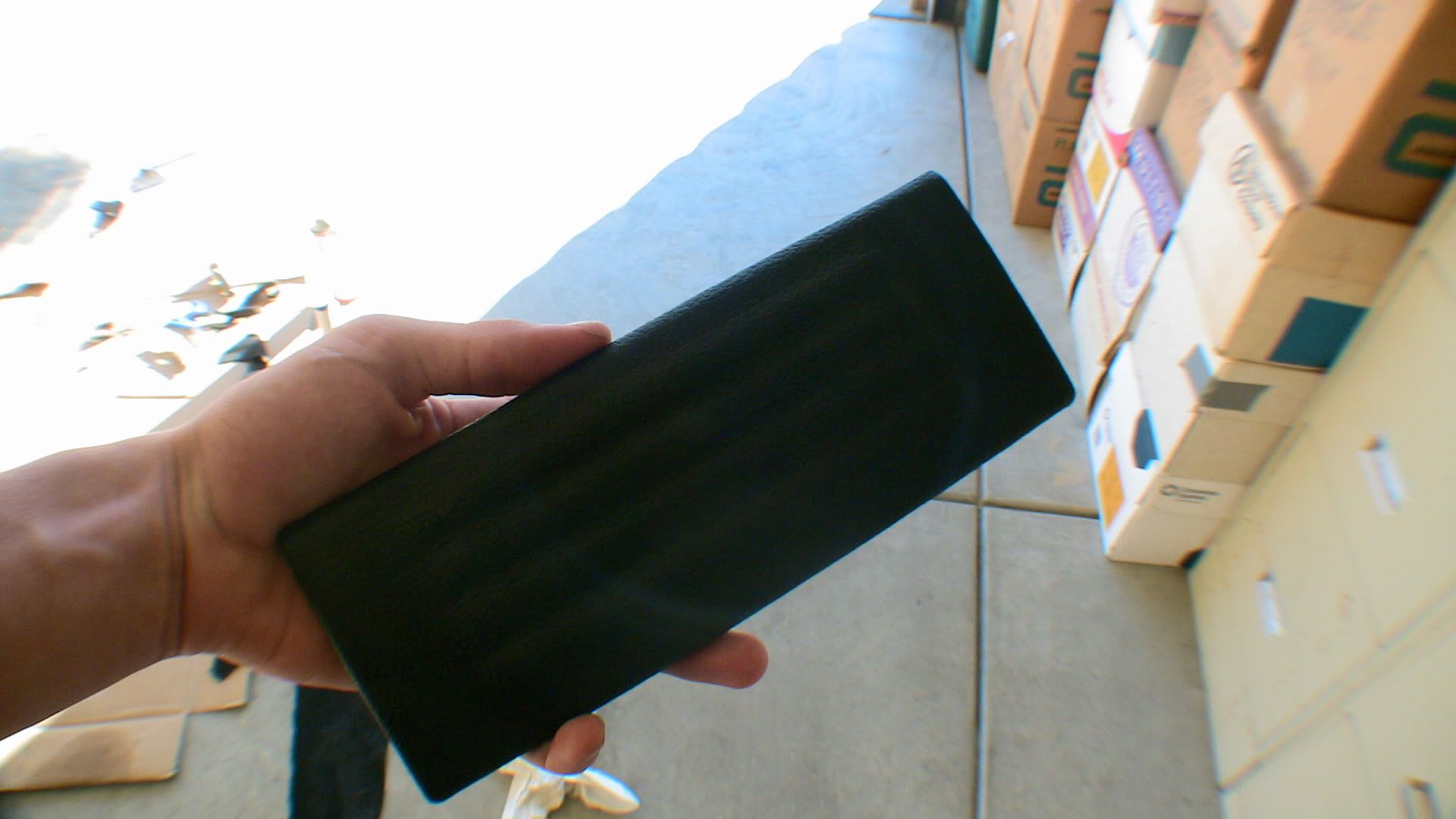 bunch of grooves in it kind of practice for when I do the front side steps which are longer and more complex
my degreaser, have to make sure the panels are clean before you go spray adhesive on them otherwise you won't be happy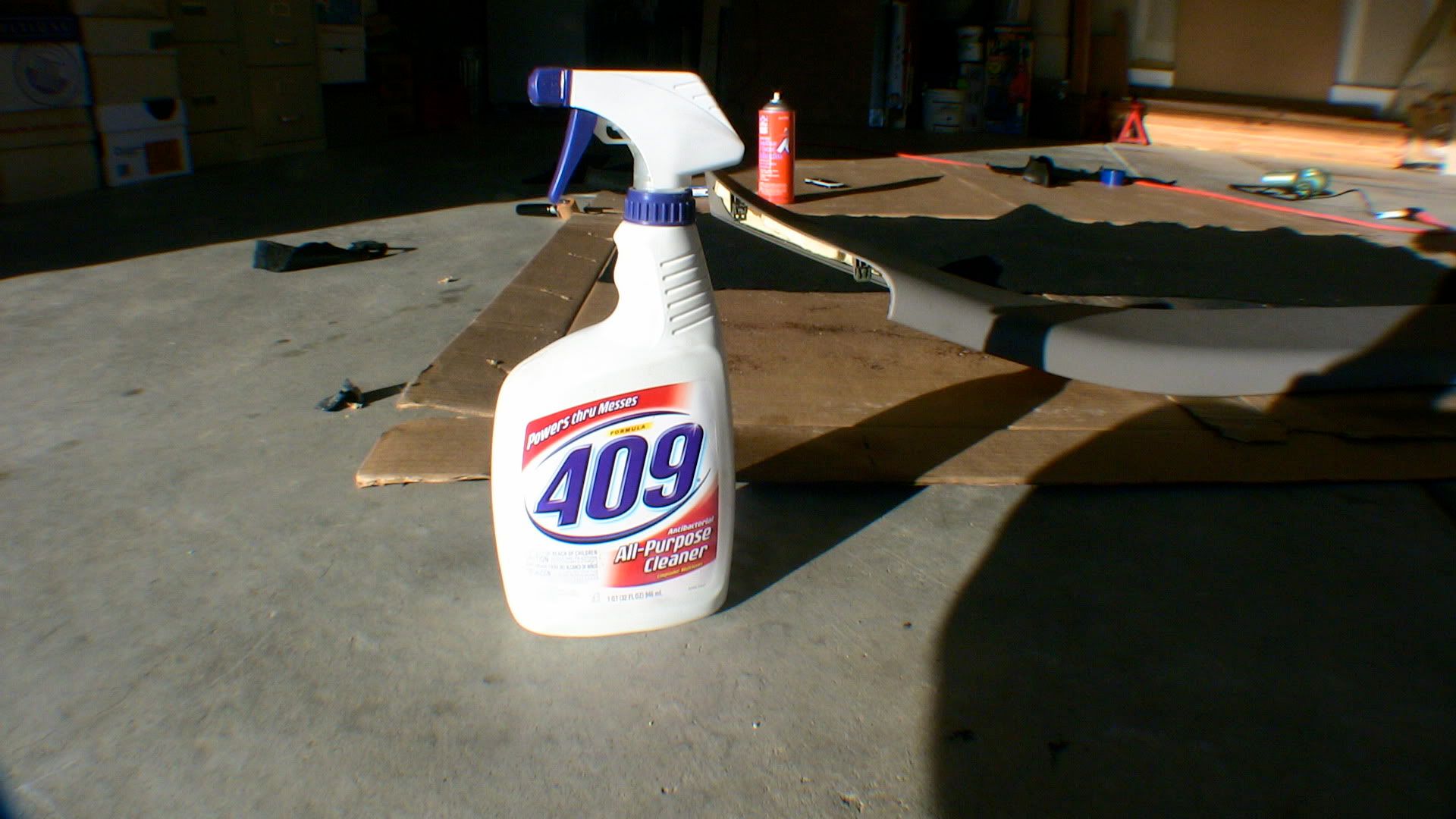 setting up the other side b-pillar...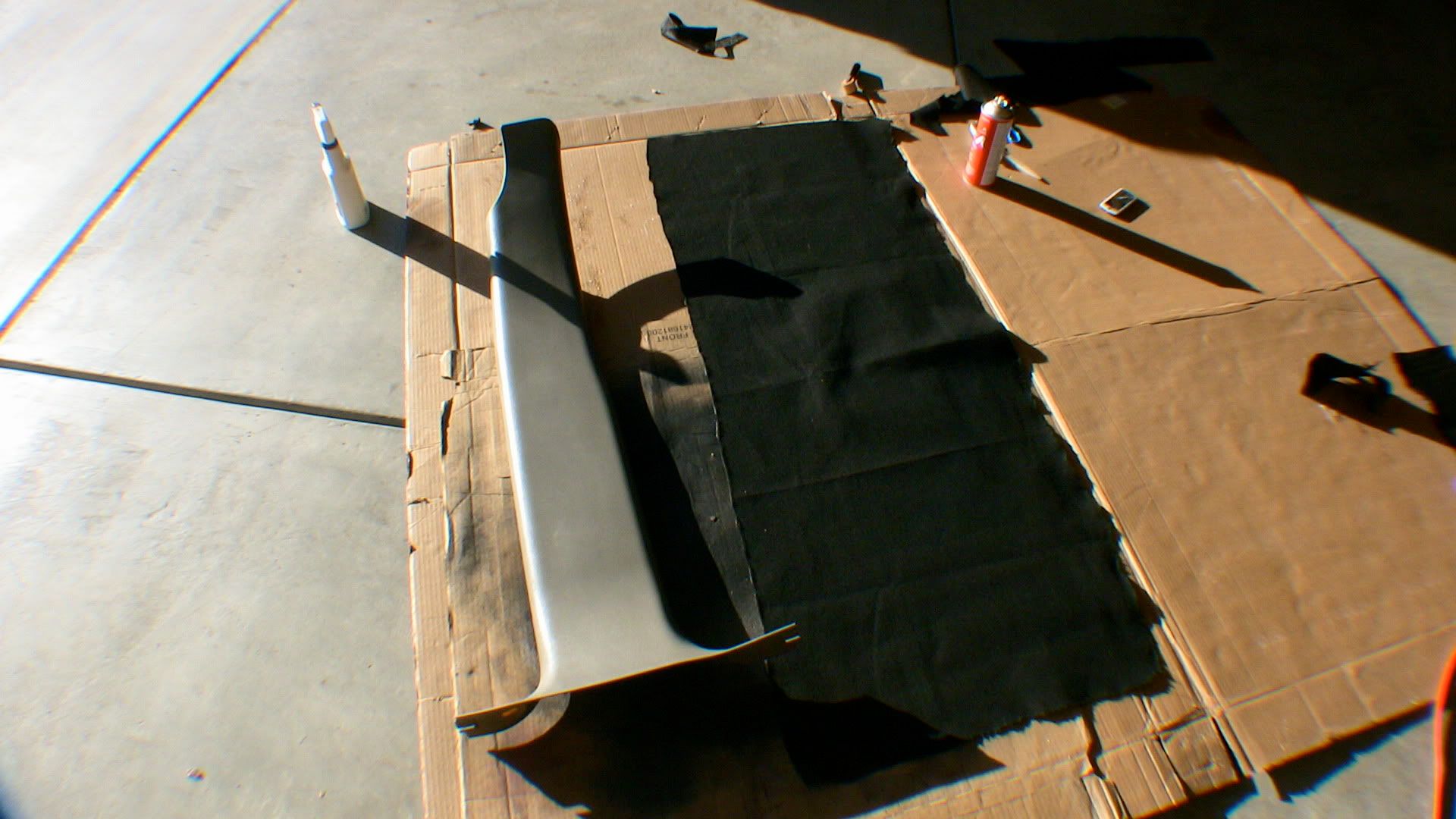 tedious work but it came out great I'll have more pictures tomorrow of my a-pillar that I wrapped, the relocation of my tweeter, and the finished product
a-pillar finished
and part of the b-pillar, I kinda like the handle being a different color but at the same time I want it black