Alright, I think I'm about a month or 2 away from completing this build so it's ok to start this build log. The goal of this build was to have an SQ comp worthy vehicle as well as being SPL comp worthy. It should get pretty loud, especially the frontstage. I have only about half of the build done currently and I didn't take too many pics but I'll try to get more from now on. Here's a list of the equipment I'll be installing:
Headunit: IVA-W205/H701 Combo
Frontstage Amps: (2) JL Audio G6600 6ch. amps and JL Audio 4ch. G4500 Amp. Each 6ch. amp will be bridged to 3ch. supplying about 200wrms at 4ohms. 1 amp will supply the Midbass in doors, Midbass/Midrange in kicks, and 4" Midranges in A-pillars on the left side. The other amp will supply the same thing on the right side. The 4ch. amp will be bridged and supply the the tweets in the A-pillars with about 185wrms. Yeah, I know plenty of headroom.
Sub Amp: Orion 2500D. I might be going to a Sundown 3000D sometime in the future.
Midbass in Doors: Scanspeak Discovery 8's.
Scan-speak 22W/4534G Discovery 8" Woofer 4 ohm from Madisound
Midbass/Midrange in Kicks: Scanspeak Discovery 5 1/4's.
Scan-Speak 15W/8434G00 Discovery, 5.25" Midwoofer from Madisound
Midrange in A-pillars: Scanspeak Discovery 4's.
Scan-Speak Discovery 10F/4424G, 4" Midrange from Madisound
Tweeters: Undecided at the moment but I'm thinking some small format Scanspeak Illuminators.
Subs: Custom TC 3HPs
------------------------------------------------------------------------------------------------------------------
So the H701 will have the front 1 outs going to the 4's, the front 2 outs to the 5 1/4's, the rears to the midbass in the doors, the center to the tweets (I'll have individual gain control on each to help with T/A and I'll have them crossed around 8khz anyway), and of course the sub out to subs.
Currently I just have the 6ch. and 4ch. hooked up temporarily so I can listen to music. The 8's in the doors sound and hit so much harder than the Dayton RS225's that I recently just removed. I'm extremely happy with those and the 5 1/4's in the kicks. I'm currently running Dynaudio MD100's in the pillars. Pillars will be fiberglassed to house the 4's and tweets at a later time.
Here's some of the new stuff going in and newer build pics: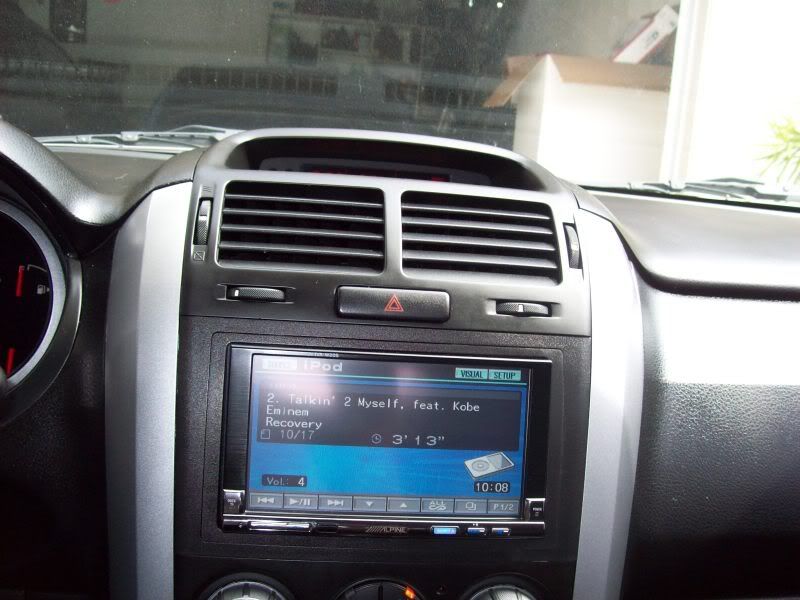 Ipod for music.
250gb Zune for music and movies.
Everything will be techflexed for final installation.