Ok so i gave audiotechnix a try after using secondskin,alphadamp,rammmatt,edead,fatmat
And i will say this without it being too long of a review. ITS THE SHEET!
First off i got the package and....well....it wasnt light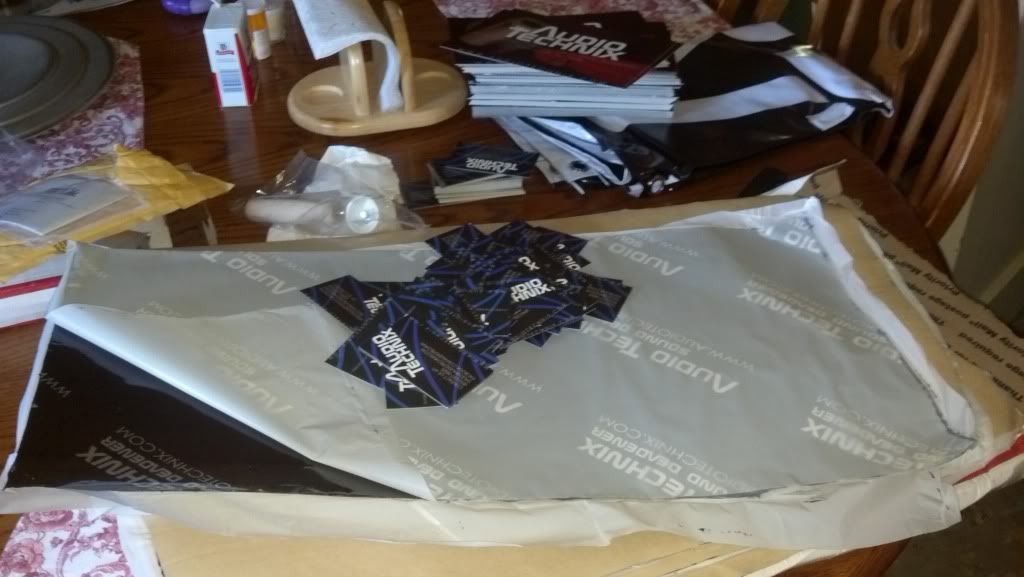 I started on the rear panels/floor for now and noticed one thing that amazed me about this 60 mil deadenerr
it molded VERY well unlike second skin that was a PITA to put around corners and over humps
For cleaning the surface (which you must do for ANY deadener brand to stick) i use a little bit of ajax (look for it in the cleaning isle of wally-world) and wipe it down. I would use acetone or something simillar but i couldnt stant the smell, ajax does just as good.
I started laying it down when i noticed something else....once it sticks...it sticks for real! i used a roller on all of it. the side panels were a breeze since the deadener wouldnt move.
Sound wise i can play alot lower than i used too and the Heat from my muffler doesnt come in the car. sounds deeper more vibrant and less road noise. I live where road noise in any car exist but with the deadener it was less noticable.
With alot of other deadeners like fatmat and edead the aluminum would get torn by the roller where it was so thin. NOT A PROBLEM WITH AT!
Im still not done. I have the roof/doors/front floor left to do and i will update this accordingly. Also would like to add it only took 2 days to get to me. Impressive. Customer service is like burger king. Have it your way. He will bend over backwards for you and is the only man i have seen to stand by his product like he does. Nuff talking here are some pics. ill update later
had to take the seat out for me to fit in
teaser