Here is the review of the Mark Audio CHBW-70 4'' wide range driver.
Power used was the B2 audio quattro bridged run at 8ohms per channel.
Estimated power to each driver during test is 80wrms.
Media used was a variety of test tones ranging from 30hz up to 80hz, I have no interest in killing my ears with tones ranging higher in freq.
Eric Clapton's Wonderful Tonight live recording.
Eric Clapton - Wonderful Tonight (Live) (Video Version) - YouTube
Velvet Acid Christ's Timeless Visions.
velvet acid christ - timeless visions - YouTube
Purity Ring's Obedear.
Purity Ring - Obedear - YouTube
Infected Mushroom's Avratz.
Infected Mushroom - Avratz - YouTube
In This Moment's Scarlet.
In This Moment - Scarlet - YouTube
A few other songs were used as well but have been put together by me and haven't wanted to share them to the general public yet.
This is how they arrive after taking them out of the Madisound shipping packaging.
Open the box and your greeted by another layer of cardboard on top and foam gasket material sandwiched between the cardboard and the drivers.
They even include the mounting hardware as well. This comes as 8 Allen head wood screws, very similar in design to the old screws TC Sounds used to send with their drivers.
Now as you pull out the drivers you will see yet another layer of cardboard protection, along with cardboard cups to secure the drivers in transit. These drivers are packed very well, even more so then speakers I have bought at 10-20 times in pricing.
Now to get to the construction of the actual drivers.
In a word, mindblowing. These drivers are all hand assembled, this usually means be ready for excess glue and misalignment. Not the case here. There is no glue showing where it shouldn't be, no burn marks around solder points. Nothing out of the ordinary at all.
Just for the sake of total disclosure, I do need to point out the sticker on the magnet was 1/32"-1/16" off the center of the motor structure. I'm sure I can live with that though.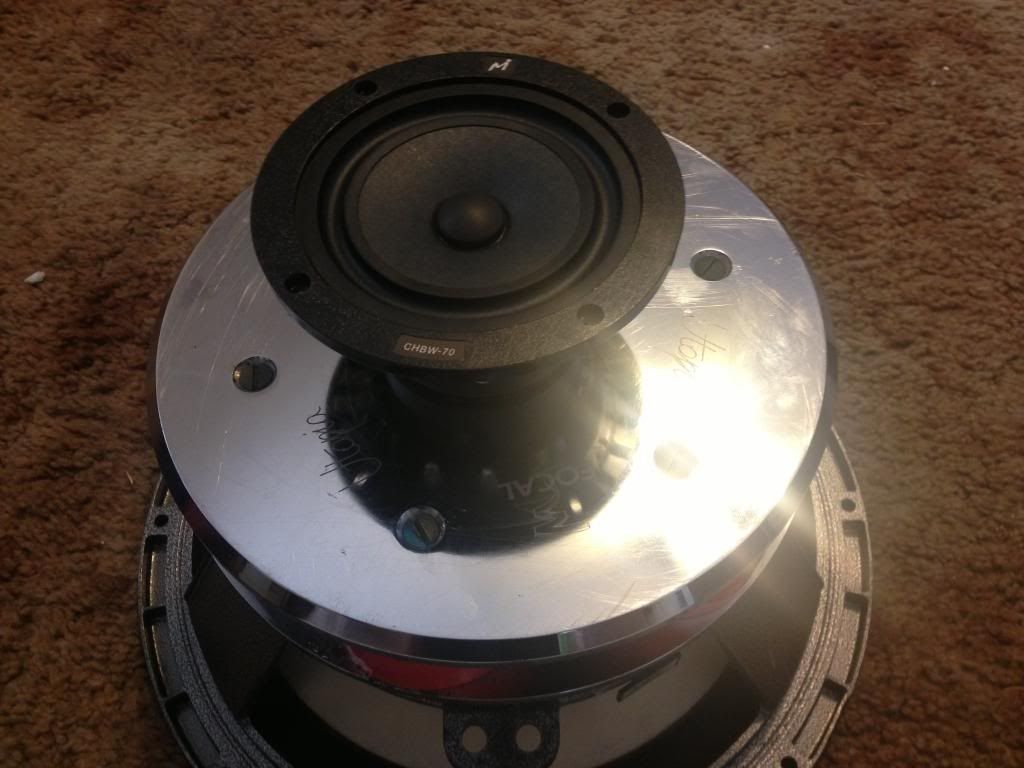 On to, what many people will agree, is the most important part of a driver.
The sound.
Now I need to point out, I have no desire for bright jingle bell type highs. I picked this driver for a reason.
Notice the roll off in the upper freq, this is why I decided to try these out. Instead of simply having to eq this out The driver does this naturally.
I didn't want to spend the time in this test to construct enclosures to end up throwing away so all testing was done in my Daily driver with the speakers in the corners of the dash with tape to separate the front and back waves off from each other.
First thing I noticed was when I had these wired normally to 2 channels of my amplifier is these are way under rated when playing music through them. My amplifier is rated at double the rms rating of these drivers when wired like this, and they were laughing at it. So I rewired to bridge the amplifier so I am now putting 4 times the rated rms to the drivers, this is where they started to shine. Playing tones through them you could just barely get them to play past their linear capabilities, this happened at 40-50hz at max volume, I drop one click and I am back to the safe zone. I will point again this is still at 4 times it's rated rms power. Even in their temp enclosures the midbass output was impressive for the size of the drivers. It won't knock you in the chest but you can definitely tell it's in the musical selection. The do have a slight peak around the 90-130hz region in my car. The clarity of the drivers is, even though I hate the word, awesome. These drivers don't hide anything, playing songs with purposely induced distortion was immediately and definitely noticeable. For a comparison, My daily components for the time being are the sundown sa 6.5's and these mask these songs to a great deal where you almost can't tell, not the case with the CHBW-70's.
These drivers play full, there is less compression then I would have ever imagined. Playing these drivers with only my sub stage filled my entire cabin with sound with no dead spots. The sound stage was well defined and very easy to determine where instruments were located at recording. In one instance you could follow the keys on the piano, this shocked me as my car can not do this in any other setup. Just as the freq graph up above shows the top end does roll off, as I mentioned before though I like this aspect, Mark audio does offer these with a metal cone that doesn't roll off until over 20khz. I will be picking up a pair to play with at a later date.
Now as for output, These were on par if not louder then my 6.5's in everything except 70hz and down, and this may have been the "enclosure" contributing as well, these drivers lack physical size so the lower notes will be harder to feel and hear but they were still present. I found I actually liked how these sounded and imaged with them being slightly off axis pointing to each other on a horizontal axis just slightly above my dash.
Performance per dollar is out of this world. I paid $21 per driver, I would pay 5-10 times this much for what your getting out of this thing.
My only complaint is they may be a little fragile for constant car audio use. The cone is thin, which is good for their response but not for longevity, and untreated paper meaning you don't want to get these wet.
In conclusion I'd definitely recommend these to anyone looking for a sq based mids and highs setup. Paired with a midbass heavy 6.5'' or 8'' driver and these would be great for any type of music you listen to.
The Madisound Speaker Store
__________________

To view links or images in signatures your post count must be 0 or greater. You currently have 0 posts.