First things first; I was turned on to PHD by my friend, Geoff who in turn introduced me to Mike Allen, the US distributor for PHD. I had a long conversation with Mike and we decided the component set you see here is what I would audition. Now, anybody involved in the selling end of the 12 volt industry has two very basic needs; Good product and product support. I won't name names, but I'm familiar with brands that don't always have both. However, in this case, Mike Allen and the wonderful company he represents have it in spades. So, thank you gentlemen, for allowing me this opportunity.
The car is your basic 2005 MINI Cooper S model. I cut out the rear fill a long time ago, as I found it to be unnecessary in such a small car. The speakers are set in stock locations;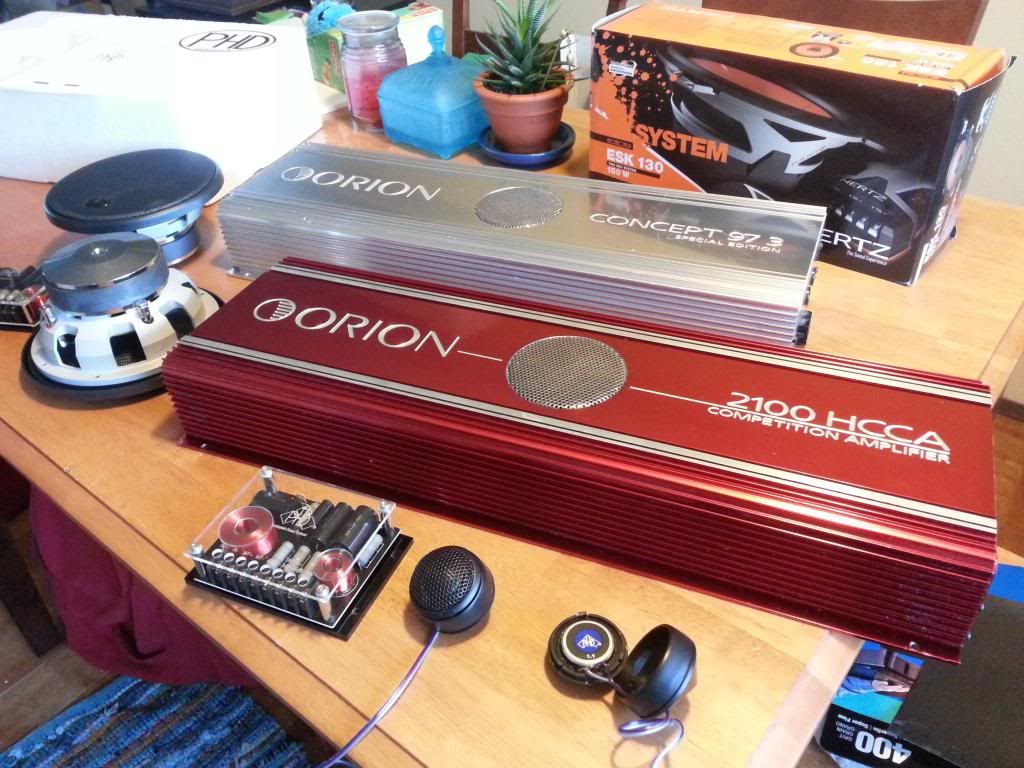 When the large glossy black box showed up in the mail, I was very excited. Normally, I record all of my openings (for posterity and proof), but this time I didn't care. I felt like a kid at Christmas. When I got the box open, I wasn't ready for what I found. I've run a lot of different speakers in my time but these were very different. They are visually striking, and the build quality is second to none. The mids are truly something to behold. The crossover is also very nice. I couldn't wait to get these in the car!
These almost didn't fit, but because I had modded my doors awhile back, thankfully they did. So let's fast forward through the break in period to right now; Alpine 9835, Sony M3, and the components.
One of the first tracks I listened to after I got everything fairly tuned to my liking was Journey's "Faithfully". I have never heard anything like that in my life, and was brought nearly to tears by the depth and breadth of Steve Perry's vocals. Makes the hair on the back of my neck stand up. I listen to a variety of music and these speakers picked up everything. Every instrument, every sound, piano keys, guitar picks, etc. It's all there. These speakers took what I've been listening to for years and showed me something very different. I'm not very technical and neither is this review. But in the most basic terms, I can sum it up like this; I pulled my CDT ES620 Golds out of the car for these. And my whole listening world went from black and white to color.
There are those that will tell you "equipment is equipment". And to a point, I can agree. But I know something special when I hear it. I'm an old school guy, but unless I'm doing a period piece, I like to run newer speakers. After this audition I can say with confidence that this is the only new speaker I will buy.
Previous listening experiences include MB Quart, German Maestro, Diamond Hex, Focal Polyglass-Utopia, Morel, Dynaudio, HAT and more. <<Some I have owned, some were owned by friends. I haven't listened to everything out there, but to be completely re-invigorated at 41 means a lot to me.
If you have any questions concerning the speakers' performance, feel free to ask. As I said, I'm not a "professional", but I'll answer to the best of my ability.
If you have any questions about pricing, or other levels of PHD, please get in touch with Mike Allen at
[email protected]
I only have this little box to write in, so I may have missed some things. If I did, I'll come back and fill in the blanks if I need to. I just hope if anyone is in the market for an "audiophile grade" transducer, they at least give a set of these a good listen.