OK, I know that I am late to the party. These amps have been reviewed by everyone and his brother. Well since I already own them, I want to add my two cents.
Designed and Engineered by JL Audio built overseas, these amps debuted in 2002 and have been a hit ever since. Matter of fact, I have seen numbers where the 500/1 is in the top twenty best selling amps of all time. What made these amps special? Its really in the patented Technology that they call RIPS. It stands for Regulated Intelligent Power Supply. Designed by Bruce McMillian who use to design for Precision Power, this allows the amplifier to put full power into a variety of impedance loads. And keep the amp at full power even when the voltage drops to 10 volts. With the typical amplifier you will see two to three different power rating, like 125x1 @ 4 ohms,
[email protected]
,
[email protected]
at 12 volts. So to get the most power out of the amplifier, you have to make sure that you have the right speaker configuration to show the amp a 1 ohm load. So naturally this limits you on your choices and having to run the amp a lower impedance also raises your distortion levels and signal to noise ratios. The reason for this is when the amplifier is designed they have to decide at what power they are going to optimize the amp for. With lower rail voltages and high current capacity, this lets you run into lower impedance loads for example 500 x1 @ 1ohm. With high rail voltages and lower current capacity you can play into high impedance loads for example 500x1 @ 4 ohms. But try to run this into a 1 ohm load and the amp attempts to put out 2000 watts and heats up and shut off and just throws a fit, if it doesnt just catch fire. So in the above example, the amplifer designer would optimize it for the
[email protected]
ohms. That way it stretchs in either direction. This is where RIPS revolutionized the amplifier. This fully automatic design, senses the impedance (actually the current envelope) and adjust the rail voltages appropriatley so as to optimize for full power. So now your power numbers look like this:
500x1 @ 1.5 to 4 ohms. from 10 to 14.4 volts. And doesnt that just simplify the whole thing.
First Impression:
First look at this amplifier and you can tell alot of thought went into the design. All power and speaker connections use the same size hex allen wrench which is really cool, but they do have the feel like if you tightened them too much you could strip them fairly easily. The amplifier has a nice solid feel to it and has large vertical heat sinks that are designed so the amplifier can be mounted vertically for horizontally and still radiate heat efficiently. The two ends of the heat sink are half the size of rest of them to allow side by side mounting and allow for a seamless look. The drawback to this is it makes the end heatsink more vulerable to breaking and I have seen a few break in the last couple of years. RCA's are bolted onto the chassis and very good quality.
500/1
This amplifier has some amazing features, to start with, the input section allows you to select low or high input voltage and lets you select voltage sensing. This is important because you can run regular RCA's to the amp or a speaker level input, allowing you to keep your factory stereo but upgrade your power. The input sensing replaces the normal remote wire and has the amp sense when the speakers come on to turn the amp on. Next up is the Low pass filter which is selectable between 12db and 24db slope or off. And is tunable between 40 to 200 hz. Next to that you have a defeatable bass eq with a adjustable and defeatable infrasonic filter. The bass eq has some nice features like, adjustable boost, q, center frequency and a bass port. Very handy features for adjusting for the unpredictable acoustics of an automobile. Another handy feature of this amp is the pre amp output. This takes the original signal fed to the amp and lets you run it to another amp without splitting the RCA's. Also allows you to select full range, amp filter or out filter. With adjustable filter freq and selectable filter slope and filter mode.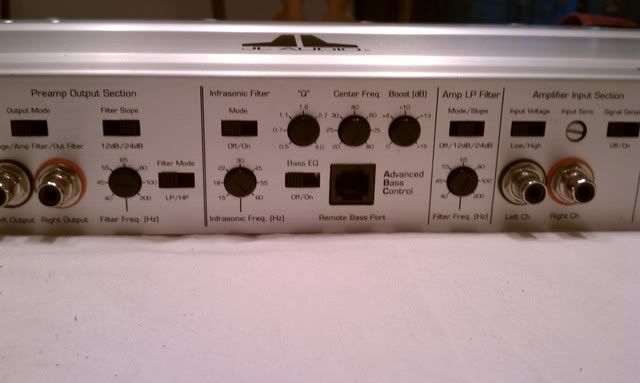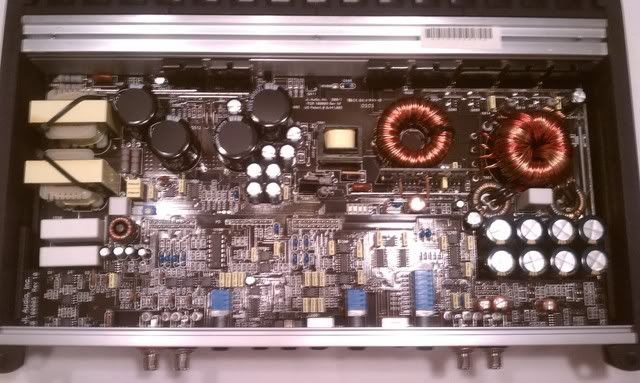 In the Truck.
I installed the amplifier into the truck, running into an Fi Audio SSD 12" at 4 ohms (3.5 Ohms electrical) in a sealed enclosure. I threw in a couple of pure bass tracks just to get the feel for power output. And the JL didnt disappoint, very good output and clarity and got the mirrors shakin as you would expect from electronic bass. I did notice the amp was drawing quite a bit of juice, I can only assume that this is where the lower efficiency come in (57 to 63% is what I have seen on the internet) as compared to some of the korean amps that we have been seeing with 85+% ratings.
Now for the big boy stuff, I switched to some rock to see about accuracy. Very solid kick drum attacks, fast and accurate. I would have to say it was more clear than the reference amplifer, but just slightly less impressive than an amplifer that I recently reviewed.
300/2
Features on this amplifier are the same same as on the 500/1 except they delete some of the option for the preamp section and only have an output mode. All of the bass controls are gone and it doesnt appear that this amp has the signal sensing.
I did two sets of tests on this amp, one I ran it to the MB quart components up front, then I added the mb quart 4x6 coaxial in the rear and last I ran it as a straight sub amp to the an Fi audio 12" sub in a sealed enclosure.
This amp performed quite well, I was impressed with the overall sound quality, even at high listen levels on just the fronts speakers I could tell the speakers were going to give up before the amp did. I could hear things like tamborines and snapping of finger in the music quite well, and was more pronounced then the reference amplifer. Not alot changed when I as far as sound quality when I put it to all four speakers, it still was able to drive them all to their limits, and I would have to say I heard no audible difference in sound quality. I was actually quite surprised once it got hooked up the the subwoofer cause I would say it sounded (if only sightly) better then the 500/1 did, at lower volume levels. Bass attacks were sharp with very little overhang, and still was able to shake the mirrors a little.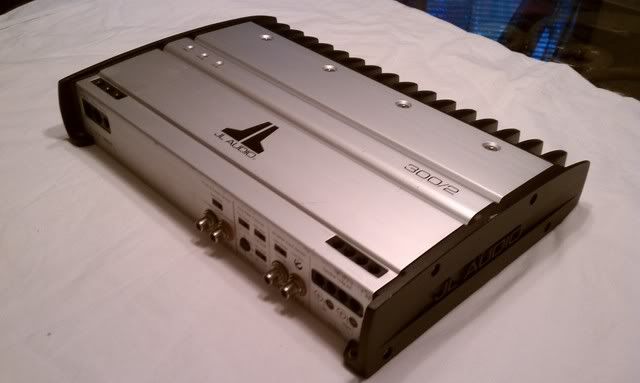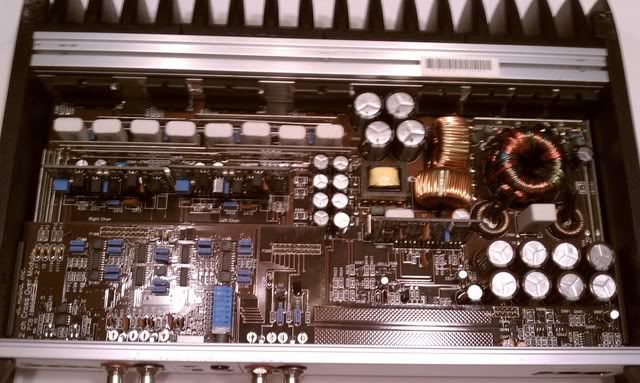 Power Ratings
500/1
Rated Power: 500W RMS x 1 @ 1.5 - 4Ω (11 - 14.5V)
THD at Rated Power: <0.05% @ 4Ω, 50 Hz
Signal to Noise Ratio: >95 dB referred to rated power (A-weighted, 20 Hz - 20 kHz noise bandwidth)
Frequency Response: 5 - 250 Hz (+0, -3 dB)
Damping Factor: >500 @ 4Ω/50 Hz, >250 @ 2Ω/50 Hz
300/2
150W RMS x 2 @ 1.5-4Ω (11V - 14.5V) Rated Power
Bridged: 300W RMS x 1 @ 3-8Ω (11V - 14.5V)
THD at Rated Power: <0.03% @ 4Ω per channel (20 Hz-20 kHz)
Signal to Noise Ratio: >108.5 dB referred to rated power (A-weighted, 20 Hz-20 kHz noise bandwidth)
Frequency Response: 5 Hz - 30 kHz (+0, -1dB)
Damping Factor: >200 @ 4Ω per ch. / 50 Hz, >100 @ 2Ω per ch. / 50 Hz
Sorry I dont have a distortion analyzer or a power cube, so all testing was done with a 50hz test tone into a 3.5 ohm electrical load, 4 ohm nominal. With just an o-scope, a volt meter, and my ears. All measurements are before any audible distortion.
Power testing
JL Audio 500/1
714 watts
JL Audio 300/2
Right Channel: 178 watts
Left Channel: 182 watts
Left and Right Bridged: 354 watts
Conclusion:
These amps are top performers and worth the money JL asks for them. Their under rated and quite sonically accurate. They fill a niche that other manufacturers are just starting to come to the table with. I am really looking forward to testing out the JL's HD series in the future. I can imagine that Bruce McMillian has a few more tricks up his sleeve, that we will in them.
Here are the rest of the pics:
http://s1100.photobucket.com/albums/...io/JL%20Audio/
Bruce
n2caraudio.com