Simply amazing is the only way that I can describe the new m2 Level 3s and XLs.
I was fortunate enough to get my hands on 6 of the prototype m2 Level 3s when I built my original 6 15 flat wall to test. I was running 6 m2 Level 3s on 1 DC 7.5k, charging at 16.8v. I clamped right at 8600-9500w of clean power from the amp depending on the testing frequency, 1433w-1583w per sub. I had absolutely no problems running this power to these 900w RMS rated subs. I was very impressed with the new cooling and overall performance and sound of the new m2 Level 3s. I could barely get the subs warm after a good hour of playing on them.
Disclaimer:
IN NO WAY DO I RECOMMEND JUST ANYONE TO PUT OVER RATED RMS POWER TO THIS OR ANY OTHER SUB. I have spent alot of time learning how to and making sure that I had a perfectly clean, undistorted, signal from front to back(Thank to Steve for making this very simple with the DD1). There are many other factors that come into play when wanting to do this and understanding what it takes comes with experience. If you decide that you want to run more than rated power to a sub, you do so at your own risk.
m2 Level 3s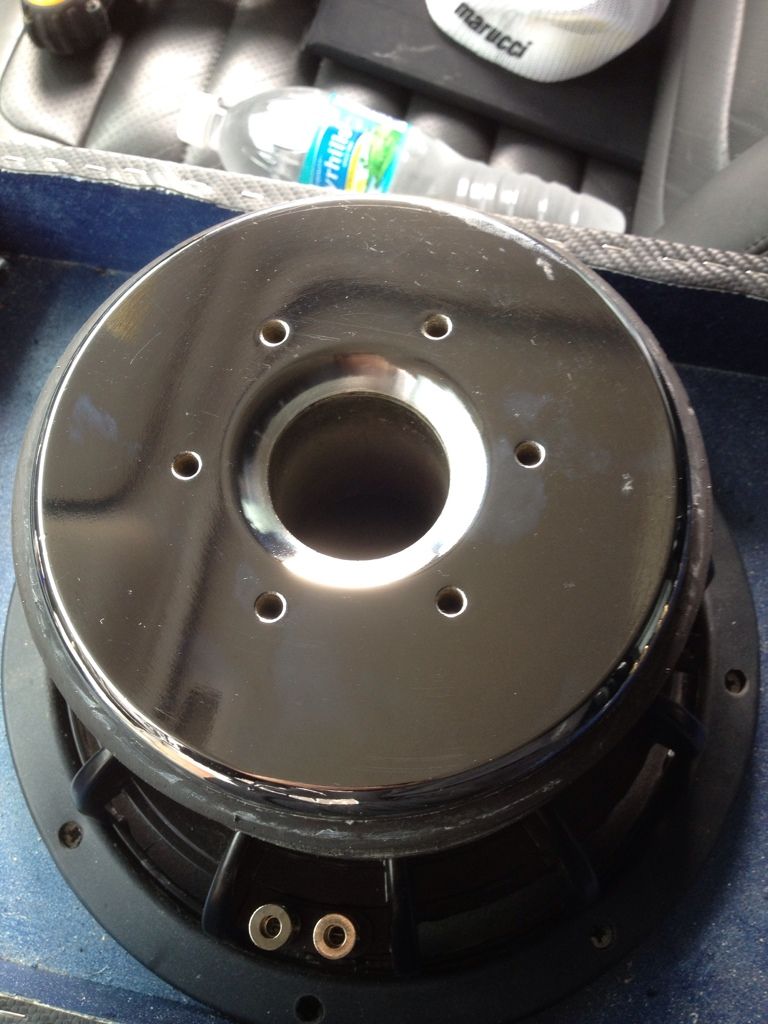 Now on to my babies, m2 XLs.
For those of you that have followed my build, you have seen the progression from the 6 m2 Level 3s, to 6 m1 XLs, and then to the 4 m1 XLs in a 4th order, and now the m1s have been replaced with 4 m2 XL 15s.
I have had the m2s installed for a little over a week now and all I can say is WOW! They just keep getting louder and louder every day. I did have mine built with 1 extra stiff spider(stock they come with 4 stiff). I did this because I do plan on putting more power to them in the future and wanted to make sure I had a little extra help in the suspension. They are already noticeably louder to the ear than my m1s were and are handling the power from my 12k MUCH better. I have yet to get any smell from the subs. The new cooling that is machined into the pole and top plate, along with the gap venting in the bottom plate that allows air to circulate around the coil and keep it cool works MUCH MUCH better than the m1 models single pole vent.
Overall I am thrilled with the performance and output of my m2 XLs. All of the upgrades that were made to the m2 line are HUGE upgrades over the m1 line.
m2 XL 15s-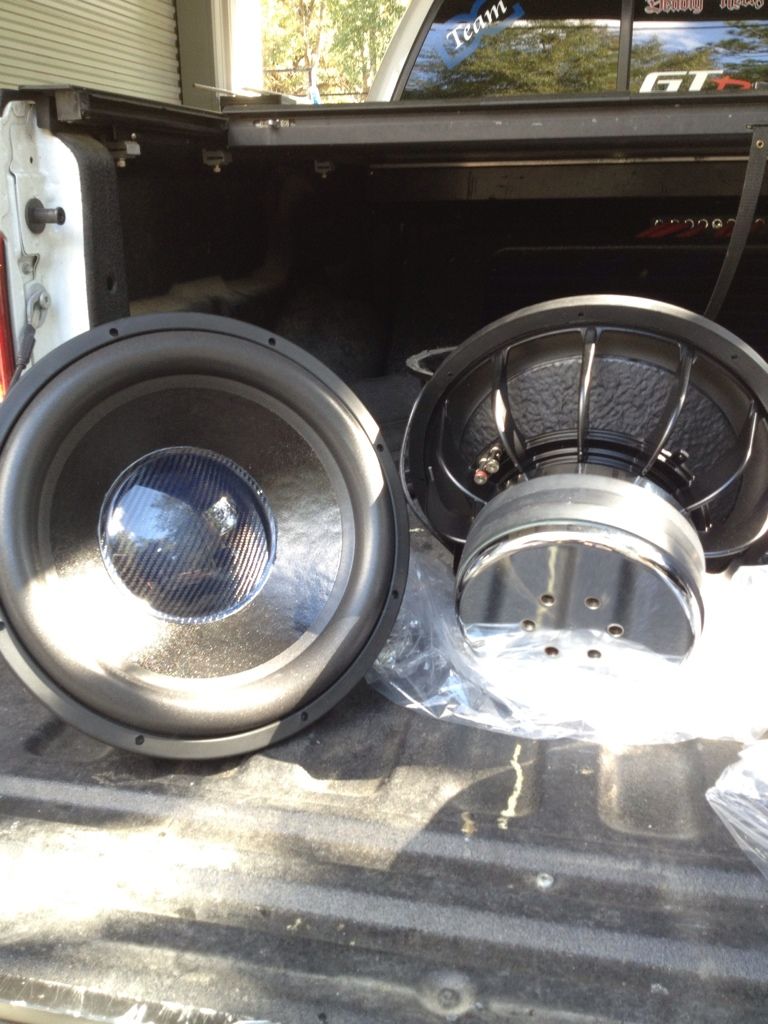 m2 on the left and m1 on the right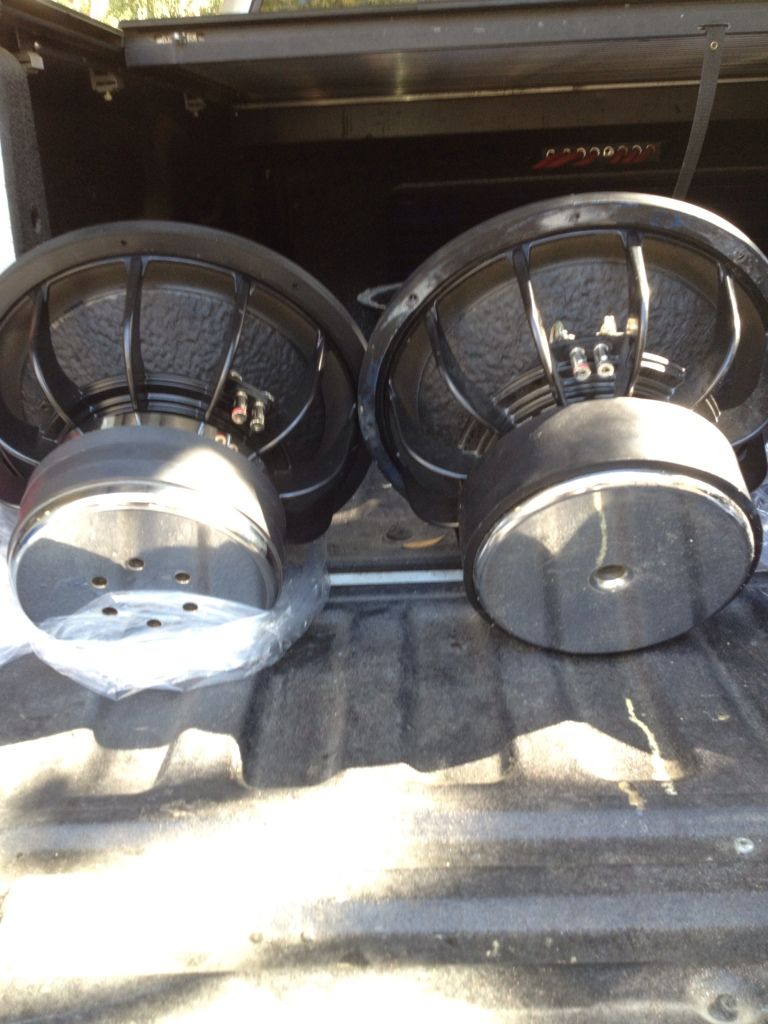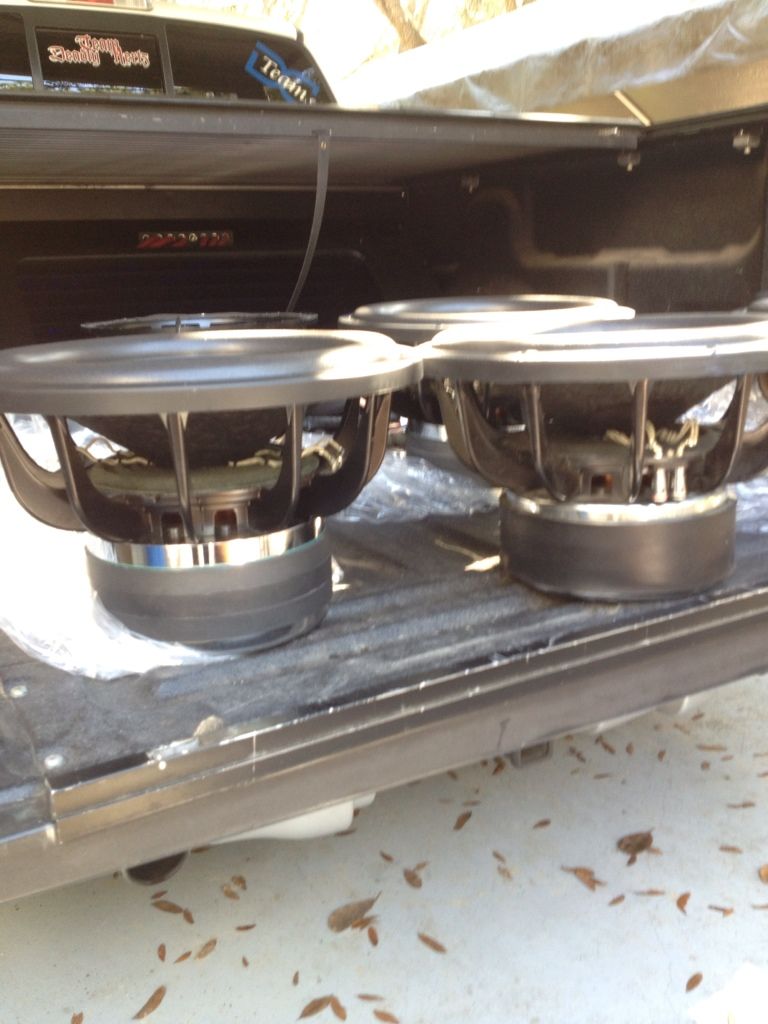 Black and Blue Carbon Kevlar Dustcaps.
Rusty has absolutely out done himself with the new m2 line and I am excited to see what he has in store for the future and am extremely proud to be able to be just a small part of a great company!
Overall Grade- A+