I have 4 10" Sundown SAs on the way DVC 2 ohm (so I can wire to 1 Ohm) I want to be able to have a daily setup and a spl setup. I was thinking aero ports are the best way to do this. Possibly 30 hz for daily, and about 40hz for spl, using some sort of plug. I have read hours of threads and still cannot find all the info Im looking for. I want to build my first ported box, but I'll need a coach if you will...
Roughly the space i have is:
L 25 1/2"
W 32" INCHES
H 15 1/4"
My max box size is 7.201 cubic feet. Not counting subs or wood ect. Take me for a beginner, as that I am at box building. Everything else I'm fine with.
If possibly someone is nearby where we could do this together I am willing to pay. I want the absolute LOUDEST I can get. These are going in a trunk of my 2008 Lancer GTS. Check my signature for my current setup.
Things I think are right: Rounded corners/edges, painted box, wood glue, and wood screws, possibly rods, possibly 45 degree corners inside box (I've heard sometimes this could decrease DBs), Resin or not I'm not sure(remember this is for daily and spl I dont know if resin will change quality), to flush mount the woofers or not depending on the design.
I have several box ideas I will try to get up here in image so you can tell me what you think of the ideas. I have cutout the middle of the backseat, to have the box port through the back seat (I think this would increase my DB, that is why I choose to do this).
ADDED Pics:
VERY rough images, just so you can see what I was thinking about. Trying to avoid trunk rattle if possible.
Subs forward port forward almost a box inside a box.
Subs firing down ported out the front and cone pressure out the front if possible too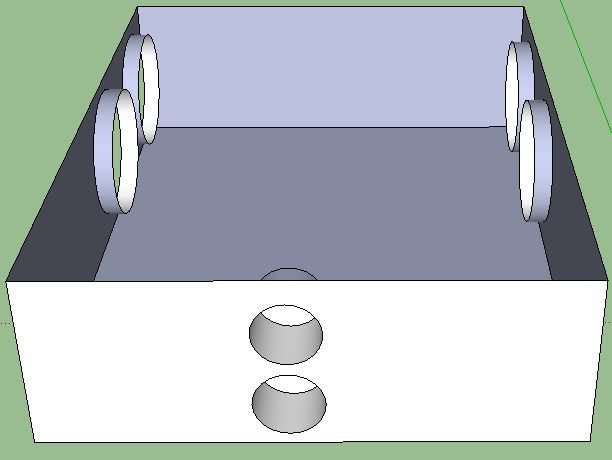 Seen this by Skip01 his got VERY loud I hope I can do the same
__________________

To view links or images in signatures your post count must be 0 or greater. You currently have 0 posts.
Check out my ride
To view links or images in signatures your post count must be 0 or greater. You currently have 0 posts.
!
Did I help you out? Don't forget to hit thanks ------->