okay so i see a lot of people asking how to get straight cuts without a table saw. Not all of us have access to or room for a giant table saw. Also a good sized table saw will run you $3k+ and those little portable table saws are a pain to rip a 4'X8' piece of MDF on, even if you build a table around it. So i will show you guys how I do it, this is not the only way to do it, everyone does it different, but my way seems to work great, i always have straight cuts and have never been off more than a 1/32", and thats just because i was moving fast, this process does take time, so you need patience but its all worth it in the end.
First off, get one of these from Home Depot, they are only $20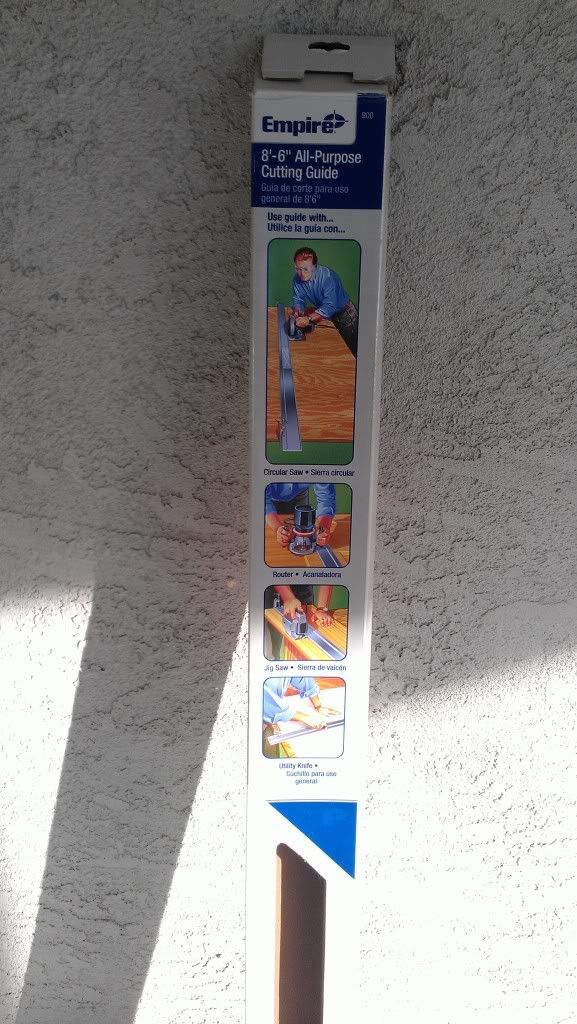 No Home Depot close to you?
http://www.fleetfarm.com/mff/detail/...FUdxQgodnTgAag
Be careful with them as they are easy to bend, also the black extension piece is easy to bend / break. Also if you are ripping a sheet long wise and you have to use the extension, be sure to drive a screw, or nail (i use a thumb tac) against the backside of the guide in the middle of it because when you run your saw along it, it will bow in the middle and your cut will vary about 1/8" in the middle.
Next you need to figure out the measurement of the table on your saw. (while looking down at your saw when holding it) you need to figure out the measurement from the left side of the blade to the right side of the saw (the side that butts up against the saw guide) my skilsaw is 3-11/16" from the left side of the blade to the right side of the table. Now sometimes you have a piece of wood that isnt long enough to get that extra 3-11/16" off of you you then have to do the cut backwards, in this case you will be cutting from the other direction, so you then need to account for blade width or else you will end up a 1/16" short on your cut (i use diablo blades they are 1/16" width) so you will actually set the guide 3-10/16" over from your cut.
Its pretty easy once you figure out the measurement of your saw table, for example if i have to make a 12" cut, i set the saw guide at 15-11/16" and then after the cut im left with a 12" piece, here is a picture to show you after the cut.
Believe me, even after all the boxes i have built i still trip myself up sometimes, but i always measure twice, and cut once. An easy way to figure out the table width on your saw is to set the guide on a piece of wood and just rip along it, then measure from the guide over and then add the blade width ontop of that.
Reminder: always make sure your sheet is square before cutting, sometimes sheets are not squared, in which case you have to do it! Also if you use a left handed saw, take that into account.
On the dot.