Hey guys, been a while since I have been on! Good to be back though. So here's what I have and what I need...
I want to make a new box for my two 12" Eminent Audio EA2000's. Max dimensions I have to work with are 16"x36"x18" HxWxD... I used to want lower tuning but now I just want something that's going to sound decent on all genres. I have no problem turning the bass remote down on country and rock just to get the drums from the subs but I want something thats going to get loud with rap/bass songs... I plan on just sticking with a normal slotted port. I will not be doing internal bracing but will add an additional baffle to the front as I did on the last box so it WILL NOT mess with the internal volume. They are running @ 1 ohm on a Sundown SAZ-2500D. I added pics of the box I made that they are currently in, however I don't remember the specs :-/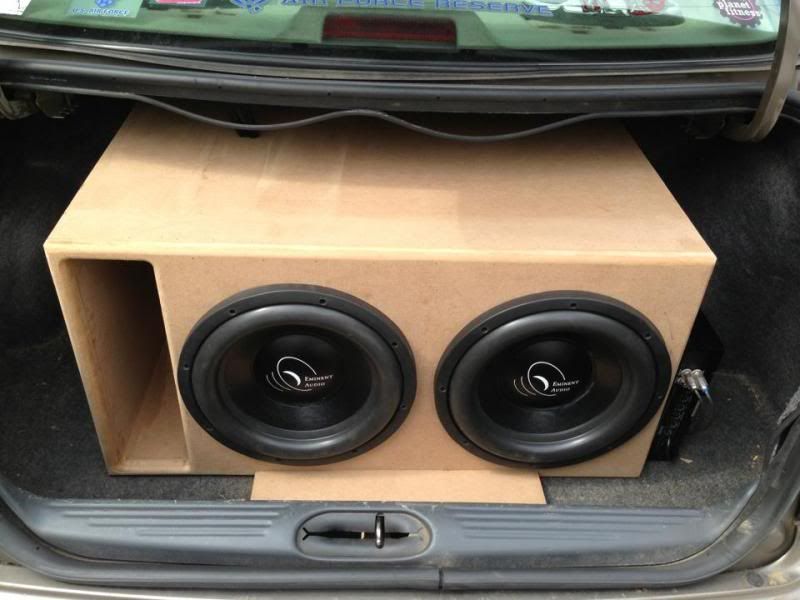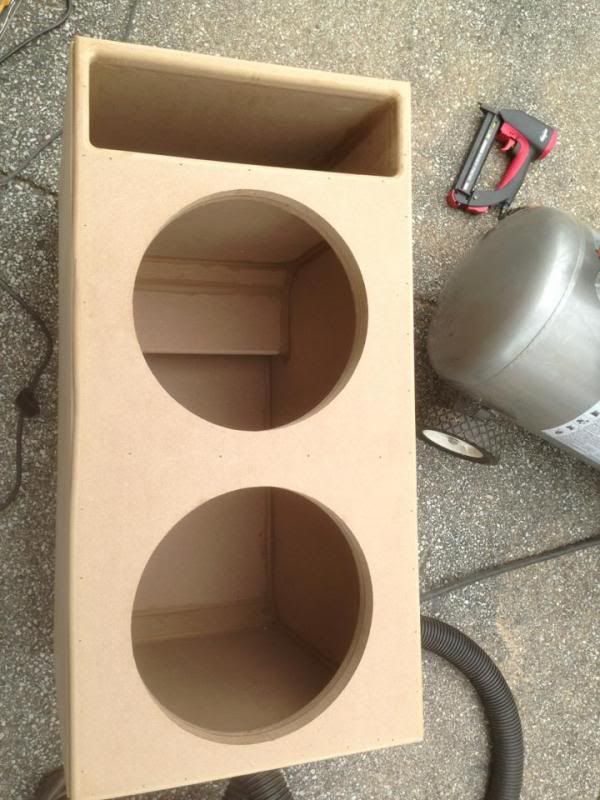 I know Eminent isn't widely known yet but I love the subs and just want to use them to their potential. Here is the T/S parameters of the subs;
Model= TSL
Domain= FreeAir
Shape= Round
Profile= Cone
Fmd= 3.0000 KA
Qmd= 1.0000
Flp= 8.0000 KA
Qlp= 2.0000
Znom= 1.0000 Ohm
Revc= 2.0000 Ohm
Sd= 55.0000E-3 M²
Mmd= 222.4670 g
Pmax= 2.5000E3 W
Rtvc= 1.0000 °C/W
Xgap= 20.0000 mm
Xcoil= 60.0000 mm
Xmax= 20.0000 mm
Krm= 9.9300 mOhm
Erm= 884.0000E-3
Kxm= 95.3000 mH
Exm= 520.0000E-3
Rms= 7.0417 N·S/M
Mms= 229.8800 g
Cms= 67.6700 uM/N
Vas= 29.2376 Ltr
Fo= 40.3526 Hz
Qms= 8.2770
Qes= 0.6112
Qts= 0.5692
BL= 13.8100 T·M
Levc= 1.4320E-3 H
SPLo= 86.8090 dB
No= 301.3000E-3 %
Thanks in advance for the help guys!