Hi everyone,
I got my new car and cant decide on what im going to do for a box. I'll have the box in the trunk and I dont want to drive around with the rear seats folded down but i know that having them down makes the bass so much better/louder in the cabin. So, how can i compensate for having the seats up and trapping all of the bass in trunk?
I was thinking i could port through the rear deck. There is an area between the 6x9s that would be perfect. It measures about 12-15 inches wide. Here's a pic looking up at it inside the trunk:
And here's one looking down at it:
Looks matter so if i did this the subs would be facing the trunk, and the amps would be mounted on the back of the rear seats. The box would be tall and wide. I would make a baffle to go around the box to seal it off and make it look nice.
Imagine that the toolbox, subwoofer, and cereal box are the front of the box. The box would take up the width of the trunk and go up pretty high, with a baffle around it to hide all the guts and what not.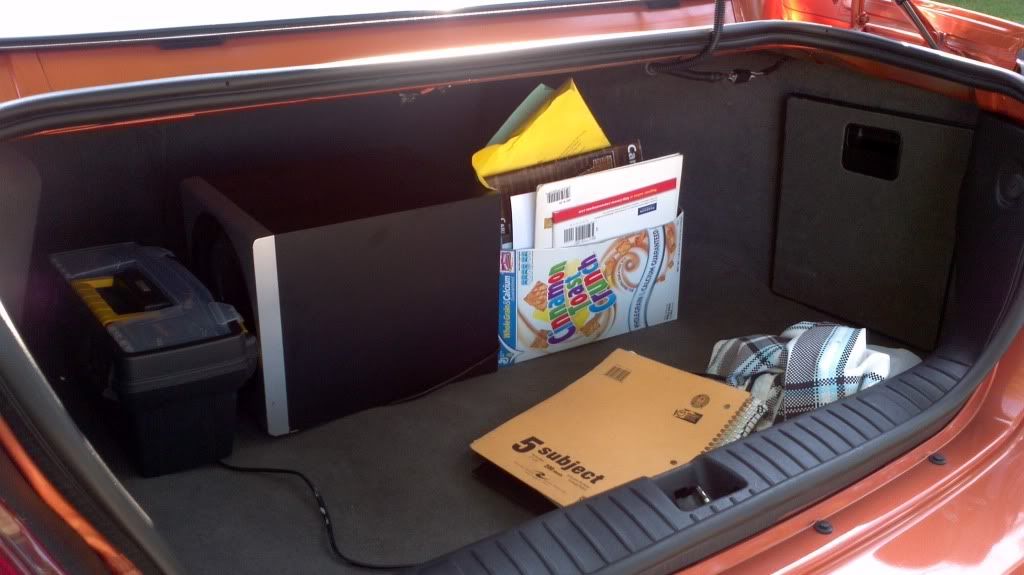 What do you think? It seems like this isnt the best method. I just feel like i would be trapping a whole lot of bass in the trunk... I have no clue what im talking about so please, help me out here!
P.S. This trunk is massive by my standards and I have a whole lot of room to work with so keep that in mind. The top of the opening of the trunk is 45 inches wide if i remember correctly. I could fit a box that was about 18 inches high too.
I cant forget the picture of the car!