Everyone always asks me after they've had a problem with CA glue... "How in the hell do I use this stuff??!"
Cyanoacrylate Glue (CA) - It's just basically super glue. It comes in different colors, thicknesses, etc, but at it's root form, it's still just super glue.
I've used a LOT of different types of CA. Some are absolutely amazing, while others just won't work. It just depends on what you're trying to accomplish.
For building subwoofers, most CA glue is just not worthy of the task. I would highly advise agains just running out to the store and grabbing some super glue tubes, or even the sometimes awful junk at hobby shops. If you're not sure that you have the right glue, don't use it! You'll hate to buy another recone kit because the glue didn't hold up.
I'll try to explain how I do it for you. This is NOT meant to teach you how to build a subwoofer, just how to use the glue that I have become accustomed to when assembling one, or parts of it.
There are a ton of other ways to use CA... this is how to do it when fixing a subwoofer!!
Here's how to use CA Glue and Activator:
1: Make sure to have a clean surface (use acetone or sand the area)
This is a very important thing. If there is dirt or paint on the surface, even CA won't stick.
2: Apply a bead of CA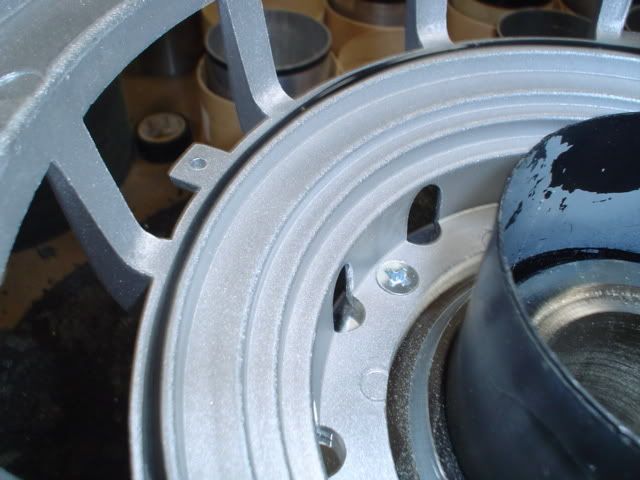 There is no need to go globbing glue all over the place. Try to use a continuous bead of glue. The more glue you smear all around, the more you get all over yourself (and your precious subwoofer).
3: Place the object to be glued into the adhesive.
DONT USE ACTIVATOR YET! - GAH... Everyone seems to mess up here.
Just place the object onto the adhesive. Slightly moving (or wiggling) the object will help to spread the adhesive around and into the surface of the glued object.
4: Apply activator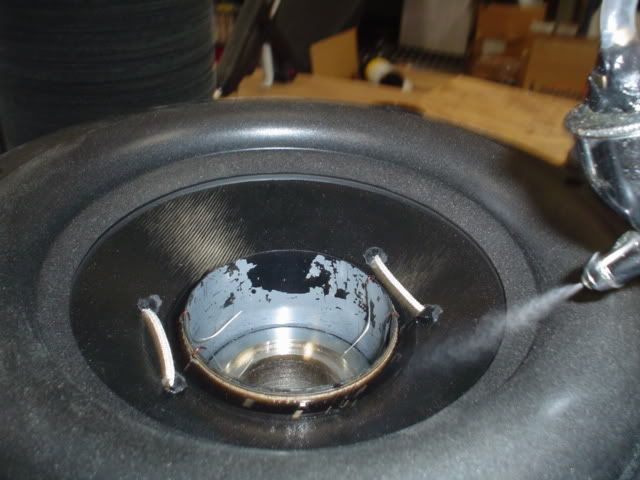 This is the absolute most important part of being able to properly use CA. Some people just pour the activator on. When you do this, the activator just completely attacks your glue. This is where discoloring and blooming comes from. Remember that we're dealing with an albeit small, but very violent chemical reaction.
The thing to do with CA (or at least mine) is to very lightly use the activator, sometimes 2-4 times, on the glue bead. We're trying to seal the outside of the bead. We want it to keep its shape and color, but still be able to properly cure. It takes CA a good 24-48 hrs to FULLY cure.
When too much is applied, the activator, instead of hardening the surface of the bead, actually penetrates too far into the bead. Once the outer layer begins to harden up, all of these FUMES from the chemical reaction... they bacially build up enough pressure inside of the glue to crack the outer layer. Afterwards, foul fumes come bursting out, discoloring the clue and causing a bubbling inferno of CA glue to be left.
When using the activator, SPRAY IT. Either get yourself a small pump bottle, or better yet, a re-usable aerosol can.


Spray very lightly, allowing the exterior of the bead to dry. I usually blow on it to help it dry quickly. It only takes the activator 2-3 seconds to evaporate. Repeat this process a couple of times until the glue is absolutely dry to the touch on the outside.
5: Dry
Always wait at least 24hrs before using the assembled pieces (unless you've got a show
)
Here's a photo of a CA bead on the back of a spider/coil connection. This glue is dry to the touch, although wet inside. This is what you want it to look like just after spraying.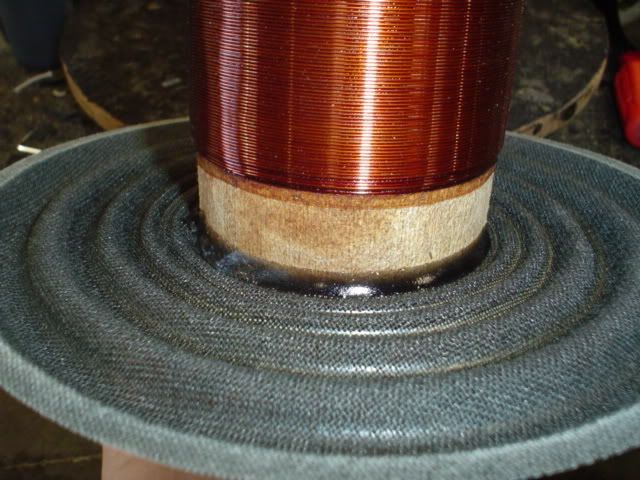 __________________
-David Moore


To view links or images in signatures your post count must be 0 or greater. You currently have 0 posts.

To view links or images in signatures your post count must be 0 or greater. You currently have 0 posts.


To view links or images in signatures your post count must be 0 or greater. You currently have 0 posts.