The Boswells lent their "DDBEAST" Metro for the day and Kevin at Atmos Audio provided the woofer...
Up for testing... The Atmos Audio "EXO" series 15" woofer. This woofer has alot of gut wrenching SPL at the twist of a knob.
(remember this is a prototype woofer, so it is not the finished product)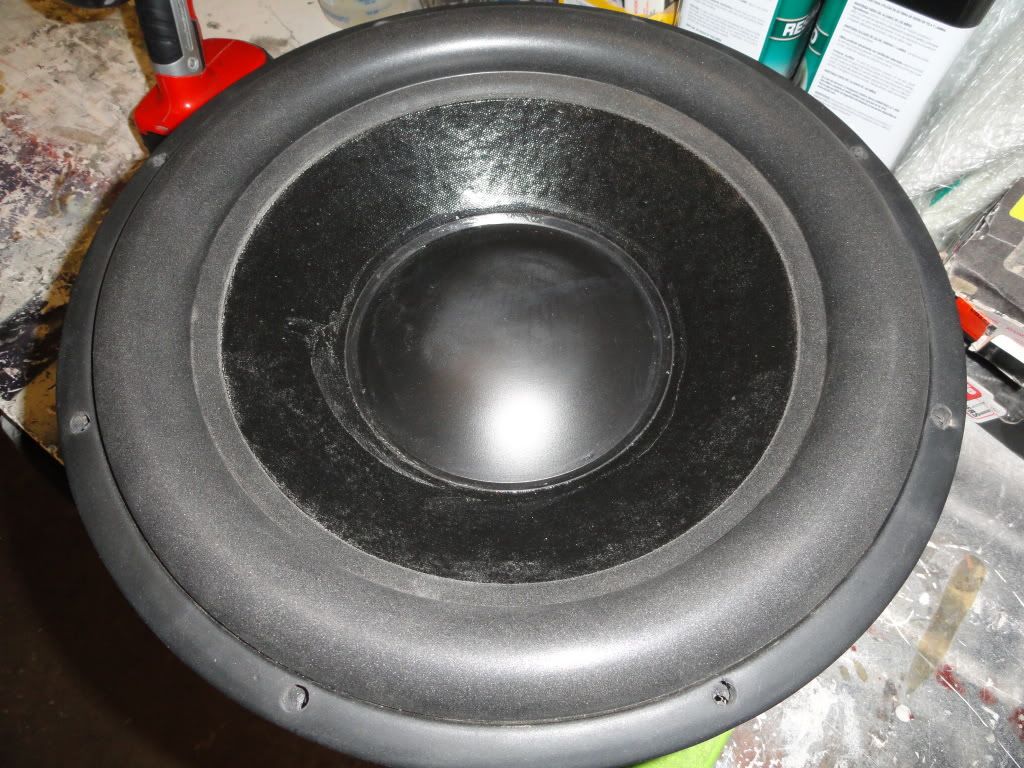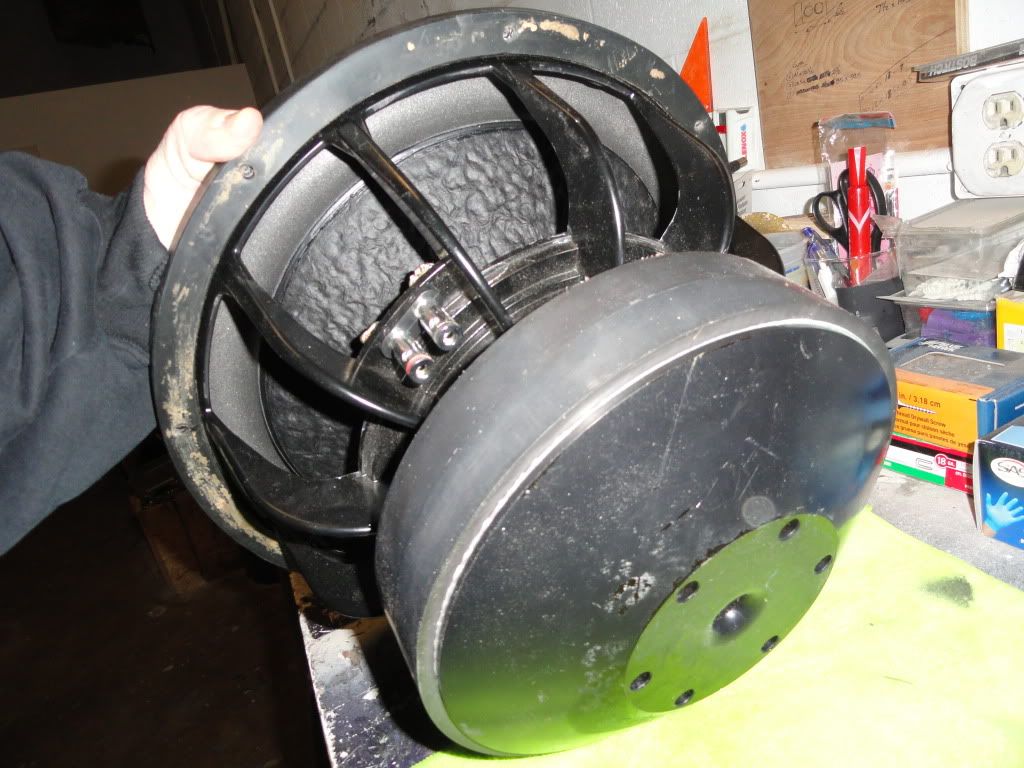 The Digital Designs DDZ15 we use in the metro is a Dual 2 ohm woofer. We have the Digital Designs DDZ running parallel to 1 ohm on a pair of strapped Powerbass XTA5000d amplifiers. The amplifiers are rated at 2 ohm strapped, but with box rise at our peak frequency of 61hz we end up with 1.99ohm and the amps have never skipped a beat.
For This test, Atmos Audio sent over a dual 1 ohm woofer, with plans of sending a dual 2 ohm recone kit for us to test for a closer test vs. the DD.
The Powerbass amplifiers we already know were close enough to the minimum the amplifiers could take without going into protect, or causing damage. We like our Powerbass XTA amplifiers so we are not going to do that.
The Atmos Audio EXO dual 1 ohm voice coils were wired in series to give us a 2ohm load, with the box rise ending up around 3.3ohm. This means less power will be going to the Atmos vs. the DD. Please keep that in mind as you read the rest of this and see the videos at the bottom.
We pulled the ever annihilating Digital Designs DDZ 15" Woofer out and gave it a rest on the bench for a few minutes. It's relaxing and enjoying itself, as it looks on to see how the Atmos would do.
The Atmos dropped into place very nicely in the oak enclosure in the back of the metro. This box was designed for one purpose, to be as loud as possible on the TermLab SPL sensor sytem. Not for listening purposes, this box is meant to put a trophy in your hand.
Wired up, ready to go, we ran a few test runs, two each in the kickpanel with the doors and windows closed (NSPL style), "legal" windshield location (as used by dBdrag as well as NSPL and other organizations), and last in the PCA series location (one inch from dash, center of windshield).
Pleased with the scores, I ran home and grabbed a video camera so I could get it on vid for you. So, here you go...
first up... a quick vid of the woofer itself...
second up... a vid of scores on the Termlab...
Enjoy!
Thanks to Kevin at
Atmos Audio
for the chance at testing.
Thanks to
Batcap
for building a battery that can keep our amps running strong and getting consistent voltage and power meaning more accurate readings!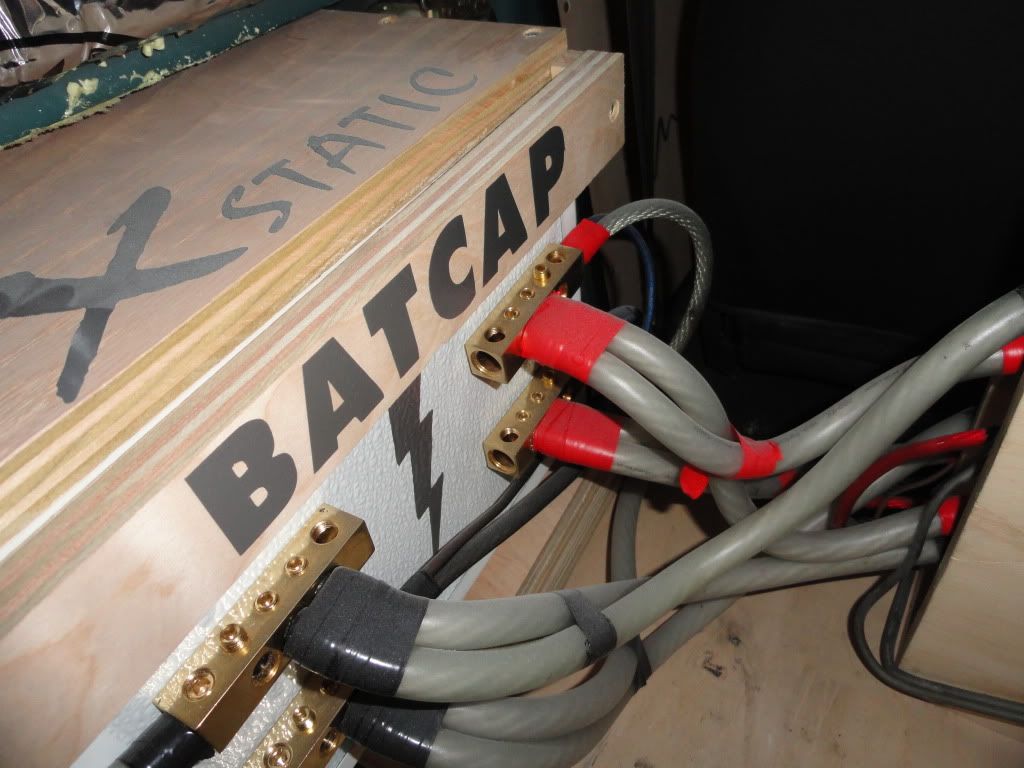 Vid 1
http://www.youtube.com/watch?v=fBaap5s1vtI
Vid 2
http://www.youtube.com/watch?v=4P14BsmNgx8
__________________
2009 MECA Mid-Atlantic Team of the Year
2010 MECA Mid-Atlantic Team of the Year
48 State Records
22 World Records