Now we test!
When you're calibrating or testing resistor, the environment around your test area doesn't matter. When dealing with actual speakers it's a big deal. It must be silent. That means to turn off any sources of air movement (fans, heat, air conditioning) and noise (talking, whispering, keyboard strokes, even noise from cars outside). There's a bit of debate on how to position you speaker when testing, so I'll share what I think: it doesn't really matter for a sub. Technically speaking, you don't want the speaker to be on it's back as gravity will be acting upon the soft parts and could skew the numbers down. The trade off is that it's more stable and will lead to less "jittery" readings (see my graph below). If you can build a frame to hold the speaker firm and on its' side, that would be the best and most accurate way to do things. However, regardless of method, if you're testing a subwoofer, I've found the difference to be less than 5%. That's a very small margin, so don't take it too seriously. Once you get the hang of it testing is a breeze, so try it a few different ways to see what happens.
If you haven't already, go ahead and calibrate and test your rig. Do this before every speaker you test to make sure your readings will be accurate. Even if it's only been a few hours since you last test
DO IT ANYWAY
.
Now connect your speaker wire (or in my case alligator clips) from your jig to the sub.
Make sure your test frequency boundaries are set according to what you are testing (here it's 20hz lower and 200hz upper) and press the red arrow above the graph. If you've gone through all the above steps and it all checks out, the graph should look like this. It will take a minute to complete testing.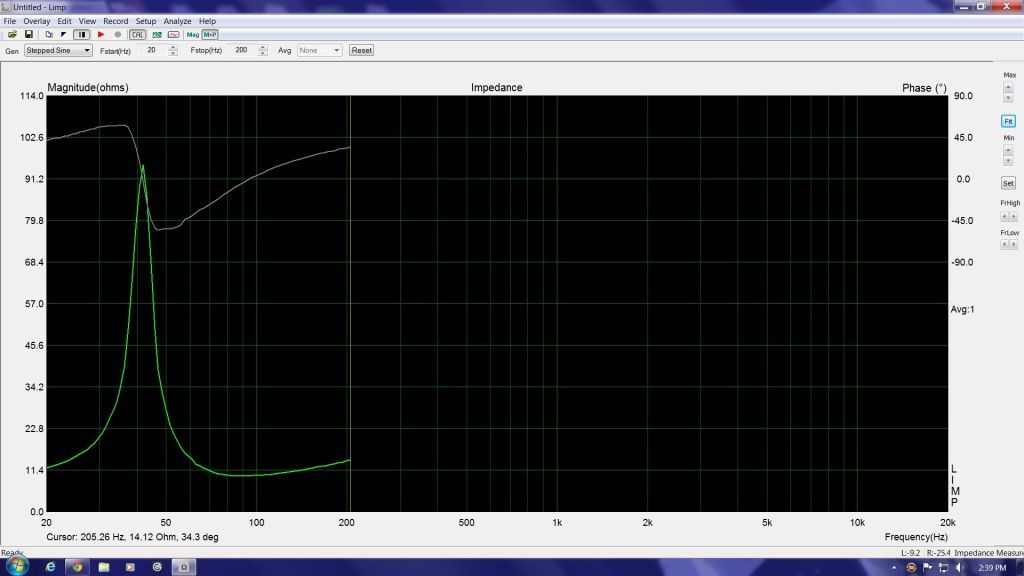 This was with the sub on it's back. If you have the sub on it's side it might look something like this:
That's OK, but not ideal. Again, The difference between these two methods only resulted in about a 5% shift in final TSPs, so no biggie.
Now click on the "Overlay" tab and select "Set as Overlay". This will keep the first test set and let you make another run without deleting these results.
Because we are using the "mass added" method, we need to *guess what* ADD MASS! We'll do this by taping a know weight to the cone. If you have a postal scale, or something else sensitive enough, you can use anything. I don't have access to this, so I used quarters. Each quarter weighs 5.67 grams.
The United States Mint About Us
I used twelve quarters, in four stacks of three taped to the cone. Make sure you spread the weight evenly.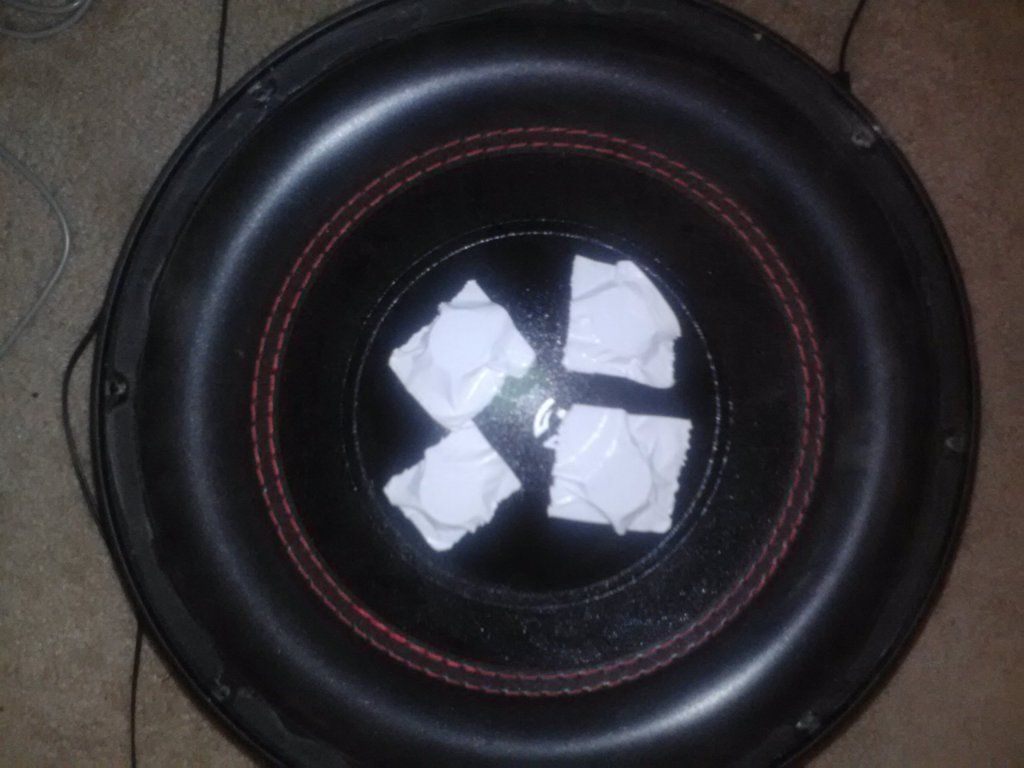 Position the sub in the same manner as you did for the first test. Now press the red arrow again. Wait a minute for the test to complete. If for some reason you didn't set an upper frequency bound, you can always stop the test once it's out of usable range. Notice that the line levels off after 150hz or so, so anything above that isn't useful to us. If you're testing a mid/tweet/fullrange that will change. Now you have a graph like this, with two peaks:
Click on the "Analyze" tab and select "added mass method". On the right you'll see three fields that need to be filled in. For the "Voice Coil Resistance" put in the resistance you are testing. If you have the ability to measure this with a multimeter then by all means use that data. If not just approximate it based on what you know. So if it's a single 4ohm sub put in "4". If it's a dual 4ohm sub wired in series put in "8", and so on.
In the second field you'll need to put in the diameter of the cone plus 1/3 of the surround on either side of the cone. For a 12" sub this is
not
"12". Guessing here will skew your results, so get a tape measure. Remember that it asks for this number in centimeters, not inches. One inch = 2.54 centimeters.
The last field is for the amount of mass you added to the cone in the second run. I used twelve quarters, so 68 grams. I figured on about 1 gram for the tape for a final number of 69g. Click "Calculate TSP" on the bottom and voila!!! You are done!!
A quick note about adding mass: In order to get the most accurate numbers, you'll need to add enough to skew the peak of the second run downward by at least 20%. If the first run showed a peak at 30hz, You'll need to get the second peak to: 30 x .2 = 6hz lower than the first, or 24hz.
Good luck!