Where I mounted the volt meter... Looks like I need to straighten it out a little lol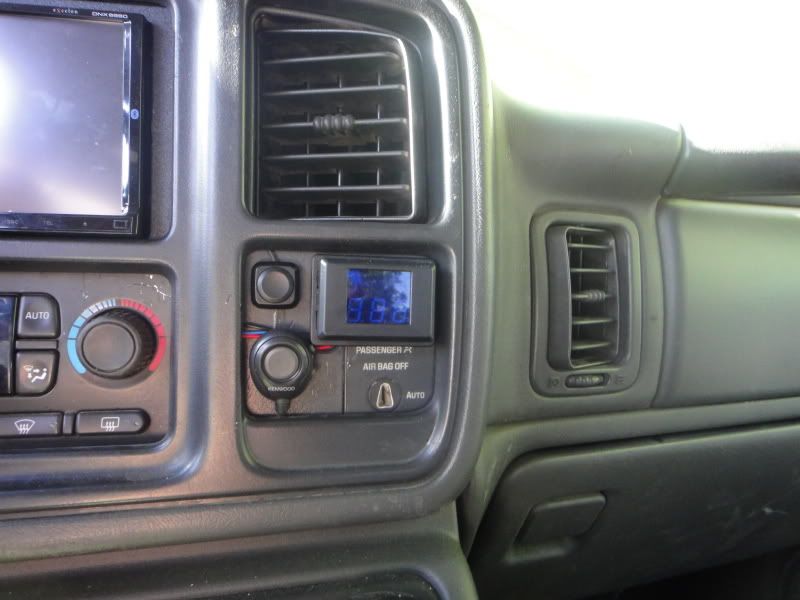 To seal the hole around each of the wires, dries clear and sticks to just about anything from my experience:
Drilled pilot holes through and screwed the top piece on: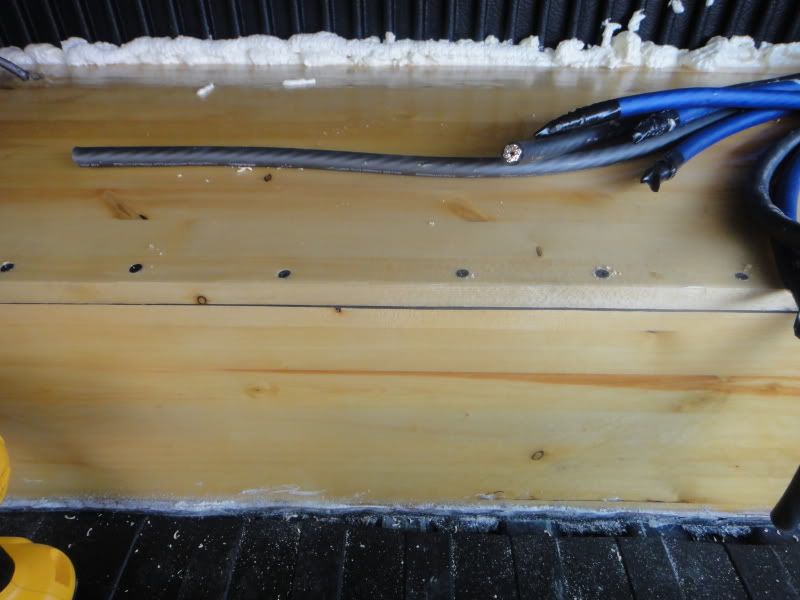 Sealed the sides with some Great Stuff: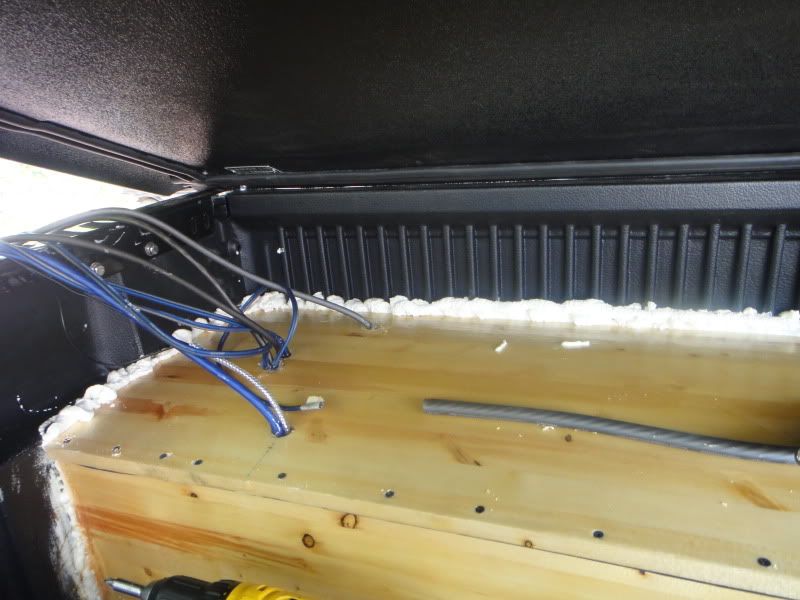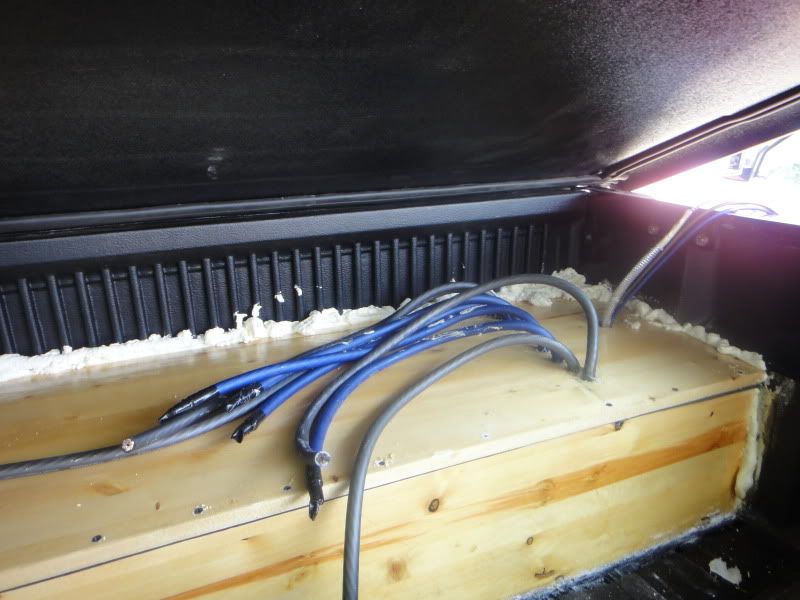 Looks like I forgot to clean the toolbox out when I took it out, better get that cleaned up: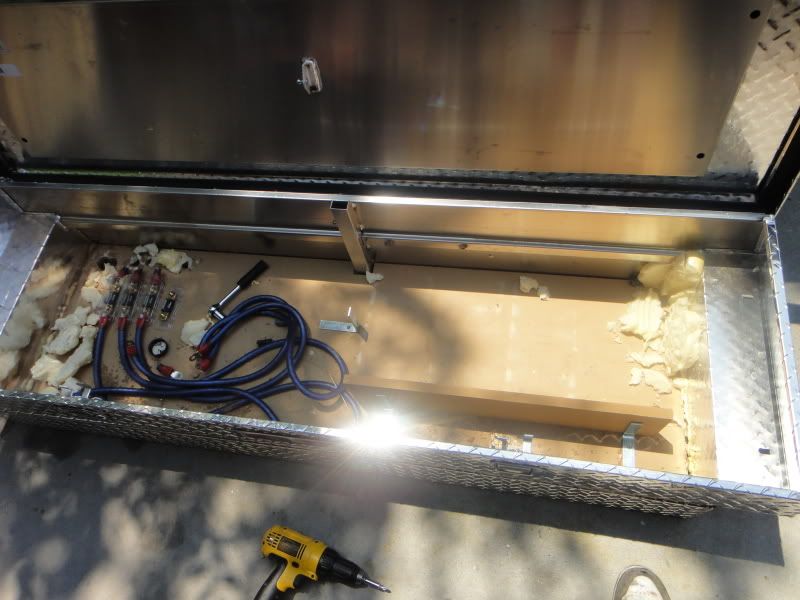 Much better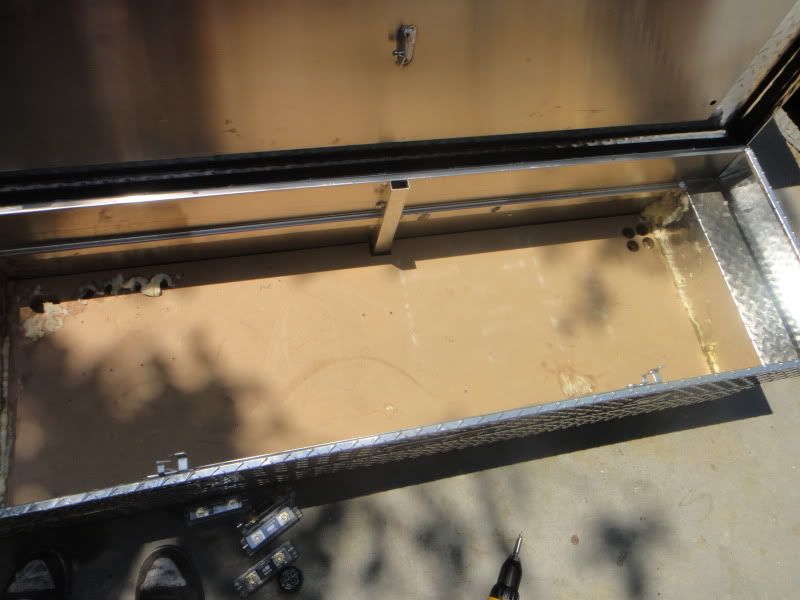 Covered up holes where the last set of power and ground wires came through: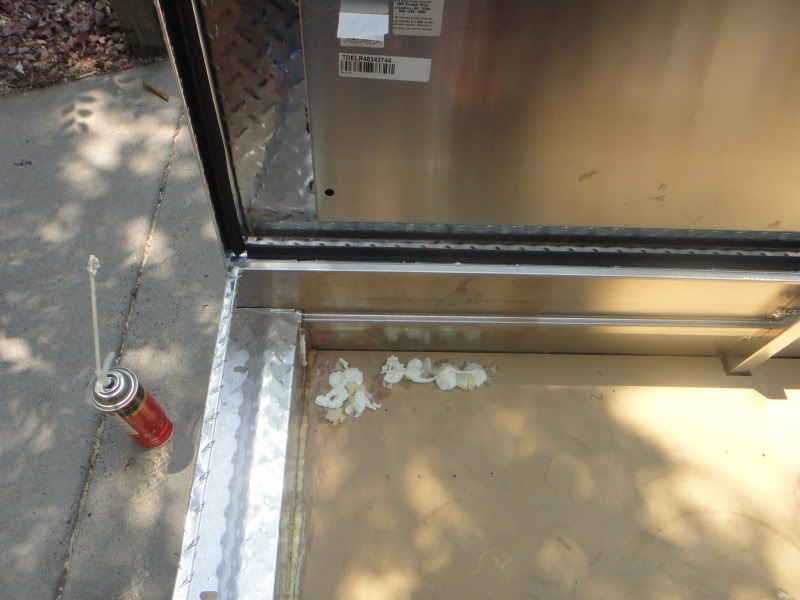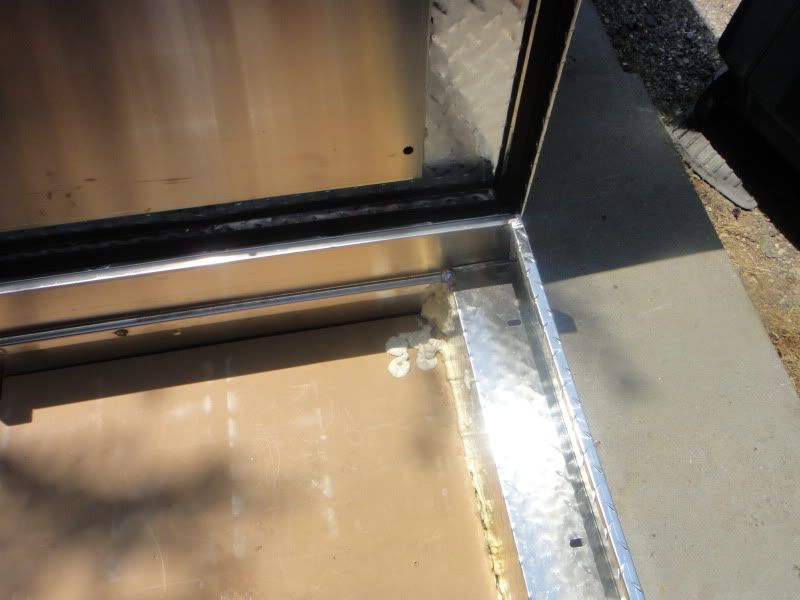 Time to cut a little bit: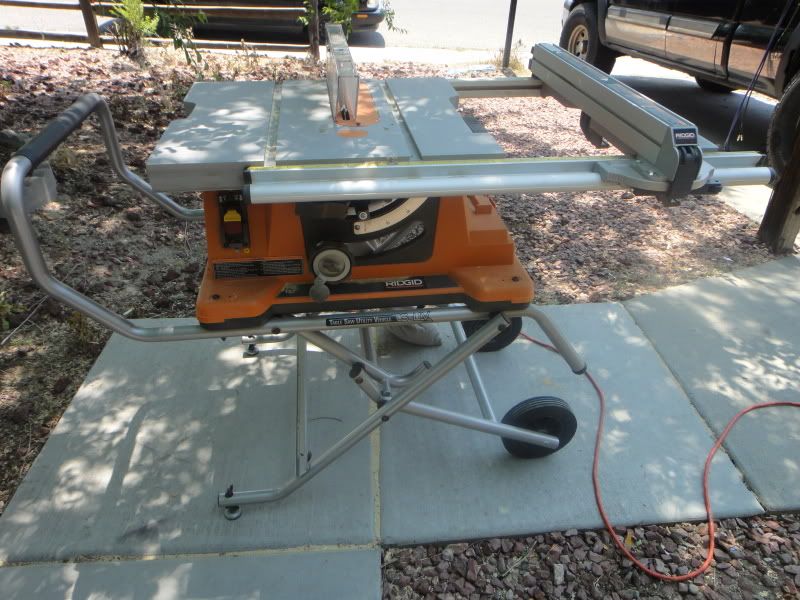 Spacers: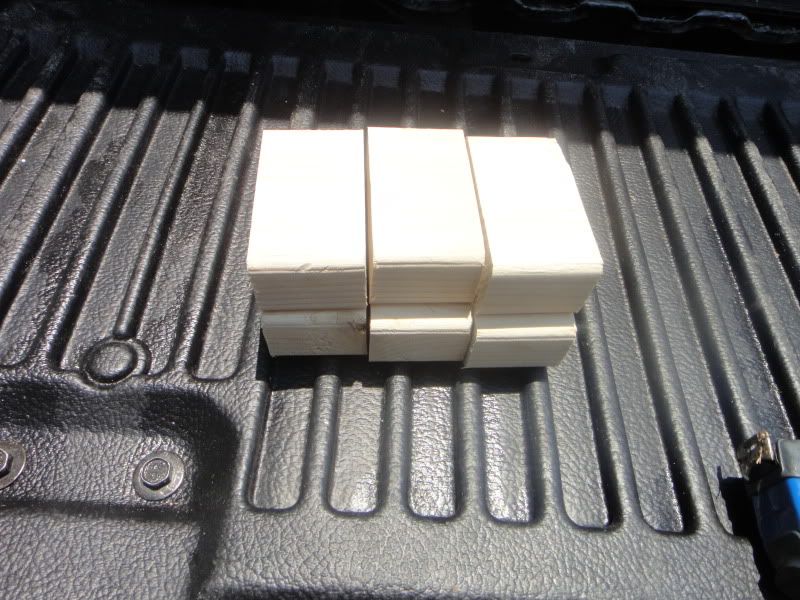 Didn't want to waste a new piece to make this, so I just turned three pieces into one kinda lol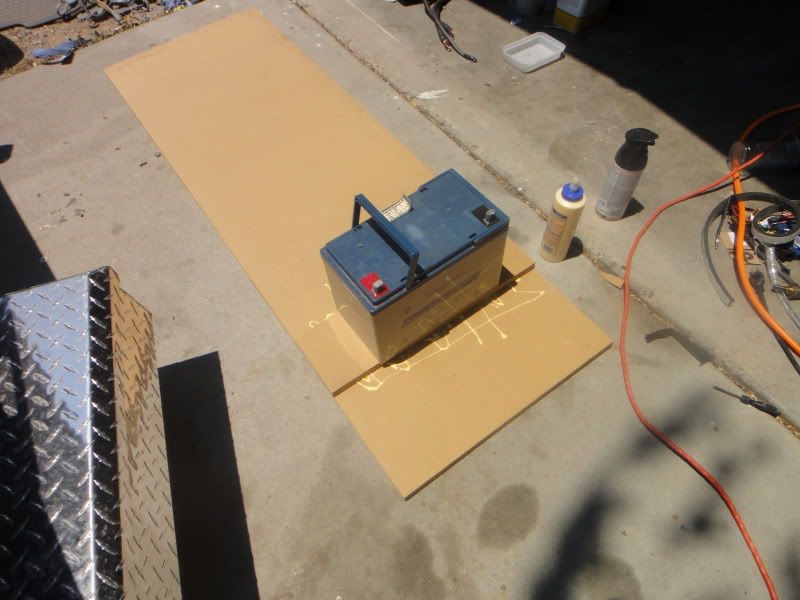 Made it look a little prettier: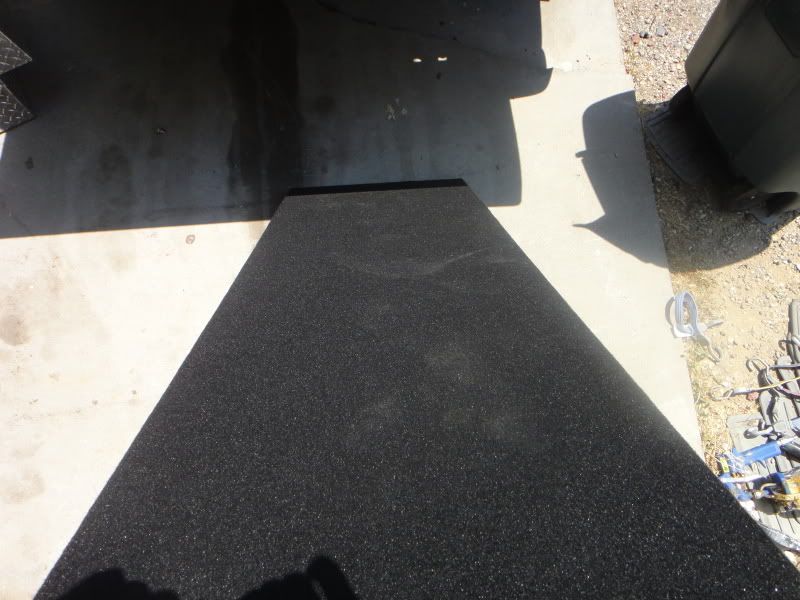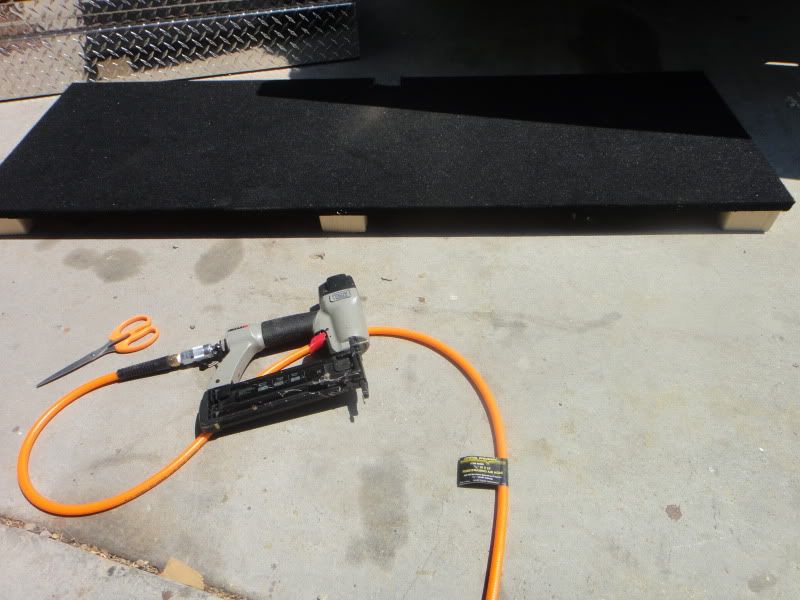 Removed the tonneau cover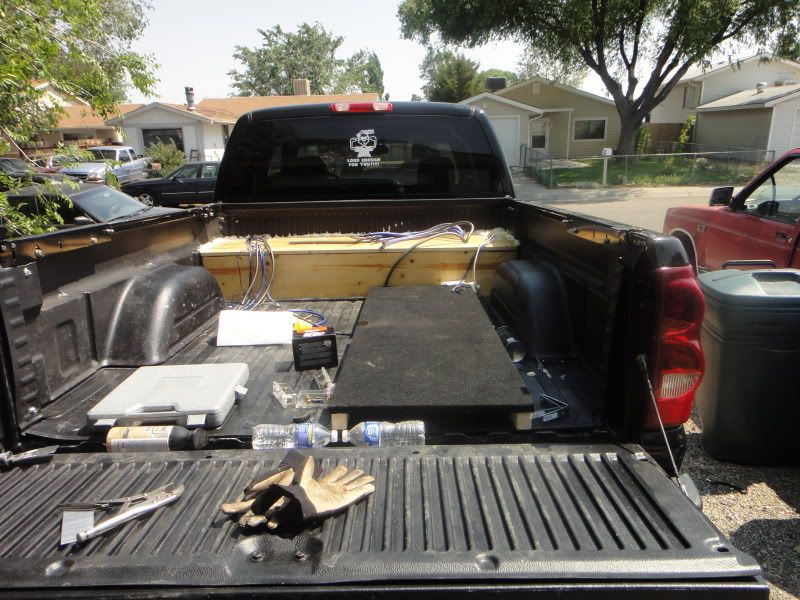 Well, it fit before I put the carpet and 2 X 4 spacers on, but now it wont go into place. You can see that I got angry and beat the **** out of it with a hammer in the upper right hand corner.. Looks like tomorrow I'll be cutting into a new piece of MDF anyways.. I would just sand the edge to make it fit but that's not an option to me since I had to go and beat it with the hammer..
Gonna clean the garage before I get started tomorrow because I have let it get quite cluttered throughout this install and I hate clutter, so it will be afternoon before I get started. I will do my best to get the toolbox completed tomorrow though.
Forgot this one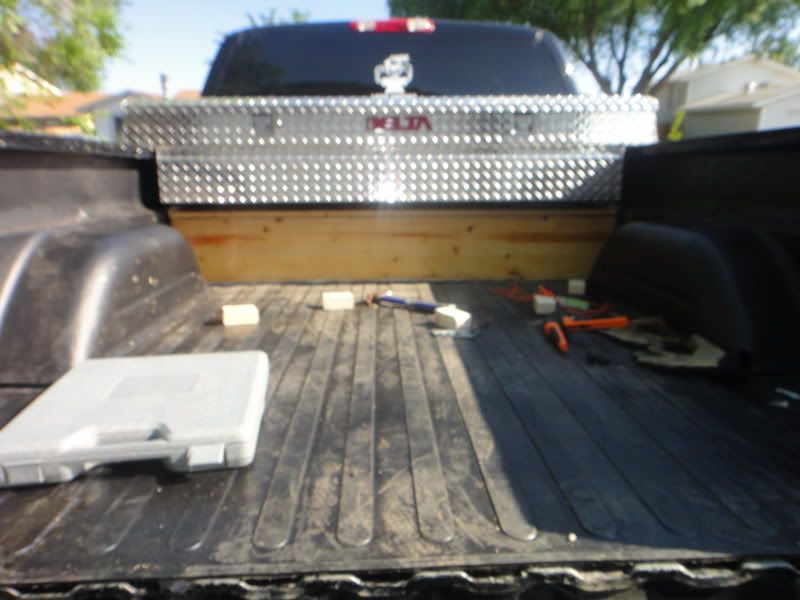 Nice fit
... I now have my bed back! I decided shortly after putting the cover on that I use the bed of this truck too often to get rid of it like I did..Problem fixed.
Here is today's work:
Ended up combing a few pieces to make the amp rack again so I didn't have to cut into new...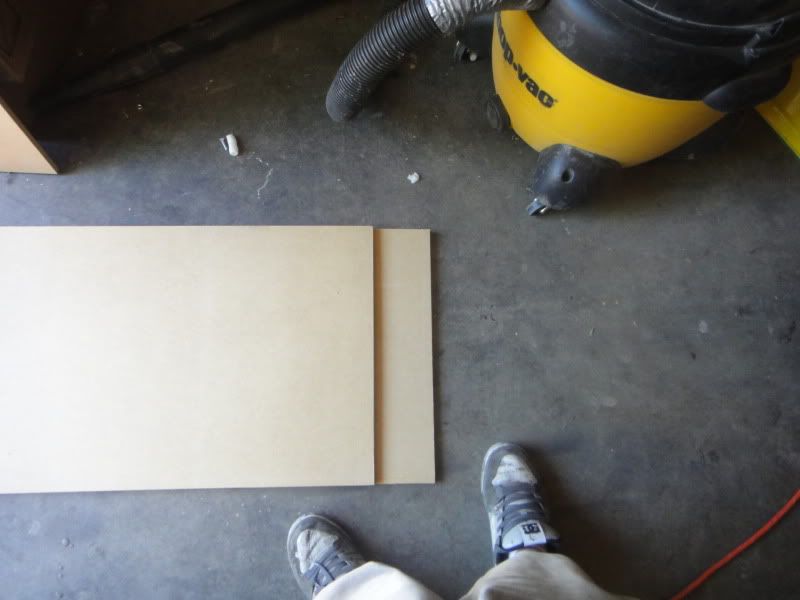 The three pieces put together, holes drilled for amps:
Ran out of spray cans of 3M General Trim Adhesive, had to use what I use to carpet sub boxes.... A little more work but IMO sticks alot better anyway: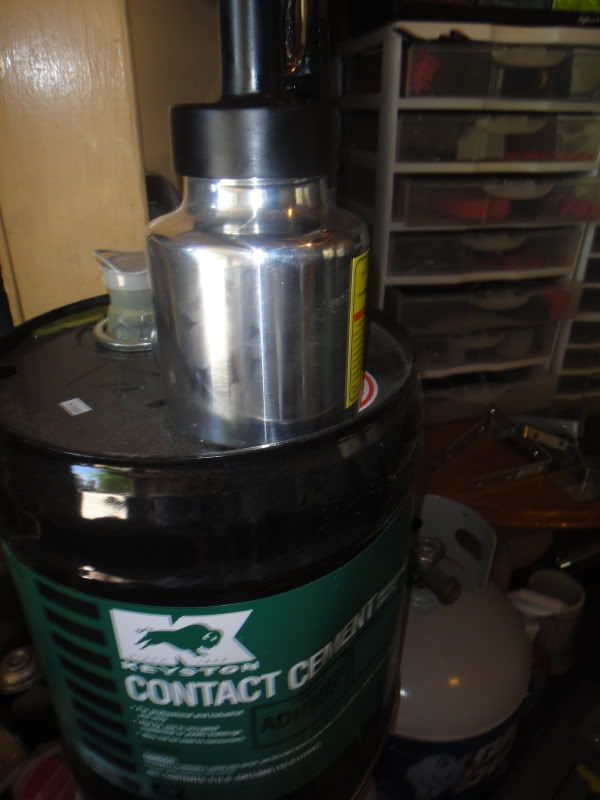 Carpeted
Drilled holes and held amps on with bolts/nuts/washers & loctite: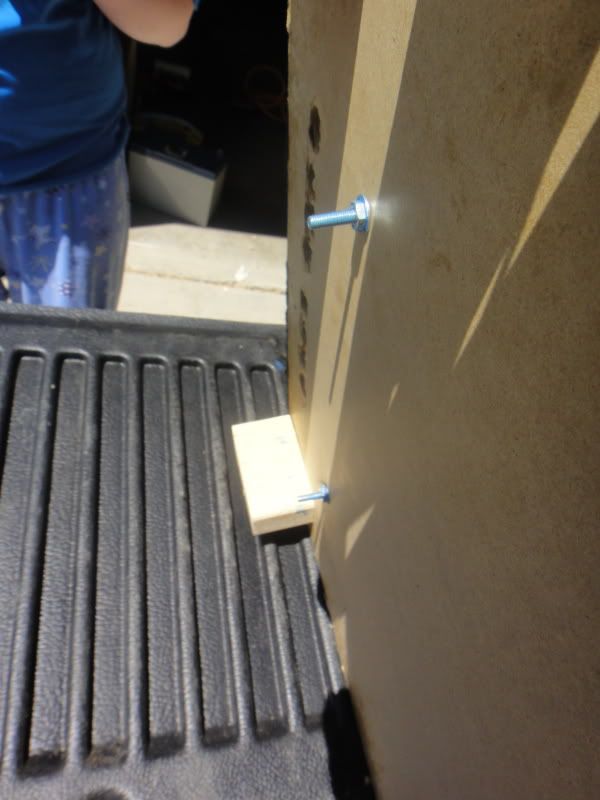 Amps mounted: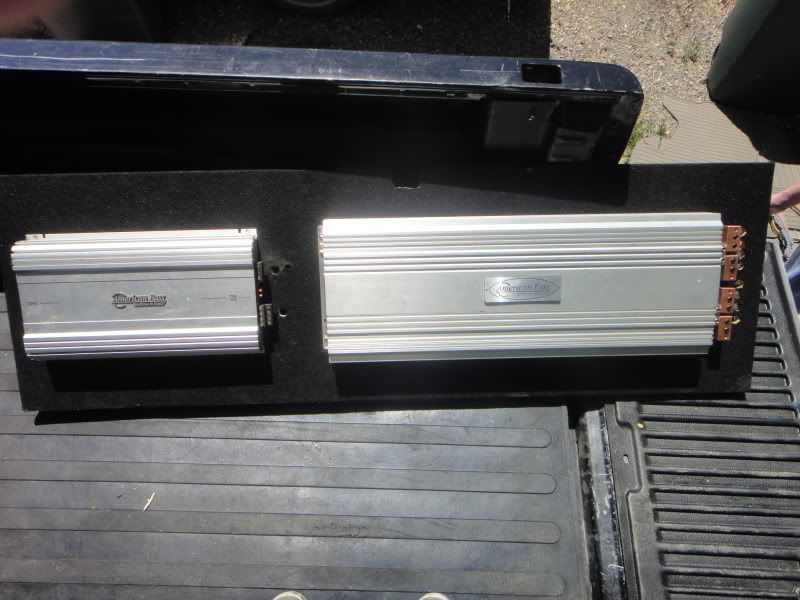 Actually fits this time! Also pulled the wires through of course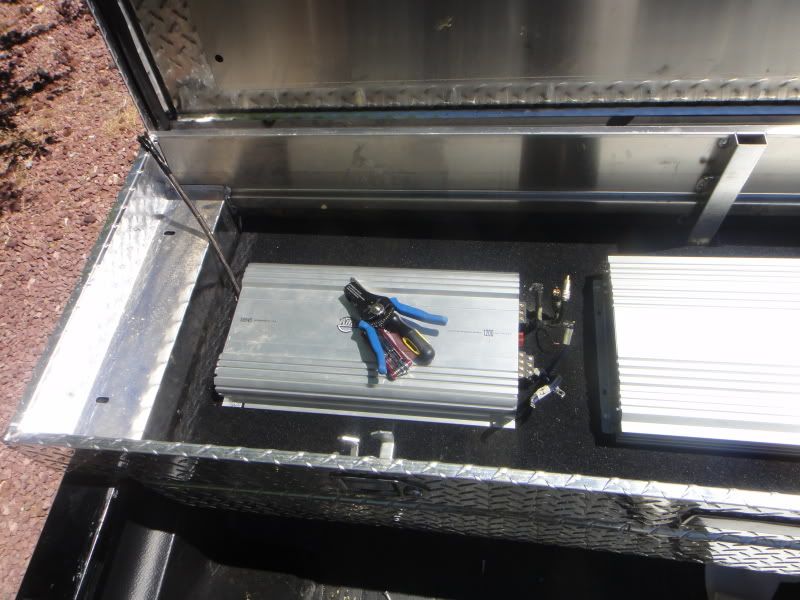 Got em wired up: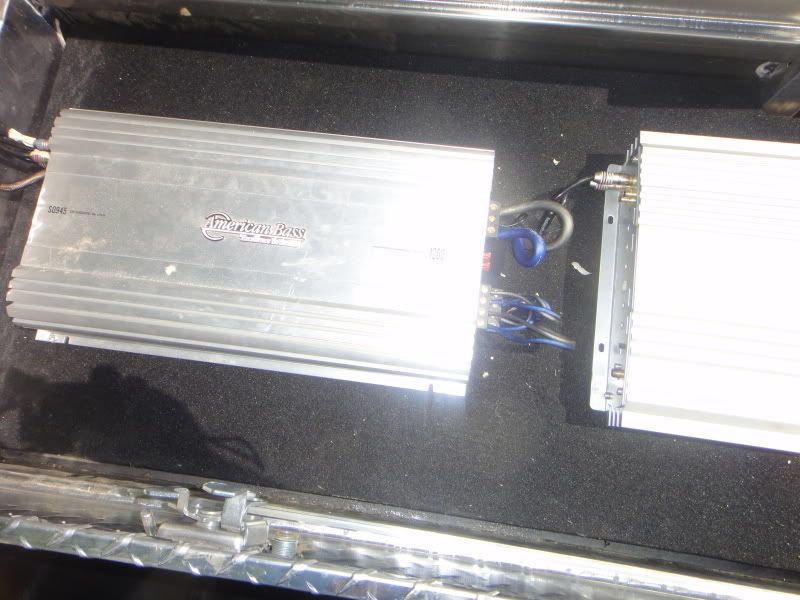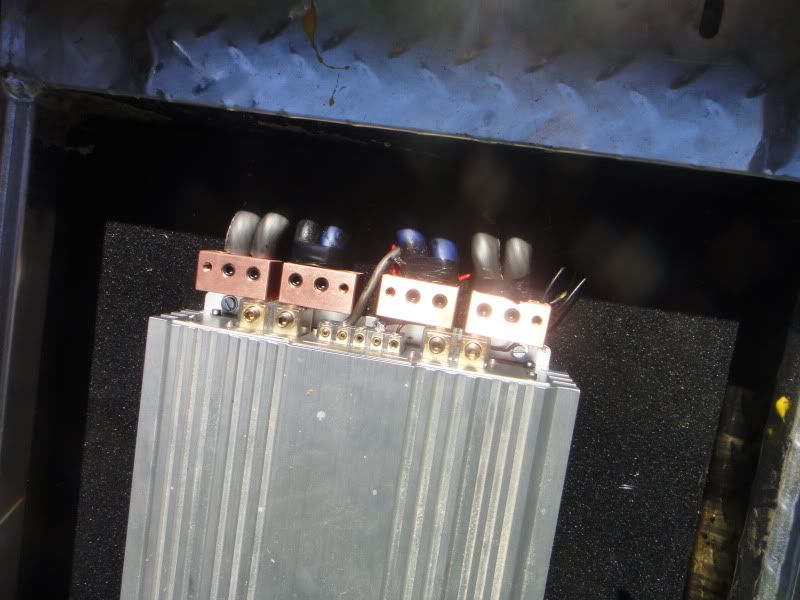 Toolbox complete!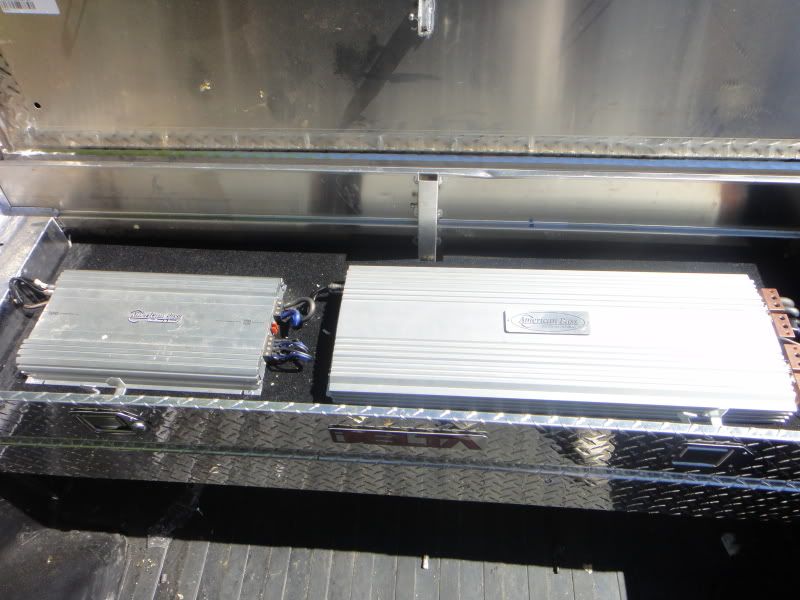 I tucked the wires a little better after these pics.
I'm gonna see how hot it gets in the toolbox tomorrow and if necessary I will add fans. I may still add them anyway. Now that the toolbox is complete I don't really have anything to do until the box arrives... I may find something to add but I think I have just about everything I can add
.
Well I had to do a little repair work today... If anybody read a couple weeks back (in another thread, don't remember what one) my brother has a medical marijuana card and legally grows pot in his house... Well it turns out the landlord came over to repair his swamp cooler and saw the plants and didn't like it (even though in the beginning they said it was okay).. He was out of town working Mon-Fri but they decided to serve him an eviction notice Tuesday... Fortunately he had a friend over watching his dog and plants so the notice was noticed haha... Well I had nothing better to do and he's family so I volunteered to move his house out for him because his boss said if he came home to do it he was fired, and he needs the job. As I was finishing up on Thursday (last load to a storage unit) my "battery not charging" indicator came on in my truck...
Well I immediately thought that one of my connections wasn't tightened properly, so I looked into it.. Turned out my alternator to battery connection was a little loose so I tightened it... I got in and started the truck and reved the engine.. The indicator stayed on but the voltage was going up, so I decided to Google my problem from my phone (had just disconnected his internet hours before). Came across a thread on another forum saying that when you re-do those connections you have to put it in drive and rev it to 2k rpm with your foot on the brake for 2 straight minutes to reset something and get the indicator to turn off.. My truck doesn't let me rev past 1.5k in this position but I tried it anyway and it worked, light went off!
Well, Friday I started my truck again and this same indicator came back on... This time all of my connections were perfect and tight so I investigated further.. I found this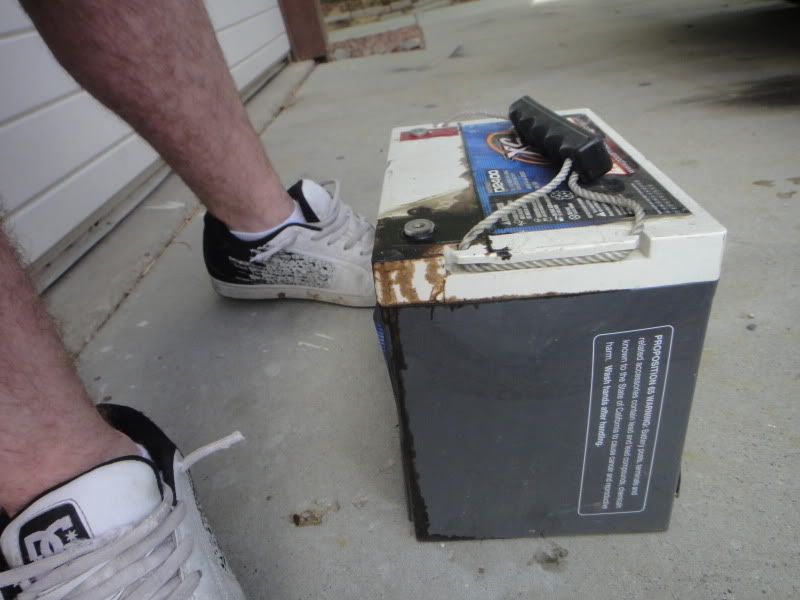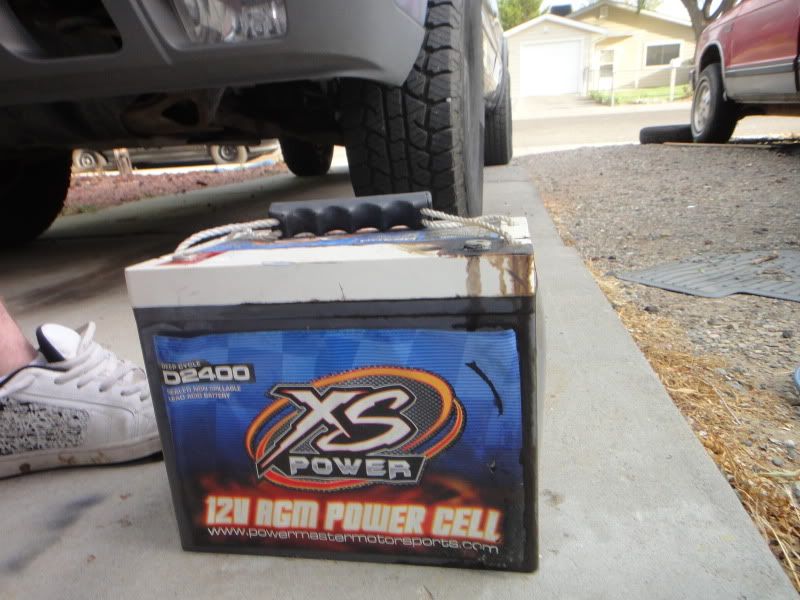 Sorry forgot to take the pics until the battery was out of the truck.. At first I thought this could have had something to do with it so I replaced it with a new one I had in my garage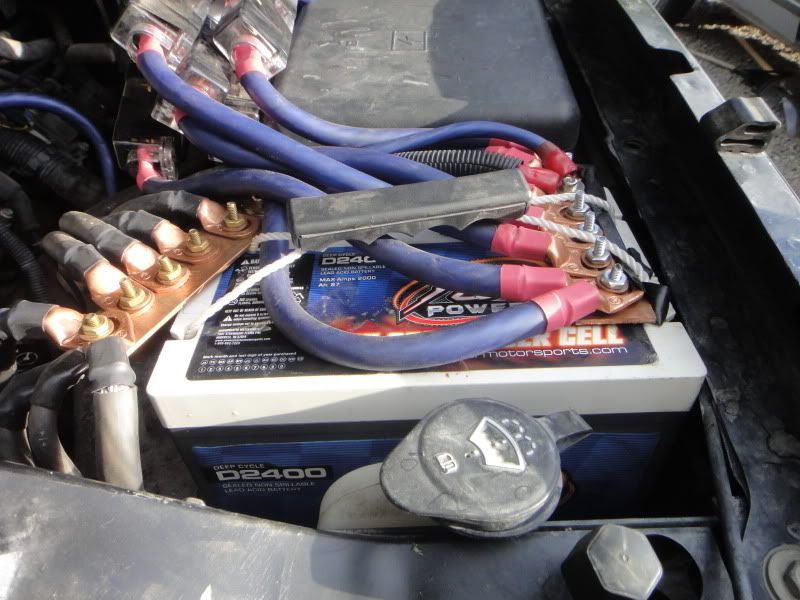 Well it didn't work and then I realized I wasn't being too smart thinking that would solve it.. Considering the rear batteries are still fine and all of the connections from the front battery connect to the rear batteries, this charging light wouldn't have came on if it were a problem with the front battery...I'm pretty sure this battery warped because of the extreme heat under the hood from when my radiator went out a few months back.. It has more than likely been this way for awhile and I didn't notice it when I did this build.. (the purple stuff had to have came out after the fact, because it wasn't there during the build)
So, I got on my computer this morning and did some more Googling... Came across the same problem on an Escalade forum (same or atleast similar motor and alternator).
[Help!] Battery not Charging Problem - Page 2 - Cadillac Owners Group
.. It recommended to change the wiring harness if one of my specific wires wasn't showing voltage.. Well this wire was showing .2 volts so I figured I found my problem.. Went to the local NAPA and picked up a new wiring harness for the alternator and came home and re-wired the plug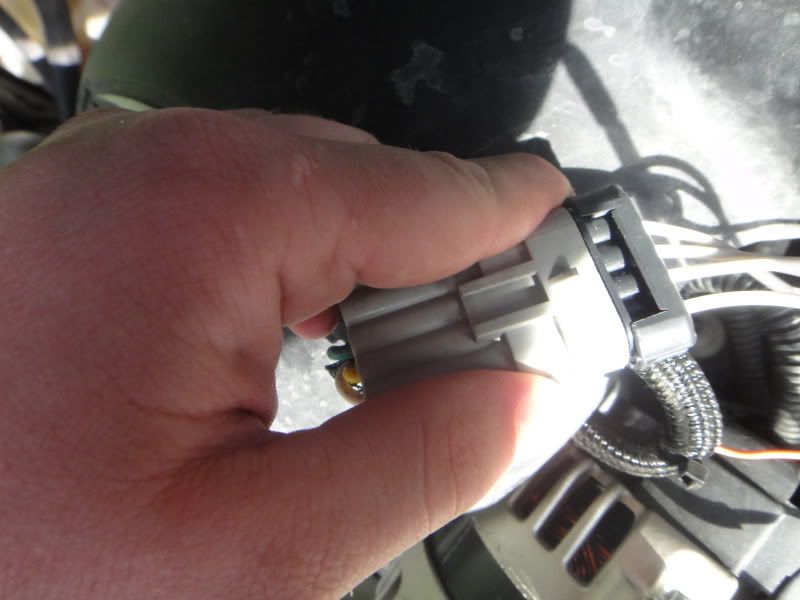 this is where the plug connects to my VCM.
I did it with butt connectors for now to see if my problem was fixed, no reason to take time on it if it wasn't going to fix it right? haha.. Well now the problem is fixed and I have a new, pretty, shiny alternator harness
... Tomorrow I will cut the connections I made today and solder and heat shrink them instead and zip tie my VCM back up. These XS batteries are tough though.. It has been out for quite some time now and it still hasn't dropped even .1 volts haha
Sorry for the boring update, but its progress of what's going on with my truck so I thought it fit in with the build log.
Well, here is what FedEx gave me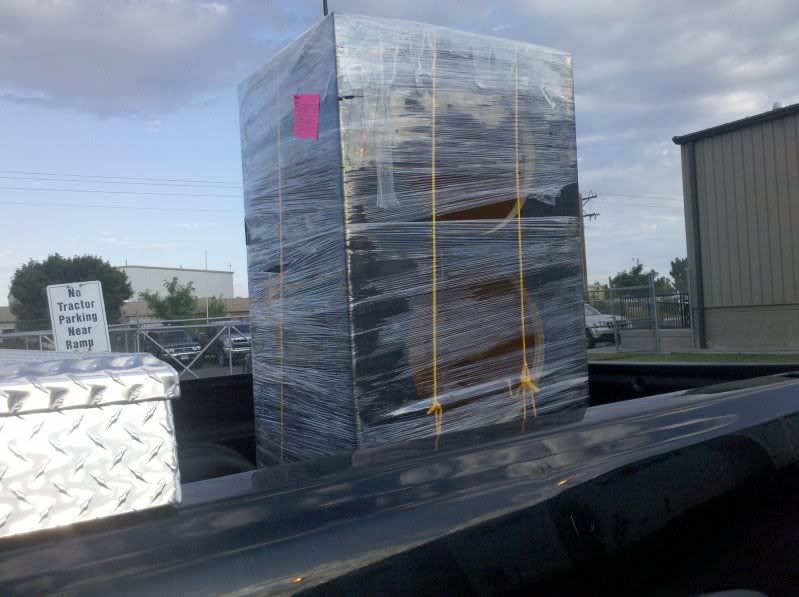 Home and un-wrapped/A couple pics to show how beautiful and solid this thing is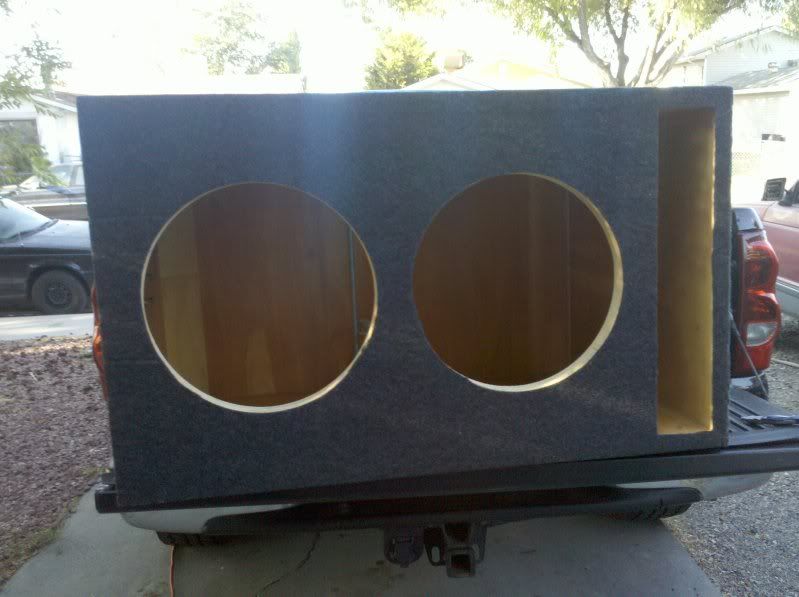 Wasn't the easiest thing I've ever done, but got it lifted in (alone haha)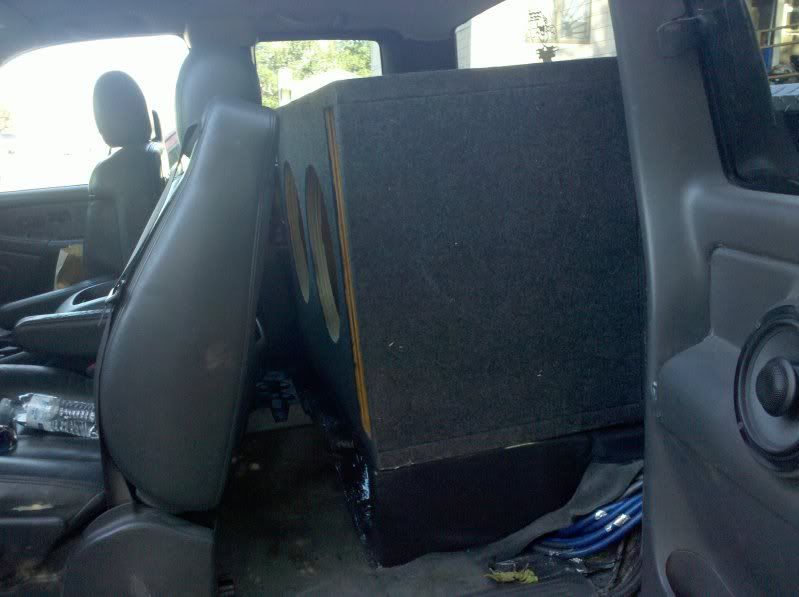 Time to drill some holes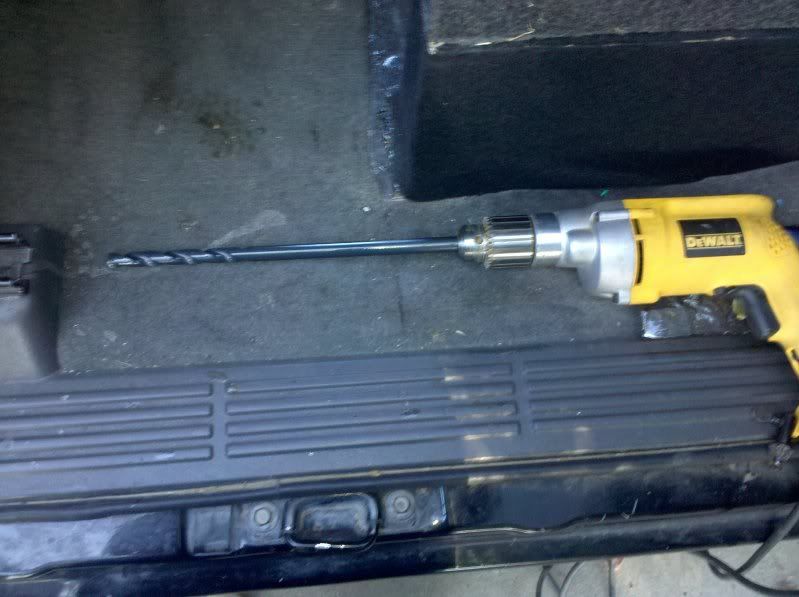 Only took pics of one side, but both sides look the same
All four bolts go through the box, through the shelf I built under it, and through the bottom of the truck
Well, if you read, I had an issue with the amp being in protect... I bought this amp off Psychoacoustics months ago and I didn't hook it up until this build. I never looked to see if it went into protect before today, but I think with the shady business I have seen on his end that the amp was like this when he sent it to me... Don't think this would have happened just being hooked to power in my truck... As I said in a different thread a few days ago, I was the one who failed to test it and can't expect him to fix it this long after I bought it. I will be looking for someone to repair it in the next couple of days. I was able to get it out without destroying the toolbox though.. I took the right side panel off since it was just held on by allen screws.. I then drilled the bolts on the left side until the heads popped off. I was then able to slide the amp to the left and pull it out to remove the amp. The right side panel is still bolted down in my truck and will remain that way
This was the only damage I was actually able to see