((((((((((((((((( NO SHIPPING NO SHIPPING NO SHIPPING ))))))))))))))
1. Product:
1-enersys genesis xe 70x battery. 100ah. ( same as stinger 1700 ) same company.
2- a shuriken skbt20 battery. ( 850ca ) 20ah.real power lil fcuker.
3- svr 28-12 audio battery. 650cca, 850ca, 28ah.
2. Specs: all are 12 volt agm batteries. non spilable.
3. Description/Condition: all are in good cosmetic and working condition. all read above 12 volts.
4. Price:
:
enersys gensis xe 70x- $175 or trade for car audio
svr 28-12- $100 or trade for car audio...
shuriken skbt20- $75 or trade for car audio..
5. Pictures: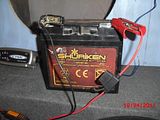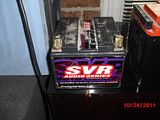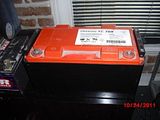 ** DO NOT DELETE ANYTHING BELOW THIS LINE OR THREAD WILL BE DELETED **
-----------------------------------------------
This message is automatically inserted in all classified threads.
Please be advised, all buyers and sellers should satisfy themselves that the other party is genuine by providing the following via PM to each other after negotiations are complete and prior to dispatching goods and making payment:
1) Telephone number. Call the number back at a unspecified time and make sure that it is the person's correct phone number.
2) Name and address including postal code
3) Valid e-mail address. Send an e-mail requesting a response to information about the deal being made.
DO NOT proceed with a deal until you are completely satisfied with all details being correct. It's in your best interest to check out these details yourself.
If transaction was completed on CACO, please use iTrader to record feedback.
Potential buyers/seller should check iTrader feedback also before continuing transaction.
__________________
[SIGPIC] 4 15'' modded juggernauts with aluminum voice coils.. juggernauts will do 4000 rms per sub...and im swapping my 2 kicker 2500.1 amps, for a stetsom 10kd.. the rest of my system is ... 2 kicker 650.4 amps, 4 10'' evm dl10x mids. 4 8'' beyma highs. kicker kx3 3 way crossover, alpine old school digital sound field processor, over 100 feet of 0 awg flex wire and 300 amp iraggi alt, 4 deka intimidator batts...