1. Product:
#1 (x2) JuiceBox Black Cherries group 31
#2 (x3) Die Hard Marine Platinums group 31
#3 (x1) XS D3100 group 31
SOLD
#4 2/0 Coleman Royal stage cable( very flexible, much better than welding cable) various lengths just ask.
#5 aluminum buss bars for 2 batteries
#6 1/0 jumpers
All batteries have been maintained very well and charged at 14.2 when driving and after every show get put on the XS charger over night.
2. Specs:
I can post specs to anyone that doesnt know,, all the batteries are badass and get it done!
3. Description/Condition:
#1 all 3 are like new and only 6 months old all rest at 13.0v
#2 two of them are less than a year old and one is 1.5yr old. rest at 12.9v
#3 the d3100 is about 1.5yr old rest at 12.8v
4. Price:
:
175 each
for the Black Cherries and Die Hards, take your pick
200
for the D3100.
25
shipped for the two small bars
SOLD
5
bucks each per jumper
obo
. will ship

2.50
per foot on the 2/0 will ship
Located in
Nashville
, will not ship but will drive and meet, how far depends on how many batteries bought. No trades as of now.
5. Pictures: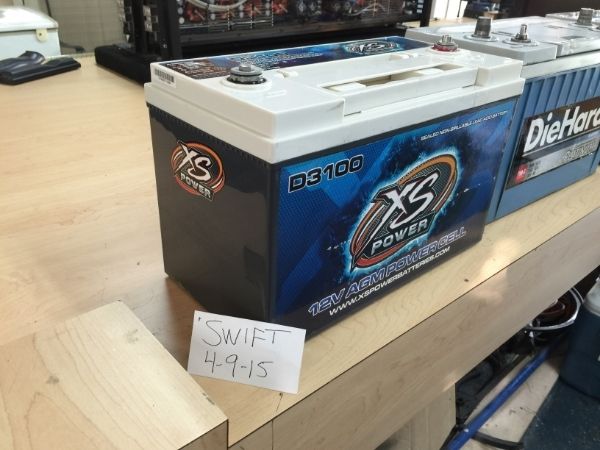 ** DO NOT DELETE ANYTHING BELOW THIS LINE OR THREAD WILL BE DELETED **
-----------------------------------------------

This message is automatically inserted in all classified threads.

Please be advised, all buyers and sellers should satisfy themselves that the other party is genuine by providing the following via PM to each other after negotiations are complete and prior to dispatching goods and making payment:

1) Telephone number. Call the number back at a unspecified time and make sure that it is the person's correct phone number.

2) Name and address including postal code

3) Valid e-mail address. Send an e-mail requesting a response to information about the deal being made.


DO NOT proceed with a deal until you are completely satisfied with all details being correct. It's in your best interest to check out these details yourself.

If transaction was completed on CACO, please use iTrader to record feedback.

Potential buyers/seller should check iTrader feedback also before continuing transaction.

__________________
2012 F250 Lariat, lifted on 22's and 35's
4 DSS Ethos 18's flat wall, 2 Ampere Audio 7500.1's
Mechman 370, 9 batteries, Rockford Punch Pro front
Team DSS / Team Ampere Audio