1. Product:
1)8 pair of 2 awg terminals. I have used these clamped tight on 4 awg and opened up on 1 awg
2)SOLD
3)SOLD
4)2 Audiopipe 10' RCA amp-10
5)SOLD
6)1 Audiopipe 20' RCA amp-20
7)1 Audiopipe 20' RCA amice-20
8)4 Audiopipe 1.5' RCA amice-1.5
9)1 Audiopipe 15' RCA atw-15
10)4 Audiopipe 1.5' RCA cmp-1.5
11)3 Audiopipe 6' RCA acm-6
12)2 Audiopipe 3' RCA acm-3
13)1 Audiopipe 20' RCA acm-20
14)2 Distribution Blocks one 4awg to four 8awg. One Audiopipe, one Raptor
15)5 Audiopipe AGU Fuse holder, 1 Each red, yellow, green, white, blue LED's
16)1 PAC line driver
17)1 Audiopipe line output converter with remote turn on
18)SOLD
19)1 Tsunami Distribution Block ,one 0awg to four 4awg
20)2 Audiopipe Standard battery terminal BT-100n
21)4 Audiopipe Battery Terminal one 1awg, one 4awg, two 8awg BT705N
22)2 Audiopipe Battery Terminal one 1awg, one 4awg, two 8awg BT705P
23)3 Audiopipe Side post terminal extender BT-300
24)SOLD
25)2 Wire Crimper/cutters
26)3 Sundown Audio bass knobs, works on all except 1200d v1. no cords
27)2 Audiopipe Bass Blockers 2800hz
28)1 Audiopipe Bass Blockers 300hz
2. Specs:
3. Description/Condition:
Everything is new. Just getting rid of all the extra stuff. I'm tired of tripping over it. Some stuff may be a little dusty.
4. Price:
:
All payments go to

[email protected]
Please put what you ordered in the notes section
All Shipping with be done using usps. Depending on what you want and how much I can fit in a priority box will dictate shipping. It with either be $5.95, $11.95, or $15.95.
1) $1.50/pr
2) SOLD
3) SOLD
4) $4.00/ea
5) SOLD
6) $6.50/ea
7) $6.50/ea
8) $3.00/ea
9) $5.50/ea
10) $5.00/ea
11) $6.00/ea
12) $5.50/ea
13) $9.00/ea
14) $5.00/ea
15) $8.00/ea
16) $14.00/ea
17) $13.00/ea
18) SOLD
19) $15.00/ea
20) $4.00/ea
21) $9.50/ea
22) $9.50/ea
23) $3.00/ea
24) SOLD
25) $4.00/ea
26) $12.00/ea
27) $6.00/ea
28) $6.00/ea
5. Pictures: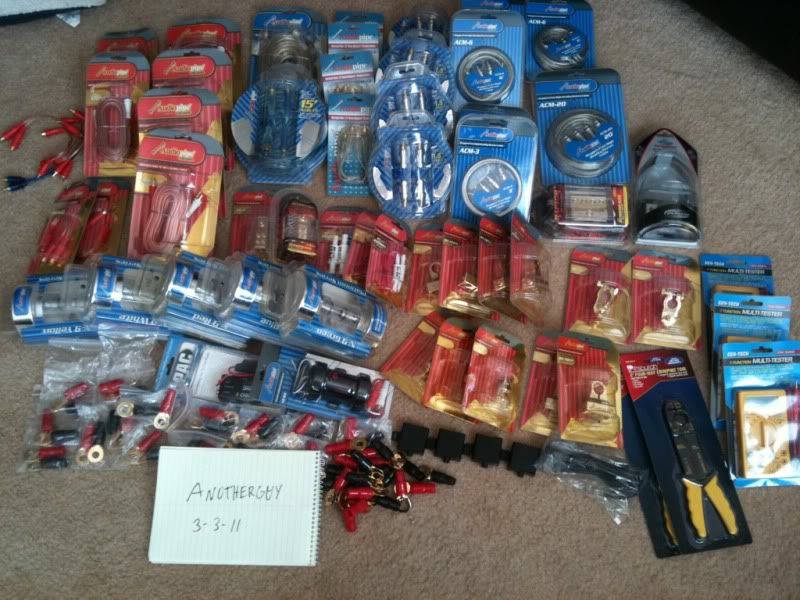 ** DO NOT DELETE ANYTHING BELOW THIS LINE OR THREAD WILL BE DELETED **
-----------------------------------------------

This message is automatically inserted in all classified threads.

Please be advised, all buyers and sellers should satisfy themselves that the other party is genuine by providing the following via PM to each other after negotiations are complete and prior to dispatching goods and making payment:

1) Telephone number. Call the number back at a unspecified time and make sure that it is the person's correct phone number.

2) Name and address including postal code

3) Valid e-mail address. Send an e-mail requesting a response to information about the deal being made.


DO NOT proceed with a deal until you are completely satisfied with all details being correct. It's in your best interest to check out these details yourself.

If transaction was completed on CACO, please use iTrader to record feedback.

Potential buyers/seller should check iTrader feedback also before continuing transaction.